Let's face it — building a coaching business online is far from easy. When you've finally landed your first clients, you'll have additional admin work to manage.
That's why many coaches decide to automate their businesses instead of wasting precious time on manual busy work!
Simple automation is what we live for at Paperbell. That's why we've created the last ever guide to automate your coaching business you'll ever need!
In this guide, you'll learn:
The benefits of coaching automation.
The types of tools you need to automate your coaching business.
How to automate your workflows.
Let's get into it!
What Are the Benefits of Coaching Automation?
Is it worth investing time to set up coaching automations for your online business? Most definitely! Here's how you can benefit from these processes.
Work fewer hours
Every workflow you decide to automate will help you shave off a few minutes to a few hours of work per week. This means you can achieve the same outcome by working fewer hours!
For example, let's say you're spending five hours in your inbox each week following up with potential clients or with people who have yet to book their upcoming sessions with you.
Imagine what you could do with those five hours if automation took care of those follow-ups! For example, you can spend more time on marketing activities to land more coaching clients.
Offer a better client experience
You're not the only one who benefits from an automated workflow. When done right, automation can offer a smoother, more pleasant experience to your coaching clients.

Your clients will be much more likely to give you a testimonial or send you a referral if they've had a hassle-free experience working with you.
Stay focused on what matters most — supporting your clients!
Running a coaching business is distracting work. Not only do you have to show up as a coach, but you also have to become a business owner and admin professional.
And when you're constantly in the backend of your business to fix admin issues or send payment reminders, you're less likely to show up as your best self during your coaching sessions.
Some coaches fix this issue by hiring virtual assistants. And while that's an amazing solution for business owners who want to scale, VAs add another level of complexity for coaches — you're now a boss and an HR person.
And you've got another expense to think about.
Automating your coaching business lets you get rid of the busy work without adding complexity. And even the cost of automation tools doesn't come close to what you need to pay to hire a VA.
Types of Tools Needed to Automate Your Coaching Business
So what does it take to automate and streamline your coaching business? Here are just a few of the tools you'll need for an efficient workflow:
Scheduling tool: Avoid back-and-forth emailing to figure out times when you're both available. Scheduling tools let your coaching clients self-schedule their appointments based on the availability you've set up.
Payment software: Stop relying on manual money transfers to get paid for your invoices! Payment and/or checkout tools let you set up your coaching packages and their pricing so that your clients can pay on their own. Most tools let you integrate with Paypal as well as Stripe, which supports credit card payments.
Contracts and E-signatures: Gone are the days of printing and scanning contracts to get a client's signature. Contract and E-signature tools let you create legally-binding signatures digitally.
Landing page builder: You'll need somewhere to host your checkout tool and showcase all the details about your coaching packages. These tools make it easy to build a sales page, whether it's short and sweet or long and thorough.
Digital download hosting: Let's say you want to provide digital resources to your coaching clients. While you can share them via email or Google Drive, it's easier to keep track of everything when you can host them on a dedicated tool.
Form builder: Intake forms are crucial for coaches and their clients! A form builder lets you reuse the same form over and over without having to track down the answers in your emails.
Email automation tool: Stop rewriting the same onboarding and reminder emails for every client! Email automation tools let you create and send templates that you can reuse across every new coaching client.
Workflow automation tool: You'll need a tool that can detect events and triggers to perform condition-based actions. For example, you'll be able to automatically send an onboarding email when a client signs your contract.
Client portal: This is a bonus, but client portals allow your clients to manage their experience without your input! For example, they can find their signed contracts, check how many sessions they have left, or book themselves into your calendar.
These are the basic tools any coach needs to automate their workflow in a streamlined way.
Automation Workflow for Coaches — Step-by-Step
You've seen the tools available to automate your coaching business — but how does it all come together?
No worries, we've got you covered! Follow this step-by-step workflow to set up your entire coaching business on autopilot the simple way.
1. Create a landing page for your coaching package
Do you find yourself creating custom proposals every time you offer your coaching program to potential clients?
Instead of reinventing the wheel every time, start by establishing pre-existing coaching packages to sell in less time. You can offer these packages instead of only selling coaching sessions.
Not only will the perceived value of your programs go way up when you're packaging an entire desired outcome, but you'll also save yourself the hassle of selling from scratch for every prospect.
To keep things simple, create a landing page that includes all the important information about your package, such as:
The name of your coaching package
What's included in your package, including the number of sessions
What outcome or desired result people can get when they purchase this package
The investment
Available payment plans or options
How to get in touch with you if they have questions
Once that's done, you can move on to step 2!
2. Set your coaching rates with your checkout tool
Once potential clients land on your sales page, they should be able to check out and pay! Integrate a checkout tool and decide on the rate for your coaching package.
When you create your coaching packages in Paperbell, this integration will already be done for you. Every package and corresponding landing page will be ready to go with a functioning checkout system!
All you need to do is integrate your Stripe and/or Paypal account to start accepting payments. Here's what it looks like when your client checks out: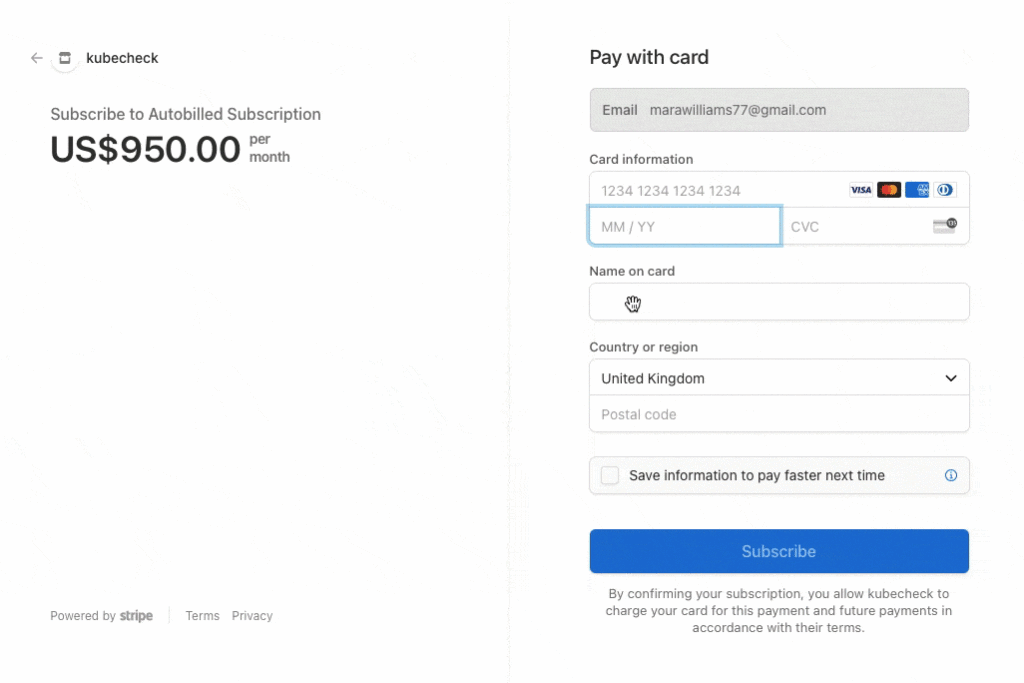 3. Set up your appointment calendar
Make it as easy as possible for new clients to get started with you by adding an appointment setting directly to your checkout process.
If you're using Paperbell to create this automated workflow, you can decide whether clients can book their first session before or after they've already paid.
Make sure to set up your calendar with the availabilities that make sense for you. When new clients purchase your packages, they'll be able to book themselves into your calendar without going back and forth over email with you to find times that fit both of you.
Remember to set up a different schedule for each type of appointment you want to create when necessary. For example, you may want to take discovery sessions only in the morning. Or you may want to speak to your VIP clients only on Mondays!
4. Add an E-signature tool
Not all coaches need contracts, but they're helpful to keep you legally protected.
You should have a unique contract for each coaching package. But instead of sending a PDF by email, you can use a digital contract/E-signature tool to automate this process.
5. Create discovery and intake forms
To be as prepared as possible for your brand new clients, you should create client onboarding surveys wherever it makes sense to do so. Here are some examples of surveys and forms you can set up once and reuse for every client:
Discovery surveys for free sessions
Onboarding/intake forms for new paying clients
Feedback forms for clients who have completed your program
This step should come directly after your client books a spot in your calendar and/or signs your contract.
6. Connect everything with an automated email flow
If you've followed all the steps so far, here's what a client's flow will look like:
Client finds your sales page
Client checks out and pays for your coaching package
Client books their first session
Client digitally signs your contract
Client completes your intake form
All of the above can happen without your involvement!
But let's take it up a notch and connect the above flow with automated emails.
Below are some emails you should automate:
Receipts: for every client transaction
Intake forms: every time a client purchases a new package or books a new discovery session
Contracts: as soon as clients complete their payment
Booking confirmations and reminders: after a client books a session (and at specified intervals before their appointment)
Post-discovery call follow-ups: immediately after a discovery call, remind clients of their options to work with you (you can also create additional follow-ups after this first email)
Reminders: for payment reminders or to remind clients to book their next coaching sessions with you
Guess what — yup, Paperbell can automate all of these emails for you!
7. Create a client portal
Client portals are the cherry on top of your automation setup! They make the client onboarding process much easier for both parties.
With client portals, clients can manage their own admin stuff, such as:
Self-schedule appointments
See how many appointments they have left
See full purchase and billing history
Change their payment method
Access contracts and digital downloads
Answer surveys and see past surveys
Purchase more sessions
Your clients can become self-reliant for these tasks and free up your time to help them achieve the transformations they desire most.
And guess what — you don't have to lift a finger to set up your client portal when you've got Paperbell. Every account comes with a simple and elegant built-in client portal!
Automate Your Coaching Business With Paperbell
Building and automating a coaching business from scratch is tricky. It takes several tools and apps to make the above workflow function seamlessly!
That's exactly why we designed Paperbell — the only tool specifically created for coaches to sell their packages online on a single platform. With Paperbell, your clients can pay, schedule, and sign in one fell swoop.
Try it for yourself by creating your free account!