Struggling to keep track of all your coaching clients — and potential clients, too?
If that's the case, a CRM for coaches could be just the tool you need!
But what exactly is a CRM, and how do you know if a specific CRM is well-suited for coaches? Keep reading to discover:
What is a CRM for coaches
What to consider before choosing a CRM for coaches
Best CRM for coaches who want to keep things simple
Best CRM for coaches with scaling teams
What Is a CRM for Coaches?
CRM stands for Customer Relationship Management. As such, a CRM for coaches is a tool that allows you to manage your clients throughout the entire customer journey.
Not only do CRMs for coaches make it easier to keep track of every client, but they help you manage your time, too! For example, most CRMs allow you to send automated follow-up emails to help you spend less time in your inbox.
You'll also spend much less time sifting through client notes when they're all neatly organized in your CRM.
Keep in mind that CRMs exist in nearly every industry. A CRM for coaches should be focused on:
Managing free discovery sessions
Keeping clients organized
Creating (and sharing) coaching packages
Keeping track of which client purchased what
Organizing your calendar
Helping you support your coaching clients
Not all CRMs have these capabilities. On the other end of the spectrum, some CRMs are so packed with features that they'll overwhelm most coaches.
What to Consider Before Choosing Your Coaching CRM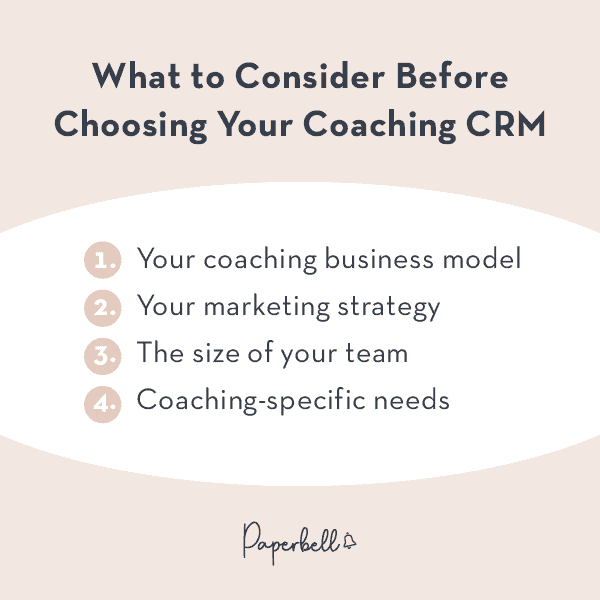 There's no one-size-fits-all CRM software for every single coach! Consider the following 4 points before you make a choice.
1. Your coaching business model
Not all coaches have the same coaching business models, which means your needs can vary drastically!

For example, some coaches offer one-on-one coaching, while others prefer group coaching. Many more will do a mix of both.
Other coaches offer digital products — either as standalone offers or as part of their coaching packages.
But if your CRM doesn't support your business model, you'll need a separate tool to keep your business running smoothly!
For instance, Dubsado can help you manage incoming coaching leads and automate processes like emails and contracts. But it doesn't have any features to manage coaching groups, which makes it less than ideal if group coaching is part of your business model.
2. Your marketing strategy
Several CRM platforms for coaches also come fully loaded with marketing tools.
For example, coaches who rely on advanced email marketing strategies may prefer ActiveCampaign for its marketing automation features.
But coaches who prefer strategies such as podcast guesting or blogging won't need everything ActiveCampaign offers.
And this is exactly why you should take your marketing strategy into account before you choose your CRM. The correct platform will empower you to execute the strategy that makes sense for you, while the wrong platform will hold you back and overcomplicate your life!
3. The size of your team
How many coaches are on your team?
If you're going solo, your needs will differ vastly from someone who's running a team of over a dozen coaches. And if you choose a tool that's designed for large teams, like Hubspot, you may get overwhelmed with all the fancy features you don't even need.
4. Coaching-specific needs
Some CRMs are industry-agnostic, which means they can be adapted for pretty much any type of business.
But these tools have several shortcomings for coaches because they fail to understand the reality of a coaching business.
And that's okay — these tools weren't designed with coaches in mind! However, be on the lookout for such coaching-specific needs and features when shopping for a CRM.
For example, let's consider Honeybook, which is a popular CRM for service providers. Even though coaches are a type of service provider, this platform was clearly designed for other types of service providers, such as photographers.
You can't tie a coaching session to a client project, which means it's impossible to automatically keep track of how many sessions a client has left. Honeybook also assumes each client will go through a custom sales pipeline, which means you need to create each project from scratch.
Scheduling options are also extremely limited. You can only set your global availability instead of setting specific availability for each coaching package type.
This is the case for Honeybook, but almost every non-coaching CRM software will have similar pitfalls.
Consider your own specific needs as a coach. For example, do you use Zoom to run your coaching sessions? If you do, you may need a Zoom integration, which isn't available in all CRMs.
Best CRM for Coaches Who Want to Keep Things Simple: Paperbell
Paperbell is by far the easiest way for coaches to manage their clients and get paid! And because it was designed for coaches, by coaches, it comes fully loaded with coaching-specific features other CRMs are missing.
Yet it's simple enough for tech-hating coaches to feel at ease! You won't get buried in superfluous features coaches don't need.
Here's an overview of what you can do with Paperbell as a CRM software for coaches:
Let clients self-schedule into your calendar: Fully customize your availability so clients can book your free discovery sessions or paid packages.
Get paid upfront: Never chase clients for payments again. In Paperbell, you can choose whether clients pay before or after booking a spot in your calendar for a paid session. But regardless of your choice, they'll access the checkout page in the same flow.
Stop no-shows: Since you can automate reminder emails, you won't ever have to remember to remind people about their upcoming appointments with you.
Eradicate invoicing nightmares: Instead of sending manual invoices for every coaching client, you can create your coaching packages and send a link directly to your booking page!
Sliding scale "pay what you want": If you're flexible with your coaching rates, Paperbell lets you offer multiple investment options for the same package.
Custom intake forms for every package: Collect all the information you need, no matter the situation.
Group coaching: Whether you offer one-on-one or group coaching, Paperbell allows you to sell (and manage) those offers.
Branded landing pages: Every coaching package gets its own custom branded landing page, but you can also get a "shop" page with every public-facing package you offer.
Digital downloads: You decide when clients get access to their digital downloads — and you can sell them as standalone offers, too!
Integration with Zoom: Your clients won't ever have to scramble for that Zoom link again!
Autobilling subscriptions: Booked an ongoing package with a client or want to start a membership? Paperbell allows you to turn on "subscription" payments for any package.
Client portal: Your coaching clients can log in to book new appointments, buy more sessions, access their resources, and more.
Here's an example of coach Carmen Low offering appointment booking followed by the checkout process in Paperbell: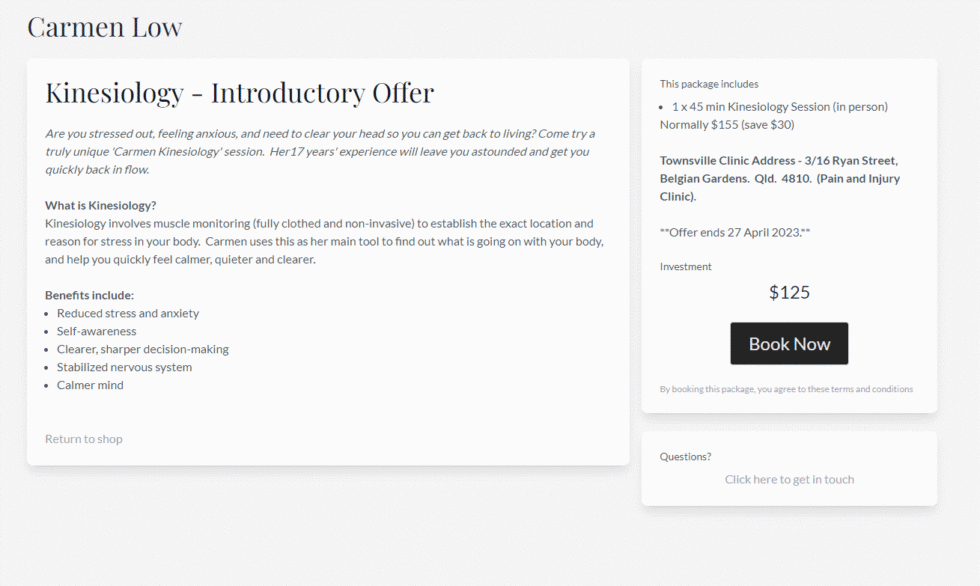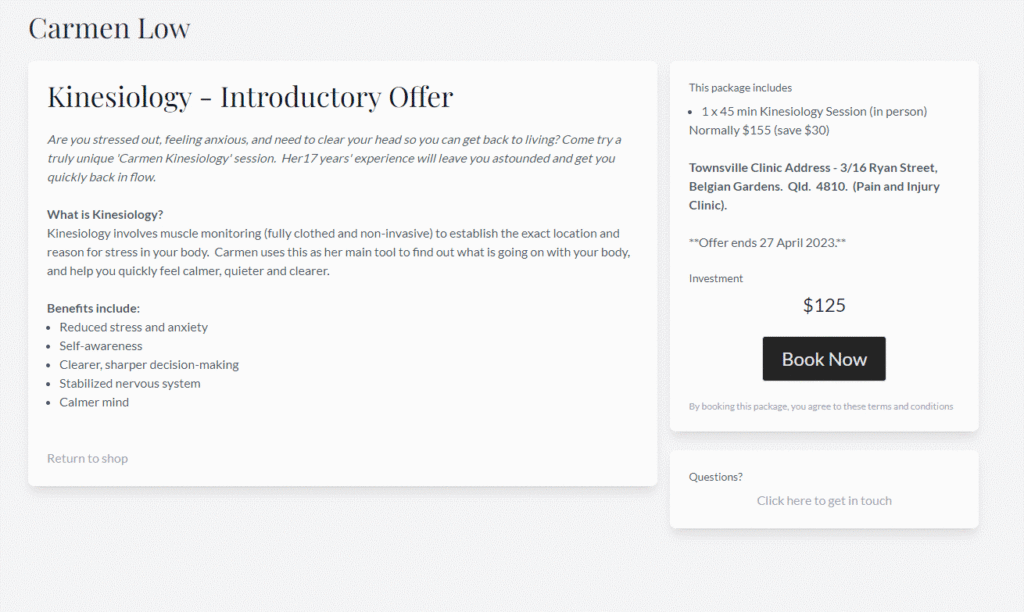 But the best part? You get access to a handy client management dashboard specifically catered to coaches. This means you can track:
Complete appointment histories for each client
Intake survey answers
Your private coaching notes
Upcoming appointments in your calendar (or for each client)
How many appointments each client has left in their package
Purchase history and spend for each package (and each client)
Signed contracts
It's powerful enough to automate your coaching business, but focuses only on the tools a coach or consultant needs. That means you don't get overwhelmed by fancy tools you don't need — especially if you're running your coaching business solo!
Best CRM Software for a Team: ActiveCampaign
While Paperbell can manage a solo coaching business or small coaching team, it's not built for scaling teams with several leads to keep track of.
For example, there's no pipeline tool to see:
How many "leads" you have in each stage of your pipeline (new lead, qualification, initiating contact, negotiation, closing the deal, etc.)
Every single touchpoint you've had with a lead (and not just emails and appointments)
Lead scoring
Which salesperson to contact at what stage
And while Paperbell can let you automate client emails, it's not designed for email marketing like a dedicated email platform.
That's where ActiveCampaign comes in.
ActiveCampaign is a full-fledged marketing automation platform that handles email marketing and CRM.
So if you're growing your email list and building a sales team, there's virtually nothing you can't do with this tool!
For instance, here are just some of the things you can do inside ActiveCampaign:
Create sales pipelines to keep track of open deals with potential clients
Automatically notify certain salespeople at specific parts of your pipeline
Predict the probability of winning or losing a deal, so your sales team knows which leads to focus on the most
Segment leads based on virtually any behaviors, actions, or conditions
Automate marketing emails to warm up new leads
Create forms and landing pages
Track your website to understand lead behavior
However, ActiveCampaign doesn't handle checkouts, appointment scheduling, group coaching management, or digital product delivery. If these features are important to you as a growing coaching business, consider using ActiveCampaign and Paperbell together!
For example, using Zapier, you can update your lead data in ActiveCampaign when someone purchases in Paperbell:


Zapier lets you trigger actions from Paperbell to ActiveCampaign when it detects the following in Paperbell:
New Appointment
New Purchase
New Client
This makes it easy to make both apps work seamlessly together without having to manually update your data.
While ActiveCampaign can manage your marketing and sales process, you can use Paperbell to manage your paying coaching clients!
Get a Handle on Your Coaching Business with Your Coaching CRM
Now you have a better idea of what to look for if you're a coach who needs a CRM. You can choose the software that fits your needs — or use a combination of several platforms using Zapier.
Before you make a final decision about the best CRM software for you, remember to consider your:
Coaching business model
Marketing strategy
Team size
If you're a solo coach who wants to simplify the process of running your business, Paperbell is the best CRM for you!
But you don't have to take our word for it. You can grab your free account with no time limit and try it out yourself!