You're here because you're considering starting with Honeybook, or switching away from it. Maybe Honeybook is feeling too cumbersome, or maybe you just want to make sure you're making a smart buying decision before you commit to set-up.
In this post, we'll go over the best alternative to Honeybook, for coaches and consultants specifically. If you're a photographer, graphic designer or creative freelancer you can skip this post. But if your business is in the coach, consultant, or advisor type of realm then keep reading!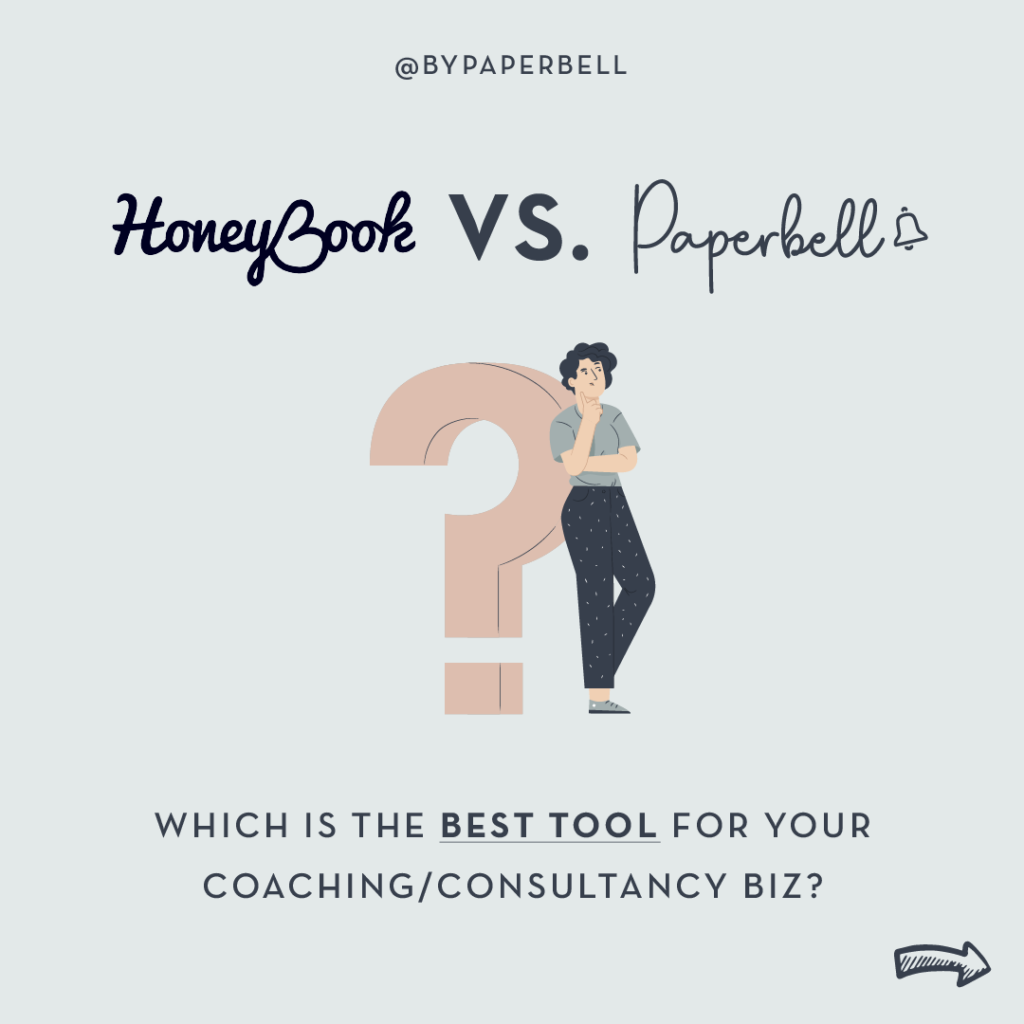 What is Honeybook?
Honeybook was originally launched as a tool to help vendors in the wedding industry. The idea was that multiple vendors could collaborate in one place, and easily track their various client projects.
It has since evolved and expanded beyond the wedding industry, to other creative professionals. Still, Honeybook is designed to serve those who provide a creative service, often in-person.
Honeybook's core features are CRM (customer relationship management), pipeline management, invoicing, time tracking, online payments, and automated workflows.
The Major Downsides of Honeybook for Coaches & Consultants
Honeybook is a well-designed, well-executed tool that works well for those who take each client through a proposal > invoice > custom project process. However, it can feel a little clunky for coaches and consultants who aren't doing time-tracking and often deliver the same package to multiple clients.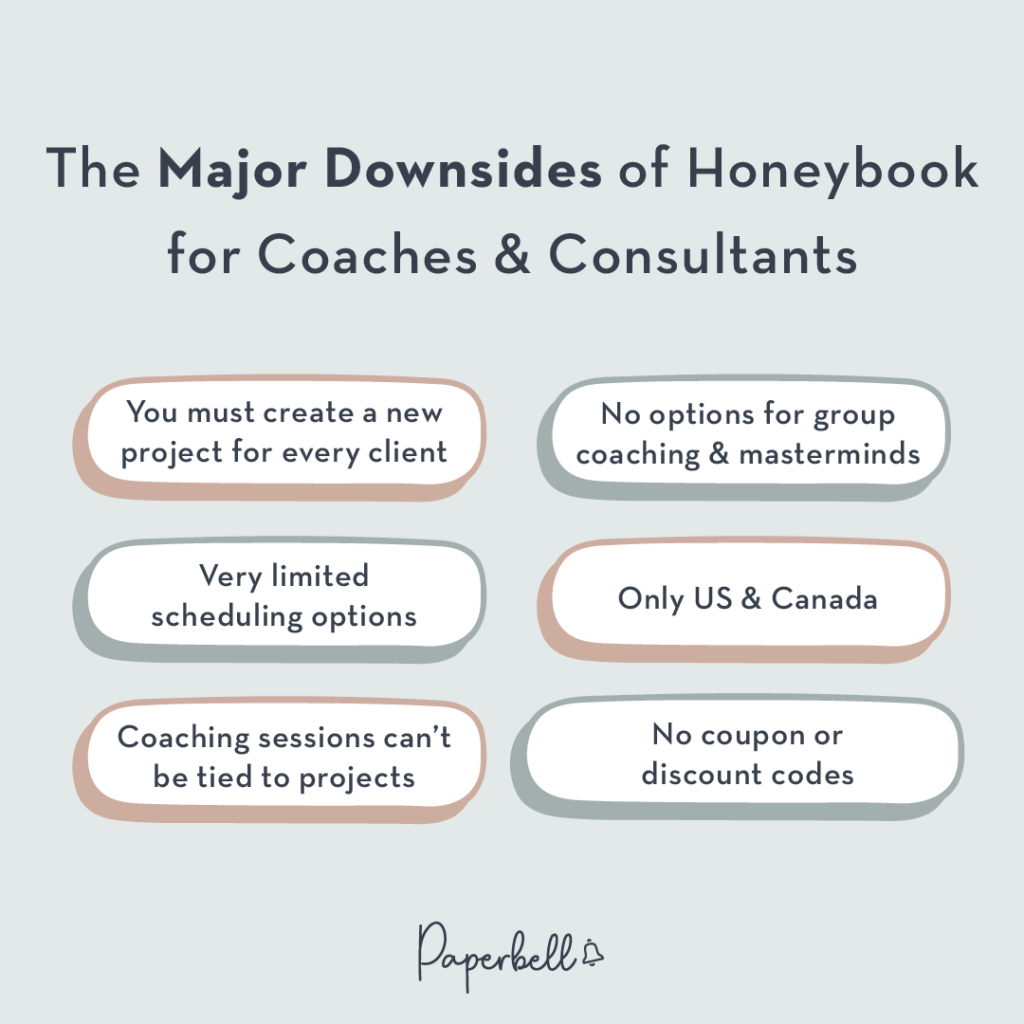 You Must Create a New Project for Every Client
Honeybook assumes that each client must go through a pipeline with a custom project associated. So you need to create a proposal and then a project for each new client. This framework doesn't really make sense for coaching clients where your "deliverables" are just the sessions with the client and no custom project is needed.
You can see that the project options that must be filled in just don't really make sense for a coach. Online coaching engagements don't have a physical location, and they often don't have a predetermined end date.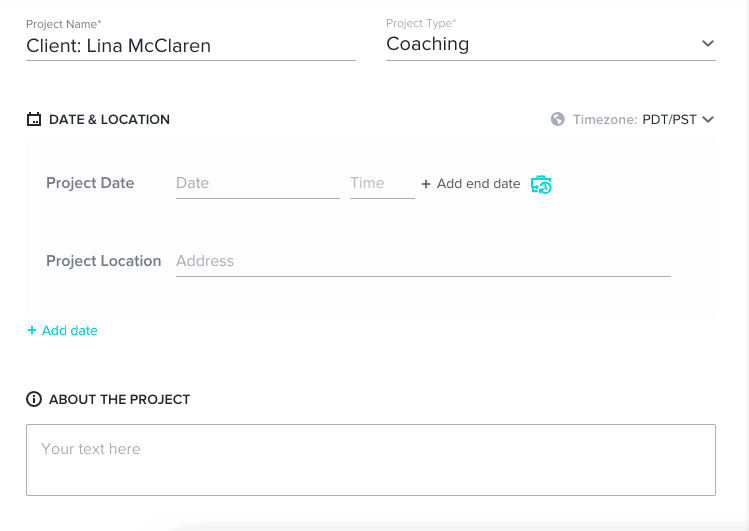 Very Limited Scheduling Options
Cancellations and reschedules in Honeybook are either "on or off". This is very different from Paperbell, where this is much more nuance in what's allowed.

Paperbell can also allow for different availability for different types of sessions, which is not an option in Honeybook.


Coaching Sessions Can't Be Tied to Projects
This is the area that stands out as the biggest mis-match for coaches or consultants attempting to use Honeybook. Honeybook has now added a meeting scheduling feature, so you can create a scheduling link from Honeybook.
However, you and your client just have to manually keep track of how many sessions are in a package, have been scheduled, etc. It's up to you to manually send the link and somehow track what has happened, which we think kind of defeats the point of using a tool like this.
No Options for Group Coaching, Masterminds, Etc
Honeybook simply doesn't account for group appointments. So if you want to create an online class, mastermind, or group coaching option, you'll have to go through your full invoice/project process with each client. And you'll need to use an outside tool to manage group calls and attendance.
Only US & Canada
Currently, Honeybook only supports businesses based in the US or Canada. Paperbell has a global customer base and offers a wide range of currencies (currently USD, AUD, CAD, EUR, GBP, JPY, NZD, SGD). However, Paperbell's interface is only offered in English, so even if your pages are written in another language the buttons will still be in English.
No Coupon or Discount Codes
Honeybook does not offer a way to create coupon or discount codes that can be used by your clients. Instead, you would need to custom-discount their specific invoice. (Paperbell does offer custom coupon codes.)
The Best Honeybook Alternative: Paperbell
Like Honeybook, Paperbell is an online software tool for running your business. Paperbell's core features are billing, appointment scheduling, contract signing, client management, and digital product delivery.
Unlike Honeybook, Paperbell is exclusively for coaches and consultants.
Honeybook and Paperbell can be tricky to compare side-by-side, because they operate on fundamentally different workflows. It becomes obvious pretty quickly that Paperbell was created for consultants, whereas Honeybook was created for creative professionals that are delivering a custom project for each client.
Let's break down the different features that Paperbell offers, in comparison to Honeybook:
Landing Pages Instead of Custom Proposals
Coaches tend to have set offerings rather than creating custom projects for each client. For example a coach may offer a 6-session package, a group coaching offering, or allow clients to purchase a "top up" one-on-one session whenever it's needed.
With Paperbell, you create a totally customized landing page that allows your client to purchase and schedule your offerings in one smooth checkout flow. (This flow also includes any contracts or questionnaires.) Here's an example. If you tend to use set packages instead of crafting a custom offering for each client, Paperbell will be a better fit for how you craft client engagements.
Advanced Scheduling Functionality
Although you can create packages that don't include appointments, Paperbell assumes that most users will be primarily selling appointments. That's why they have all the advanced scheduling features that you would normally only find in standalone scheduling tools like Calendly or Acuity.
A few of Paperbell's scheduling options that are missing from Honeybook include:
Ability to choose if appointments start only on the hour or half-hour mark
The exact time buffer automatically granted before and after appointments
Choose your minimum notice for booking an appointment (don't allow clients to book last-minute)
Choose how far out in the future clients are able to book
Set different availability for different packages
Paperbell also allows you to integrate with Zoom or Google Meet and includes the meeting link in the calendar invite.
[ Read: Client Scheduling Software]
Deliver Full Client Experiences Including Digital Downloads
Coaches and consultants often want to deliver information alongside their coaching. This could be a worksheet, audio recording, or ebook. Paperbell includes this digital product delivery right inside your packages, so that you can automatically deliver a full experience for your clients.
[ Read: Sell Your Digital Coaching Products Online]
Track Performance by Package and Client
Paperbell allows you to easily see the total revenue by package, or by client.

It's all About Appointments
Paperbell assumes that your sessions with clients are at the core of your business. That's why Paperbell gives your clients their own login area that allows them to see how many sessions are left and schedule or change any future sessions in their package. Honeybook just doesn't offer any of this functionality.
The Biggest Difference Between Honeybook and Paperbell: Sell In Your Sleep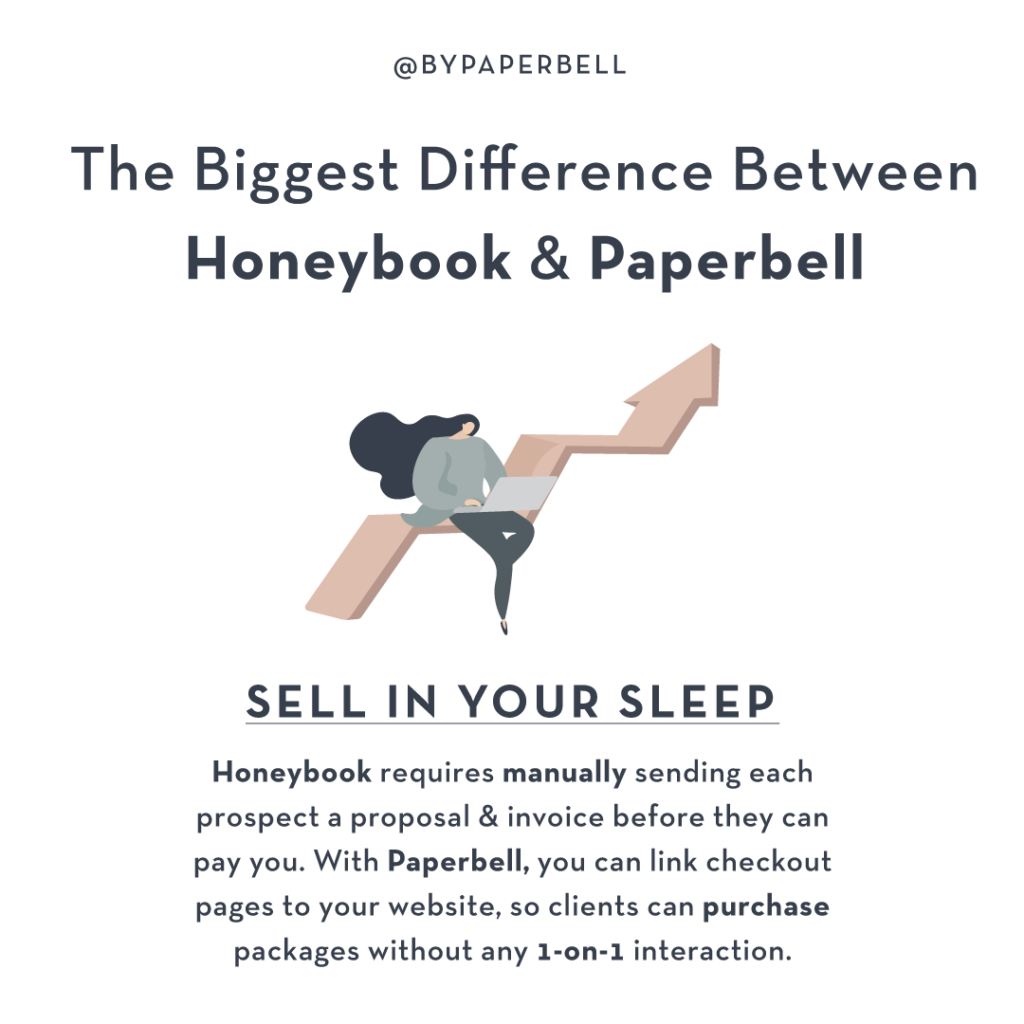 Honeybook requires a "pipeline" process for each client. This means you must manually send each prospect a proposal and then an invoice before they can pay you. Paperbell operates on a very different, always-on, "sell in your sleep" paradigm.
With Paperbell, you can link your checkout pages to your website, so that clients can purchase packages without any one-on-one interaction with you. Of course if you do want to chat with clients alongside the sales process you can, but it's not required. Here's an example of a sample Paperbell website with purchase and free session booking flows baked right in.
After extensive research into both platforms, the best choice for you really depends on how your business is structured.
If you mostly do custom client work, with custom projects and time-tracking, choose Honeybook.
If you mostly offer set packages, where the same package is purchased by multiple clients, choose Paperbell.
If you run a coaching or consulting business, Paperbell is the clear winner.