You're here because you're considering starting with Calendly, or switching away from it. Maybe Calendly doesn't quite offer everything you need, or maybe you just want to make sure you're making a smart buying decision before you commit to set-up.
In this post, we'll go over the best alternative to Calendly for coaches and consultants, specifically.
What is Calendly?
Calendly has one purpose – making it easy for your prospect to find a time to book with you. Calendly is a scheduling tool, and it works well. If you are after an affordable tool that lets your clients easily coordinate a single appointment to talk to you, Calendly is great.
The Major Downsides of Calendly for Coaches
The major downside for coaches is that it's JUST a scheduling tool. It does one thing – schedules one session at a time. But most coaches don't have a "one session at a time business", as it's pretty difficult to create major client change in just one session! Also, Calendly does not include any functionality for other "back office" business needs, like contract signing, delivering resources, and other client admin.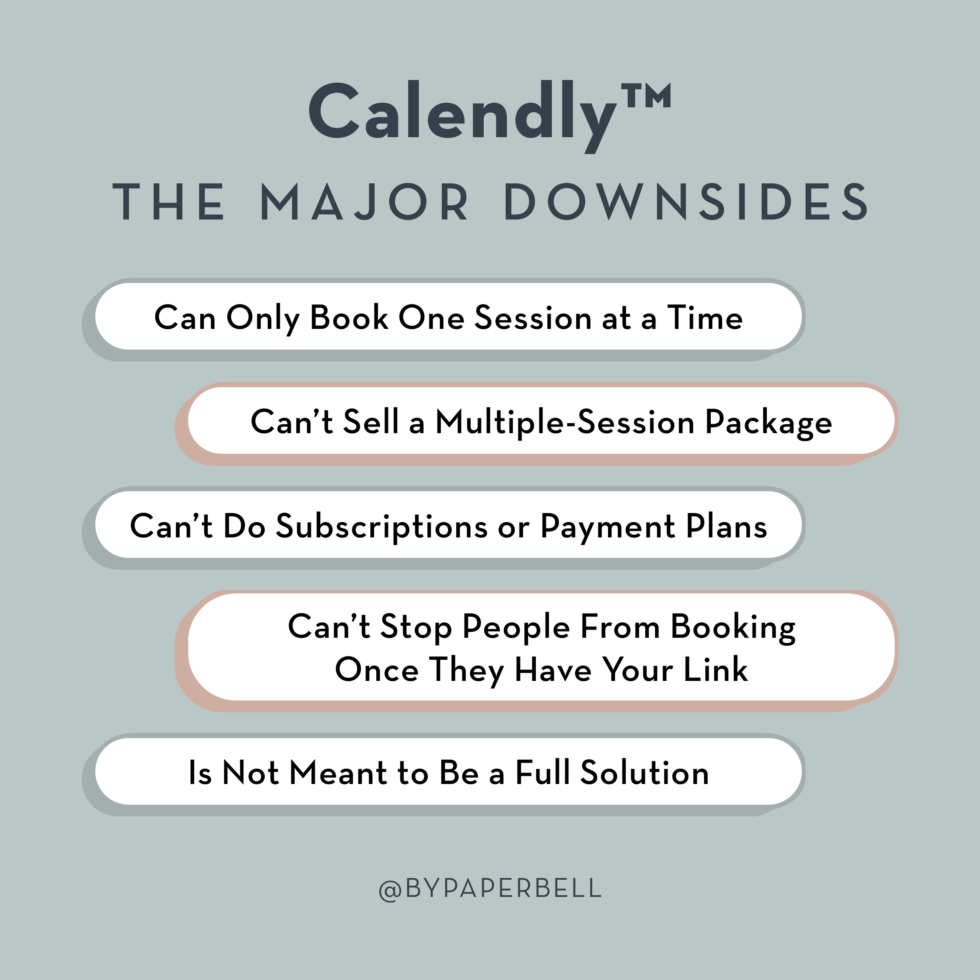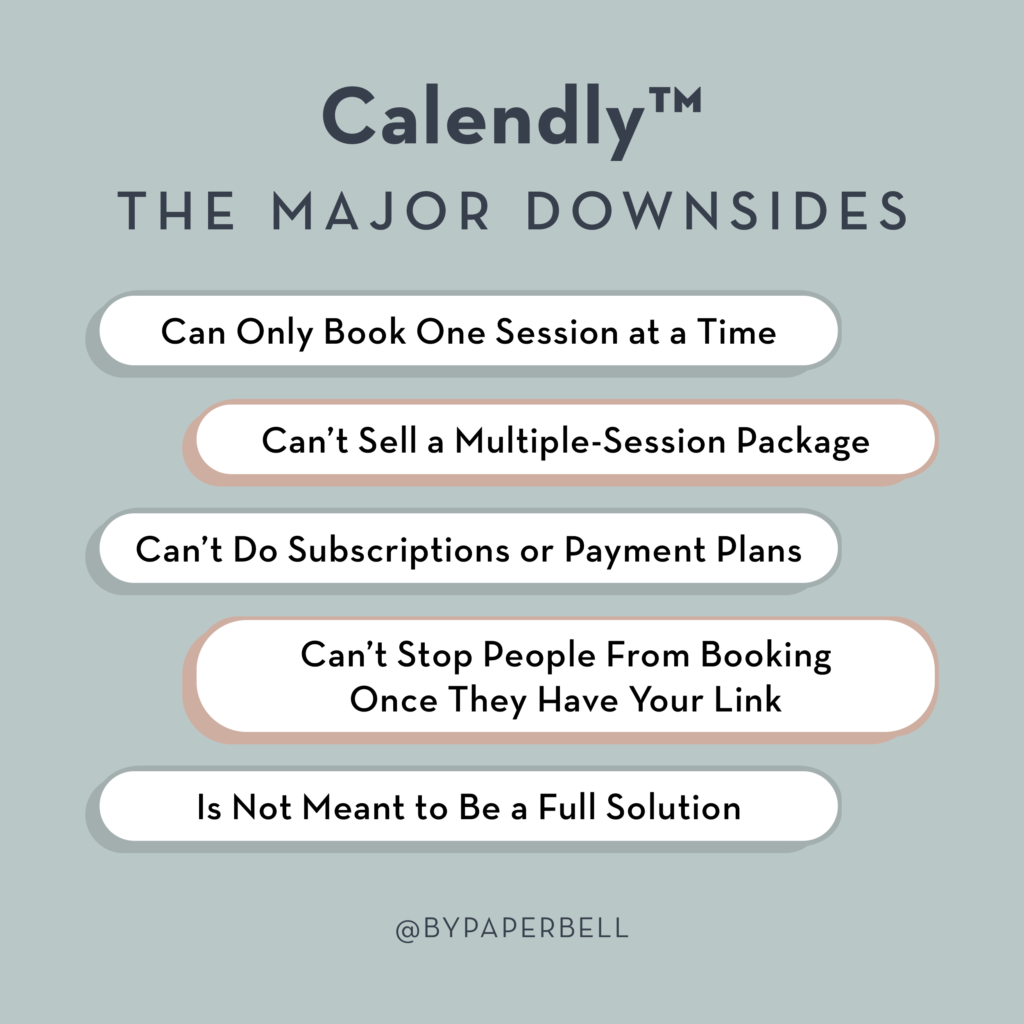 Calendly Can Only Book One Session at a Time
This is probably Calendly's "worst" feature as far as coaches are concerned. Most coaches aren't "one and done" with their clients. If you're a coach, you probably work with people over time, whether that's a set time frame of four sessions or ongoing help for years!
However, that is NOT how Calendly is designed. While Calendly offers different appointment types (one-on-one, group, and collective) all of the types have one thing in common: they are only for ONE appointment.
So if you want your client to book four sessions with you, they'll have to start over with a one-session calendly link four times. This gets even weirder when we start to introduce payments into the mix.
Calendly Can't Sell a Multiple-Session Package
You can now integrate Calendly with your Stripe or Paypal account, which is great. But there's a big problem for coaches. You can sell one appointment, for one amount. That means you can't sell a package of 4 sessions for $1,000 (the type of offerings that coaches usually sell). This one-session, one-payment system means that you don't actually cut down much on the busywork for yourself and your clients – they have to go through the whole process from scratch every time they want to purchase from you.

There's also a negative psychology involved, as your client has to re-make the buying decision (and since we're talking coaching, the commitment to themselves) over and over again. Instead of deciding to pay $1,000 for four sessions they have to decide to pay $250 for one session, and then $250 for another session, and then $250 for another session, again and again.
Calendly Can't Do Subscriptions or Payment Plans
This is another crushing blow for coaches – calendly does not allow you to offer a payment plan or subscription payment. So if you have this kind of fee structure, you can use Calendly for your scheduling, but it will be totally disconnected from your billing. That means yet another admin task for you and no way to track if sessions are lining up with payments.
Calendly Can't Stop People From Booking Once They Have Your Link
This one gets very tricky for coaches. Let's say your clients book sessions with you via Calendly, and pay via another system like a Paypal link. That means you'll need to send clients the link to your "One Hour Session with Me" private client booking link. And once they have that, they have the ability to get on your calendar whether or not they're caught up on payments.

Calendly Is Not Meant to Be a Full Solution
Calendly is a scheduling tool. It is not a client management tool, a contract signing tool, a client communications tool, or any of the many other back-office tools required for your coaching business. Not having a full solution is fine if you like having a lot of different single-use tools and processes. But if you'd rather streamline your processes and automate the admin of your entire coaching business, there are much better options out there.
The Best Calendly Alternative: Paperbell
Used by more than 10,000 coaches and counting, Paperbell is a fully-featured software tool designed specifically for coaches. That means scheduling is one small part of what Paperbell does, instead of the entire functionality.
Paperbell has all of the advanced scheduling features you need (like automatic appointment buffers, only booking so far into the future, different availability for different types of appointments, etc.), AND it also includes what you need for billing, intake surveys, client notes, client management, ongoing communication, etc.
Let's break down the different features that Paperbell offers in comparison to Calendly:
Paperbell Can Create Multi-Session Packages
As we talked about earlier, Calendly quickly falls down when you want to "sell like a coach" (providing an ongoing commitment vs a one-off session). Paperbell does not have this problem, as it was designed just for coaches! Paperbell makes it easy to set up a multi-session package that allows your client to pay and schedule in one simple checkout flow. Your clients can book all of the sessions up-front or over time.
Paperbell Can Do Payment Plans and Ongoing Subscriptions
If there's one "ideal coaching business model", it has to be the ongoing subscription. Your clients agree to be auto-billed monthly for a certain amount of sessions per month, and the agreement continues until the coach or client decides it's time to wrap things up. Depending on the type of coaching you specialize in, you might work with some clients on an ongoing basis for years. Paperbell allows you to set all of this up with just a few clicks, including letting clients book their own ongoing appointments.

Paperbell also has the ability to create payment plans (where the client is charged X number of payments at $X each, while entering their card details only one time). You can even create a one-time deposit amount and create coupon codes to give special discounts.
Paperbell Includes Custom Landing Pages
Calendly has booking links, Paperbell has landing pages. Your clients don't want to just schedule, they want to know everything about what they're signing up for, including background on you, more detail about how you work with clients, etc. You can put all of this on your custom landing page, included right in the price of Paperbell.
Paperbell Tracks How Many Sessions Your Client Has Left
Paperbell gives your clients their own link to book all of the sessions in their package. That means Paperbell automatically knows exactly how many sessions have happened, and how many remain. When clients have a free-for-all booking link they can just jump on your calendar whenever they like! Paperbell automatically ensures only sessions that have been paid for are on your calendar.
Paperbell Delivers a Full Client Experience, Not Just an Appointment
Paperbell was designed to deliver coaching, which can often include more than just the actual appointment. For example, you can send automated emails before and after the appointment, reminding your client how to prep and checking in on how they're doing. You can automatically deliver resources like audio downloads, videos or PDFs. And all of this is accessible in one easy place for your clients.
Paperbell Can Mix'N'Match Different Types Of Sessions In One Package
Do you want different appointment lengths in the same package? How about a package that mixes some group sessions with some 1:1? Paperbell can do any kind of coaching package that you can dream up, with ease!
Paperbell Includes Contract Signing
Have you ever had a client engagement delayed (or worse, never get off the ground at all) because you were waiting for a contract to get signed? Paperbell includes contract signing, with best-in-class HelloSign technology included in your subscription. The contract is presented to your client, ready to sign in one elegant workflow – they can schedule, pay and sign in a matter of minutes, instead of playing "email tag" for weeks.
The Biggest Difference Between Calendly and Paperbell for Coaches: Scheduling Appointments vs Running Your Coaching Business
Calendly assumes you need to schedule appointments with your client, which you do! But it also makes you send a new link for each appointment, and it forces you to sort out payment somewhere else, unless you want to make your clients pull out their credit card again each time they talk to you (which can feel a bit transactional).
After researching both platforms, the best decision really comes down to what your coaching practice looks like. If you just need to schedule appointments, one at a time, and don't have any needs for taking payment, contract signing, or client management, Calendly is the clear winner.
However, if you tend to work with people on an ongoing or multi-session basis and could use a solution that really manages the entire client process, then Paperbell was made for you.
Paperbell offers a free plan so that any coach can have a look around and try out features, with no credit card required.