You've likely heard of large consulting firms like Deloitte or Mckinsey. But did you know that several consultants work for themselves — or even start their own consulting firms?
It's not as overwhelming as it sounds! Let's explore what options you have if you want to start your own consulting business.
How to Start a Consulting Business in 7 Steps
If you have no idea how to get started, here are the first seven steps to build your own successful consulting business!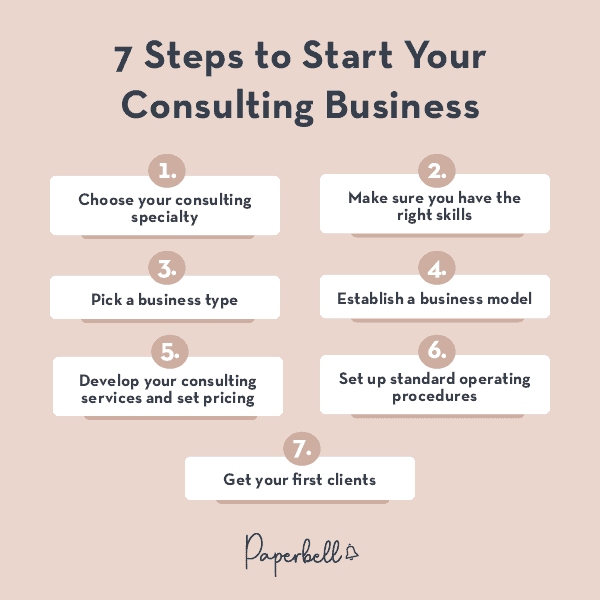 1. Choose your consulting specialty
Consulting isn't a one-size-fits-all deal. There are as many types of consulting specialties are there are coaching niches.
For example, do you have expertise in marketing? Perhaps you could become a marketing consultant. Maybe you're proficient in human resources, PR, or even high-level business strategy.
You should also choose what types of clients you'll be able to help. Consulting with small businesses is a completely different experience compared to consulting for a multi-national corporation. They don't have the same problems to solve and don't require the same type of expertise.
To choose the right consulting niche for you, take a good look at your work background. What are all the topics you've had some experience with? Which ones did you have the most passion for?
Consultants need to be pretty knowledgeable about their niche, so don't pick this lightly. Not only should you be passionate about your niche, but you should have the desire to deepen your knowledge and skills surrounding this topic, too.
2. Make sure you have the right skills
As a consultant, you'll need more than just your skills surrounding your chosen niche. You'll need to develop some other skills if you don't have them already, such as:
Public speaking – since you'll be speaking to clients and their teams regularly
Identifying other people's problems
Presenting data in a concise way
Offering feedback
Training people to implement solutions
If you're not perfect at all of these, don't worry! You'll be able to hone your skills as you gain experience. But you should have a basic grasp at the minimum.

3. Pick a business type
Do you intend to start off on your own as a consultant? Or do you see yourself growing a large team of consultants instead? How you envision your business in the future may impact what type of business you create today.
If you're on your own, all you need to do is become a sole proprietor. This doesn't cost anything and you're not required to register your business. But if you want to hire other people, you'll need to register your business as an LLC.
Even if you're on your own, you can still opt to make your business an LLC. This will make your business a liable entity, which means you personally won't be liable for anything that happens to your clients.
4. Establish a business model
Your business model will dictate how you're able to make money from consulting.
You'll usually see three different business models when it comes to consulting businesses:
Hourly: charges their clients for every hour a consultant spends on their project
Per project: flat fee for a predetermined scope of work
Retainer: flat fee per month
One isn't better than the other. It all depends on what works best for you. It's also possible to work with all three models depending on the type of project.
5. Develop your consulting services and set pricing
Once you've chosen a business model, it's time to develop your consulting offers. What will you be actually be delivering to clients?
Consider who you want to help in your niche and what that market needs. What are their deepest pain points? What outcomes do they want the most? How can your expertise create a bridge between that pain and those outcomes?
When you're getting started, make sure not to make your consulting offers too broad. The more you niche down, the more deeply you can develop your expertise. You'll also be more likely to attract clients that are dealing with those exact pain points.
You'll also need to determine a price for those services and packages. If you're not sure where to start, reach out to your network to get other points of view on what consultants charge. You can ask another consultant, but you can also ask people who've hired consultants before.
6. Set up standard operating procedures
We swear this is sexier than it sounds! If you want to stay on top of the admin side of your consulting business, it's vital that you set up a few things BEFORE you onboard your first clients.
Standard operating procedures are the exact steps you go through when you execute something in your business. Putting SOPs in place ensures that you're able to do the same thing over and over again and deliver the same results with consistency.
It also sets you up for success when you're ready to hire help.
To get started, you can use Paperbell to build the entire back-end of your consulting business! For example, you can:
Create templates for onboarding emails so that you never have to draft an email from scratch again
Set up your schedule so your clients can book themselves in your calendar
Design templated intake questionnaires
Create feedback forms to constantly know what your clients think of your consulting services
Automate invoice sending and reminder emails
Not only will SOPs make you appear more professional, but they'll also save you tons of time and let you remain in your zone of genius as much as possible.
7. Get your first clients
With everything in place, you'll be ready to get your first clients.
Start with organic marketing before you get an advertising budget. Reach out to your existing network, and let them know that you're open for business. Ask people in your network to share the news to their own networks.
You can even reach out to people who aren't a right fit, but who may have a referral for you!
If you have a LinkedIn profile, update it with everything you've created so far, and make sure to post about the news there. You may also want to reach out to previous employers, colleagues, and other people you've worked with directly in the past. You never know who may need your expertise.
Once you have a client, it's time to wow them. Go above and beyond to provide a consulting experience you can be proud of. If you're confident they're happy with your services, make sure to ask for a testimonial. These will be powerful tools you can use to keep growing your consulting business!
5 Best Books on Starting a Consulting Business
Want to take your reading further? Add these five books to your library to build and grow your consulting business.
What do you do when there's no rulebook? People who figure out what to do are the linchpins. They're the indispensable members of an organization.
As a consultant, you'll often be called on to solve problems that may have never been solved before. What you learn in Seth Godin's book will be highly useful to give you a new perspective.
If you've never heard about the 80/20 principle before, here's a brief explanation:
80% of your results usually come from 20% of your input. This could mean that 20% of your clients represent 80% of your income, for instance.
In this book, Perry Marshall teaches you how to streamline your business using the 80/20 principle in sales and marketing. You'll learn how to solve your own business problems, but the book will also help you do the same for your clients.
This book is a must-read to learn how to run your consulting business once you have a client or two under your belt. It will teach you how to maintain authentic relationships with those clients, so that you can help them get the results they're hoping for. Authentic relationships will also help you get repeat business from the same clients, instead of always getting stuck in client-getting mode.
Plus, this book will guide you in how to ask the right questions that really move the needle for your clients.
Want a detailed, step by step process to help you start a successful consulting practice in 90 days? Then make sure to grab this book by Alan Weiss.
He'll show you how you can start generating revenue quickly while keeping your passion aflame.
This book is different from the others in this lis,t because it's not focused on business or consulting specifically. But learning how to communicate logically and clearly matters just as much, if not more, than knowing how to market yourself.
That's exactly what you'll learn in this book by Barbara Minto. Not only will you learn how to communicate your ideas succinctly, but you'll also learn how to save time as you're doing it.
Starting a Consulting Business Checklist
Here's a quick checklist to keep track of what you need to do to start a consulting business:
Pick a consulting niche
Register your business if you're choosing an LLC
Choose a business model
Plan your first consulting packages
Price your consulting packages
Get your free Paperbell account
Set up your calendar and SOPs
Let your network know you're open for business
Reach out to past colleagues
Ask your first happy client for a testimonial
Start a Consulting Business You Love
If you're an expert in something and want to help others succeed, starting a consulting business could be perfect for you. You'll be able to work on your own terms while helping your clients overcome their biggest hurdles.
Create your free Paperbell account to start building a profitable consulting business!