Whether you're just starting out, looking for new clients, or wanting to grow a consulting business with the right clients, it's important to go back to the foundation. It's easy to overlook gaps in your business model and miss opportunities that could help you sell your consulting services.
If you take the time to reflect and review your consulting business, you will be able to strengthen and scale it!
Digital marketing and social media offer endless opportunities for you to connect with people and find potential clients, you just need to know how to leverage them effectively.
We want to help you really connect with and attract more consulting clients. So look no further than this ultimate guide on how to get consulting clients.
3 Things to Consider Before Looking For New Consulting Clients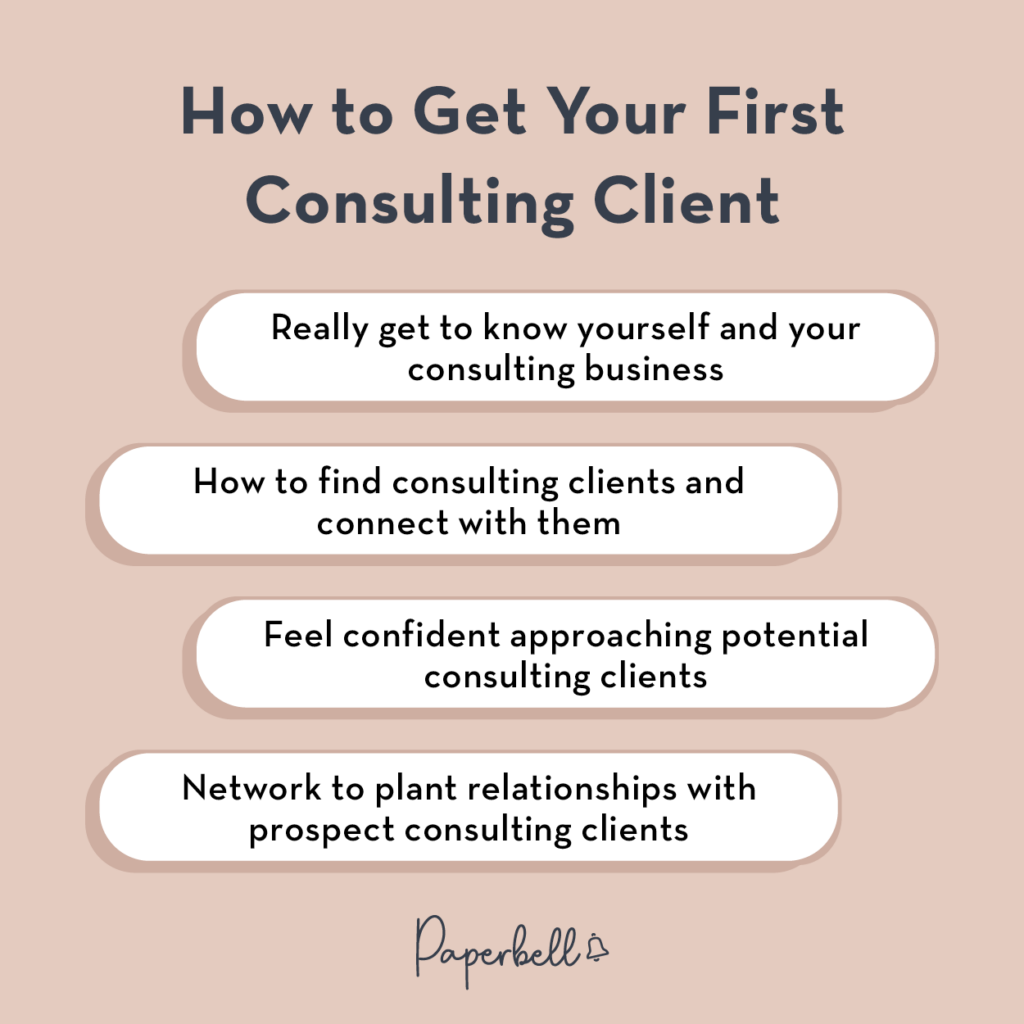 Before you start implementing some of the marketing strategies we'll show you in this article, you need to be really clear about your unique value proposition and how you present it. Let's take a look at some of the preliminary work you can do to set yourself up for success and find paying clients.
1. Really get to know yourself and your consulting business
Knowing what makes you (and your business) unique is your superpower. There are no two stories, journeys, backgrounds, education, interests, or beliefs that are the same. So, as a business owner, it's essential to highlight the most distinctive and rare things about you and your business.
When you can leverage your value proposition, skill set, and knowledge, you're guaranteed to stand out from other consultants in your area.
One way to do this is skill stacking. It's a simple concept and one that you might already do but don't have a name for. Skill stacking means you don't have to be the master or spend all your time mastering one thing. I'm sure that you've learned a range of skills during your time in the consulting space, right?
Skill stacking is essentially putting all your relevant consulting skills together that you already have to differentiate yourself from the competition. You don't have to be defined by core skills or skills you think you should have; you have so many options to expand and life experiences that you can draw from.
[Read: 36 Core Consulting Skills to Set You Apart from Your Competition]

When you bring parts of yourself into your business, it becomes so much more personal, and it will give you the drive and confidence in everything you do. Because ultimately, your aim and focus are your clients. You can't educate, build trust or build brand loyalty without that confidence and conviction.
So that when you find clients and pitch to them, you'll be able to connect with them and know that you have the solution they're looking for, even if they don't know it yet.
2. Refine your offer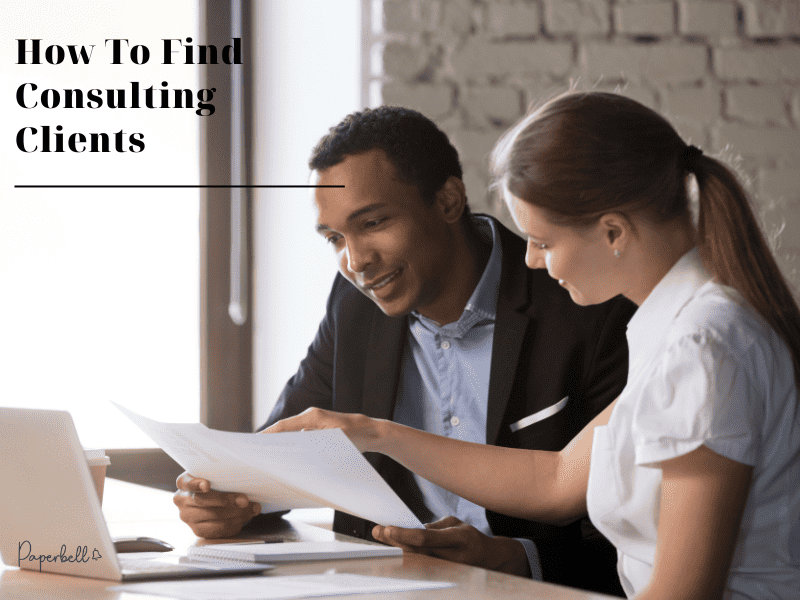 If you want to generate leads, you'll need to be super clear on what you offer and why you offer it so that you can identify your niche, who your ideal clients are, and 'target' them – in the nicest possible way. If you take this step, you will only end up attracting clients who align with you and your offer. You won't attract people who aren't a fit for your business and who waste your time.
When thinking about who your ideal clients are, try asking yourself the following:
Who would you love to work with?
What are this person's goals and values?
What problems is your ideal client trying to overcome?
What solution can you offer to solve their problem/reach their objective?
The way you present this solution needs to be simple, transformational, and attractive to the right people.
If you already have a solution but think it could be clearer, then how do you find and create that perfect solution? You ask your ideal client!
People love talking about themselves and what they do, so use that to your advantage. Research suggests that we love it simply because it feels good and it gives us a buzz. The beauty of this is really listening because it can provide you with the most amazing insights and help you gain an advantage when planning and growing your consulting business.
Instead of just creating a dream client profile on paper, speak to real people, and you can do this with past and present clients, too, as well as new connections.
What is it that you really want to know?
What could you get their opinion on?
You'll discover what they have in common and where they are so that you can position your brand in the best possible way and tailor your marketing comms and content by creating the perfect landing page and digital products.
We can help you with that, whether it's making a useful checklist or a handy workbook. And you can store all the information in a client database or create a survey to help you at this crucial stage.
3. Feel confident approaching potential clients
The result of doing all the groundwork should have you feeling really inspired, and you'll be able to move forward with so much confidence that you'll shine positively!
Once you know what your business stands for and who you want to attract, it will be far easier to reach the right people in the right place, at the right time.
You will also save time by getting to know who your clients are, and you may even see new patterns or trends emerging. If you're struggling to connect the dots here, turn it around to align your passion, skills, knowledge, and experience with your dream clients. We've created this detailed blog to help you find your niche and pick your specialty.
Getting new clients is exciting, and we promise you that it's not as scary as you think, especially when you've done the research and got the right support, network, and tools in place – which we have thoughtfully created for you already. Ta-dah!
How to Get Consulting Clients: 9 Simple Strategies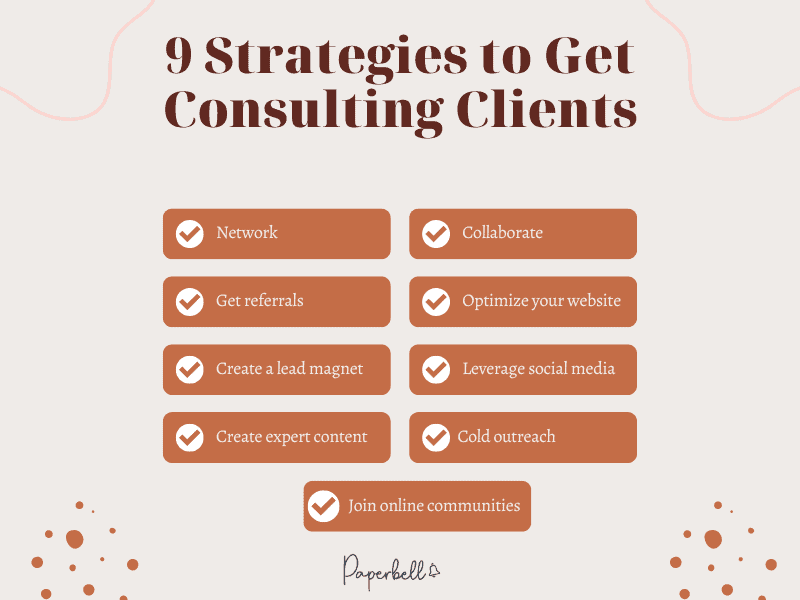 1. Network to build relationships with prospective clients
Nothing beats face-to-face interaction. Approach networking events to sow the seeds, not to collect contacts. If you want to make meaningful connections online, take the stress out of 'cold' contacting people by taking a similar approach to networking and using it as a chance to research and build genuine connections.
Many consultants regularly attend in-person events and it's a great way to get to know other consultants who could be potential collaborators. If you run your business alone, these events can be invaluable for exchanging knowledge and staying up to date with innovations in the industry.
A study by Forbes listed the top benefits of in-person meetings instead of networking by technology. The top benefits were:
Building stronger, more meaningful business relationships (85%)
Better ability to read body language and facial expressions (77%)
Ability to bond with co-workers/clients and more social interaction (75%)
Allows for more complex strategic thinking (49%)
Better environment for tough, timely decision-making (44%)
Less opportunity for unnecessary distractions (40%)
Leads to higher-quality decision-making (39%)
Easier to focus (38%)
Fewer disruptions and delays (23%)
When you're armed with a purpose and a set of questions you really want to know the answers to, you can make the most of these (sometimes awkward) situations. Some examples of questions you could ask to break the ice when you meet a potential client at an event:
What brings you here?
What are you enjoying about this event?
Did you get inspired by anyone you saw speaking at this event?
2. Collaborate with other consultants
This tends to get overlooked but it's one of the most enjoyable ways to get more consulting clients and grow your reach.
Instead of competing, build meaningful relationships with other coaches, consultants, or people that complement your business, to give your clients the best possible experience. You'll have creative thinking and brainstorming partner(s) to work with, and you can cross-pollinate your marketing and build a trusted network.
When you become part of a community of other coaches, you can help one another out by sharing each other's content and by recommending clients to each other. By combining your resources, you can reach a wider audience.
3. Ask for referrals
You could use your own network to make new connections or ask your current clients for referrals. Tell friends, family, and colleagues that you offer consulting services. Chances are someone will know someone who is a prospective client and needs your help. When a referral comes from someone you know, it's much more trustworthy, so ask your network to promote you!
Even if it's just an introduction to someone, leveraging your network can help you find collaborators and get clients.
Reach out and reintroduce yourself or reconnect with people you've worked with in the past. Use this as an opportunity to do some more research and find out if they need any support, and share some client feedback and results with them. If you had a great working relationship in the past, chances are they will trust you to work for them again.
If you already have some clients who hired you as a consultant, you could set up an official referral program or affiliate scheme where people who bring you new clients get paid. You could offer a fixed rate to those who refer a client to you who books one of your packages.
4. Showcase your brilliance with your website
Your website is the shop window for your consulting services. If it's lackluster and doesn't share the key information, people will go and shop elsewhere.
If you want to get more clients, you need to showcase how brilliant you are, and your website is the perfect opportunity for taking matters into your own hands.
As soon as someone lands on your homepage, they should be able to see why they should work with you. If your offer is succinct and concise, more leads will convert into customers.
Have some social proof on your website in the form of testimonials to make people feel like it would be a missed opportunity if they don't work with you. If you aren't sure how to collate testimonials, check out this post.
Your website also needs to be search engine optimized if you want more clients to find you when they look for a consultant in your niche.
If you don't have the budget to hire a professional web developer when you're starting your new business, most of the self-building website platforms like Squarespace, Wix, and Webflow make it pretty simple to set up a website that looks great. Drag and drop boxes are ready-designed so all you need to do is add images and text and your site is good to go.
5. Offer an irresistible lead magnet to build a mailing list
Another aspect of marketing to think about is email marketing; yep, emails are still going strong! When finding consulting clients, webinars, workshops, and workbooks all work really well to lure in your ideal clients. If you offer something with unique value, that people can't find elsewhere, they won't be able to resist following you and signing up for your newsletter.
A lead magnet is a great way to capture email addresses and you want those precious addresses! Email marketing is one of the best ways to directly reach your clients to sell your offers. Email subscribers are the most engaged followers you can get and email has an average of 3800% ROI, whereas social media only has 28%.
Do you have a mailing list you can nurture and utilize? If not, then now might be the time to start building one because, like you, 4.3 billion people start the day by checking their email. And you're not at the mercy of the algorithm, which is a huge bonus
Your list is yours, and what better way to connect with people than through their inbox? An informative and interesting bi-weekly email might be exactly the kind of thing potential leads want to hear about from you. Emails, like blogs, demonstrate your knowledge, experience, and passion for business, especially when they are written with your ideal client in mind. They become instantly valuable!
If you create a free offer for your potential clients you can showcase your expertise and gently persuade them why you are the one for the job!
6. Establish yourself on social media
Having a social media presence is important for your brand awareness and engagement, as well as establishing yourself as a thought leader in your niche.
Getting your social media accounts in order will show how professional you are and give you the chance to show the world why they should choose your business.
Social media also makes it pretty easy to find and connect with people. And doing that authentically by talking to them about their passion and vision is an opportunity not to be missed. You can connect with your ideal clients by simply having a chat with them, and this gives you two advantages, even if they're not looking to work with a consultant right now!
You will build a real connection with a person, and they will remember you in the future.
You will be able to understand and get to know your ideal consulting clients on a deeper level.
It's actually much harder to network online; yes, you have more reach, but it also takes longer to form a genuine relationship and get past the spammy messages.
LinkedIn is a really good place to start when it comes to social media and online networking. It might not be the biggest, with 930 million users, compared to Facebook's 3 billion, but it's a growing and changing platform that's specifically business-focused.
LinkedIn Groups are becoming more popular as a place for professionals in the same industry or with similar interests to share experiences, and insights, look for guidance, and make valuable connections. If you're actively looking for more clients, think about what they'll be interested in and where they will be. Sharing useful or entertaining content on the platform can help you get noticed, as can directly reaching out to people you think could be a fit for your services.
It is totally possible to reach out to people without coming across as spammy. Make sure your messages are personalized, offer value, and that you have a genuine reason to connect, if you go straight in with a sales pitch, it will put people off.
To maximize the impact of your message, incorporate storytelling and visual aids and make an effective presentation, ensuring a captivating and memorable experience for your audience.
7. Create compelling content that establishes you as a thought leader
So you're sharing content on social media, but what about your blog? If you publish blog posts regularly, it can boost your Search Engine Optimization and get you noticed by your ideal clients.
If you make content marketing part of your strategy, you can share your expertise, and write about topics that interest you and you never know, maybe your ideal client will stumble across your post.
8. Cold outreach
Most people's least favorite option, but cold outreach can work when you're looking for the right consulting clients. If you take an extremely targeted approach and do the groundwork, you will stand out from the crowd.
Find businesses or individuals who you think could benefit from your services and write them a unique proposal, that includes why they should work with you and what results they can expect to see. Do some analysis on your potential client's business, to show you're really invested in working with them. This targeted approach is far more effective than sending out dozens of generic, unpersonalized emails to random people.
This technique isn't going to find you consulting clients fast, but people will appreciate your effort and are more likely to get in touch when they do need your services.
Remember- slow and steady wins the race.
9. Leverage online communities
If you've exhausted all the other ideas on this list, using online job platforms or becoming part of online communities can help you find more clients. Sometimes potential clients will post job listings that require your exact expertise.
Freelance marketplaces are a good place to look for opportunities, as are groups on social media platforms. Join groups that are relevant to your niche on Facebook and LinkedIn and share your knowledge with people who are looking for it. If you build credibility in the space you dedicate your time to sharing, you may just get more consulting clients as a byproduct.
Marketing your consulting business: Communicate with purpose
This is such a big topic, but right now, the only things you need to think about are your current marketing efforts and what is and isn't working. Take a look at your research and conversations with your ideal clients. What would be the most effective way to reach them? What do they need/want?
Now you know how to get consulting clients, hone in on the one thing you think will make the biggest difference to your business.
Don't spread yourself too thinly because marketing communication and content is (literally) a full-time job, so keep it simple and focus your time, energy, and money on the things that will make a difference. If you don't understand Instagram or TikTok, no problem. Feel more comfortable with Facebook and LinkedIn; great. Invest wisely here if you want real results unless you feel confident and want to spend time doing things like ads and reels.
You can find more resources here. Don't forget to keep checking the blog for new articles every week.
With a free Paperbell account, you can manage everything seamlessly, from onboarding clients, scheduling appointments, creating forms, and keeping all your notes in one place to setting up invoices and contracts and so much more.