Ever heard of reposting content that's not yours on TikTok? How will it help you gain followers on social media as a life coach?
If you're one of the millions of TikTok users who create content, you know how much effort goes into making each video.
Sometimes, there's a video by someone else that you love so much that you'd like to share it with your followers.
In this post, we'll take you through how to repost on TikTok and all the things you need to know before you do so! Keep reading to discover:
What Does Repost Mean on TikTok
Should You be Reposting on TikTok?
How to Repost on TikTok
How to Unrepost on TikTok
How to See What You Repost on TikTok
FAQs
What Does Repost Mean on TikTok?
Before we dive into the technicalities of reposting on TikTok, what is repost on TikTok?
Reposting is sharing content that has already been posted by another user.
As a coach, reposting can help you grow your following, connect with other creators on the app, and build relationships within the TikTok community.
You may even increase the reach of the video beyond the original creator's followers!
Also, when you repost someone else's video, they will receive a notification and may be more likely to check out your profile and follow you if they like your content.
That's one easy way to boost your coaching brand, right?

Should You Be Reposting on TikTok?
One of the features that make TikTok unique is the ability to share content from other users via a TikTok repost.
However, remember that reposting can be a double-edged sword. So, is it possible to repost others' content at any time?
Not everyone might welcome their content being reposted or feel their work is being stolen or used without their permission.
But by following some simple guidelines, you can help make TikTok a more positive and supportive platform for everyone.
Find out more about these guidelines below.
How to Repost Videos On TikTok
As mentioned, reposting is an excellent way to share content that you find interesting or informative.
Here's the step-by-step process to repost on TikTok:
Locate the video you want to repost on TikTok.
Click on the share arrow icon located on the right side of the screen.
Select the Repost button on TikTok on this new screen.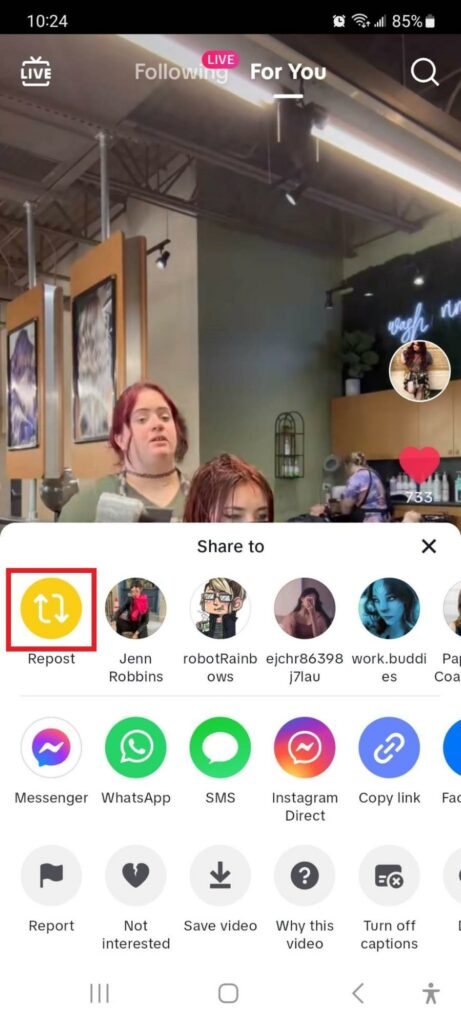 Add your own caption and tag the original creator (if possible), then click on "Post."
There you go! The video is now on your profile for your followers to see.
But wait, there's more!
Doing TikTok reposts is not just limited to following these four simple steps.
There are also a few things that you should keep in mind before reposting a video on TikTok.
Guidelines before reposting on TikTok
Ask permission/consent from the original creator, like sending a direct message before reposting. It shows respect for their work and helps your followers discover new creators.
Always credit the original creator in the caption, or tag the original creator while reposting a video.
If a user has marked their video as "Private," it's important to respect their privacy and not repost their content without their permission.
Put your own caption while reposting a video, as it gives your followers an idea of why you found the video interesting and your thoughts on the content.
Add relevant hashtags to make your repost more discoverable.
By following these simple guidelines, you can repost on TikTok like a pro!
How to Unrepost on TikTok
If you're an avid TikTok user, you know how easy it is to repost a video by mistake.
Whether you accidentally hit the wrong button or simply changed your mind about sharing a particular video, it's important to know how to undo a repost on TikTok.
Fortunately, the process is quick and easy!
To unrepost TikTok videos, follow these simple steps:
Locate the reposted video on your profile.
Click on the three dots located on the right side of the video.
Select the "Delete" option from the resulting menu.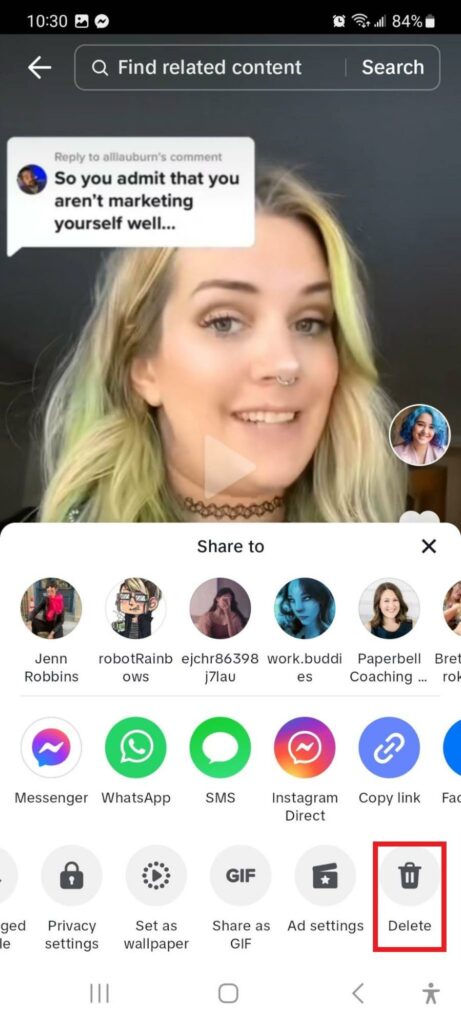 Confirm the deletion action on the new screen to remove the video from your profile and feed.
Note that once you've deleted a video, it cannot be recovered. So be sure that you really want to unrepost the video before you confirm the deletion!
Additionally, if you've reposted a video you don't own the rights to, remove it from your profile as soon as possible.
Failure to do so could result in legal action being taken against you.
Always be mindful of the content you're sharing on TikTok.
How to See What You Repost on TikTok
If you're wondering how to see what your repost on TikTok, don't worry – it's a simple process!
First, open the TikTok app on your phone and go to your profile by selecting the "Me" option on the bottom right corner of your TikTok screen.
Next, scroll down to your posted videos and look for the "Reposts" tab next to the "Posts" tab. This tab will show you all the videos you have reposted on your account.
There you have it. Just follow these simple steps to easily keep track of all the videos you've shared on the app.
TikTok Repost FAQs
Reposting on TikTok can be a great way to share content you love with your followers. However, it's important to do it right to avoid legal or ethical issues.
Here are some commonly asked questions related to reposting on TikTok:
Can I repost a TikTok video without permission?
No, it is not recommended to repost a TikTok video without permission from the original creator.
Doing so could land you in trouble if the original poster gets upset. For instance, they could flag your video and get it taken down, impacting your account negatively.
Always ask the original creator about reposting, and credit them when you do.
How can I ensure that reposting on TikTok doesn't hurt someone's feelings?
Reposting someone else's content can be a sensitive issue, especially if they don't want their content to be shared.
Always tag and credit the original creator when you repost, and do so only when you're sure they'd appreciate it.
If you're unsure, it's always better to err on the side of caution and not repost.
Can I repost a TikTok video that has already been reposted by someone else?
Yes. However, make sure that the video is credited to the original creator to avoid any misunderstandings.
It's always best to go back to the original source if possible.
Be a Successful Life Coach by Boosting Your Online Presence
Reposting on TikTok can be a valuable TikTok strategy for life coaches to gain followers and connect with the TikTok community. Eventually, it can result in gaining more clients as well if you create compelling content!
By following our guidelines, you can leverage reposting as a tool for growth and engagement while respecting the rights and preferences of content creators.
Remember, TikTok is a community, and we should all work together to support and uplift each other's content.
Looking for a way to manage the administrative side of your coaching business so you have more time to create high-quality coaching content on TikTok?
Paperbell can help you run your business with ease. Grab your free account today to start running your coaching business on a single platform!