If you're trying to start a coaching business and land your first clients, you've probably heard this advice:
Start posting on social media!
Here's the thing — just sharing your life coaching content on social media won't automatically help you grow your following and build a sustainable life coaching business. It is what it is.
What you do need is a strategic social media plan to help you get in front of your dream potential clients at the right time. And hashtags are a huge part of building that strategy.
But how do hashtags work, exactly? And which ones should you be using as a life coach?
In this blog post, we'll discuss:
What are life coaching hashtags.
Why you should start using them.
Best life coaching hashtags on Instagram, Twitter, and any platform.
How to find more hashtags that are perfect for your coaching business.
What are Life Coaching Hashtags?
Hashtags are a type of metadata used on social media to cross-reference content by topic or theme.
In short, they let you group your social media posts with other posts about the same topic!
Life coaching hashtags are niche hashtags that are relevant not just to life coaches but to people looking to hire a coach as well.
For example, people looking for help with their mindset may search for #mindsetshift or #winningmindset. Or someone who needs help setting goals could be using #2023goals to look for advice.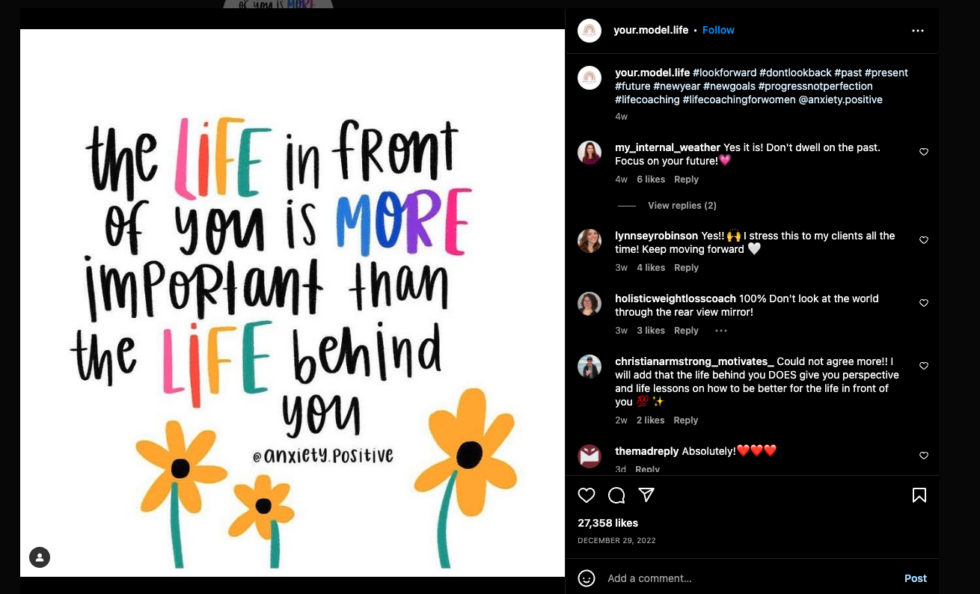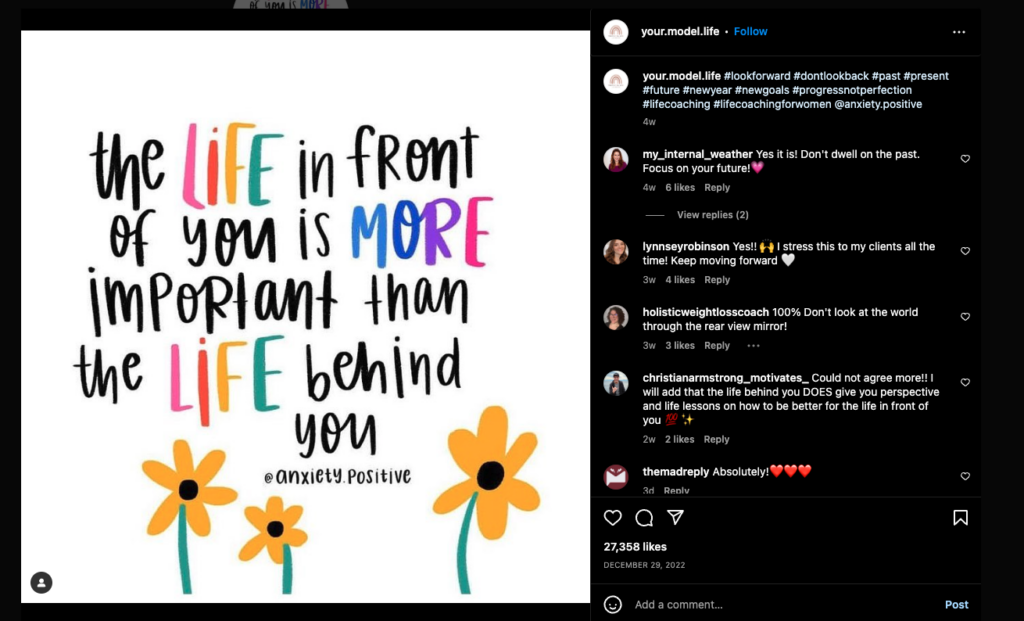 Almost every social media platform uses hashtags in one way or another. But they're particularly useful on Instagram, Twitter, and TikTok.
Why Should Life Coaches Use Hashtags?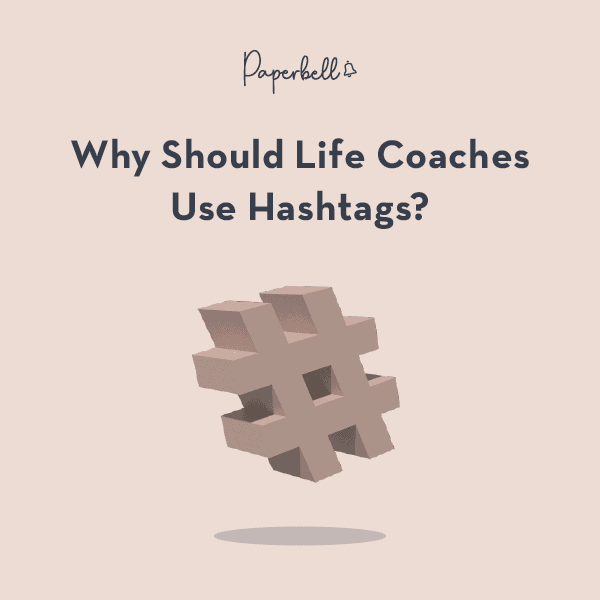 When you post on social media, your content won't magically appear in front of your dream clients.
Some platforms use algorithms to match users with content they may be interested in, like Youtube. But on a platform like Instagram or Twitter, you mainly see your own feed. That means people who aren't following you won't see your content.
But when users search for new content, you can appear in the search results if you've used a relevant hashtag.
Some users also follow specific hashtags — this means they'll see posts that use that hashtag when they scroll their feeds.
TikTok combines both — its algorithm allows any coach to show up on relevant feeds if enough people watch their videos long enough. But people also use the app as a search engine, where hashtags come into play.
When using the right hashtags, you're not just expanding your reach to new people. You're also positioning your content as the answer or the solution to what your potential life coaching clients are looking for.
So instead of chasing new clients, you're meeting them exactly where they are!
What to Know about Life Coaching Hashtags on Instagram
On Instagram, you'll find 9 types of hashtags:
Niche hashtags – relevant to an industry or topic
Hashtags for products or services
Community hashtags – created to build a community around a topic
Acronym hashtags
Emoji hashtags
Location hashtags – for people posting from specific locations
Event-related (or seasonal) hashtags
Daily hashtags – popular hashtags only on specific days of the week
Hashtags for relevant phrases
But not all of the above are helpful for life coaches. For example, a life coach who works 100% remotely won't get much use out of location hashtags — unless they live in a city with a high population!
Life coaches who don't yet have a huge following won't get much use out of products and services hashtags, either. But as your audience grows, you can leverage this type of hashtag to create your own and increase your brand awareness.
The same goes for acronym hashtags! For example, if you have a signature program, you can create an acronym from its name and let your clients spread awareness by using it in their own posts.
You can use hashtags on every post you publish on Instagram. Add between 5 and 10 hashtags to each post — you can add them directly to your caption or as a comment below your post.
What to Know about Life Coaching Hashtags on Twitter
Hashtags are used to search for content and look at trending topics on Twitter. So if there's a currently trending hashtag, consider using it if it makes sense with your content.
Twitter is the best place to share short-form content. And because of its short nature, you should keep your hashtags to 1-2 per tweet, max.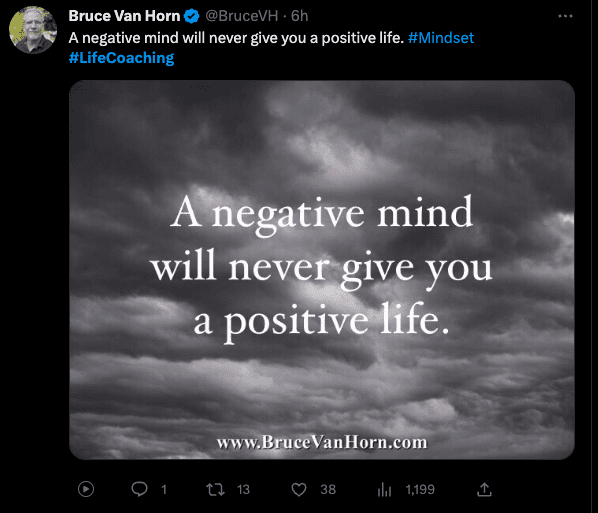 But unlike Instagram, people often use hashtags as part of their sentences on Twitter. You can use them to highlight important keywords in your content.
Alternatively, you can emphasize the topic of your tweet by putting it right at the start. You can also share it at the end to provide context.
What to Know about Life Coaching Hashtags on TikTok
You don't always need hashtags for people to find you on TikTok. That's because the algorithm can show your video to people who are likely to be interested in your life coaching content.
However, hashtags can help you amplify your reach — especially to target people who are searching for specific terms related to your life coaching niche.
TikTok only uses hashtags in video captions. This means you can add hashtags in a comment, but that won't help your video show up in search results for that hashtag.
Keep your number of hashtags between 3 and 5 per video. You can also find trending hashtags by using the Discover section.
58 Life Coaching Hashtags Across Any Platform
Now you know how to use hashtags for Instagram, Twitter, and Tiktok! Below are some popular subtopics and examples of life coaching hashtags from each:
General life coaching hashtags
#lifecoach
#lifecoaching
#lifecoachforwomen
#lifecoachformen
#selfcare
#personaldevelopment
#motivationalquotes
#lifecoachingtips
#mentalhealth
#selfdevelopment
#nlp
#transformation
#selfgrowth
#selfconfidence
Mindset hashtags
#mindset
#mindsetshift
#growthmindset
#loveyourself
#motivation
#motivational
#selflove
#intuitiondevelopment
#innerwisdom
#innerpeace
#mindfulness
#selfhealing
#positivevibes
#empowerment
#selfawareness
#gratitude
#selfesteem
Goal-setting hashtags
#2023goals
#findyourfreedom
#findyourpurpose
#ambition
#motivatedwomen
#motivatedmen
#successcoach
#goals
#careergoals
#lifegoals
#goalsetting
#happiness
#purpose
#innerwork
#alignment
Spiritual hashtags
#higherfrequency
#higherconsciousness
#manifestation
#spiritualgrowth
#soulawakening
#raiseyourvibration
#lawofattraction
#meditation
#spiritjunkie
#enlightenment
#breathework
#healing
How to Find More Life Coaching Hashtags
You've seen our 58 examples of life coaching hashtags — but the list doesn't end there. You can expand your list by doing your own hashtag research.
The best way to find new life coaching hashtags is to see what your competitors are doing! But don't focus on any random competitors — stay as close to your niche as possible.
For example, if you're an executive life coach who helps single mothers crush it in their careers and home life, you shouldn't research what a spiritual coach is doing.
To begin your search, you can use some of the above hashtags to find relevant posts. From there, see who the creators are behind the posts and make sure they're in your niche!
If you believe they're in the same niche as you, start looking through their posts to see examples of the hashtags they use.
By taking this extra research step, you'll find much more relevant hashtags than any life coaching list could give you. And that'll go a long way toward helping you get in front of your dream clients.
Master Life coaching Hashtags on Any Platform
Now you know how hashtags work — and you have 58 life-coaching hashtag examples to work from!
Remember to play around with the hashtags you use. If you don't get any results with one specific group of hashtags, try to switch them around to test other variations.
One final tip: don't rely only on competitive, general hashtags like #mindset or #goals. These hashtags receive tons of search traffic, but they also have plenty of competition. By using a combination of general hashtags and more specific ones, you'll increase your chances of landing in front of your ideal coaching clients at the right time.
Are you struggling with building your life coaching business from scratch? Paperbell handles all the tricky moving parts of your coaching business and keeps it all in one place, automatically. Create your free account to try it out at no risk!