Your social media presence as a coach is an important part of your brand. But producing unique and engaging content for Instagram can easily turn into a part-time job and take precious time away from what you're actually here to do: coaching your clients.
With customizable Instagram templates, you can skip moving design elements around for hours and instead simply fill in the blank. Using templates for your Instagram feed will save you a ton of time and thinking that you would otherwise spend on figuring out what to post.
Read on to get up-to-speed on the best Instagram templates for coaches, how to use them, and how to create your own templates, in case you're feeling creative.
What Are Instagram Templates?
Instagram templates are pre-made design layouts you can open and edit in a design app like Canva. You can simply change the color of the elements and the font to match your brand, then add text or images to them, and your new post will be ready in a few minutes. If you don't have photos to add, you can find free high quality photos online.
If you want to be more creative, you can play around with filters and graphic elements as well, but the point is that you don't have to work from a blank page to create your next Instagram post, story, or reel. You can find an array of beautiful Instagram templates on content creator platforms or download them in packs from design marketplaces.
Why Use Instagram Templates?
Besides saving you a lot of time and headaches, Instagram templates are a great way to make your feed look consistent and on brand. Using the same color palette, font, and layout for your content is a great way to convey professionalism and build brand recognition.
Let's put it this way: your Instagram handle technically acts as a website where you can connect with your audience through meaningful content and promote your packages. People who stumble upon your Instagram profile will decide in a split second whether they hit follow or move on, so a well-designed and engaging feed is essential to making them stay.
[ Read: The Life Coach's Guide to Getting Clients on Social Media ]
The easiest way to start using templates for your Instagram is to define your content pillars, in other words, the main categories of posts and stories you'll be sharing consistently. These can be quotes, interesting facts and stats, user-generated content, challenge reels, and so on.
3 Tools That Come With Free Instagram Templates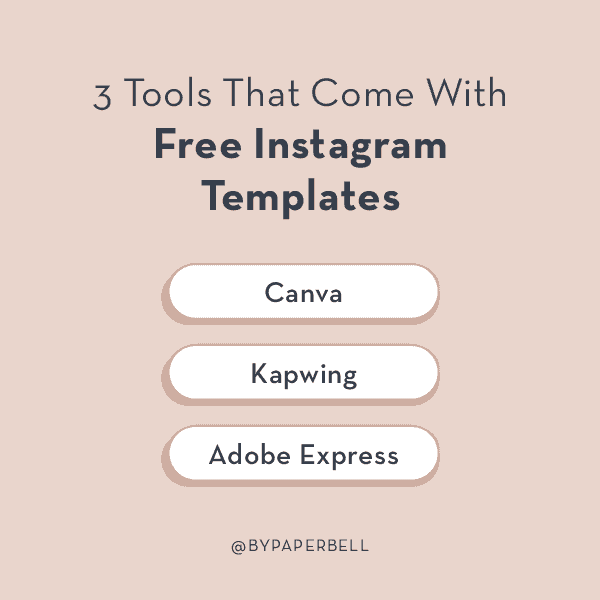 Canva
Canva is the favorite tool of many service providers and businesses. It makes it easy to create professional-looking designs in minutes, even if you've never designed anything. Beyond just social media content, they have templates for everything a business might need, from business cards, presentations, logos, brochures, and even merchandise.

They have both free and paid templates for Instagram story sets and post templates that you can start using right away for your content. They also have size guides, post ideas, and plenty of great resources from designers to get you started. Most Instagram template packs that you can find on design marketplaces are created in this app, and all you need to access them is a free Canva account.
Kapwing
Kapwing is a video content editing tool that helps you turn footage from your phone into stunning reels for all platforms. You can edit and resize your video to fit horizontal and vertical formats, choose from a large variety of stock images and visual elements in their library, and use their pre-made templates to automate your content creation process.
Kapwing lets you collaborate with other members of your team on your posts, which makes it easy to approve them or leave feedback on content pieces worked on by your designer or assistant. You can even search for Instagram video templates with specific themes, such as Earth Day or Valentine's Day.
Adobe Express
Though most Adobe tools are created for professional designers, don't let the name intimidate you. Adobe Express is an intuitive design app similar to Canva, where you can create stunning visuals without any prior experience.
Their free plan comes with thousands of templates and design assets, 2000 Adobe fonts, and a library of royalty-free images that you can use both on desktop and mobile. Their collection of Instagram templates has interactive posts, promotional posts, and minimal designs that look like a professional designer made them.
3 Examples Of Successful Coaches Using Instagram Templates
Statement Post Templates For Instagram
Iyanla Vanzant (@iyanlavanzant) is a coach and bestselling author who uses simple templates to share her nuggets of wisdom on her Instagram feed.
[ Read: 14 Black Life Coaches To Follow On Instagram ]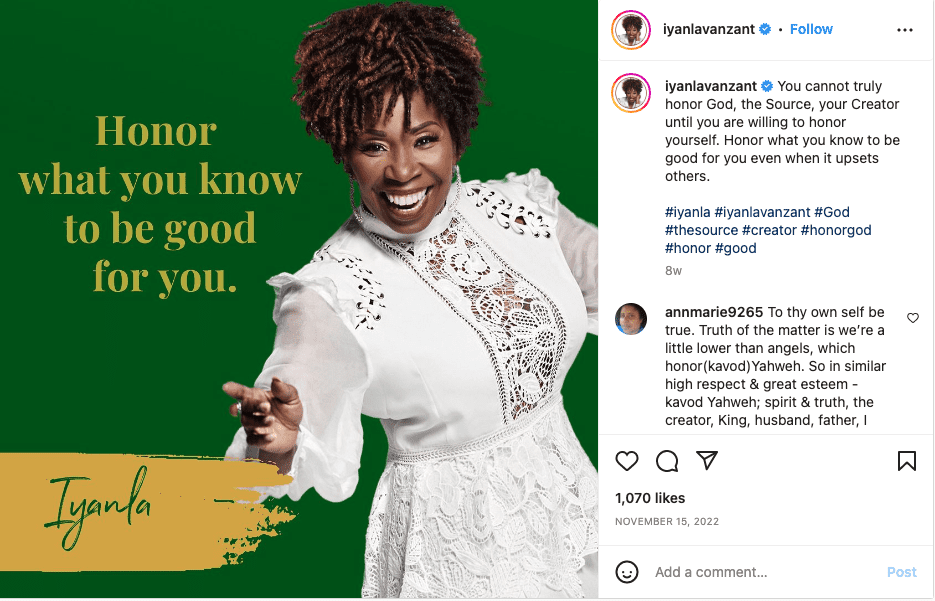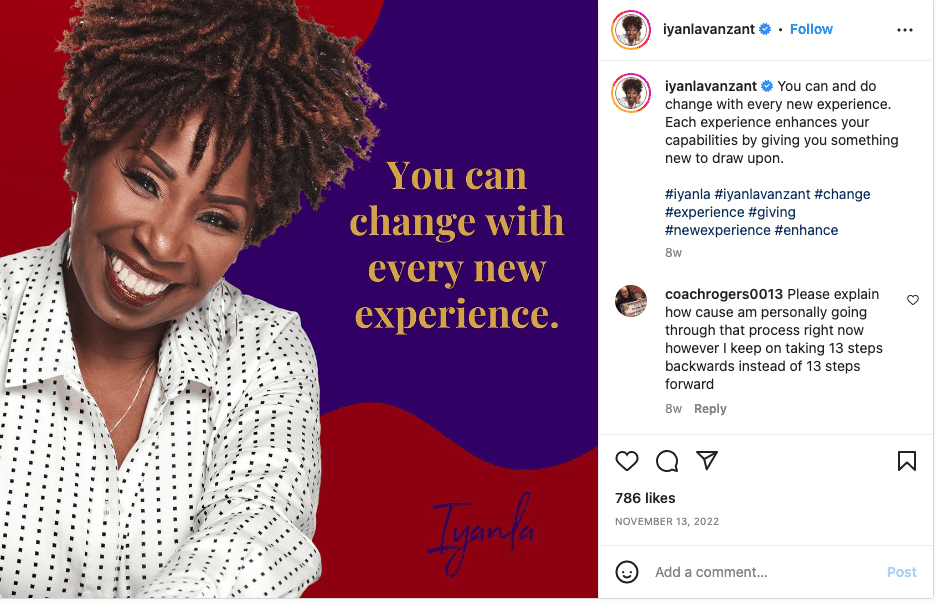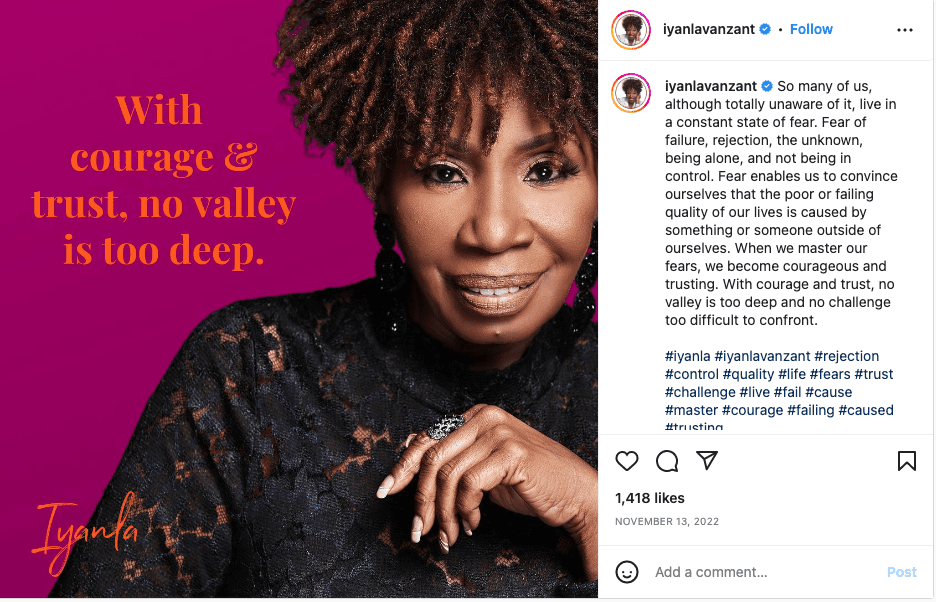 Sharing bold statements with your own professional photography is a great way to build authority for your brand. Make sure you don't use more than a few words in your design and, instead, elaborate on your idea in your caption.
This format makes automating your content production very easy because it only uses three elements: your statement, your signature, and your photo. Change the text and the colors for each post, and they're ready to go!
Testimonial Post Templates For Instagram
KarFei Cheah (@coachkarfei) is a high-performance coach who uses professional-looking templates to share his testimonials on his Instagram account.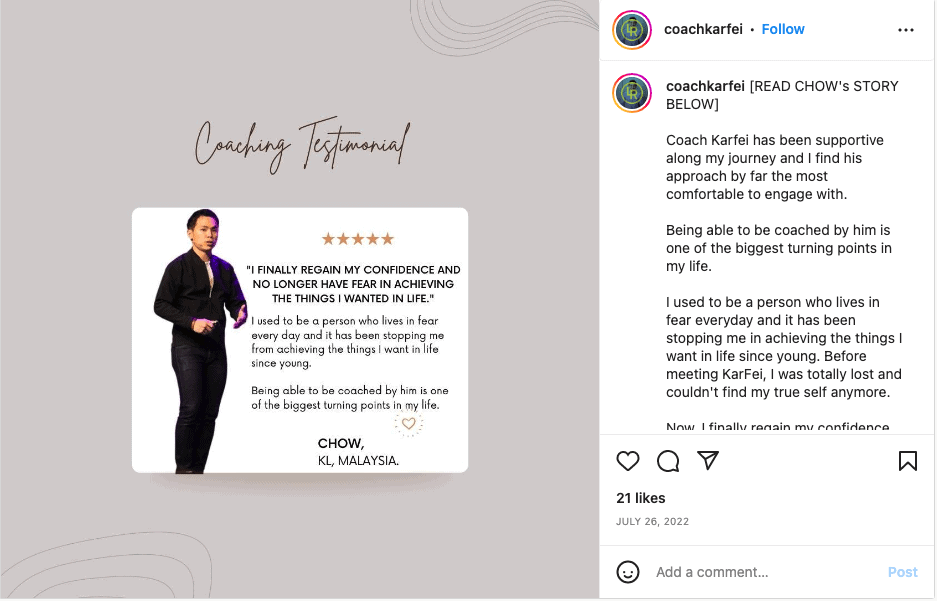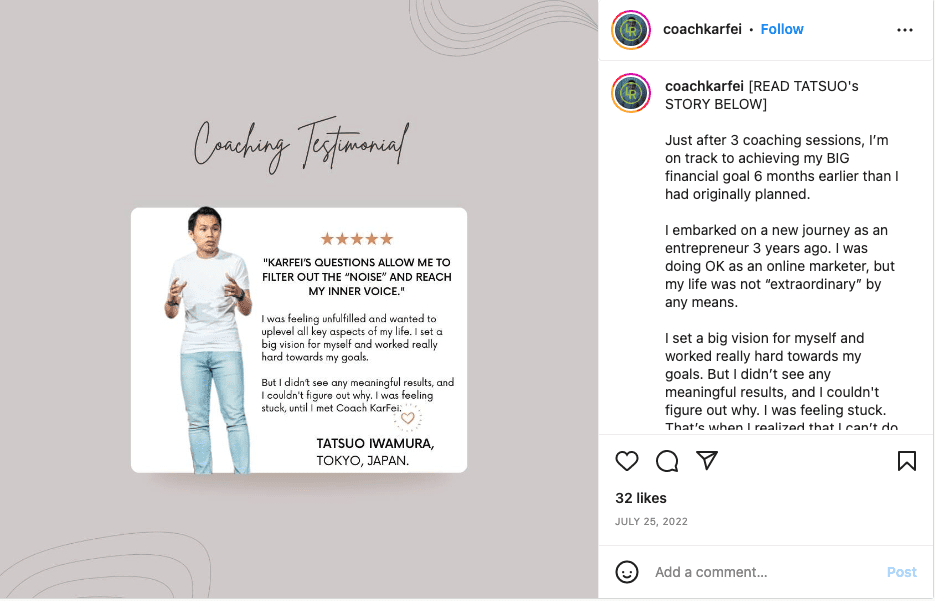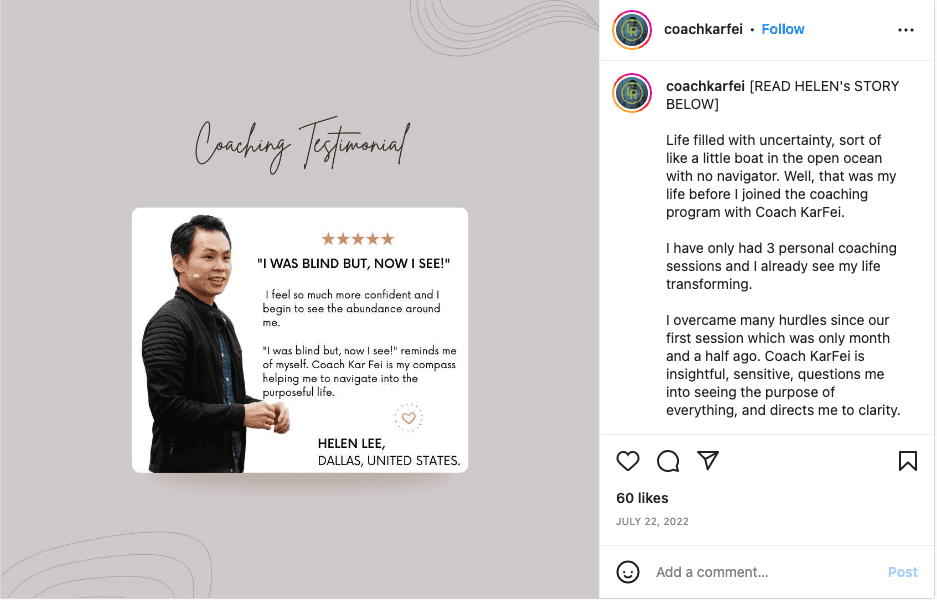 These testimonials share a few grateful sentences from happy clients, their five-star ratings, and their location to showcase some diversity. KarFei has also pinned these posts on top, which is a smart way to earn the trust of people who just landed on your profile.
This is a great example of how you can use your Instagram account as a website to convert your followers into clients — and there's nothing more convincing than the words of those you've worked with in the past.
Carousel Post Templates For Instagram
Elizabeth Earnshaw (@lizlistens) is a licensed therapist and relationship coach who uses her Instagram account to educate people on common patterns related to connecting with others.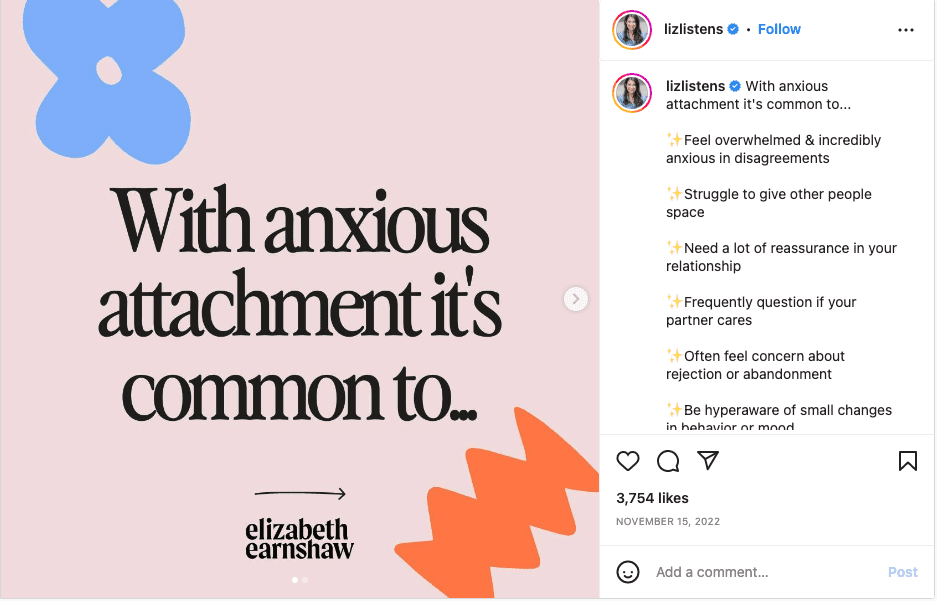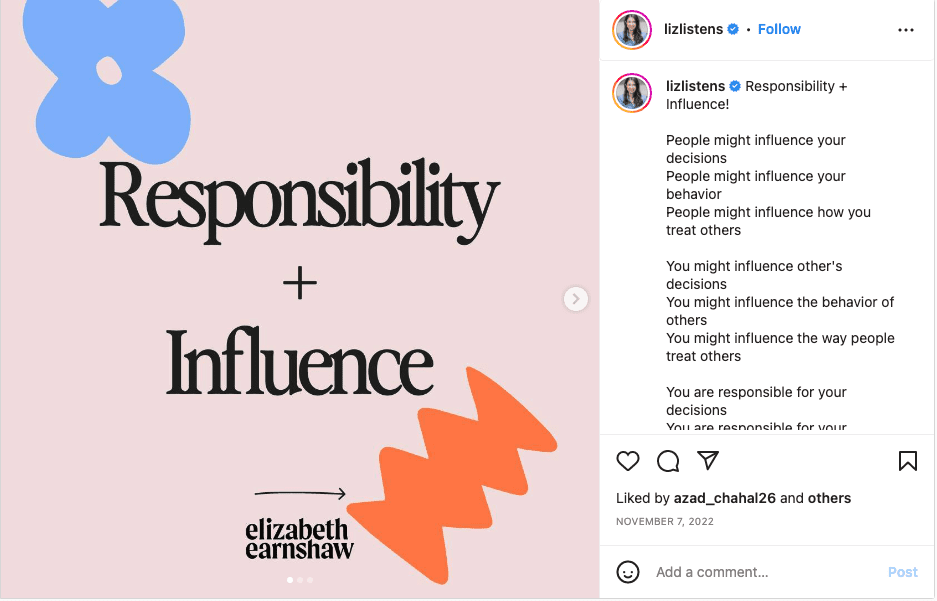 These carousel posts feature a headline on the first slide with a big font size to grab the attention of people and stop them from scrolling through the post. The second slide then explains the concept introduced in the headline.
This is one of the most shared post formats on Instagram and a great way to give free value to your audience and earn their trust.
3 Instagram Template Packs Under $40 You Can Download Right Now
Besides using free templates available on popular design apps, you can also download pre-made Instagram templates that work in Canva. These packs include a collection of templates and post formats with an aesthetic design that you can customize for your brand. Here are some of our favorites from Creative Market.
Instagram Post Templates
With this Instagram Educational Post Pack, you'll get everything you need to automate your content production for your Instagram account.
It includes…
50 customizable post templates
30+ content ideas to fuel your creativity
Charts, lists, infographics, tables, and more to maximize virality and engagement
You can use these templates to educate your audience on the key areas you cover as a coach, keep them inspired, and promote your packages. If you feel that this style doesn't look like what you use for your brand, don't worry. You can simply change all texts, photos, background colors, and fonts to match your brand identity, and no one will know you worked from templates.
Instagram Story Templates
We absolutely love the chic design of this Boho Instagram Story Template Pack! It includes 32 story templates you can edit in a free Canva account with your own fonts, colors, text, and images. Their pre-filled quotes will give you some extra inspiration to come up with your own content ideas or combine different templates together for a story series.
These story templates can also be used to create content for your highlights. You can feature client testimonials, FAQs, program brochures, footage from your events, or media appearances here that become your evergreen content. Treat your highlights as if they were different sections of your landing page.
Bonus points if your highlight icons look consistent and on brand, which you can do with this matching, stylish Instagram Icon Pack. Since you can name your highlights on your profile, you don't need to worry about finding an exact match to your topic in this list of icons. So long as their style looks consistent, it will make your account look professional.
Instagram Video Templates
With the explosive growth of TikTok, short entertaining videos (also called reels) have taken social media platforms by storm, including Instagram. After Instagram launched reels in 2020, they became the content format most favored by the algorithm that runs this social media platform. Reels are a staple in your content calendar if you want to engage and grow your audience.
Luckily, this Instagram Reels Video Bundle makes it a breeze to create your own reels in Canva. You can choose from 140+ templates with title and cover graphics, iPhone mockups, end screens, and call-to-action slides that fit various screen formats.

If you need Instagram ad templates, there are also plenty to choose from. The possibilities are almost endless!
How To Make Your Own Instagram Templates
Are you feeling creative and ready to make your own unique Instagram templates? Here's how to do it in a few simple steps using a free Canva account.
1. Open a new project in Canva
Select 'Instagram story' or 'Instagram post' from the list of document types. This will automatically ensure that you have the right image proportions and resolution for your Instagram template.
2. Select a background color
If you want to use your own brand colors, you can paste the color hex code that belongs to them to get the exact shade. If you upgrade to Canva Pro, you can also save your brand colors for later and have them handy in every project.
3. Add a few design elements
Search for shapes, graphics, royalty-free images, or frames in Canva and add them to your layout. You can change their fill and frame color, rotate and resize them, or even alter their transparency. You can also upload and use your own photography.
4. Add some text
You can either select from ready-made headlines or add plain text and select from over 100 free fonts. Add a placeholder text to your template so you can easily change it later when creating new posts.
5. Add some variations
If you want to create multiple variations of the same template or design a story and post series, you can add new pages to your project to do just that. It's also the easiest way to keep all posts made from the same template in one place.
And you're done! You now have your own beautiful templates for your brand that will save you tons of time and make your feed look professional and engaging.