Using voice chat apps has gotten increasingly popular among coaches and consultants as an easy way to connect with clients. Sending voice notes can make business communication more effortless and it's also a great way to make your packages more valuable.
There are a few dos and don'ts when it comes to offering voice chat support to your clients, including which app you use for these interactions. In this guide, we'll go through everything you need to know about using audio chat software and the best options for coaches and consultants.
What is a Voice Chat App?
A voice chat app is a digital tool that helps you send instant audio recordings to other people in your contact list. You can also share text messages, files, and media with the people you communicate with that you can open either on your phone or in a browser. Although some of these apps enable video and audio calls as well, they aren't really meant to replace but rather complement virtual meeting platforms in your client communication.
[ Read: 6 Virtual Meeting Platforms to Use for Your Coaching Sessions (and Our Top Pick)]
What is Voice Chat Software Used for?
Audio chat apps are becoming more and more common among coaches who want to provide additional support to their clients in between coaching calls. You can easily answer questions and give quick instructions to the people you work with by sending them a voice note, which is much more convenient than trying to explain too many details over text.
It's also a more personal form of communication than texting or emailing. Sometimes, sending an audio message is all that a client needs to keep up the momentum and get unstuck while implementing action steps. It's an easy way to give feedback and keep your clients accountable, and an excellent addition to online courses too.
Consultants also use voice chat apps to speed up the communication loop with their clients and teams. Since these voice messages aren't real-time, they can be more efficient than scheduling when you work in different time zones or simply have a lot on your plate. They reduce the number of face-to-face meetings required to solve a case and can improve the ideation process.
It might be tricky to decide whether you need to schedule a meeting or just exchange voice notes in a particular situation. Here's what voice chat apps are and aren't used for.
What voice notes are for:
Quick clarification about a question you discussed already with your client
Giving quick feedback on their progress and the steps they've taken based on your direction
Removing any obstacles in their way so that they can move forward (such as accessing files)
Keeping them accountable in between sessions and after your course or program is over
What voice notes aren't for:

Discussing complex topics, especially the ones that haven't come up before in your sessions or meetings
Giving coaching or consulting
Anything longer than a few rounds of short messages, or anything more suitable to discuss face-to-face
[ Read: The 9 Best Productivity Apps for Coaches (With Free Options) ]
How to Make Voice Notes Efficient
When it comes to communicating with clients through a chat app, the most important thing is to lay down the ground rules ahead of time. If you don't set expectations for your availability, you can easily end up spending hours and hours on your phone giving unbilled coaching or consulting sessions and disrupting your productivity.
The best thing you can do is to define a time period through which you offer support via chat and incorporate it into your packages. This will emphasize the added value of your offer and allow you to potentially charge more for it. It's a common practice to offer chat support as long as you have regular sessions scheduled with your client or for a limited number of months after they complete your course.
You also need to make sure that you set your own boundaries for yourself. The first thing you should do is to turn off all notifications for messages so that they won't pop up at random times during the day, interrupting your work and personal schedule. Instead, set some time aside for going through all your messages at once. This way, you also know how much of your capacity you're investing in regular chat support so that you can price your packages accordingly. If you notice repetitive questions coming up from different clients, you can turn them into an FAQ (frequently asked questions) document and send it to them at the start of your collaboration with them to save time.
5 of the Best Voice Chat Apps for Business Communication
Zipmessage
Zipmessage is an asynchronous video messaging software that a lot of coaches and consultants swear by. Its dedicated conversation pages make it easy to monitor your client messages and send audio or video recordings in response. You can record for up to one minute with their free plan, or upgrade to a paid plan for unlimited recording time and other benefits such as a branded URL or integrations.
With their flexible privacy settings, you can decide to either send your messages to individuals or share a thread of responses with multiple clients in a coaching group. Messages can be opened on any device and they sync with other apps like Slack and email so your voice notes will never get lost in the noise. There's no software download required, clients can simply open them in their browser and listen to them with multi-speed playback.
Reverb.chat
Reverb.chat is a voice and video portal that's designed to make online courses more effective by connecting you with your students. You can set up classes or groups for your clients or message them individually with instant video and audio recordings. Reverb.chat doesn't require any registration or verification so all you need to do is send a link to your clients and they can listen to your messages on both mobile and desktop.
It's a great app for giving instant feedback on the action steps your clients take and report back on in an individual or group coaching program. You can also combine your online course with Reverb.chat so that you can keep your students accountable and guide them while they implement what they learn. Reverb.chat is currently invite-only: you can request to join the platform through their website.
[ Read: These Are the 10 Best Online Course Platforms That Coaches Are Obsessed With ]
Voxer
Voxer is known as a digital walkie-talkie that you can use to send voice and text messages to your contacts. It's a popular choice among coaches who sell combined packages that include training, coaching sessions, and voice chat support for a set period of time. Voxer is easy to set up and it's free to use on both mobile and desktop with up to 500 people in a group. If you use a different messaging app to communicate with friends and family, Voxer is also a great way to separate business messages from personal ones and only get the notifications you prefer.
WhatsApp
Whatsapp is one of the most popular messaging apps worldwide with over 2 billion users. Hence one of its biggest advantages is that your clients most likely use it already and they don't have to download another app to reach you. Though WhatsApp started out as an app for personal messaging, many top businesses use it today for their work-related communication or even to set up their customer support page through WhatsApp For Business.
WhatsApp is reliable and stable even with a poor internet connection and enables fast downloads of voice notes, files, media, and texts. It's extremely simple to use and it's free. The only downside of WhatsApp is that you need to use a QR code to open your messages on desktop which might be inconvenient for some but in general, it's one of the best apps for exchanging audio messages.
Telegram
Telegram is another fast and secure messaging app that you can use to share voice notes, texts, and even documents and media with a large file size without any downloading issues. It's free and it works on all devices; you can connect it to your browser using either your phone number or a QR code.
How to Choose the Right Voice Messaging App for You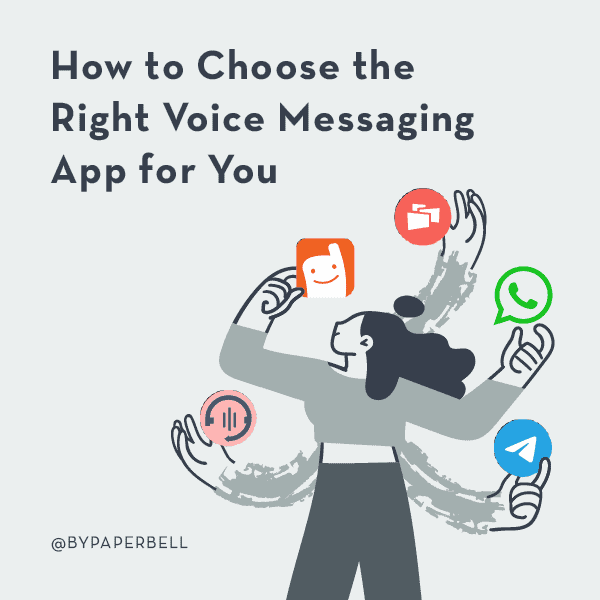 There are a couple of things to keep in mind when it comes to choosing the right voice chat app for your clients and online course students. Since your audio messaging app isn't meant to replace your online meetings scheduled through platforms like Zoom, latency shouldn't really be a concern (as it is for gamers). On the other hand, you need to make sure that your app works fast even with poor internet connection and makes it easy to send and receive files and messages on the go.
Whether you send your clients and students a desktop link or your contact details for a mobile app, it shouldn't take more than a minute for them to access your messages and learn how to navigate the platform. If you need to regularly share files through a voice chat app, choose software with easy login through both mobile and desktop. Consider whether you want to send videos to your clients that you can conveniently record within the platform or simply communicate through voice notes. Last but not least, go with an option like the ones in this list that doesn't limit the length of your recordings (unlike platforms like Facebook Messenger).
If you select an app from the list in this guide, you can't really go wrong. If you want to send in-app video recordings accompanied by a presentation, Zipmessage is the best choice for you. If you're regularly facilitating groups in an online learning program, Reverb.chat is an excellent option for that. If you simply need an easy-to-use app to exchange voice messages with your clients, pick your favorite from WhatsApp, Telegram, or Voxer.