If you've just started your consulting business, are you stuck wondering about the age-old question:
"What the heck should I charge for my consulting services???"
You're not alone! Consulting rates are a tricky question — and there's no easy answer to point to. The short answer is: "It depends!"
Want to know the long answer? Let's explore how consulting rates work and what different types of consultants charge their clients, so that you can figure out your pricing once and for all!
Pricing Your Consulting Services: 4 Models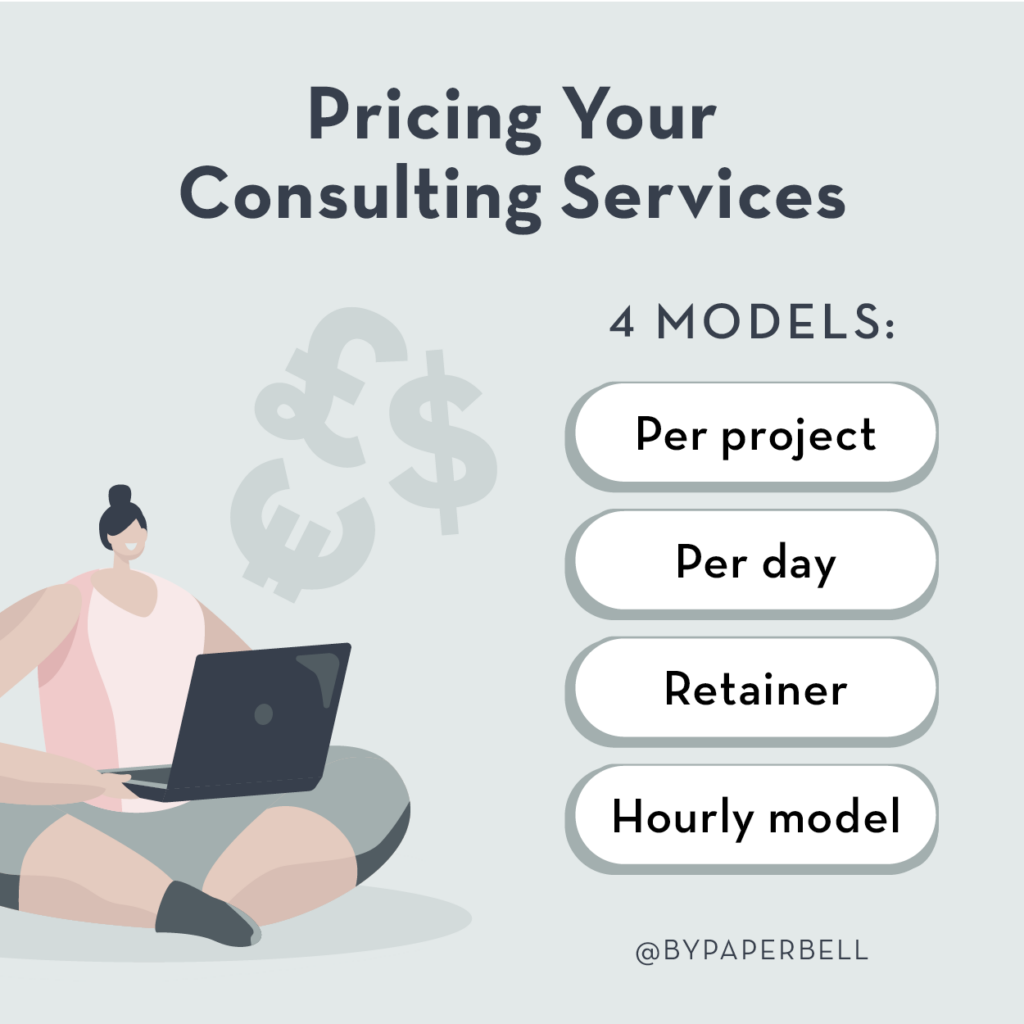 When people think of consultants, they often imagine an hourly rate. While hourly rates are common, they're not the only way you can set your consulting rates!
For instance, you can try the following:
Per project: With project rates, you set up an agreement with pre-determined deliverables. Anything outside of this project's scope can be billed at your hourly rate or another pre-determined rate.
Per day: Charging per day is similar to charging per hour since days have a set number of hours in them. But it allows you to focus an entire day on a single client while getting paid for an entire day — instead of getting paid for 3-4 hours and feeling too exhausted to see another client for another 3-4 hours.
Retainer: This is a recurring pricing strategy. You can set your retainer rates based on a specific number of deliverables or monthly hours. The retainer model works great for consultants who offer services that need continuity, such as IT, social media, or accounting.
Hourly model: Yes, the hourly rate model is still a great choice for consultants, especially when clients need you in short bursts.
There's no perfect model for consulting rates. The best model for you depends on how you deliver your consulting services (and your personal preference!).
Typical Payment Terms for Consultants
Consultants don't have the same payment terms as coaches or some types of freelancers. Coaches can usually charge upfront for a set number of sessions or charge for individual sessions. But consultants who work with businesses — especially large corporations — usually need to adapt their payment terms for this industry.
It's good practice to charge a percentage of a project before you start your consulting services. But what if you charge hourly? In this case, you can charge for a few hours upfront, then charge the rest at the end of the week or month. Make this clear in your consulting agreement.
Some consultants also work with companies that have a net-15, net-30, or net-60 payment term. This means that in the company's invoice management software, invoices are scheduled for payment after a set number of days upon receiving the invoice (15, 30, and 60, respectively).

However, keep in mind that you're in charge of your own consulting business. If you don't agree with a company's payment terms, you don't have to sign a contract with them. Many consultants don't start their work until they've received at least a percentage of the payment upfront.
Consulting Rates by Industry
Use the following examples as a ballpark number to figure out your own consulting rates!
1. Social media consulting rates
Beginner social media consulting rates start at $50 to $75 per hour. You can charge much more if you're able to showcase a return on investment from your previous clients.
2. IT consulting rates
As an IT consultant, you shouldn't charge less than $85 to $125 per hour. These rates can easily go higher if you have an in-demand niche like cloud computing, business VOIP services, or AI.
3. HR consulting rates
HR consultants can charge between $50 and $150 an hour.
4. Engineering consulting rates
Engineering consultants make an average of $75 to $125 per hour.
5. Software consulting rates
Software consulting rates depend on the type of software development you offer and the type of clients you serve. Fullstack Labs breaks down six types of custom software consulting companies and their varying rates:
Enterprise-class: $385-$850 per hour
Big business class: $220-$330 per hour
Mid-market class: $110-$220 per hour
Small class: $82-$137 per hour
Experienced freelance developers: $100-$300 per hour
New freelance developers: $50-$75 an hour
6. Management consulting billing rates
Management consultants have consulting billing rates that range between $100 to $350 an hour.
7. Diversity consulting rates
If you consult clients for diversity training, you can charge between $150 to $250 per hour.
8. Project manager consulting rates
Project managers charge average consulting fees of $70 to $150 per hour.
9. Nonprofit consulting rates
On average, nonprofit consultants charge between $85 to $150 per hour.
10. Machine learning consulting rates
As a machine learning consultant, you can charge clients between $250 to $350 per hour.
11. Cyber security consulting rates
A cyber security consultant can charge between $225 to $300 an hour.
12. Accounting consulting rates
Accounting consultants, who should also be CPAs, can charge between $150 and $450 an hour.
13. Marketing consulting rates
Average marketing consultants charge at least $100 an hour but can charge upwards of $1000 per hour depending on the type of marketing they help clients with.
14. SEO consulting rates
As an SEO consultant, you can make between $75 and $100 per hour.
15. Product management consulting rates
Consultants who help clients with product management can charge between $175 to $250 per hour.
16. Data science consulting rates
If you're specialized in data science, you can make an average of $200 to $350 per hour.
Consulting Pricing Templates
Need help creating a template for your next consulting invoice? Whatever pricing you choose, make sure you check out our blog post on the 5 simple steps to an official consulting invoice and a free template!
How to Negotiate Consulting Rates
Before you even enter the negotiation phase with your first clients, there are several factors to consider when deciding how much to charge for consulting.
Many consultants default to charging the same hourly rate they had when they were an employee. But employees have benefits that consultants don't! So it's important to raise your rates to reflect that reality.
Consultants pay their own taxes. They also spend a huge portion of their time looking for consulting clients.
Let's do a quick math exercise:
If you want to make at least $100,000 a year as a consultant, how much do you have to charge? As an employee, you need an hourly wage of $48-$50 an hour to make $100,000 per year.
Now, let's figure out how much time you'll actually spend working with clients. If you want a good idea of what you'll do in a day as a consultant, check out this post!
On average, every year has about 250 working days. We're going to assume you want at least some vacation and holidays, right? So let's shave 15 days from that total and you're left with 235 working days.
However, it'll be impossible for you to consult with clients for 8 hours a day during all 235 days. Just to be safe, let's remove 2 days out of 5. You'll likely spend those days doing admin work and finding new consulting clients.
Now you have 141 client days left.
If you divide 100,000 by 141, you get:
$709 per day, MINIMUM. That's a rate of $89 per hour.
However, this rate doesn't account for your expenses, taxes, and insurance. If you want to NET $100,000 per year, you'll need to charge double that amount — or $178 per hour.
You may have a different goal. Perhaps you're just starting out and don't have enough experience to charge that much — or maybe you're highly experienced and want to make at least $200,000 per year!
Customize this equation based on your own situation. This will be your minimum acceptable rate.
Next, you'll need to decide what consulting rate model you want to use. If you're pricing per project, you'll need to calculate how many hours that project will take you and add an additional 20%.
So, if you think a project will take you 50 hours, quote your going rate for 60 hours instead.
But how can you convince clients to pay such a high number? It's all about their perceived value of your services.
When you negotiate with a potential client, make them understand how your consulting services will affect their bottom line. Explain how your consulting rate will get them a return on investment.
For example, if you're a data science consultant who's helping clients understand their data better, there are several ways your services can improve their bottom line. They may save on employee hours, make more profitable decisions, and more.
But it's your job to make your potential clients see your value. When clients see your consulting rates as an investment, not an expense, you'll be able to charge high rates without pushback.
Keep in mind that your starting rates don't have to remain your starting rates. Once you have a solid track record for getting results for your clients — and once demand increases for your consulting services — you can increase your rates upwards of $500 per hour!
Don't believe us? Just take a look at Laura Belgray's now retired 1-on-1 copywriting consulting rate pages. She charges $1450 for a single hour of her time and $10,000 for an entire day! If your consulting services can help clients make bank, they should pay you more.
Set Strategic Consulting Rates for Your Business
Remember that consulting rates shouldn't be a decision you make on the fly. You need to account for your income goals, expenses, and the time you want to spend working with clients, but also for the value you provide your consulting clients.
No matter what consulting fees you charge, you'll be able to spend more billable hours with clients when you don't have to get bogged down on the admin side of things. Try Paperbell for free to start spending way less time on admin work and way more time getting results for your high-paying clients!