If you've landed one too many coaching clients and are now feeling overwhelmed with all the projects on your plate…
It may be time to consider outsourcing to a project manager for your coaching business.
But how can you attract the best project manager candidates to your coaching business? How do you even start writing a job description?
No worries – we've summed it all up, so you don't have to. Keep reading to discover:
How to create a project manager job description
Project manager job responsibilities
Project manager requirements
Project manager salary expectations
How To Create a Project Manager Job Description
A killer job description is your secret weapon. It's the key to attracting top-tier project managers for your coaching business. Here's how to write one that gets the best people to apply to manage your coaching projects!
1. Know what you want out of your project management champion
Start by getting clear on what you need from a project manager.
Your needs may be different if you're a solopreneur compared to running an established coaching empire. For example, how complex are your projects? Do you only do coaching, or are there done-for-you aspects required to fulfill your coaching programs?
Don't skip to writing a project manager description for a job post before you've figured this out! Otherwise, you risk attracting people who aren't at the level you're looking for.
2. Describe the role clearly
The heart of any job description is role clarity. When potential project managers read your job description, they should clearly understand what their responsibilities will entail.
Here's how you can make your job description crystal clear:

Kick-off with a snapshot: Paint a quick picture of the role. Highlight its importance in your coaching business and how it fits into the bigger picture.
Break down a day of work: What's a day in the life of this project manager going to look like? List out the tasks, from overseeing project timelines to making sure those client deliverables are on point.
Focus on the finish line: Describe what the end result, or "success," looks like to you in a project. Maybe it's "Making sure every coaching program is delivered flawlessly and on time." Whatever you make it, just make sure it's clear enough that strangers applying for the job will understand.
Highlight the people skills you're looking for: In the coaching world, how you interact with others matters big time. And that's even more important if your project manager will interact with your coaching clients. So, don't forget to talk about the need for stellar communication, a dash of empathy, and the grace to handle feedback like a pro.
Lay out the chain of command: Who's the go-to person for this project manager? And will they have a team of their own? Give potential candidates a clear view of where they'll stand. If you're going solo right now, you can say they'll be reporting directly to you.
Keep it jargon-free: Sure, some industry lingo might sneak in. But aim for simplicity. The perfect candidate might be just outside the coaching sphere.
With a clear, engaging job description, you'll be able to set the foundation for a successful addition to your coaching team.
3. Don't forget the essentials
Never overlook the essentials in a job description for project managers:
Work hours
Location (or remote)
Expected salary range
Bonuses
Other expectations you have
This information can save both you and potential candidates precious time by setting expectations right off the bat.
If you plan on hiring a full-time employee, use industry benchmarks for other project managers to set a competitive rate.
For example, if you're in Canada or the United States, you can dive deeper into project management roles and salaries at PayScale. Their research offers a comprehensive look at what to expect in this field.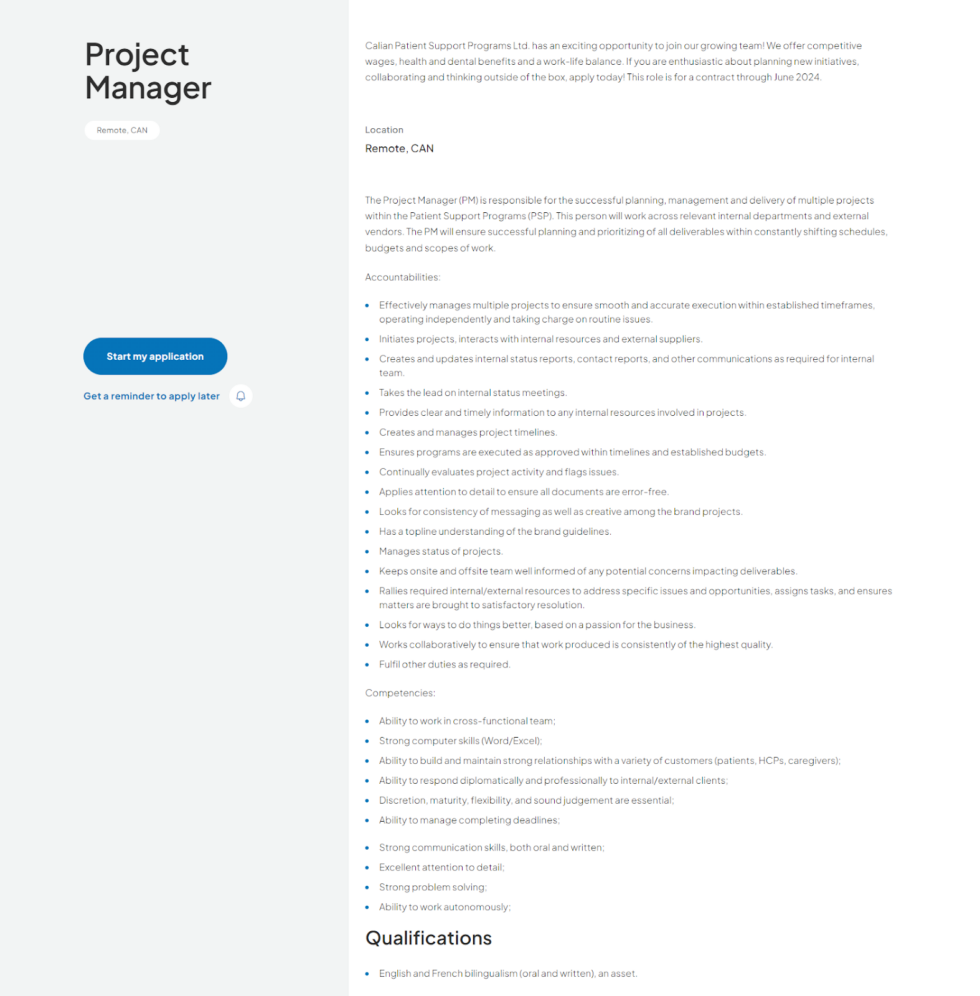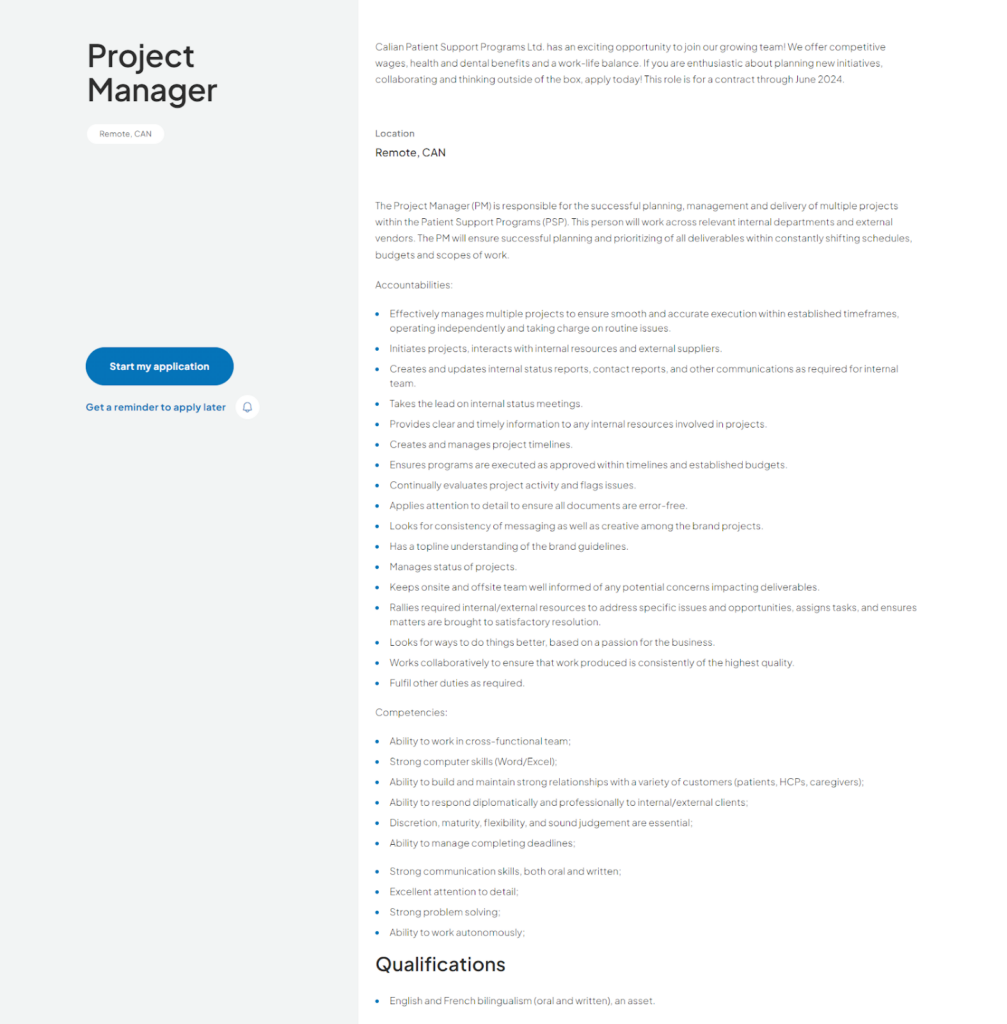 Project Manager Job Responsibilities
Before you create a good project manager job description, let's first make sure you're choosing the right type of person to support you in your coaching business.
We'll look at what job responsibilities project managers typically have. If this aligns with your needs, you can swipe some of these for inspiration on your own job description.
Project manager responsibilities:
Strategic planning: Collaborate with the coaching team to define project objectives, set key performance metrics, and establish project procedures.
Resource allocation: Determine the necessary project resources, from software tools to personnel, to ensure optimal efficiency and project success.
Timeline development: Create detailed project timelines that ensure all coaching programs, workshops, and initiatives execute on schedule.
Budget management: Oversee project budgets to allocate resources effectively and meet financial objectives.
Client communication: Act as a bridge between the coaching team and clients to ensure clear communication and understanding of project status and milestones.
Team coordination: Lead and motivate project teams, assign tasks, and track progress to address potential roadblocks promptly.
Quality assurance: Compare project outcomes with predefined metrics to maintain the highest quality in all deliverables.
Feedback implementation: Gather feedback from clients and team members to refine project processes and achieve continuous improvement.
Risk management: Identify potential project risks and develop strategies to mitigate them for smooth execution.
Documentation: Keep detailed records of project processes, decisions, and outcomes for transparency and effective future reference.
Continuous learning: Stay updated on the latest industry trends, tools, and best practices in project management to introduce innovative ideas and solutions to the coaching business.
Stakeholder communication: Regularly update stakeholders, including coaches, team members, and clients, about project progress, challenges, and successes.
Of course, not all of these roles and responsibilities will make sense for your coaching business. So, make sure to customize them based on what you're looking for.
9 Project Manager Requirements
If you're hunting for the ideal project manager, there are a few requirements you should look for. Here are some of the most common project manager qualifications that you'll find in the coaching space.
1. Educational background
A bachelor's degree in business, management, or a related field can be an asset for project managers, although it's not always required.
While formal education provides a foundation, remember that real-world experience can be just as valuable.
2. Relevant experience
If you want someone you don't have to train, look for project managers with a track record of successfully managing projects, preferably within the coaching or personal development industry.
This ensures they're familiar with the unique nuances of our field.
3. Tech-Savviness
A good project manager should have proficiency in project management tools like Trello, Asana, or Monday.com.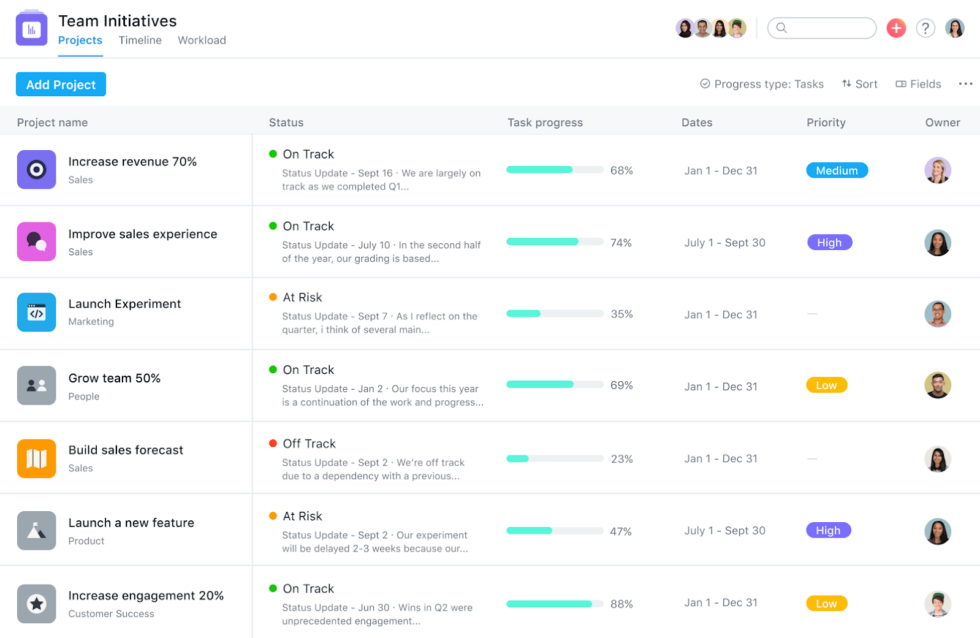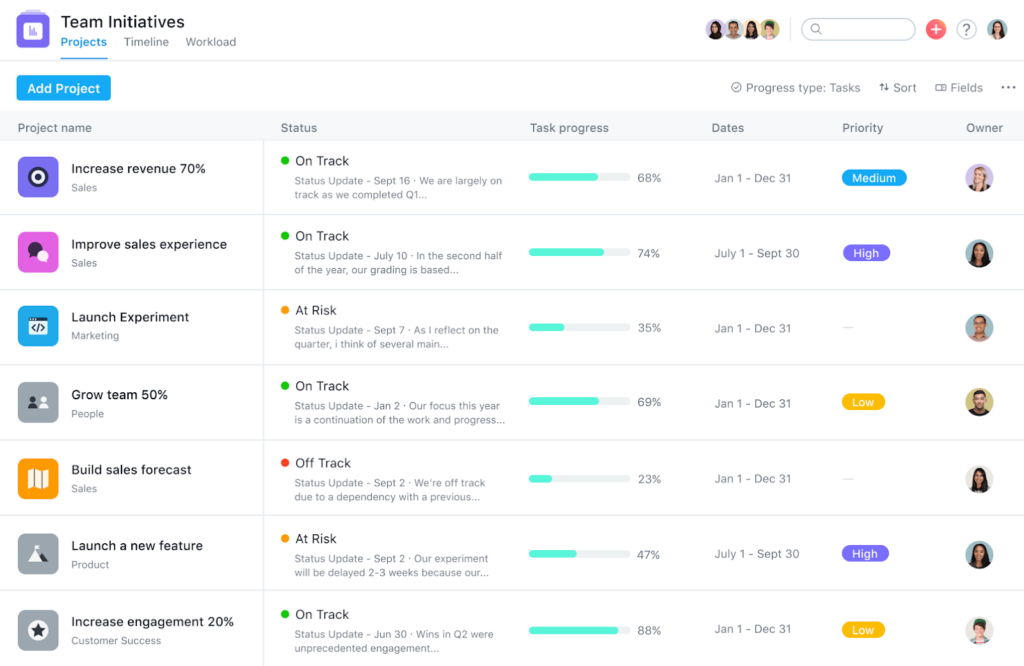 But even better than that, they should be able to learn any new software you want to use. For instance, if you're using Paperbell to communicate with clients, this project manager should feel comfortable learning the tool (although, in this case, it's so easy to use that anyone can learn!)
4. Exceptional communication
The ability to convey ideas clearly and listen actively is a must.
In a coaching business, understanding and empathy are key to providing your clients a great experience, so everyone on your team should be a solid communicator. This includes your project managers.
5. Problem-solving prowess
Your candidate should have a knack for identifying challenges and crafting innovative solutions. After all, every project will have its hurdles!
6. Organizational skills
Look for someone with an eye for detail and the ability to juggle multiple tasks without missing a beat.
The more complex your projects, the more important this requirement will be. This will ensure your candidates can manage project scope, project performance, and project completion, no matter what gets thrown at them.
7. Team player attitude
Another of many project management skills is the ability to harness a team player attitude. The best candidate will have a collaborative spirit and the ability to work harmoniously with diverse teams.
Remember, a project manager is the glue that holds your project team together!
8. Cultural fit
The best project manager candidate won't just have the required skills. They'll also have an understanding and appreciation of your coaching business's values, mission, and vision.
This ensures they'll champion your brand's essence in every project.
9. Client-centric mindset
You want your clients to achieve massive transformation. Your project management professional should have the same mindset.
Salary Expectations for a Project Manager
Now you know what responsibilities, skills, and requirements to write in your project manager job description.
But what about compensation?
No two jobs are identical, but let's get an idea of what you can expect.
First, the level of experience counts, and it's no different for project managers. A newbie isn't going to ask for as much as a seasoned pro. So you can expect to make sacrifices either in cost or experience.
Naturally, where you work affects your salary potential too. So you can expect project managers from different areas to ask for different compensation. And you'll need to respect this market even more if you ask your project management professional to work on location.
For example, San Francisco and New York City pay top dollar due to their high cost-of-living index.
With all of these factors in mind, the average full-time salary for a project manager in the United States is $79,089 per year. But as you can see from the graph below, the base salary can range from $53k to $119k.


If you're hiring a contractor, expect to pay a bit more per hour than if you're hiring a full-time employee. That's because employees typically get benefits, but contractors don't.
Write Your Attractive Project Manager Job Description
Cracking the code for a great project manager job description isn't as tough as it seems. Remember, you need someone who can assume multiple roles – visionary, daring individual, and solver of dilemmas.
If you're ready to find that perfect project manager who will elevate your coaching business… take this post as inspiration and start writing!Need help streamlining the admin side of your coaching business? With Paperbell, running a coaching business online has never been easier! Try it for yourself by claiming your free account.