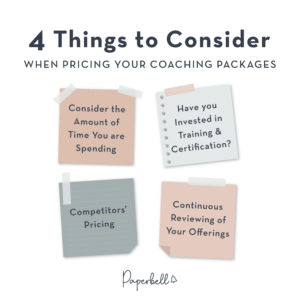 Have you ever thought about making the jump and becoming a professional life coach?
Despite the global mess that is 2020, life coaching has proven to be an increasingly popular, practical, and sustainable profession. Globally, there are more than 71,000 coach practitioners, with a large majority being based in North America and Western Europe.
In this blog post, we're going to discuss the age-old question of "how much do life coaches charge?". Furthermore, we're going to provide some handy tips and tricks that you can use to set your rate.
Keep reading.
What's the average life coach's salary?
If we look at the International Coach Federation study in 2020, the average life coach in the U.S and Canada earns a yearly salary of $62,500. The average global life coach salary is $47,100. These figures vary greatly across regions, with life coaches based in Eastern Europe earning the least ($19,100), and those based in North America and Oceania generating the highest income ($62,500 and $61,100 respectively).
Life coaching hourly rates
One of the perks of being a life coach is that you can still make around $1,664 per week, even with a relatively light work schedule. North American coaches charge anywhere between $128 to $321 per hour. Again, these figures largely depend on the coach's location, target audience, reputation, ability, and, more importantly, education and experience.
Certified coaches do earn more than those without any qualifications . Moreover, newbies start at a lower hourly fee until they build a strong client base and gain a good reputation.
Don't limit yourself!
These figures aren't set in stone. A smart way of making more money is to leverage group coaching where you coach several people simultaneously. In that way, your clients can benefit from insights from the rest of the group, and as a coach, you're able to accomplish more and earn more without burning out.

Your income and number of clients also depend on marketing. Nowadays, content is king, and the more time you invest in digital marketing and your LinkedIn network, the more your online and offline reputation grows.
5 Ways of diversifying your coaching business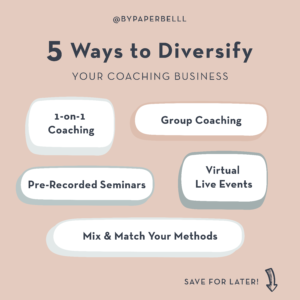 Being a coach is one of the most flexible careers out there. Being smart and creative is key. You can implement several strategies to serve a larger number of clients and adapt your business model in different ways to reach your goals.
Let's explore what these strategies are and how you can make them work for you.
1-on-1 coaching
One-on-one coaching enables you to build a solid relationship with a client. It typically involves a weekly 60 to 90 minutes session (in person or over Zoom).
In these bespoke sessions, you can learn more about the client's expectations and what they wish to achieve. In that way, you can create a tailor-made program for them.
This type of coaching is highly satisfying, as you can witness your client reach their full potential. After all, this is what the essence of coaching is.
Group coaching
As the name implies, group coaching enables you to serve multiple individuals in one session. You can do this by grouping clients that would benefit from learning from each other and creating a conference call or zoom with them. Ensure that you allocate some time to hear each individual's progress and concerns and give them personalized advice when necessary. This approach will make your clients feel valued. What's more – group coaching is an excellent opportunity for your clients to network, learn from other individuals' experiences, as well as improve their interpersonal communication skills.
Paperbell enables you to sell and deliver group coaching, you can try it out for free right here.
Live events
A TedX Talk may be the first thing that comes to mind when using "coaching" and "live events" in the same sentence. If you get a kick out of speaking in front of live crowds, then you should definitely consider booking yourself as a speaker for live events.
A live on-stage event (TedX style), conference, or even a webinar are excellent ways to help many people at once and earn a reputation as a leader amongst your peers. What's more – live events can also be used as a lead-generation strategy, as you will instantly reach a large number of potential clients without having to waste countless hours browsing companies on Linkedin.
If used wisely, webinars can be even more effective than in-person, live events. Webinars enable you to reach potential clients from all across the globe in real time. Best of all, these virtual events enable you to work from anywhere in the world – even while sipping a Margarita in the Caribbean.
Without a shadow of a doubt, these events are a business boost. They can be used to onboard new clients, up-sell repeat clients into long-term coaching sessions, earn the respect of your peers/competitors, earn money from event ticket sales and position yourself as an expert in your area.
Pre-recorded classes and seminars
Another excellent way of preventing burnout and ensuring some breathing space in your busy schedule is to pre-record sessions, seminars, and courses that you can sell to multiple clients at a lower price per person. 
Coupling these pre-recorded sessions with a Facebook support group or bi-monthly group coaching calls, ensures that your clients feel valued and that they're not just a number.
Mix'n' match
Being successful as a coach depends on diversifying your methods and being able to adapt and take opportunities. Many coaches combine two or more of the strategies mentioned above to ensure that they're always ahead of the curve.
The following is an example of the "Mix'n' Match Methodology: join a live event or webinar, and prepare an inspiring speech that can also serve as a sales pitch for your business. From there, build a list of individuals who would be interested in a pre-recorded course and group coaching calls. These new clients will, in turn, recommend you to their friends, colleagues, and business partners, and voila! Your revenue will increase in no time.
Take the time to expand your skill set
Experience and education usually go hand in hand. A successful coach is one who's always willing to learn and expand their skillset through life-long education. Sure, you may want to increase your income overnight; however, educating yourself and learning more about your profession is a foolproof and sustainable way to increase your rate.
According to the 2020 ICF Global Coaching study, 99% of global coach practitioners are fully-certified coaches who have undergone coach-specific training.
Examples of life coaching packages
Selling your packages on your website is essential, and Paperbell makes this super easy! It enables potential clients to set their expectations, reflect on what they want to achieve from their sessions, and review their budget.
Here are a couple of basic life coaching packages that you can start offering, guaranteed to kickstart or expand your business:
Life Coaching Discovery Session
This is usually a free, no-obligation, introductory session that will enable the client to learn more about what they can expect from your service. During this session, you should gauge whether this client is a good fit for you, and if you will be able to help the client achieve their goals.
Single Session
This 60 to 90-minute session is your client's first step in their coaching journey. As a coach, you can start exploring what your client wants to change in their life and how coaching can help them realize what is working and what isn't. From here, you can decide if you'd like to continue your work in a larger package.
Multi-Session Package
In this type of package (which you can create and sell in Paperbell), you charge your clients up-front for multiple sessions. You can also utilise a payment plan to spread the payments out, in line with the sessions. For example, you might provide 6 monthly coaching sessions with 6 monthly payments.
Ongoing Subscription Sessions-Per-Month Package
With this type of package, your clients get on an automatically recurring monthly subscription (which you can easily set up with Paperbell), and commit to a certain number of sessions each month. Subscriptions ensure even income for coaches, and are a great way for clients to know that they will always be supported on an ongoing basis.
Follow On Quarterly Package
This package is ideal for clients who have already invested in a good amount of coaching sessions and feel like they need someone to keep them accountable for any set goals. As a coach, this package serves as a quarterly follow-up with your client to ensure that their life continues to move in the right direction.
How should I price my coaching package so that they actually sell?
Package prices should depend on:
Time: How much of your time are you investing in your client and coaching packages? If you're spending 1 hour with a client, plus another 10-15 minutes per day sending emails, you should make sure that you're getting paid for those hours.
Skills: Do you have an extensive database of case studies that you can show to interested individuals? Do you have the necessary training and certifications? Are you looking to elevate your business, or are you trying to kickstart a business? As your skills increase, your clients' results increase, and in turn, your rate should increase.
Competition: In an increasingly globalized world, checking your competitors' prices can sometimes be counter-productive, as nowadays, interested individuals can find a coach based on the other side of the planet within mere minutes. Make sure that you're not undervaluing your skills. Use your competitors' prices to estimate how much you can charge to stay relevant in the coaching industry.
Continuous Review: As your business expands, make sure that you review your prices. Be confident when presenting your rates to potential clients. Show them the results, and let them know that you're transforming lives.
What should my coaching package template include?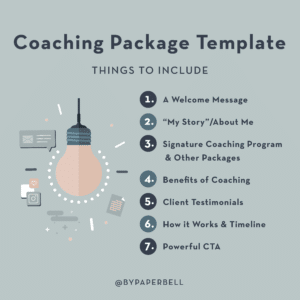 When you're setting up a coaching package landing page, here are some ideas on what to include:
Coach package checklist
A Welcome Message
My Story / Why Should you Choose Me
Your Signature Coaching Program
The Benefits of Coaching
Other Coaching Packages
2 Client Testimonials
How it Works/Process
Timescale
Frequently Asked Questions
Client Case Studies
A Powerful Call-to-Action
So how much do life coaches earn?
As we've seen in this blog post, income is dependent on several factors.
If you have the necessary training and mindset to build a coaching business and be a great coach, you can earn as much as you want from any place in the world.
Coaching is a fulfilling job that enables you to achieve a work-life balance. It allows you to love life itself, help countless individuals, and find meaning and purpose.
Therefore, if you want to know how much money you can make as a life coach, know this: it's unlimited, and the limit depends on yourself.