If you're running a small business and provide services like coaching or consulting, a landing page or website is one of your most important marketing assets. It's the destination you can point potential clients to when they ask you your favorite question: "Where can I find out more about you?"
Now, we know that this is probably just one item on your never-ending to-do list as an entrepreneur, and it's easy to get lost in the sea of marketing tools available online. So we've gathered all the best landing page builders in this article, that provide free or low-cost plans, easy-to-use features, and cater to the needs of small entrepreneurs and service providers like you. At the end, we'll also draw a comparison between these tools so that you can decide which one is the best for your needs.
What Is a Landing Page?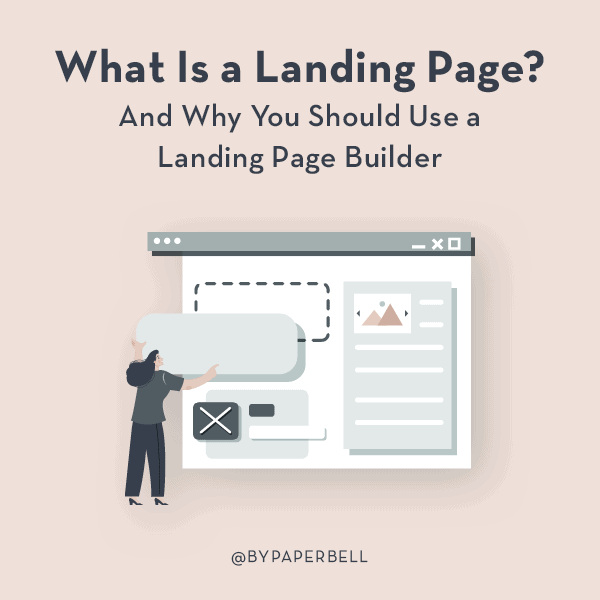 Your landing page or website is like your digital business card and product catalog. It provides information about you as a professional, your business, and the products or services you sell, in order to help your prospects make a buying decision. Landing pages are optimized for conversion and normally include a check out page or sign up form where visitors can provide their details, book a call, or directly purchase products and services. It's key to not just sharing information but also to capture your leads on your website, so that you can get in touch with the people who are interested in working with you in the future.
Why Should You Use a Landing Page Builder?
Most landing pages are built up of the same blocks or sections, such as a header, an about section, a description of your services, a contact form, and so on. Therefore, using a templated landing page builder is a much more efficient way to set up your new website, rather than hiring someone to develop it from scratch.
It carries much lower costs as well: hiring a developer to create a custom website can cost thousands of dollars, while landing page builders provide plenty of free templates and even their more complex templates are accessible for $10-50.
When you use a landing page builder to create a website, you'll also have full control over managing and editing it in the future. This is important because as your business and services evolve, you may need small changes done quickly in order to provide up-to-date information to your visitors. Instead of paying a monthly fee for a developer to maintain your website, you can simply do any changes on a landing page builder yourself or hire someone to do it for a very affordable one-time payment. Some freelancers also offer to design or redesign a templated website for as low as $15 on platforms like Fiverr or Upwork.
The 10 Best Landing Page Builders for Service Providers
Paperbell
Paperbell's landing page builder was specifically designed for coaches, and it automatically creates a page for each of your packages you set up on the platform. You can then customize your page with any images and design elements, add a bio and testimonials, and provide more details about your professional background and your services.
The best thing about using Paperbell's landing page builder is that all the information gathered from your new clients signing up will be synched with your Paperbell account. You can then manage all your contracts, payments, and schedule in one place without having to use a separate tool for each of these processes. Paperbell replaces your digital signature tool, payment widgets, scheduling app, CMS and so on with one simple platform dedicated to coaches like you.
WordPress
WordPress used to be known as a blogging site, but today, it's one of the most popular website builders for small businesses. You can select from over 31,000 WordPress themes online and build a professional website in a few hours or less from scratch. They have plenty of free templates, and they offer hosting with a free domain for a year from $4 per month. It's one of the cheapest and most easy-to-use landing page builders for businesses of all sizes.
Wix
Wix is another landing page builder with over a thousand free templates and an interface that you can easily navigate, even if you've never built a website. You can also set up an online store or build an email list with Wix, although their templates are better suited for small businesses with just a few products or services that don't drag down page speed too much. You can build and publish a Wix website for free or choose from one of their more advanced plans if you're looking for more.

Carrd
Carrd is another free website builder that you can start using even without signing up, up until the moment you publish your first website. It specializes in one-page websites, a format that's been getting increasingly popular amongst coaches, consultants, and other service providers. Carrd also offers premium plans if you want to implement Google Analytics, payment widgets, email sign-up forms, and other useful marketing tools on your site.
ConvertKit
ConvertKit is a landing page builder that's best for business owners and creators who want to grow and monetize their email lists. If you're planning to publish newsletters and regular free content to keep your audience engaged, ConvertKit offers you the right solutions. You can create pre-scheduled email sequences for your new sign-ups to educate them on what you do, invite them for a webinar, or promote your services to them straight away.
Unbounce
Unbounce is a landing page builder that's a little more advanced than the previous options in this list. Their plans are priced based on conversions, so it's a platform best for business owners who want to directly monetize their audience.
If you're more marketing savvy, you can create different variations for your website and test them against each other to measure and compare their performance. You can also use their AI copywriting tool to dynamically replace text on your pages to what your visitors have searched for in the past or to simply optimize your texts for conversion and ranking. Working with Unbounce is definitely a steep learning curve, but if you want to put more effort into your marketing strategy, it will give you the right tools to reach better results.
Leadpages
Leadpages is another landing page builder with advanced features to help you convert your visitors into paying customers. They have a simple, drag-and-drop tool to help you set up your website and add videos, sign-up forms, or even a Calendly widget to it. Leadpages is compatible with Zapier, so you can create smart integrations, for example, to email your new sign-ups automatically or to add them to your email list.
GetResponse
GetResponse is a landing page builder and marketing tool best known for its high-converting and mobile-responsive pages, email list building features, and webinar tools. Similar to Leadpages and Unbounce, it's a marketing software that's best for business owners who need more complex solutions rather than just a simple website builder. It has thousands of stock photos and templates to fuel your creativity, and it integrates with platforms like Adwords, Google Analytics, Bing, KissMetrics, and Facebook.
HubSpot
HubSpot is an A-Z enterprise marketing solution that big companies love, but it also comes handy for small teams and service providers working solo. Their landing page builder allows you to set up your website for free, and they also have premium plans with more advanced marketing tools. These include email marketing and blogging tools, analytics to measure your page performance, SEO and social media tools, and more. HubSpot has plenty of tutorial videos for beginners, so you won't feel lost using their platform even if this is your first website.
[ Read: These Are the 10 Best Online Course Platforms That Coaches Are Obsessed With]
Swipe Pages
When it comes to converting your website visitors into actual paying customers, page speed is everything. It isn't just important because your prospects will bounce (leave your site) if your page takes longer than a few seconds to load, but also because it will affect your ranking in Google. Swipe Pages is a landing page builder known for its fast-loading mobile pages that often outperforms others.
Their intuitive drag-and-drop interface is easy to navigate, and it's designed to drive people towards the call-to-action on your website in order to increase conversion. SwipePages has more than 50 templates to get you started, over 20 widgets to make your website more effective, and it also integrates with almost a dozen tools so you'll definitely find all the features that you need.
Choosing the Best Landing Page Builder for You
Before you make a decision on which landing page builder is the best for you, take a moment to evaluate your goals. Do you just need a simple page that describes your professional background and services? Do you need a little more, like a way to take bookings in your calendar or take payments directly on your website? Perhaps, you want to build email lists and high-converting marketing funnels to boost your client acquisition efforts?
If you prefer a simple and cost-efficient solution as a coach, our recommendation is Paperbell. You can use Paperbell to manage your entire coaching or consulting business in one place, including session bookings, payments, contracts, packages, and of course, your landing page. It's free with your first client!
If you prefer to build a simple landing page on an independent platform but avoid using complex marketing software, then WordPress, Wix, or Carrd are great options for you. They are easy to navigate for beginners, and they have free or extremely low-cost plans for setting up your first website.
If on the other hand, you're savvy with marketing tools and you need more advanced software to build email lists, create webinars, or set up marketing funnels, then ConvertKit, Leadpages, GetResponse, or Hubspot might be your choice. If page speed is important for you because you want to rank your website in Google, Swipe Pages and Unbounce are great options to consider.