To be an expert in your field, you need to acquire some key skills and qualifications. This is especially true in the field of consultancy where your clients will be looking to you for advice. Hands-on experience working in the business functions that you consult is a great way to observe the inner workings of those departments and grow your expertise. However, learning on the job can take years (or even decades). A consulting certification can provide you with a shortcut by giving you the understanding and the tools required for you to step into the role of an advisor.
In this article, we've gathered the most important benefits of a consulting certification, how to choose the one that fits you, and some examples you can consider, depending on your specialization.
Does a Consultant Need a Business License or Certification?
The short answer is, no. But first, let's set the difference straight between a business license and a consulting certification.
Certain occupations require a business license to be practiced, such as counseling, law, or medicine. Unlike doctors or lawyers, consultants don't have such legal requirements, so they can offer consulting services without a license.
However, if you're providing services to clients (consulting or otherwise), you do need to register a business. If you're working solo, you can become a sole proprietor, get a tax identification number, and you're pretty much ready to start.
On the other hand, if you're planning to expand your business and hire people at some point, you'll need to register an LLC or limited liability company. Other than being able to hire employees, this option will also make your business (and not you) liable for anything that happens to your clients in legal matters.
[ Read: How to Start a Consulting Business: The 7 Key Steps (+ 5 Must-read Books!) ]
Now, being certified as a consultant isn't a legal requirement for conducting business in this field either, but it does have its benefits. Since, technically, anyone can become a consultant, it's hard to earn your clients' trust unless you can show proof of your qualifications. You can position yourself as an expert by growing your portfolio with prestigious clientele, gaining leadership experience in the business function you advise, or getting certified as a consultant.
Besides impressing your clients, a certification program can also provide you with the knowledge and skills essential to excel in your job. The more consulting frameworks and strategy models you have up your sleeve, the more insights you can bring to the people you work with. While industry trends might frequently become obsolete in today's business environment, most consulting frameworks stand the test of time and have been serving consultants and their clients for decades.
[ Read: 36 Core Consulting Skills to Set You Apart from Your Competition ]

How to Choose a Consulting Certification?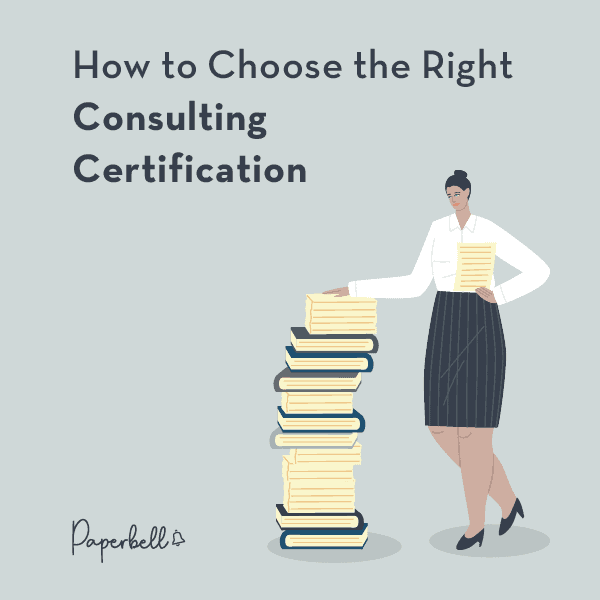 There are plenty of options when it comes to choosing a consulting certification. What's right for you depends on your budget, time available, the curriculum you're interested in, and whether the reputation of the certification provider is a priority for you.
If the clients you typically work with value certifications from prestigious institutions, you might want to invest in an internationally acclaimed program. However, if your main goal is to widen your perspective and develop a toolkit that you can rely on as a consultant, you can consider lesser-known training programs (provided that their instructors are reliable).
Take a close look at the gaps between the areas you currently cover in your sessions and the ones your clients need help with. What are some common business challenges that come up in your consulting sessions often and you find difficult to deal with? Even if you specialize in a single business function, learning about other areas of consulting will help you solve cross-functional issues more effectively.
7 Types of Consultant Certifications for Independent Consultants
Human Resource Consulting Certifications
A human resource consulting certification will equip you with an overview of all areas important for an HR department to function efficiently. You'll learn about hiring and talent management, employer branding, employee policies and procedures, salary benchmarks, and talent development. Some certifications also cover the methodology on how to conduct analysis for your clients and identify the best solutions for their human resource management challenges.
An online certification program at IAP (International Association of Professions) Career College is available for $149 that you can complete in an average of six weeks, part-time. There are no prerequisites required, so you can sign up even if you're just starting out in your consulting career and get trained on both HR and consulting related methodologies. The curriculum also covers how you can structure your consulting cases and present your findings most effectively.
Other institutions such as HRCI (Human Resource Certification Institute) have different certification programs for various experience levels. Their learning programs focus more on hands-on knowledge in HR rather than consulting frameworks, but they may complement other, purely consulting-related training programs well.
Getting certified with HRCI costs between $300-500, and they require zero to seven years of experience in HR, depending on what level of certification you're going for. To stay certified and be able to use their credentials in your portfolio, you need to retake the exam every three years.
Management and Strategy Consulting Certifications
Management consulting requires an overall understanding of all major business functions in an organization, including Human Resources, Strategic Planning, Finance, Operations, Information Technology, and Marketing. It's less important for you to have an in-depth knowledge of all of these areas rather than being proficient in consulting processes and frameworks that can be applied in different situations.
To acquire the designation of a Certified Management Consultant (CMC®​), you can search for a member institution near you on the website of ICMCI (The International Council of Management Consulting Institutes). Requirements and costs may differ from country to country, but all certification programs of the network uphold high ethical standards. This means that they keep their members accountable for not just the professional but also the legal, social, and ecological aspects of the impact they create.
Apart from becoming CMC certified, you can also find plenty of specialized training options in management consulting. For example, you can become a Certified Performance Consultant (CPC) with The Training Clinic. Their program is focused on identifying and solving performance issues that impact the bottom line in organizations.
Image Consulting Certifications
As a certified image consultant, you become an expert in enhancing the appearance, behavior, communication, and digital presence of your clients on a personal and an organizational level. While brand consultants are more focused on brand strategy and the way it aligns with marketing and sales, image consulting enhances how an individual or company shows up in the world. This includes their style and etiquette, the photography and colors they use on their platforms, and how they show up in the world overall.
With AICI (Association of Image Consultants International), you can become a certified image consultant on three different levels. Their program costs $310 for members, $1,490 for non-members and can be completed in six months.
Financial Consulting Certifications
Financial consultants are some of the most sought-out professionals at small businesses and large corporations alike. Certifications in this area vary from financial management programs with a broader overview to more specialized programs in risk management and credit consulting.
The Chartered Financial Analyst (CFA) Institute offers a comprehensive certification program that covers the ins and outs of investment analysis and portfolio management. On average, candidates spend 300 hours preparing for the three exams required for successfully completing this program.
The Financial Risk Manager certification by the Global Association of Risk Professionals (GARP) is just as extensive. In return, it's recognized by most major banks and financial institutions, such as ICBC, Bank of China, and HSBC.
If you're looking for a credit consulting certification, it's worth considering certification providers such as the National Foundation for Credit Counseling (NFCC), the National Association of Certified Credit Counselors (NACCC), or the Financial Counseling Association of America.
Cyber Security Consulting Certifications
Security consultants identify potential threats of information breaches in companies and optimize computer systems, networks, and software programs to help avoid cyber attacks. A security consulting certification will lead you through the processes and frameworks to review the technology standards and policies of your clients and design safer procedures.
You can get certified as a cyber security consultant at The International Association of Professional Security Consultants (IAPSC). The program costs $300 for non-members and $500 for members and requires three years of experience in the field.
Small Business Consulting Certifications
Small and medium sized companies face very different challenges than big corporations, so most consultants specialize in either one of them but rarely in both. If you work with SMEs, accelerating organizational growth and making processes more sustainable will be a central part of your cases.
The Association of Accredited Small Business Consultants (AASBC) offers yearly memberships and certifications that will help you learn the tools to enhance performance in small businesses. Their initial yearly fee is $749 which you can renew for $149. This includes their education program called SEMP Approach: Simplified Examination to Maximize Profit, as well as exam fees.
Environmental Consulting Certifications
Environmental consultants need extensive knowledge of environmental regulations and what's required from companies to comply with them. They need to acquire both scientific knowledge and technical expertise to conduct environmental assessments in organizations.
The National Registry of Environmental Professionals® (NREPSM) provides various certification options for environmental consultants and professionals. Their programs are recognized by organizations such as the US Postal Service, the US Forest Service, US Air Force, and more.