If you're a coach who feels a tad intimidated by AI, I get you.
There are so many tools to choose from, and it seems like everyone and their mother is jumping on the AI bandwagon.
Here's the truth: AI has plenty of untapped potential. But it can also be a massive waste of time and a big distraction for coaches!
That's why I've gathered the 9 top AI tools that coaches should start using in their business right now. Keep reading to discover:
Why coaches should leverage AI tools
3 best AI coaching tools to support your clients
3 Best AI marketing tools to find more clients
3 Best AI business and admin tools to cut down the busywork
Why Should Coaches Leverage AI Tools?
The coaching industry is witnessing a transformative shift with the integration of artificial intelligence (AI) tools. These cutting-edge technologies are redefining traditional coaching methods while also providing innovative ways to enhance services and meet clients' evolving needs.
A study by Grand View Research predicts an impressive 37.3% compound annual growth rate for the global AI market from 2023 through 2030. Not only does this show its growing relevance across various sectors but also its untapped potential.
And it's not difficult to see why.
As a coach, you have a unique set of skills and expertise to help your clients achieve their greater purpose. So now that there are machines available to perform time-consuming tasks, there's no reason not to leverage them so you can spend more time doing what you do best!
For example, if you're still spending hours searching for the perfect Instagram hashtag, building slide decks for your coaching presentations from scratch, or cleaning up your email inbox…
Then you can cut down the hours you work while increasing the quality of your coaching!

3 Epic AI Coaching Tools To Support Your Clients
A coach is only as great as their client's results, which is why these first 3 tools are all about helping your clients in new ways.
1. Mini Course Generator
Mini Course Generator, an AI tool tailored specifically for creating online courses, is revolutionizing how content is created in the industry.
This platform creates course outlines, introductions, and more through machine learning – transforming traditional coaching methods.
As a result of this automation, you can focus on what really matters – giving your clients personalized insights based on data-driven decision-making.
So, if you've been looking to dip your toes in digital products or courses, consider giving it a try.
What I like about using AI for courses is that it allows you to create a simple, minimum viable product before investing too much time upfront. Afterward, if you validate that offer and see that clients are willing to pay you for that content, you can invest more of your time to refine the course and make it even better.
2. Descript
I absolutely love Descript, and it has several use cases in the coaching space. You can edit videos, record audio, record screens, and transcribe with this software.
But let's cover the specific ways in which Descript can help you coach your clients!
Let's say you record your coaching sessions with each client. But coaching sessions can run a bit long, especially if there are silent spaces between you and your clients' discussions.
Descript automatically detects these silent spaces in your video recordings and removes them. This means your clients can rewatch recordings in a much more efficient way.
You can also edit based on the transcript of the video.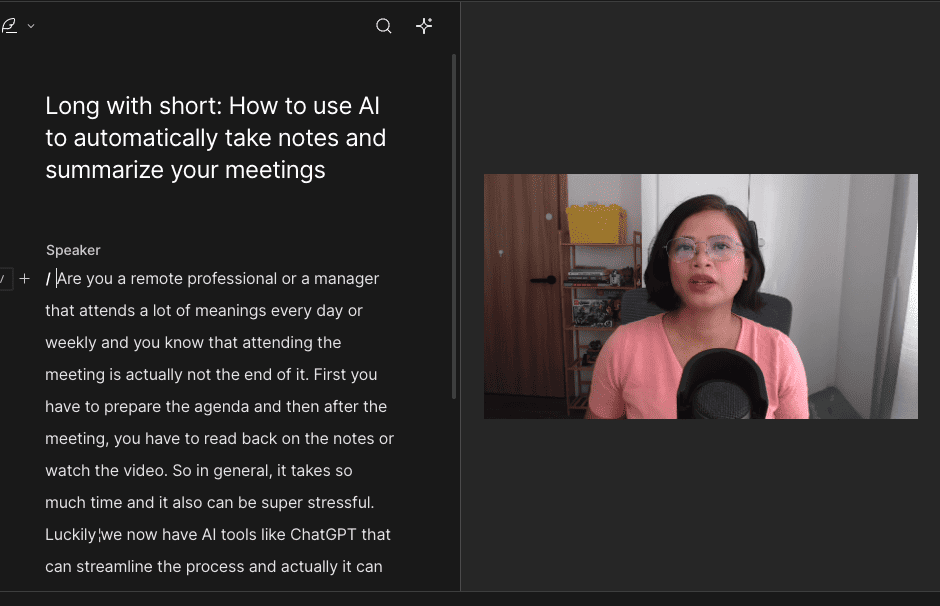 So, if there's a specific part of the video that you want to remove, you don't need to cut the video like you would in traditional video editing software. Instead, you can select the part of the transcript you want to remove, and that's it! Descript will cut that part from your recording.
Oh, and Descript also allows you to generate your own voice clone. So, let's say you're the type of person who expresses themselves more efficiently by writing – but you also want to provide audio resources for your clients.
You can feed Descript's Overdub machine some high-quality audio recordings of you, and it will learn how to replicate your voice. You can then feed it any text and generate an audio file.
Kind of freaky, but the potential is endless!
3. Decktopus
Hate creating slide decks for your group coaching sessions and digital courses? Me too. Luckily, AI tools such as Decktopus now allow you to generate slides automatically – elegant design included!
Now, I will say that Decktopus' AI-text generation is okay at best. It can't predict what's in your head, which means it won't come up with your unique point of view and expertise on your topics.
For example, I tested it to create a slide deck on email marketing strategies. And the content is very surface-level.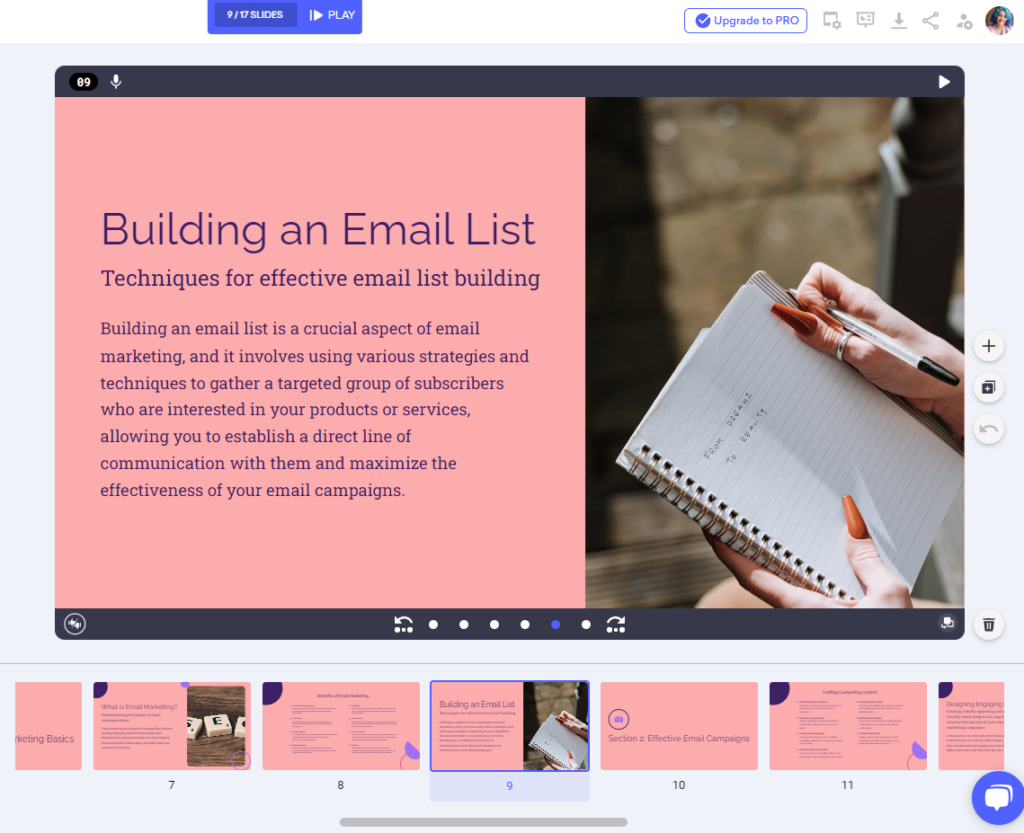 But you can use it to create the foundation for your deck, and then improve the presentation's text based on your knowledge.
Either way, it's much faster than starting from scratch.
3 AI Marketing Tools To Level Up Your Client-Getting Game
Of course, you can't help clients if you don't have any yet! Use these AI tools to work smarter (not harder) as you get more coaching clients.
1. ChatGPT
There's not much that hasn't already been said about ChatGPT.
Although you'll find countless other specialized AI marketing tools, I still think ChatGPT is a helpful playground for coaches who are just starting out with AI tools.
You can use ChatGPT to:
Brainstorm coaching offer ideas
Generate rough drafts for content
Find alternative titles or headlines for your content
Audience research
Keyword research
Structure potential blog content
And much more!
The reason it's such a great tool is because it's free. That means you can play around as much as you'd like before you invest in more premium tools.
2. BigVu
At first glance, BigVu is just another teleprompter app to help you record and caption your videos. But it does so much more than that.
First, just like Descript, you can select the words at which you want your video to start and end, and BigVu will edit your video to fit that. But BigVu also comes with an AI video script generator!
You just need to describe your topic, and you'll get a catchy script. With the AI Magic Writer, you'll get several scripts to choose from and edit instead of writing from scratch.
The tool writes each script for you based on the type of video you're making. There's a template for the perfect business pitch, sales proposal, news update, or more.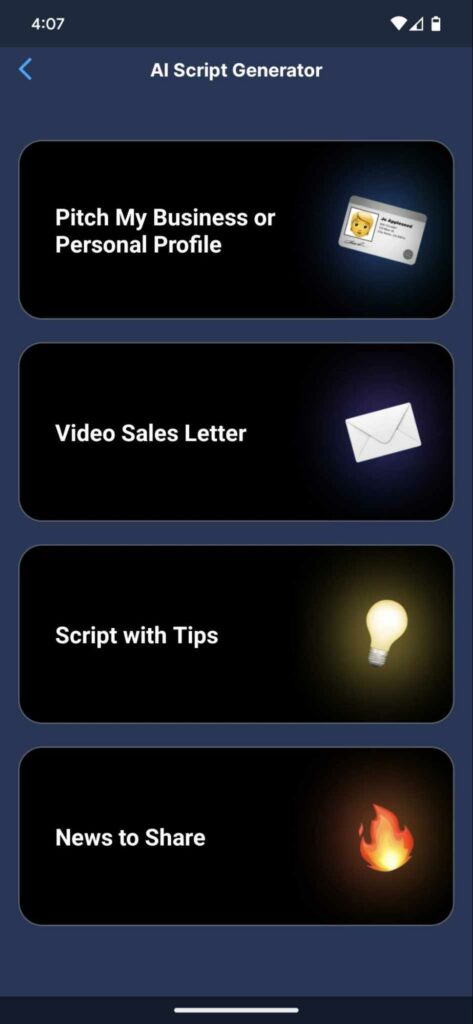 Magic AI Writer even lets you rewrite existing scripts in different tones!
Once again, like any AI-generated content, I suggest you use this tool as a first draft only. The AI cannot get into your brain and extract your unique perspective, so make sure you add that back into your scripts once you've got that first pass.
3. DALL-E 2
DALL-E 2 is from the same company that launched ChatGPT. But instead of text generation, you can use this tool to create images.
Use this tool to:
Add eye-catching visuals to your blog posts
Generate social media content
Decorate workbooks and other digital resources
And more!
Just note that, as of now, AI image generators still struggle with human hands: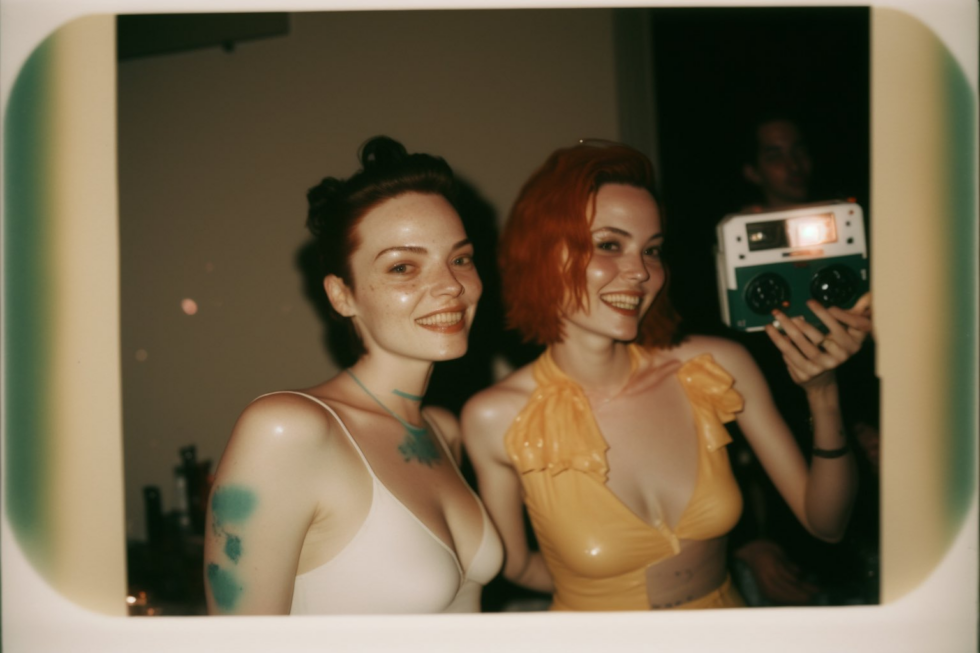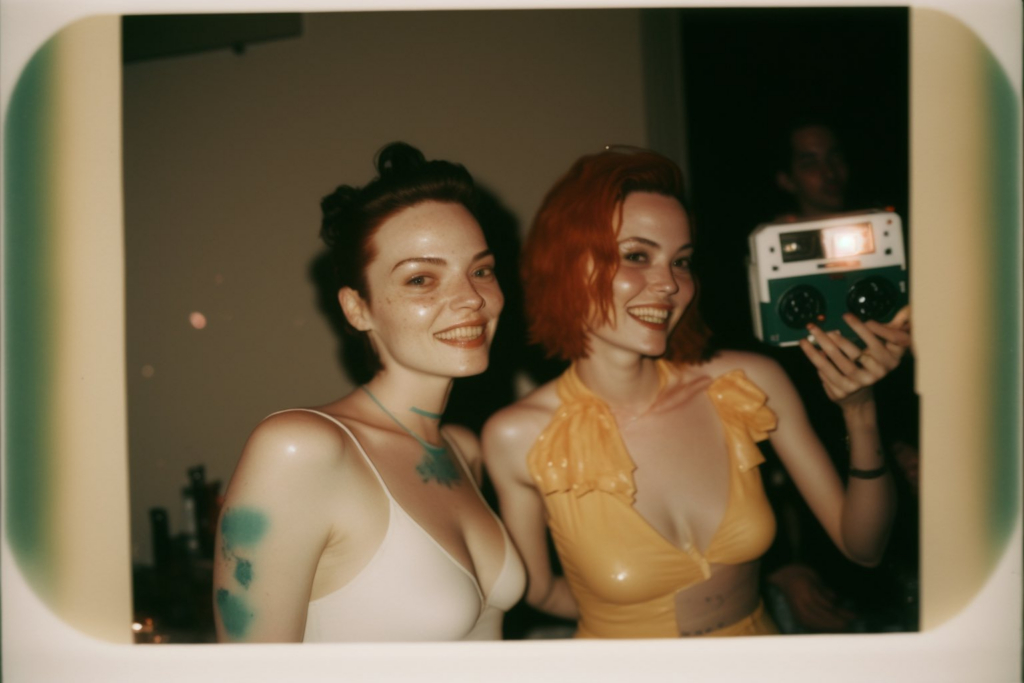 So use it with caution!
3 AI Business & Admin Tools To Work Less And Earn More
Business and admin can get messy. And not everyone can hire an assistant right away. Luckily, with these tools, you won't have to!
1. Mem
Have a bunch of client notes you can't keep track of?
By using AI, Mem tags and connects your notes, so you don't have to worry about organizing them. Gather bits and pieces of information, store them, and let Mem's AI handle the rest!
If you want to find all the notes you wrote about each topic that matters to you, you can browse the automatic tags and use the search bar.
Keeping your coaching client notes under control has never been this easy.
2. Supernormal
We've already talked about how Descript can caption, transcribe, and even edit your coaching session recordings to support your clients.
But Supernormal can help you stay on top of your client notes so that you don't have to take notes during those sessions.
Be fully present during your sessions as Supernormal listens to both you and your client. It will then format those notes and organize them so you don't have to.
You can easily share those notes with your clients if you wish or keep them to yourself – whatever works for both of you. In either case, it'll make it much easier to actively listen to your clients and show up as the best version of yourself for every session.
3. SaneBox
Last but definitely not least, you need Sanebox if going into your email inbox sends you into a panic attack.
To help you stay focused, SaneBox uses artificial intelligence to identify important emails and organize the rest. Additionally, it will notify you daily about what was sorted and other email activity, so you never miss anything important.
The best part? You can teach it to be more effective for your inbox specifically! It analyzes your past behavior, such as which emails you open and respond to, so that it makes the right decisions about which emails truly matter to you.
Leverage AI To Grow A Sustainable Coaching Business
There are thousands of AI tools available on the market right now. I've chosen only the 9 most relevant for coaches so that you don't get lost in the weeds as you explore what AI can do for you.
By choosing AI tools that can complement your skills – not replace them – you'll spend less time on low-value tasks and more time in your zone of genius.
Need help streamlining the admin side of your coaching business? AI is awesome, but so is Paperbell! With Paperbell, running a coaching business online has never been easier. Try it for yourself by claiming your free account.