As a consultant, you need to be a jack of all trades. This is especially true if you're working independently and, besides tackling complex client cases every day, you're also running a business. Choosing the right consulting software to manage your day-to-day can save hours and hours of your time that you can spend on an extra case instead.
To help you navigate the endless list of consulting software options online, we've created this simple guide for you with the best features for each. Besides specialized software alternatives, we'll also be introducing a unique all-in-one consulting tool at the end that helps you manage your clientele easily as an independent consultant.
What to Look for in a Consulting Software
When choosing a consulting software, consider what's the right size for both your clientele and your team. Working with big corporations will require a very different documentation process and a higher level of complexity to manage, compared to working with small companies. In the same way, you'll need to think about how many people from your team will need access to your data.
Many of the software solutions designed for consultants cover only one or a few aspects of a typical workflow, such as scheduling, proposals, or other aspects. Instead of buying multiple subscriptions with overlapping features, you can optimize your business expenses and simplify your work by opting for an all-in-one platform.
For consultants and coaches working solo, Paperbell combines all features necessary for managing clients easily including contract signing, scheduling, payments, client management and more!
Top Consulting Platforms and Tools
To save you some time on your research, we've listed some of the most reliable software options below that have great reviews and are suitable for consultants. See what works best for your company size and the processes you want to automate.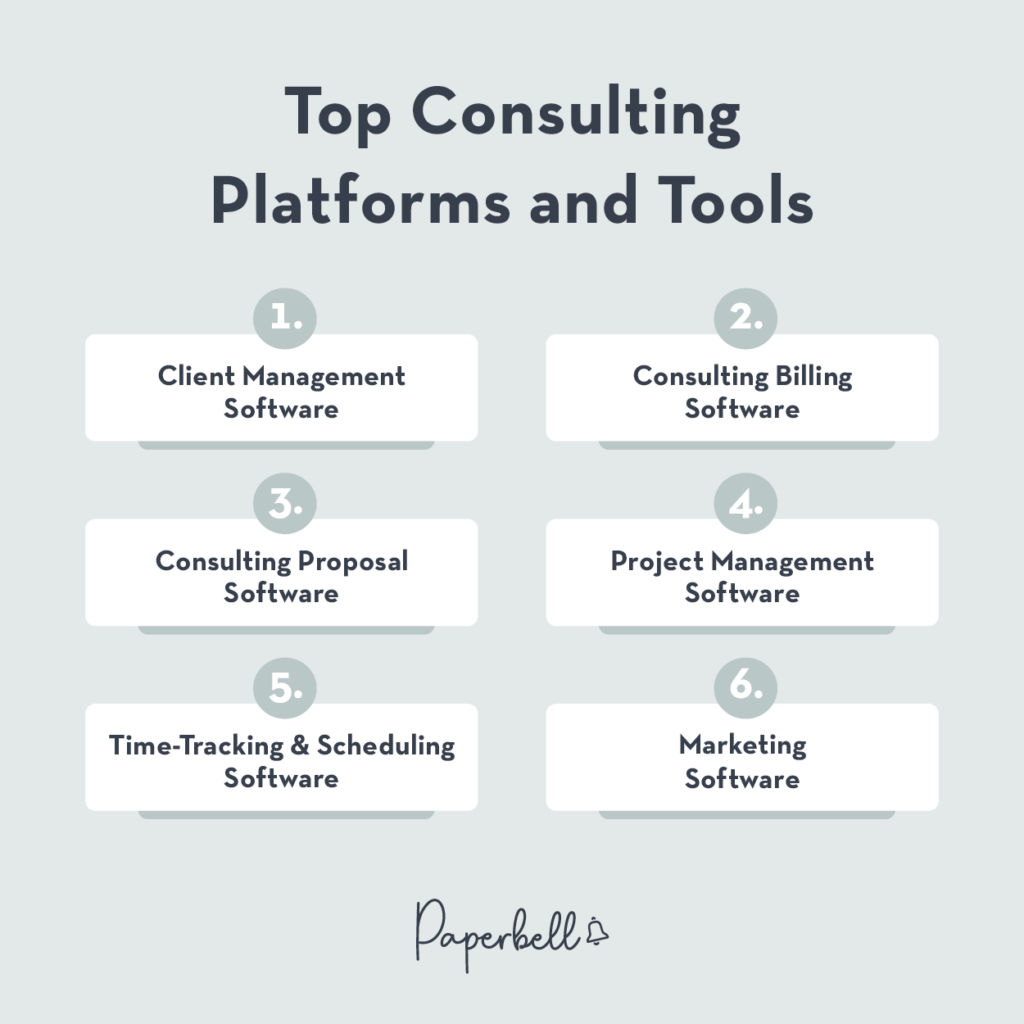 Client Management Software for Consultants
Hubspot
Hubspot is a CRM tool that allows you to keep track of your prospects and build pipelines for your sales process. It has a free plan with a few features available, such as email templates and some automation options. You can also make calls directly from the CRM (or integrate it with your mobile or landline service) and log your interactions during your lead nurture process. The analytics features will help you keep track of your close rates and visualize your pipeline.
Salesforce
Salesforce is the largest CRM tool with 24/7 customer support that's most often used by bigger consulting companies. It has an intuitive interface which makes it easy for you to train and onboard new team members using it. It's highly customizable, and it has in-depth analytics features for creating insightful reports. It's compatible with a lot of other enterprise software which makes integrations possible.
Monday
Monday is a tool designed to simplify and custom-design workflows across different company functions, including client acquisition. One of the best features of this platform is the customizable dashboard that provides an overview of all projects and makes it easy to collaborate with other members of your team. Monday also has a 24/7 customer support line with an average response time of two hours, as well as various pricing options, depending on the number of users you want to give access to.
Consulting Billing Software
Xero
Xero is an invoicing software mostly used by small businesses. They provide various templates to choose from and two-factor authentication for security purposes. With Xero, you can set up recurring invoices and reminders for payments due each month. You can also send invoices in bulk to multiple clients and save time on your billing process.

[ Read: 5 Simple Steps to an Official Consulting Invoice + Free Template Download ]
Quickbooks
Quickbooks is another popular invoicing software used by small companies and solopreneurs. They have a 30-day trial which lets you test out their features such as tracking expenses, customizing invoices, and generating reports. You can also generate secure, encrypted links to your invoices in Quickbooks and share them via text or email.
Freshbooks
Freshbooks is extremely user-friendly for an invoicing platform. They have simple templates as well as automated reminders and client follow-up emails. You can accept payments with credit card and Apple Pay, and you can include deposits on your invoices in order to get paid in advance.
Consulting Proposal Software
Proposify
Proposify is a tool made for small businesses to create appealing, customized proposals and track responses. You can add videos, interactive tables, and other visual elements to your proposals that can be viewed on both desktop and mobile. The platform makes collaboration easy with its tracking features and deadlines set for all team members.
Pandadoc
Pandadoc is a tool designed to automate document workflow. You can use it to craft custom proposals and contracts and get them signed digitally with their e-signature tool. It can be easily integrated with most major enterprise software platforms, such as Salesforce, Hubspot, Zapier, and Zoho.
[ Read: Land More Clients with This Step-By-Step Coaching Proposal Template ]
BidSketch
BidSketch is another great tool for consultants to make well-designed proposals easily. They have templates for upselling features and optional fees that you can include in your packages too. Clients can sign documents online, or you can export your proposals in PDF as well, if you need a printed copy of them. Their smart analytics and notification tools let you know when your client viewed your proposal and reminds you to follow up with them.
Project Management Software
C4C+
C4C+ is a more advanced software developed by Celonis for consultant firms that deliver process mapping for their clients. The platform combines process mining and execution management technology to serve the complex needs of big corporations. There are no limits on the numbers of users and projects, and you can test it out with a free demo for your company.
CMAP
CMap is ideal for large consulting firms juggling various projects and working with large enterprises. Their platform combines an end-to-end CRM system with features for pipeline management, invoicing, and reporting. You can manage your staff and associates by tracking their progress on cases, and you can visualize numbers on custom dashboards to get an overview of multiple consulting offices.
Asana
Asana is a popular project management tool used by businesses of all sizes to plan and track progress on projects. Breaking down projects into a task tree and assigning people to each item makes collaboration much easier, and their timeline view helps visualize dependencies between stakeholders. It can also be integrated with most major company software that your clients use.
Time-Tracking & Scheduling Software For Consultants
Toggl
If you bill your clients by the hour, Toggl is going to save you a lot of headache. This time-tracking tool makes it easy for you to log your hours and add notes to your time log for easier reporting. It also comes in handy when you hire employees or contractors for your team, so you can review their workflow.
TimeCamp
TimeCamp is another great tool for time tracking for consultants. You can track your hours worked on cases or use it to manage other own team members. You can log your tasks, review your time spent on projects, and generate timesheets for your clients. When reviewing timesheets yourself, you can switch between a detailed, daily timesheet view or a calendar-like mode to skim through the activity of the week.
Calendly
Calendly is probably the most popular scheduling tool used by service providers and small businesses. Their free plan allows you to set up one custom scheduling page with your hours available, or you can opt for their paid plans to create different scheduling templates (for example, for your client sessions or your discovery calls). Calendly is integrated with Zoom, and it automatically generates a link for your online meetings and sends an invite to your clients at the time of their booking.
Marketing Software for Consultants
MeetEdgar
Started by our Paperbell founder Laura Roeder, MeetEdgar is a top choice for small-shop consultants who want to optimize their social media reach by automatically repurposing their best evergreen content on social media. MeetEdgar is a software tool that serves as a social media VA, making sure that your social accounts are always topped up with your best content.
Canva
Canva is a design tool that turns your content into professional design through its easy-to-fill templates. You can design all your materials in one place, from proposals, brochures, social media posts, or even your business cards. Their free plan has plenty of great templates, graphics, and photos that you can use for your visuals, and their Canva Pro subscription gives you unlimited access to all their design elements.
ConvertKit is our pick for consultants who want the best of both worlds: a user friendly email marketing tool that is simple to use AND has the advanced automation functionality of the more expensive players. You can send email newsletters as well as personalized content and more sophisticated autoresponder or online course sequences.
GetResponse
GetResponse is another email marketing software that's popular among consultants and coaches. It offers intuitive solutions to grow, engage, and convert your audience. It can help you collect new subscribers with popups, nurture your leads with drip campaigns, or send timely offers with newsletters.

Paperbell: The All-In-One Consulting Software for Independent Consultants
Most consulting tools on the market are built for huge enterprises, or they only cover one or two key features consultants need in their everyday work. Paperbell was designed specifically for consultants working solo with SMEs to simplify their work.
With Paperbell, you can send payment links to prospects, sign contracts, get paid with no delay, and manage all your appointments in one place. You can also get all your admin work and intake surveys done on the platform, so you really don't need to juggle a bunch of tools that you're only partially using.
It's free to set up an account with your first client and test out all features, and it's very affordable to use with unlimited clients. Paperbell doesn't need your clients to register, so onboarding them will be a breeze. Create a free account now and try it out!