If you're reading this, chances are you're looking for a more efficient project management solution to manage your coaching clients in a neat, easy-to-use system.
Maybe you're still looking for Dubsado alternatives and want to find a client management software that's more suited to your needs as a coach.
In this article, we'll go through the key features of Dubsado project management software and the best Dubasdo alternative for coaches and consultants.
If you're a photographer, graphic designer, creative freelancer, or running an agency, this post isn't for you.
However, if you're a coach or a consultant looking for the best client management system for your business, keep reading to find out the best Dubsado alternative for your business!
Without further ado, let's get into it!
What is Dubsado?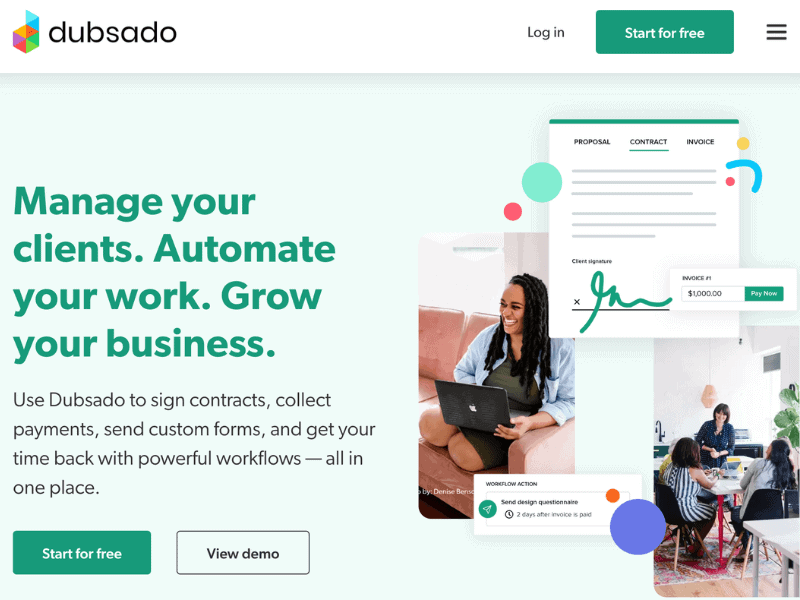 Dubsado is a customer relationship management platform designed for freelancers, small teams, and agencies to help with task management for their projects.
Its key features include email outlines, a to-do list, time-tracking, as well as a dashboard for project tracking and revenue overview.
The functionality of Dubsado is centered around sales pipeline management and selling custom projects to a variety of clients.
The task management tool offers a free trial for your first three projects, followed by subscription plans ranging from $25 to $60 depending on the number of users or team members you want to onboard to the platform.

The Major Downsides of Dubsado for Coaches and Consultants
Dubsado is a well-designed system for freelancers and small creative teams who want to keep track of and collaborate on a large number of projects. It can also support you with many administrative tasks.
However, the way Dubsado is fundamentally built might not favor coaches and consultants who want to sell their packages and coaching sessions in a simple, automated system.
After our deep-dive into Dubsado's functionality, here are the major areas we found where it falls short in supporting coaches and consultants with their project management and business management.
1. You Must Create A New Project For Every Client
Dubsado is designed for customer relationship management, creating and managing projects, and setting up a pipeline to track deals from start to finish with individual clients. While that works great in creative businesses where each project is structured and priced differently, it creates a lot of unnecessary work for coaches and consultants who want to reduce the number of administrative tasks they need to do.
In Dubsado, you need to set up a new project and task management list for every client engagement and manually send invoices and proposals using their forms and templates. It's a process that requires a lot of back and forth in email notifications and communication and makes it difficult and time-consuming to track which invoices are paid, project progress, which projects are closed, and so on.
It offers key features such as the ability to save your "canned emails" or templates in the CRM platform for follow-ups and reminders, but it doesn't provide a way to eliminate and automate these repetitive tasks altogether. Which is annoying for simple tasks like sending recurring invoices.
This means if you use a project management tool like Dubsado as a coach or consultant, you'll end up doing a lot of unnecessary busy work instead of what you want the most: selling your packages in your sleep. Not great for your time management.
2. Dubsado Is Designed For Creative Teams, Not Service Providers
The main reason Dubsado does not have the most user-friendly interface from a coach's perspective is that it's mainly used by small businesses, teams, and agencies (hence their pricing structure based on the number of users). Most data points you can track on its dashboard are redundant or unnecessary for a solo service provider.
Dubsado tracks the number of projects being worked on each week, which comes in handy for managing a team or working on a handful of smaller projects but isn't the best for managing coaching and consulting contracts running across several weeks or months.
There's no way to check how many people are enrolled in a particular coaching package or to set up and manage group coaching programs. This makes streamlined client management difficult.
3. It's Freelance-Friendly But Not Coach-Friendly
Dubsado lets you track your time worked on a particular project which works great for many freelancers who charge by the hour. As a coach or consultant, this is not the best approach as it makes your clients focus on the time you spend with them instead of the value you deliver in the coaching relationship.
[Read: The 4 Pillars of Sold-Out Life Coaching Packages ]
Dubsado's workflow automation follows applying to open jobs and negotiating rates with each client. As a coach or consultant, you aim to set your terms, structure your packages well, and sell them to your target audience without adjusting them for each client you work with.
4. Limited Scheduling Options
The scheduler tool of Dubsado is technically another pipeline system where you can set up email templates, send them out to clients, and ask them to book your calendar. It's almost the exact same process you would use with the good old way of emailing them, just with templates.
You need to set your availability with each email you send out, and there's no way to add buffer time between your sessions to take a break or prepare for the next one. Dubsado released its scheduling tool three years ago, but it still suggests that it's a "beta" version which may be why it's so limited. It's not suitable if you want to schedule appointments as a coach.
5. Coaching Sessions & Downloadables Can't Be Tied to Projects
A large part of managing a coaching or consulting business is keeping track of the sessions delivered in each coaching relationship according to your agreement. In Dubsado, you can't set up the number of sessions available within a project, so you need to manually track progress and note how many of them were delivered and still remain.
There's no way to add downloadables or course materials to your packages either, so you'll need to keep track of what's included in each package, who received what, and send all the downloadables out by yourself.
6. Payments Aren't Automated
When you use Dubsado, you need to contact clients via email, send them your proposals, create an invoice, and follow up on payments until your (very) hard-earned money reaches your bank account.
Accepting online payments directly on the landing page of your packages is not possible with the tool.
Dubsado's payment plan feature allows you to calculate the amount of each installment you need to bill, but you still need to request and follow up on each payment manually. This creates even more work for you. Not all countries and currencies are supported in Dubsado, so you might miss out on the opportunity to build a global clientele or to run your business in a country or currency that isn't listed on their site.
Paperbell: The Best Dubsado Alternative for Coaches and Consultants
Like Dubsado, Paperbell is an online client management tool. However, Paperbell was exclusively created for coaches and consultants and follows a workflow best suited for these types of businesses. So, if you're looking for an alternative to Dubsado, Paperbell is a great option for you.
Paperbell offers coaches the following features to help you with your administrative tasks: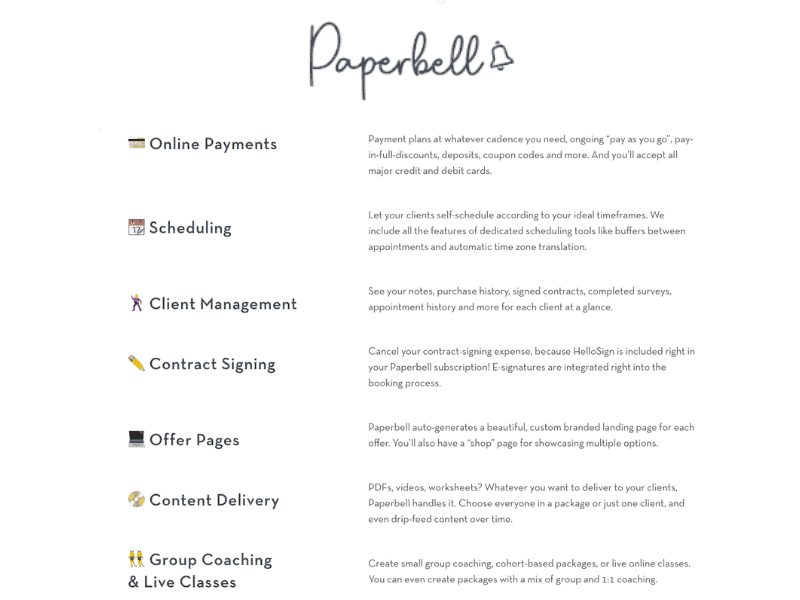 Paperbell manages all your packages, payment schedules, appointment scheduling, and contract signing seamlessly.
You can set up your personal landing pages for your packages and onboard clients by simply dropping them a link that gives them access to an easy-to-use client portal.
It's tricky to compare Paperbell with other client management tools, as many of those alternatives to Dubsado weren't designed for coaches but for other industries.
Once you compare Dubsado and Paperbell side by side, it becomes clear pretty quickly that Dubsado was created for creative teams, small businesses, and freelancers, while Paperbell was designed to provide solutions specific to coaching and consulting businesses.
Here are the key features of Paperbell and how you can use them to make your client, project, and task management workflow easier.
1. Easy Scheduling
Paperbell has a "pay first, schedule next" system. This means you don't have to send emails for appointment bookings or payment reminders. Instead, clients can pay you directly on the page dedicated to your packages or in their Paperbell account and can only schedule their first session once their outstanding payment is settled.
You only need to set up your coaching schedule once and, optionally, set a different availability for each package you sell. For example, you can keep all your onboarding calls or strategy meetings on a particular time and day of the week.
Paperbell's scheduling tool is integrated with Calendly, so you can customize your coaching schedule with buffer time between your sessions or a notice period that prevents clients from booking you last minute. Once a new session is booked, it gets automatically saved in your and your client's calendar with a meeting link attached.
2. Only The Reports You Need
Paperbell has a great user interface that is exceptionally clean and well-designed, making managing a coaching business feel like child's play. You can track the performance of your packages by looking at the number of clients enrolled and the revenue earned for each.
There are no cluttered dashboards with open invoices, sample jobs, and templates that you don't need anyway. Instead, Paperbell eliminates these processes altogether and enables the fastest shortcut between promoting your services and getting paid.
3. Deliver Full Client Experiences
Paperbell isn't just designed to make your life easier; it also makes working with you a breath of fresh air. Clients love hiring coaches and consultants who use Paperbell because they can settle their payments with ease using their cards, signing their contracts digitally, and booking their first session straight away.
Later, they can log in to their own dedicated space or client portal to check how many sessions they have left, book the next one, and renew their packages without contacting you.
You can increase the value of your coaching packages by adding bonus digital downloads and course materials to them. This could be a worksheet, audio recordings, or an ebook they can access in their client portal.
4. Automated Payment Plans
You can set up different payment plans for your packages in Paperbell that your clients can choose from. You control how many installments they should include, how they're priced, and how often they are due. For example, a 6-month coaching program can be paid in three installments of $200 each, due every two months.
The next payment will be automatically deducted from your client's card provided at the time of their purchase. Paperbell integrates with Stripe or Paypal, so payments are handled for you without the need to spend any energy on following up on them.
The Biggest Difference Between Dubsado and Paperbell: Sell In Your Sleep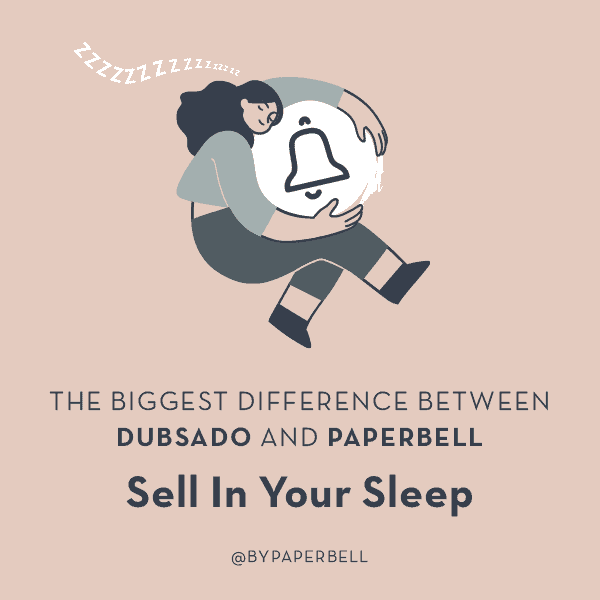 Dubsado works on a pipeline basis, which means that you need to manually send proposals and invoices to each client before they can pay you. Paperbell operates on a very different, always-on, "sell in your sleep" paradigm.
With Paperbell, you can link your checkout pages to your website so that clients can purchase packages without one-on-one interaction. Of course, if you want to chat with clients alongside the sales process, you can, but it's not required. You can simply send them a link, and the onboarding process will take care of itself.
Here's an example of a sample Paperbell website with the entire payment and session-booking flow baked right in.
Dubsado was mainly designed for creative freelancers, teams, and agencies as a pipeline and sales CRM-based client management system. Paperbell eliminates these processes as an all-in-one client management tool designed specifically for coaching and consulting businesses and their unique needs.
So if you're a coach or consultant, Paperbell is the clear Dubsado alternative for you!