As an independent consultant, your job is to provide perspective and share your knowledge with your clients so they can ace building their businesses. Giving business advice can be an extremely rewarding career — but also a risky one! You could have all the right advice to help your clients succeed, but if you aren't protected with the right insurance coverage, you could lose everything you've invested in your hard-earned success.
Though insurance might not be the first thing on your mind when you start a consulting business, it's an important step to take early on, and it's less costly and complicated than you may think. In this article, we've gathered the 101 of insurance options for consultants, so that you can make the best decision for your business.
[ Read: How to Start a Consulting Business: The 7 Key Steps (+ 5 Must-read Books!) ]
Insurance Requirements for Consultants
So why would you need to invest in consulting insurance, you might wonder? Representing yourself as an individual consultant means that if a legal issue arises, there's no employer behind you to back you up. The bigger your client's business is and the bigger the case you're working on, the more you have at stake with the advice you give.
A well-written consulting agreement can lay down a solid foundation for the terms of your client interactions. However, there are many instances it can't protect you from, and even if you did everything right, you still need to cover the expenses of hiring a lawyer to settle your case. Accidents can happen any time to your property or your client's property in a meeting, and if you have one or more employees, you're responsible for them as well.
Besides, some clients may ask for a Certificate of Insurance before signing your agreement and consider it a sign of being serious about your consulting practice. Way to amp up your pitching process and convey professionalism!
Now, the wide array of insurance packages that you find on insurance websites might seem daunting at first, but there are actually only a few that you need to pay attention to as a consultant. So let's look at each in more detail to see what they cover.
Types Of Insurances for Independent Consultants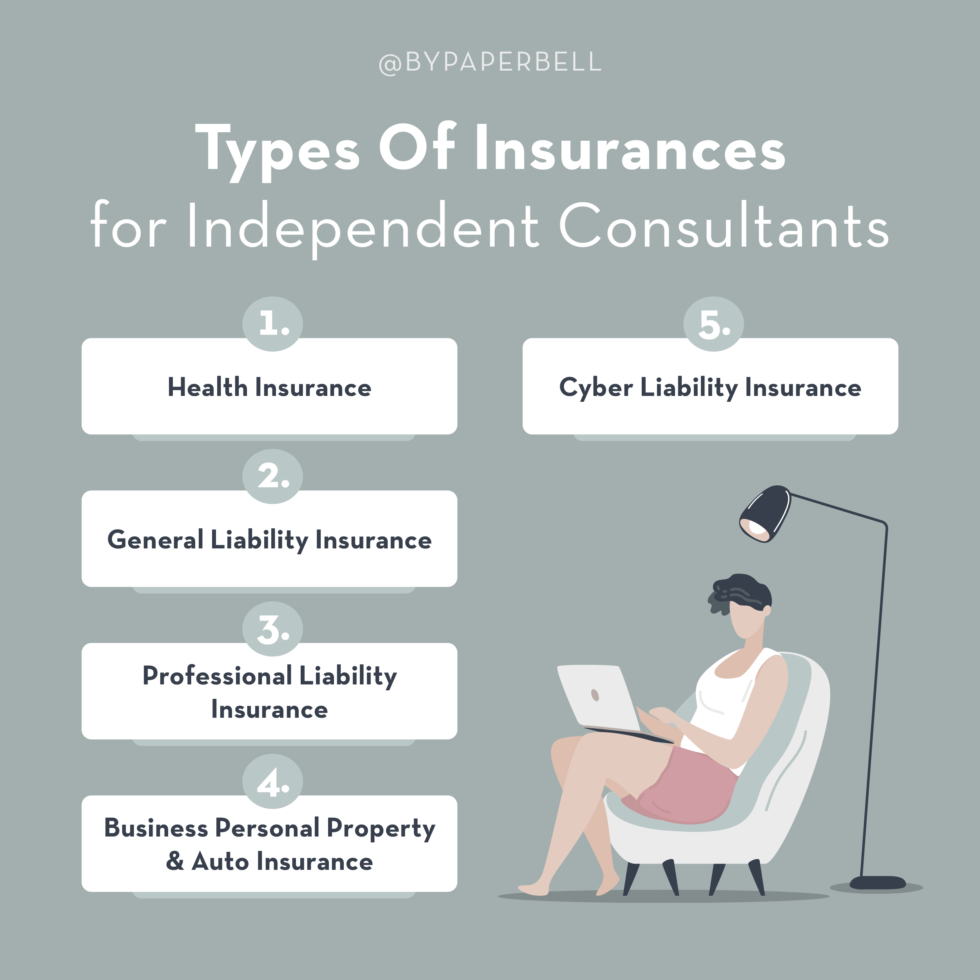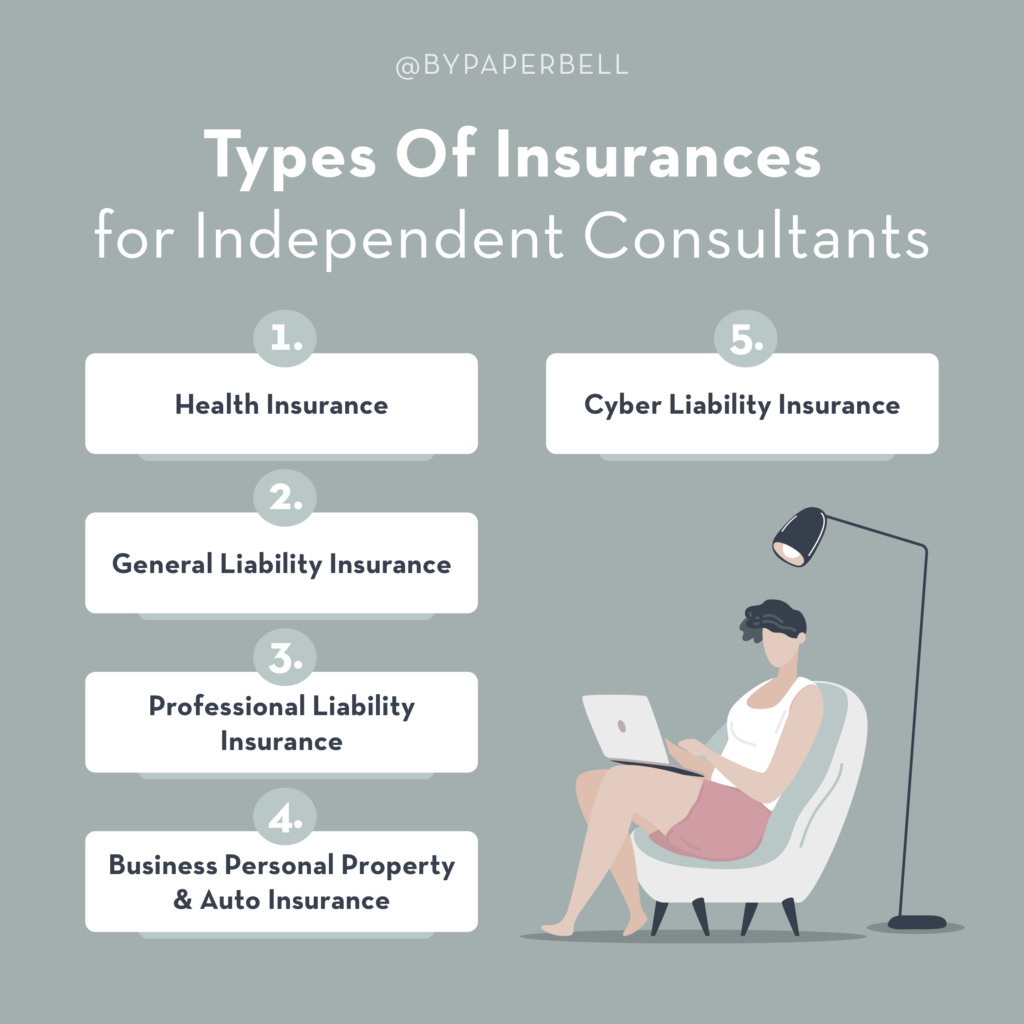 Health Insurance for Consultants
Before we take care of your business, let's take care of your health first. If you've recently departed from your corporate job to start out solo (in which case, kudos to you!) that means you'll no longer receive employee perks, such as health insurance.
Companies like COBRA can help you keep your insurance for another 18 months after quitting your job. Another option is to get insured through the job of your significant other through companies like Partner's Plan (even if you're unmarried) if you qualify as a "domestic partner" (same-sex couples included). If these options aren't available to you or you prefer something else, you can educate yourself on insurance plans made for individuals at HealthCare.gov or opt for a Small Business Insurance plan.
Now, let's dive into what insurance types you can consider as a consultant for legal protection.

General Liability Insurance for Consultants
If you visit clients (or they visit you), you absolutely should consider getting general liability insurance. This package protects you against claims in case someone gets hurt or injured, or if there's damage done to your client's property.
It all sounds like something that only happens to "other people" until your client accidentally trips on the staircase on the way to the meeting room you rented, or you knock over a glass of water onto their laptop. If you get sued, your general liability insurance will pay for both your legal defense and your client's medical care.
Plus, clients and service providers (the coworking space you rent a meeting room in, as an example) often ask you to provide proof of this insurance type. They, too, know that when things go awry, it's better to let the insurance companies handle it.
Professional Liability Insurance for Consultants
Your professional liability insurance, also known as errors and omissions insurance, will be your safeguard in case you're accused of negligence as a consultant. Let's say you've done all the research in the world and you've put together a solid strategy for your client that impressed them. Then a few months down the line they come back with a lawsuit claiming that your advice caused them to lose thousands of dollars.
Whether you accidentally left out key information, made a mistake, or did everything right but your client still thinks you're the reason they lost money, it can cost you your business if you don't have legal protection. Your professional liability insurance will cover the expenses of legal defense by your lawyer as well as any settlement or damage that might come up in your case.
Business Personal Property & Auto Insurance
A business personal property insurance is essential to keep all your stuff used for running your business safe. Whether you run a fully furnished office or you work solo out of your home office, this insurance package applies to everything from your phone to your office plants. If you're out and about and your laptop gets stolen or lost, you'd surely wish you had it protected with business personal property insurance.
This also applies to the car you drive to your meetings. There are over 6 million car accidents in the US alone every year, and God forbid you ever find yourself in one, but if you do, your insurance will take care of the costly repair expenses.
Cyber Liability Insurance
As a consultant, you gain access to inside information of the businesses that you're working with. Keeping that information confidential is one thing, but cyberattacks and data breaches can happen to anyone, including you, which can set you up for an unwanted lawsuit.
Around 60% of small businesses that face data breaches shut down within six months after the attack because they can't cover the high costs of its consequences. Your cyber liability insurance (sometimes called cyber risk insurance or data breach insurance) will protect you in these cases and cover any legal costs to get you back on your feet.
How Much Does Consulting Insurance Cost?
The cost of your insurance as a consultant will largely depend on your individual case. If you have a clean claims history and several years of experience as a consultant, it can help lower the rates of your preferred packages. However, if you're working in an industry that's generally riskier than others, it might come with higher costs.
You'll need to weigh your options and choose a coverage limit that you deem sufficient for your business in particular. The higher your coverage limit, naturally, the more you need to pay.
These are some general rates insurance companies normally charge consultants, but we encourage you to do your own research and ask for quotations from your shortlisted insurance providers.
| | | | | |
| --- | --- | --- | --- | --- |
| Policy | Annual Cost | Coverage Amount Per Occurrence | Aggregate Coverage Amount | Deductible |
| Professional Liability | $400 to $1,800 | $1 million | $2 million | $1,000 |
| General Liability | $300 to $1,300 | $1 million | $2 million | $500 |
| Commercial Property | $300 to $600 | $20,000 | $20,000 | $1,500 |
| Cyber Liability | $500 to $1,500 | $1 million | $1 million | $1,000 to $5,000 |
Pro Tip: Most insurance companies offer what's called a BOP, or a business owner's policy, that enables you to combine multiple insurance plans into one and get a better offer for them all together. Make sure you bring this up at your meeting with them — it never hurts asking!
Insurance Providers You Can Consider as a Consultant
Hiscox (Our Top Pick)
Hiscox is a top-rated insurance provider covering 180+ different professions in 49 states. They specialize in micro and small businesses, including sole proprietors who run their business alone.
They provide combined packages for niche professions, including consultants like you, so you can trust that your unique business needs are not new to them. You can buy insurance packages online through an easy application process, and they have several options to customize your package and choose what fits you best.
Thimble
Thimble is an insurance provider that prides itself in getting you covered in 60 seconds (yep, you heard that right!) They have the most flexible packages, with coverage options per year, month, week, or even by the hour.
Though it's always encouraged to plan ahead and think of the long-term future of your business, this is a great option for you if your business activity is more ad hoc or seasonal. Additionally, they provide packages that you can adapt to your business size over time, so your insurance can scale with you as you grow.
SimplyBusiness
If you're someone who likes comparing options in order to make the most informed decisions, SimplyBusiness might just be for you. Their platform lists all the top insurance carriers for small businesses, with a great analysis of their features.
There are plenty of companies on their list that provide all the essential consulting insurance packages for a reasonable price, and you can request quotations from them directly. This way, you can compare what they offer and make sure you opt for the one that best matches your expectations.
AXA
You've probably heard of AXA, one of the largest insurance companies in the world, present in 54 countries. Don't think they only work with giant corporations though: there are plenty of customized insurance plan options in their portfolio suited for sole proprietors and small businesses. They also have a 24/7 helpline to help you navigate their policies easier and choose the right coverage for your business insurance.