OK, life coach insurance might not be your favorite topic. But just like any other small business owner, you need to protect your business from any unforeseen risks and financial damages. Whether you're looking to change your insurance package to something more suitable or it's the first time you ever hear about the need for insurance as a life coach, we've gathered everything you need to know in this article to help you make the right decision.
We'll cover the importance of insurance for life coaches, the various types of insurance packages you can consider, how much they cost, and some insurance providers who get life coaches and the typical risks their businesses face.
Why Do Life Coaches Need Life Insurance?
As a life coach, you provide professional advice and guidance to your clients. While you're not responsible for how that advice is taken and implemented, it doesn't mean you won't face lawsuits from potential clients who raise claims against you. It can happen to anyone.
Life coaching is a highly unregulated industry, where you don't have legal requirements to start your practice. There are a lot of different coaching programs and services on the market, and they are often confused with other similar services, such as consulting or therapy. Such misunderstandings can create mismatched expectations, even when you did everything right.
While a sound contract can set the right expectations beforehand and provide a good reference point for any potential legal conflicts, you will still need to cover the expenses of hiring a lawyer. Even if the case has no basis.
[ Read: How To Create A Legally Binding Coaching Contract From Scratch ]
Other potential reasons you could need insurance as a life coach is to protect your property (such as your office, laptop, or car used for business), cover the costs of any accidents that take place at the location of your sessions, and to keep confidential data about your clients safe.
Let's look at what all of these mean in insurance terminology.
Types of Life Coach Insurance You Need
Now, since we're looking at insurance here, we're going to mention some worst-case scenarios that might happen to coaching professionals and their businesses. We don't mean to scare you, but it's better to be prepared than sorry (which is the whole point of getting insured). Here are some of the risks that might occur when running a life coaching business — and how to stay protected against them.
Professional Liability Insurance
Professional liability insurance protects your business if you are sued for negligently performing your services, even if you haven't made a mistake. Any life coach can be sued for causing harm with their advice, breaking the confidentiality clause in their agreement, or even sexual harassment (especially in close contact situations).

Even if you face false accusations, you will need to respond to them and work with a legal professional to protect your business against claims. Your professional liability insurance (also called errors and omissions insurance or indemnity insurance) will cover the expenses of legal defense by your lawyer as well as any settlement or damage that might come up in your case.
General Liability Insurance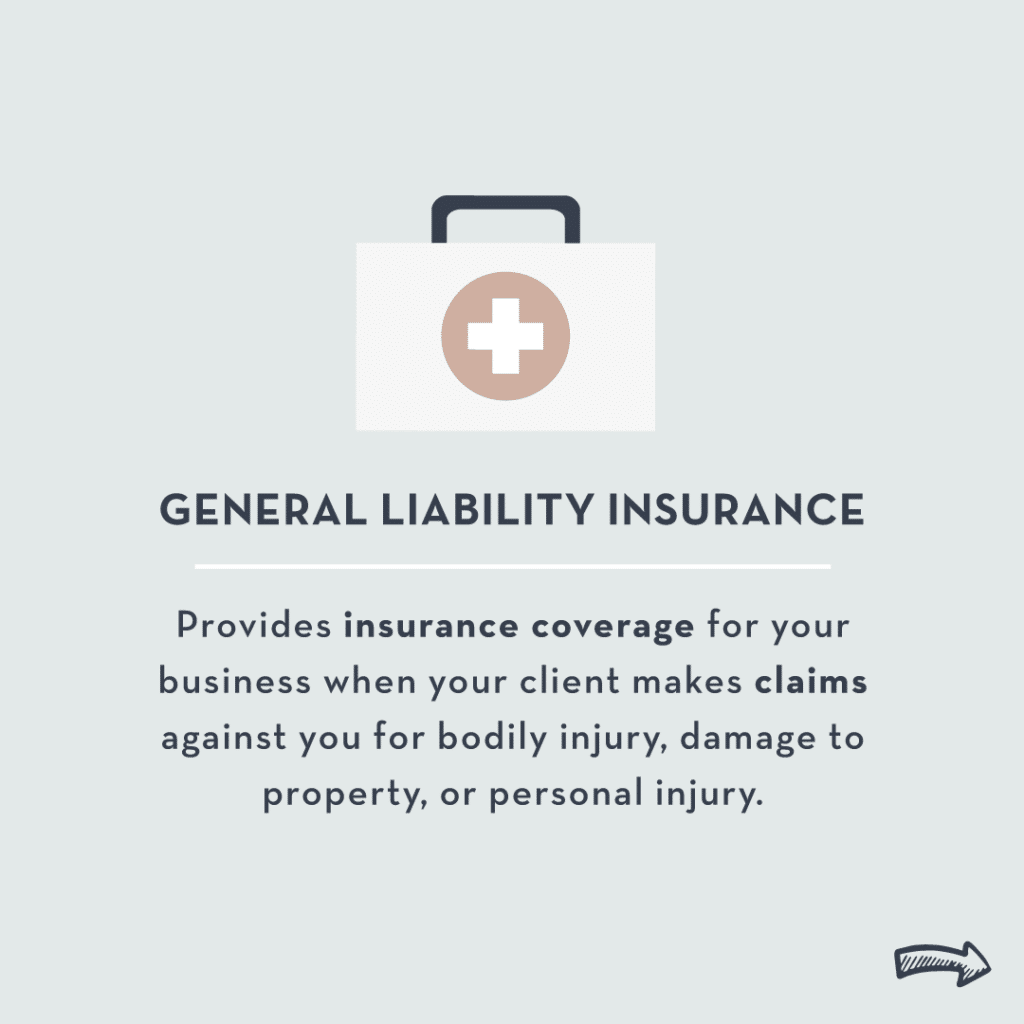 General liability insurance provides insurance coverage for your business when your client makes claims against you for bodily injury, damage to property, or personal injury. If it all sounds too far-fetched to happen to you, here are a few everyday incidents that could easily take place at your sessions.
Let's say a client claims that you spilled water on their laptop during the session or accidentally drops their phone while bumping into you at the door. That could be considered damage to property.
If your client slips on the stairs while walking into your office and hurts themselves, they can sue you for personal injury. In these cases, your general liability insurance will cover the costs of the lawsuit, the damage caused, and any medical expenses that your client needs to pay.
Commercial Property & Auto Insurance
Commercial property insurance and commercial auto insurance protect the assets that belong to your business, such as your office building along with its equipment and furniture, your laptop and other electronics you use for work, and the car you drive for business meetings.
If you meet with an accident or a small fire causes damage to your property, this insurance type will cover the costs of the damage. If someone breaks into your office or steals any of your business-owned belongings, that will be covered too. Insurance policies typically define a blanket limit for all costs that occur at a single business location. Make sure you opt for one that's sufficient for your property and vehicles.
Cyber Liability Insurance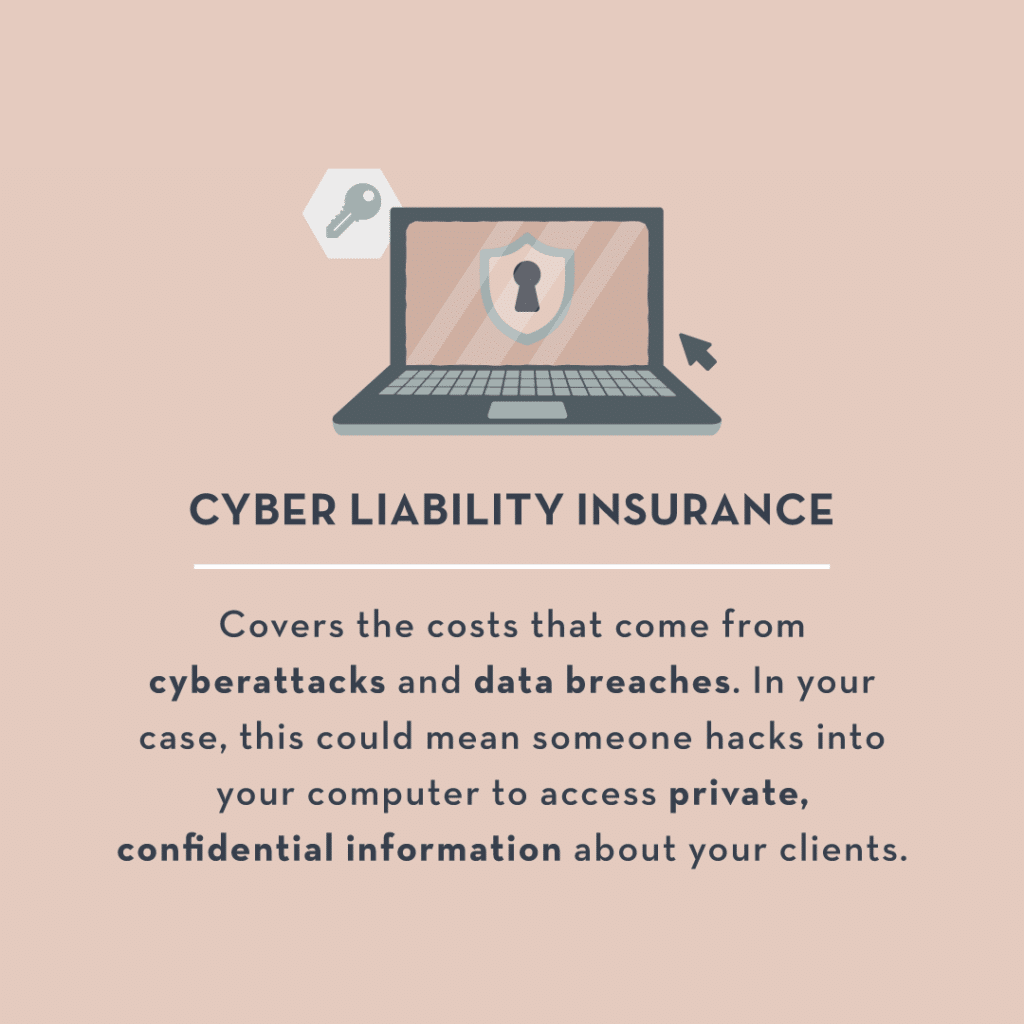 Cyber liability insurance covers the costs that come from cyberattacks and data breaches. In your case, this could mean someone hacks into your computer to access private, confidential information about your clients.
Cyber liability insurance or cyber security insurance protects you from malware and phishing, and also covers the cost of lawsuits from clients in the event of their confidential data being leaked. Life coaching sessions cover all kinds of personal topics which can impact the reputation of someone, especially if you're working with more publicly known clients or representatives of large brands.
Workers Compensation Insurance
If you have a team who works for your life coaching business, workers compensation insurance will protect your employees and your business from any work-related accidents, illnesses, and even death.
By law, you are required to provide medical insurance and sick leaves for your team members in most states of the US and in many other countries too. You will need insurance to cover medical costs and lost wages, even if you only have one employee. This, of course, doesn't apply to you if you fly solo or work with a virtual assistant.
How Much Does Insurance Cost for Life Coaches?
Insurance costs for your life coaching business depend on a bunch of different factors. For example, where your business is located, your claim history, whether you own or rent an office space, your equipment value, and the size of your team (if you have employees).
According to statistics, the average life coach in America spends between $350-$650 per year for $1 million in general liability coverage, but insurance packages for life coaches can cost up to $3,100 annually depending on the size of the business.
If you're working by yourself or only hire freelancers, the cost of your business insurance package will be much lower. If you work from home, use your personal equipment, and don't drive a car for business purposes, the annual rate of your package will likely be even lower.
The general best practice for life coaches and other small business owners is to go for a customizable business owner's policy (or BOP). These packages commonly include general liability and other types of insurance from the examples mentioned above that fit your individual business needs.
It's best to explore your options early on and include insurance costs in your business plan since your insurance package won't cover losses that have already occurred.
[ Read: 8 Expert Tips for Writing Your Life Coaching Business Plan ]
These are some general rates insurance companies normally charge when it comes to life coaches, but we encourage you to do your own research and ask for quotations from the insurance companies you're considering.
| | | | | |
| --- | --- | --- | --- | --- |
| Policy | Annual Cost | Coverage Amount Per Occurrence | Aggregate Coverage Amount | Deductible |
| Professional Liability | $400 to $1,800 | $1 million | $2 million | $1,000 |
| General Liability | $300 to $1,300 | $1 million | $2 million | $500 |
| Commercial Property | $300 to $600 | $20,000 | $20,000 | $1,500 |
| Cyber Liability | $500 to $1,500 | $1 million | $1 million | $1,000 to $5,000 |
Top Insurance Providers for Life Coaches
Hiscox (Our Top Pick)
Hiscox is a top-rated insurance provider that covers 180+ professions in 49 states. They specialize in microbusinesses and small businesses, including sole proprietors. Hiscox works with niche industries such as therapy, consulting, and life coaching. You can buy insurance packages with them online through an easy application process, and they have several options to customize your package and choose what fits you best. We've heard from coaches that Hiscox is online-focused and makes the process easy.
Thimble
Thimble prides itself as an insurance provider that can get you covered in 60 seconds. They work with businesses that work on a more ad hoc basis, so if you're not always actively working with clients, you can even get insured for as little as a few hours with them.
* Since originally publishing this post, Thimble has reached out to let us know they currently aren't offering coverage for life coaches. However, they do cover "many consulting professions", make sure to reach out to them directly for coverage details.
SimplyBusiness
Simply Business is an online platform that lists top insurance carriers for small business owners to compare and get a quotation from. They have several options for life coaches who are looking for general liability and professional liability coverage at a reasonable rate. This way, you can receive multiple quotations in one place and choose the one that matches your expectations in terms of coverage, duration, and price.
AXA
With 54 countries covered, AXA is one of the largest insurance companies in the world. Despite their size, they provide customized insurance packages to sole proprietors, such as life coaches, with the essentials of professional indemnity, public liability, and business equipment insurance. They have a 24/7 expert helpline to navigate you through their policies and help you choose the coverage that works best for you.