You became a life coach to help others unlock their potential and reach their goals. A great life coaching website is key to getting those clients you can help and growing your business.
Great life coaching websites showcase who you are and what you offer clearly. They engage and impress your visitors, and they help build trust that leads to paying clients.
In this article, we'll go through some of the most stunning life coaching websites out there to see what they've done right so you can implement their strategies on your own. We'll also share some website templates that can help you set up your site much faster.
Let's dig in!
How The Top Life Coaching Websites Attract More Clients
An effective website can help you get more coaching clients by doing these five things:
Make it easier for people to find you
Grab their attention
Establish trust
Sell your target audience on your services
Enable prospects to buy or get in touch (we suggest integrating Paperbell, of course!)
To help you understand how this is done with life coaches online, let's explore:
Great life coach website examples you can pull inspiration from
Top tips to create your own life coach website
The best coaching website templates and builders
How to take your coaching business to the next level
The Best Life Coaching Websites You Can Pull Inspiration From
To get inspiration on what's possible for your own life coach website, we've searched the internet for 10 great examples. You'll see a common theme with these websites. They all have engaging images, strong branding, easy navigation, and are well-written.
What you can learn from this life coach website:
Preston Smiles does two things well: he establishes a personal connection and credibility early on. He does this by using branded images of himself, having an "as seen in" section and bio that are all strategically placed early on in the homepage design.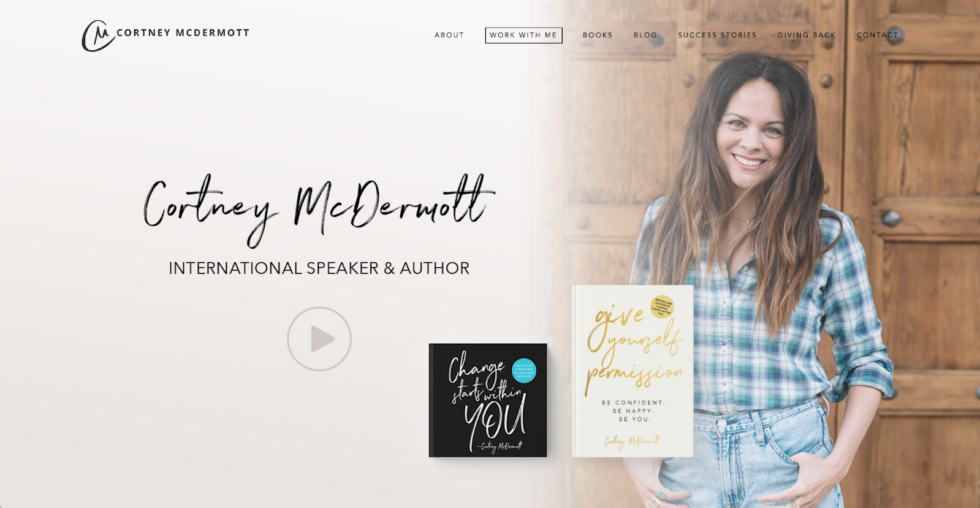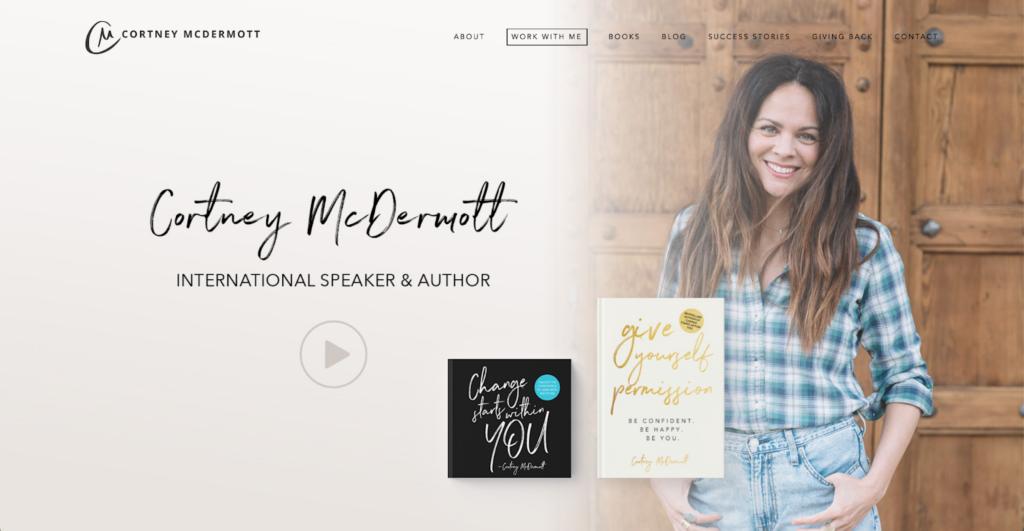 What you can learn from this life coach website:
If you want to promote yourself as the best of the best, you have to have the credentials to back it up. Cortney McDermott does this well with a beautiful, simple, and intuitive website.
The navigation and flow of the website feel effortless, which is key. Her branding video quickly shows she is a great and engaging speaker, and it's way more engaging than just static images. Once she led you through her experience in the video, the list of organizations below solidifies her expertise.

The first thing people see when they land on your website is key, and Cortney successfully draws you in early to keep exploring. Using video (such as "about me" or explainer video) is brilliant for increasing time spent on the page, too. This helps you improve your appearance in searches, as it signals to the likes of Google that people are more interested in your website than your competitors.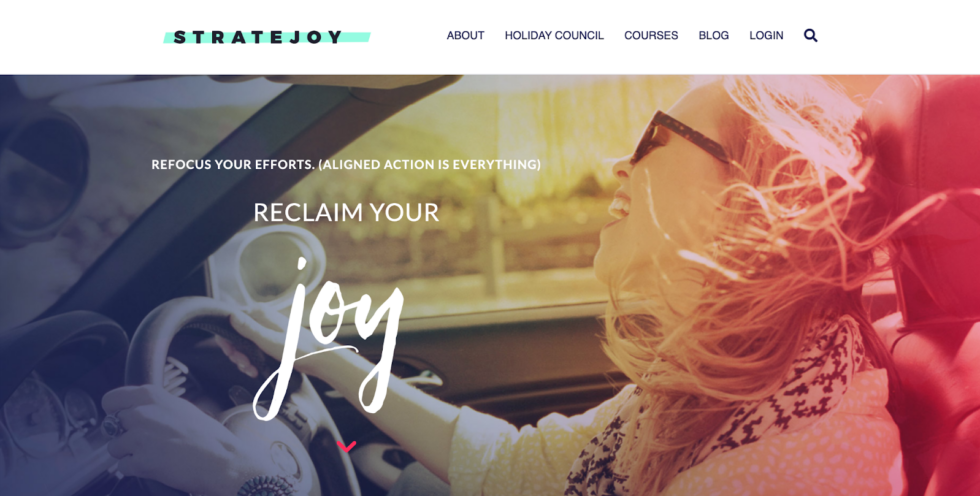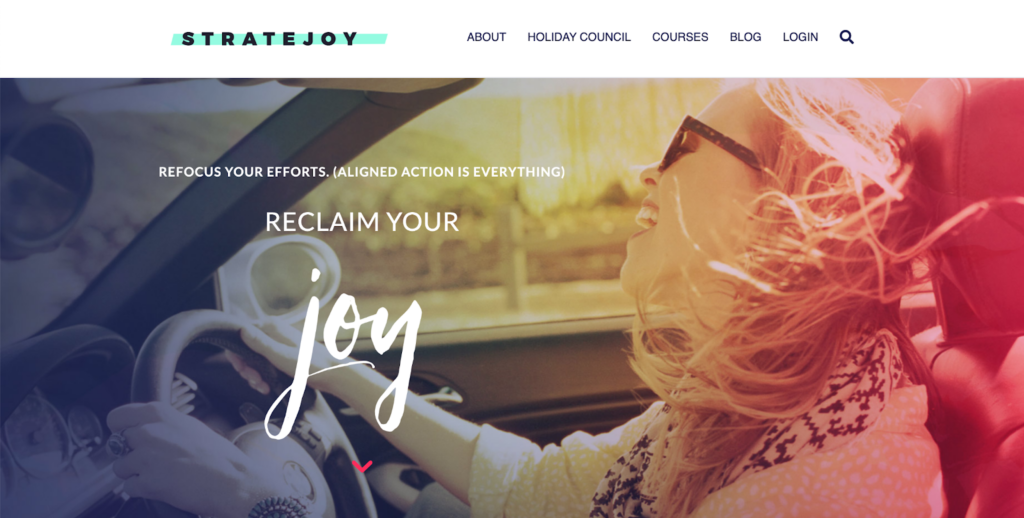 What you can learn from this life coach website:
Molly takes a clever approach with her business by building on community and togetherness.
Her branding is strong in helping to convey that message. Just reading her website makes you think you're about to join an awesome group of women on a journey. You also get a great exclusivity feel with her website, creating that "need to buy" urge. Her website, like the others, is very easy to navigate. Best of all, it is very clear what services she offers because this appears high up on her homepage.
Great branding on a life coaching website ties everything together. On Stratejoy, you see an element of joy throughout Molly's brand name, photography, and design. The more cohesive your brand elements are, the quicker your audience understands what you, as a coach, are all about.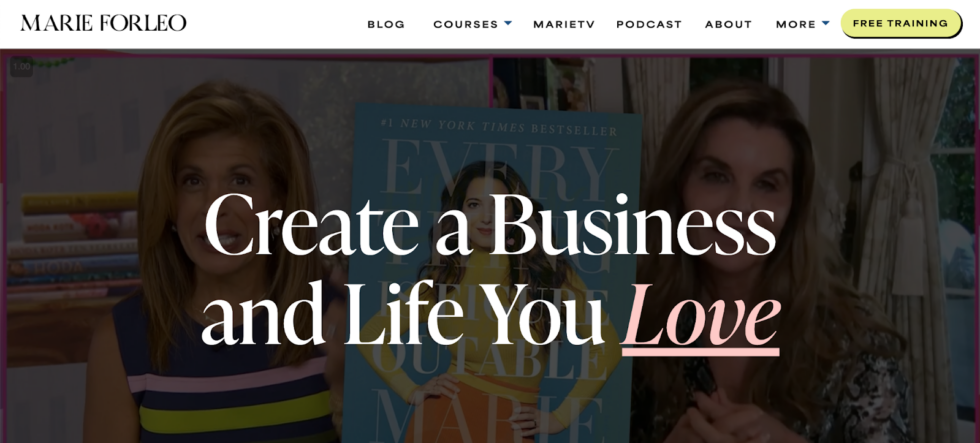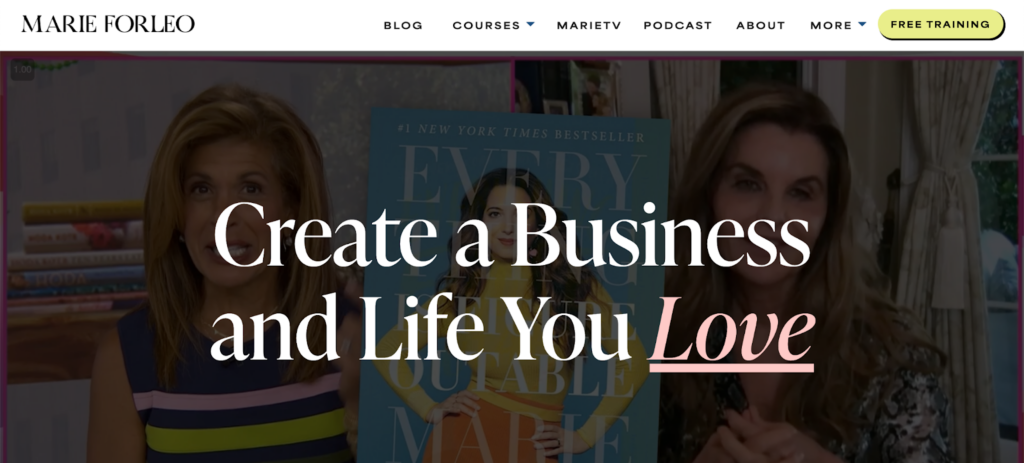 What you can learn from this life coach website:
Marie is a leader in the industry, with a huge following on YouTube. As co-creators of her B-School, we – along with the likes of Oprah – have always been a fan. She does an amazing job positioning herself as a life and business coach.
For those looking to use video content on their website, Marie's website is a great source of inspiration. Even Marie's hero image is a video of her beaming at you. Marie also does well to bring her video content onto her website by repurposing that information on her blog. Video content on blog posts is incredibly powerful and has been shown to boost SEO, so make sure to check out her website to see how this can be done.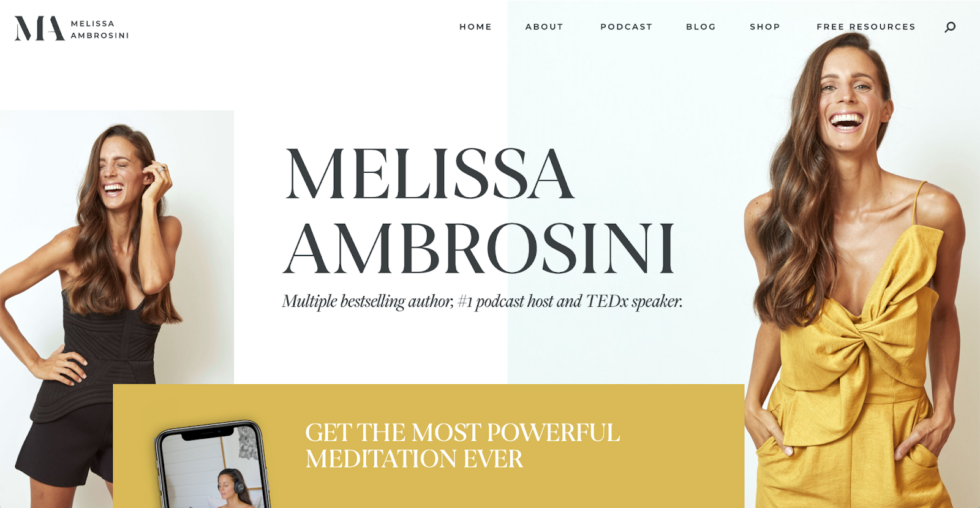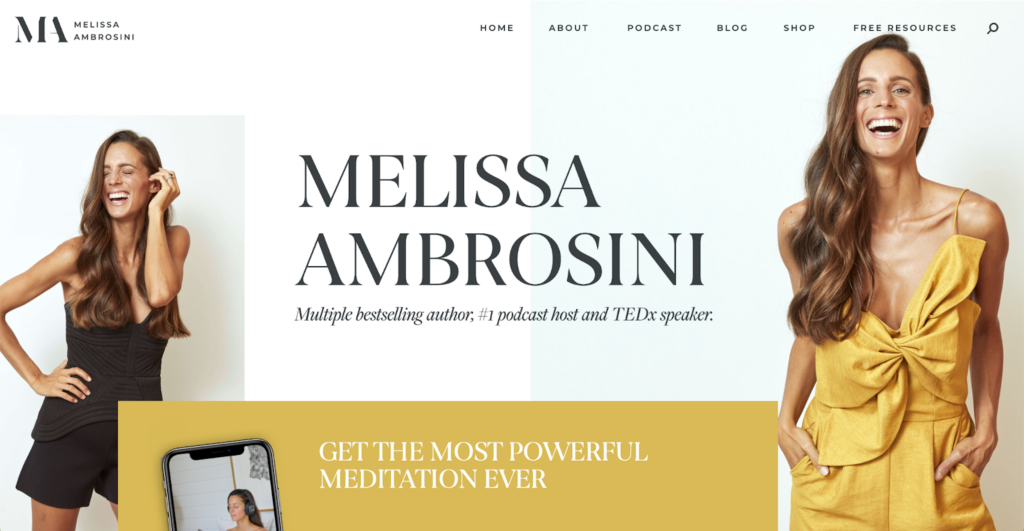 What you can learn from this life coach website:
Your website can be a powerful gateway to establish a deeper connection. You can do this with links to guides, podcasts, books, and social platforms. These are all the kinds of things Melissa's website has and does well – as do most of the other websites on our list.
The one thing Melissa does do differently is integrate Facebook Messenger. So many people call rather than text these days, and that ability to instantly connect is something you might want to consider. It's worth noting Facebook Messenger can be automated, meaning you don't need to be available 24/7.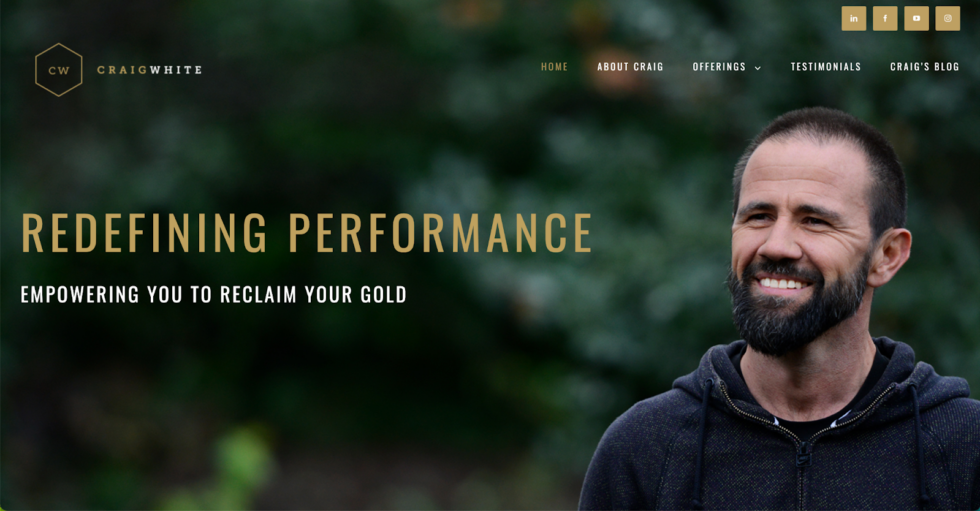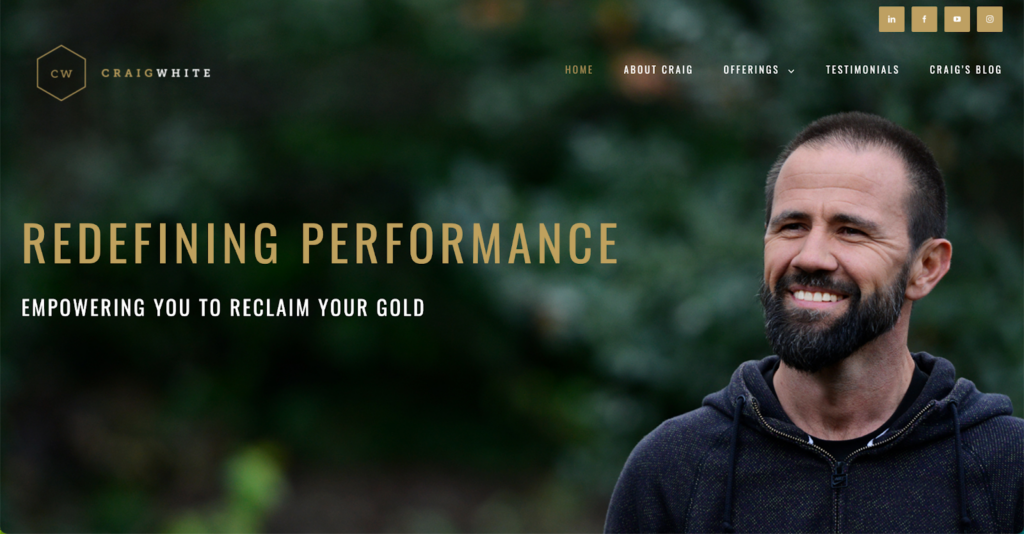 What you can learn from this life coach website:
If you scroll down on Craig's homepage, you'll see a section called "A Common MENtality" that feels relatable. It builds a connection by demonstrating where and how Craig can help. He also clearly lays out his services and upcoming events.
Her website colors and copy create cohesion ("empowering you to reclaim your gold") and come together in an aesthetic design tailored to his audience. Reading his introduction, you instantly get who Craig serves and what problems he solves for the people he's working with. He even voices their frustrations with "I" statements, drawing them closer.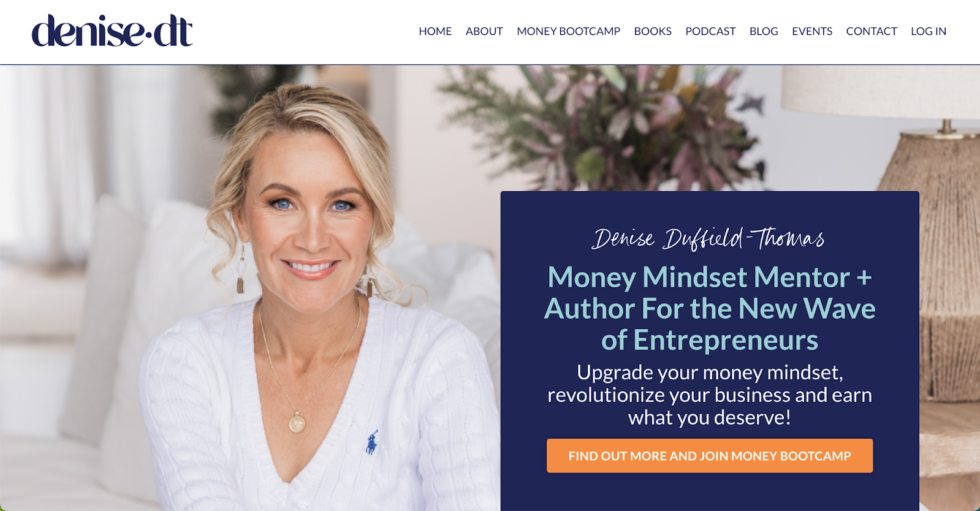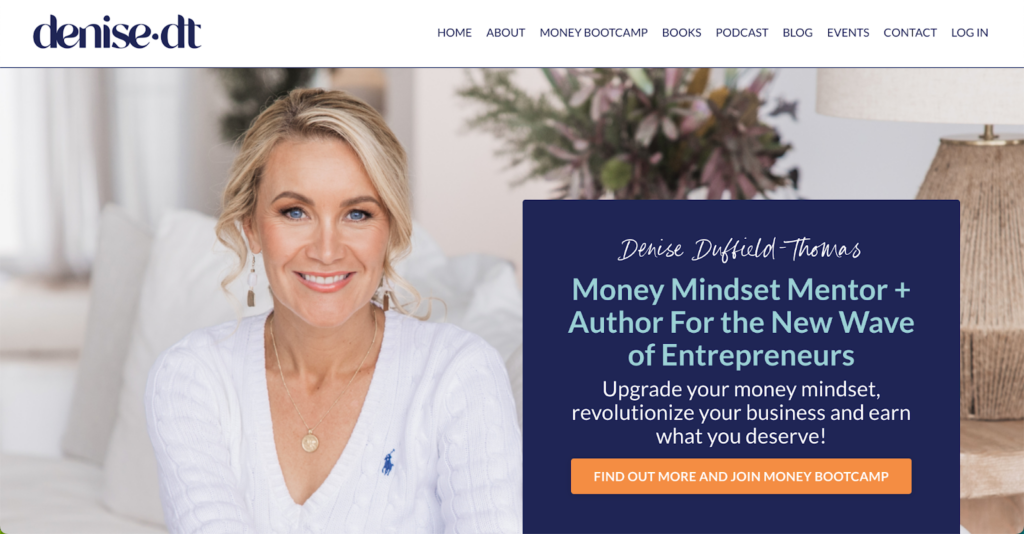 What you can learn from this life coach website:
Denise Duffield Thomas has a clear niche: she's a money mindset coach for women entrepreneurs. If you have a very specific niche, make sure it is abundantly obvious, from the second visitors land on your website.
Another strong aspect of her website is that she has an uncomplicated navigation that foregoes the drop-down menu. This is ideal not only with mobile visitors but also to help you control your visitor's journey and avoid information overload.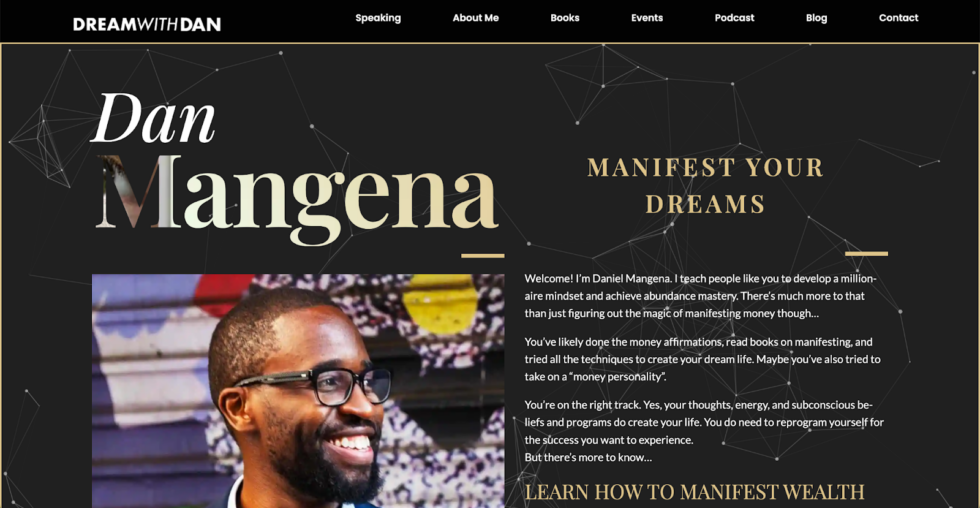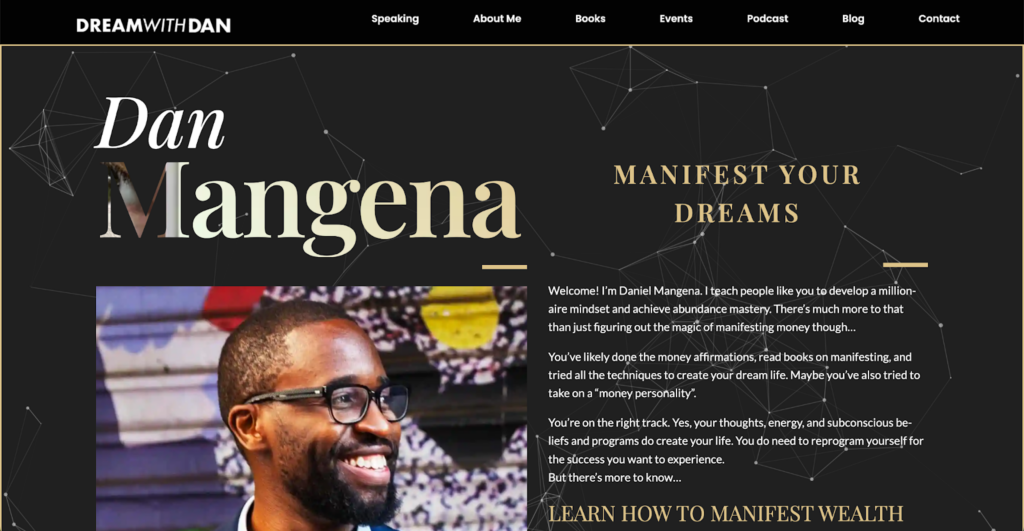 What you can learn from this life coach website:
Dan is a life coach specializing in helping people develop an abundant mindset. His website, Dream with Dan, is a dreamy spectacle. The first thing that will catch your attention is its animated background. It instantly transports you into his world, where anything is possible. While animations often make a website heavy and slow to load, Dan could integrate this added touch without harming his SEO.

Anyone visiting the site for the first time will know exactly what he does and how he can help. He also builds trust and credibility by showcasing video testimonials from his most successful clients. There is nothing more powerful than past clients sharing their experiences.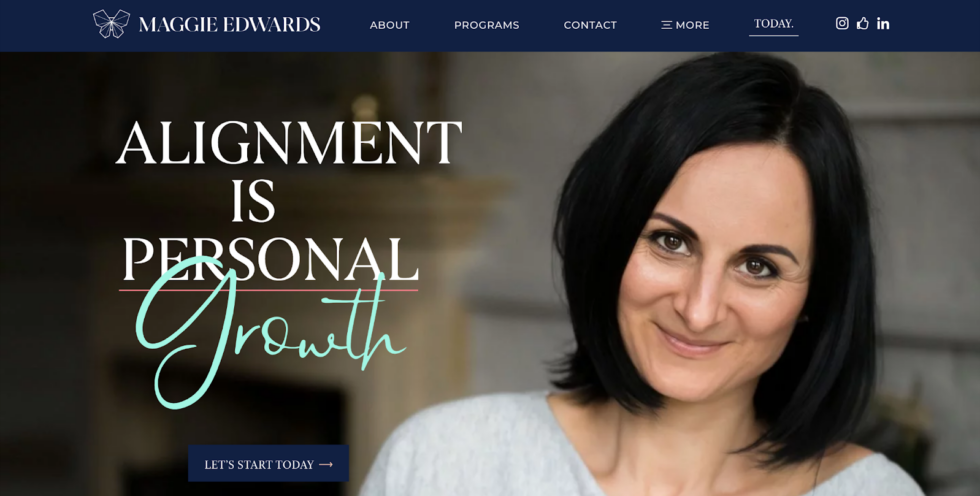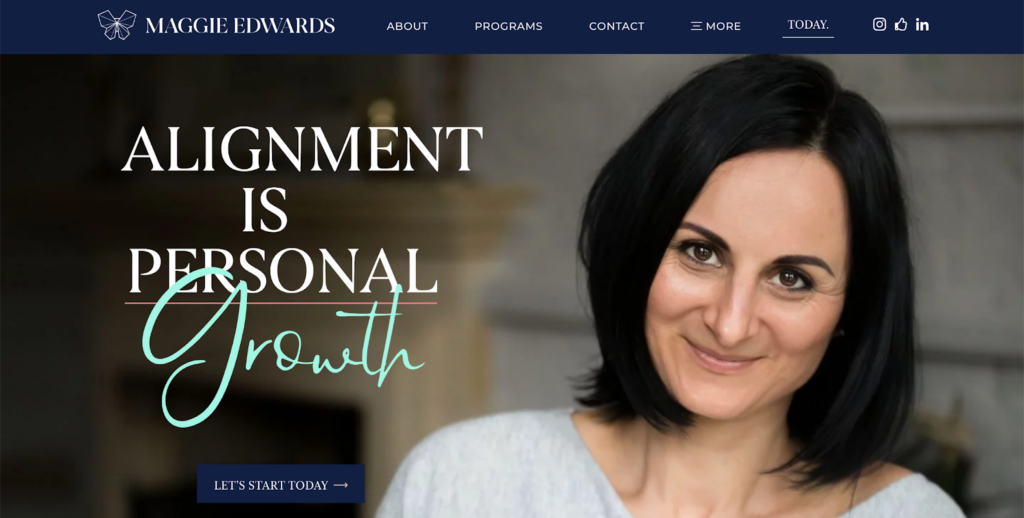 What you can learn from this life coach website:
The hero section of this website pulls you in immediately, but one of the standout features is how Maggie presents her services. Simple menu navigation is becoming a common trend. As seen on other websites, such as Marie Forloe's coaching website, Maggie created a secondary menu to hide information she wants readily available but isn't crucial to the typical website visitor taking a desired action.
Too often, life coaches create a drop-down navigation for services that assumes the visitor somehow knows what they want and, even worse, knows what a quirky and clever program name is actually about. Guiding the potential client is important to your website doing a good job, and Maggie's website is a great source of inspiration.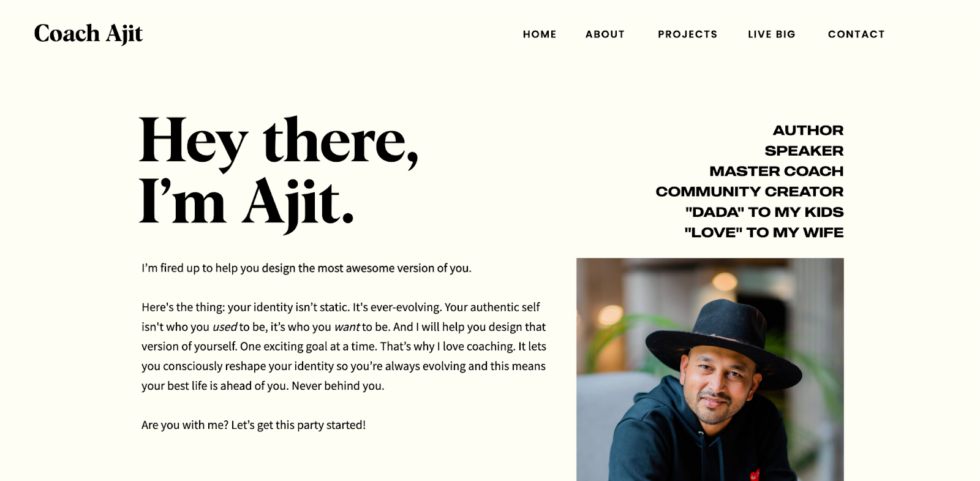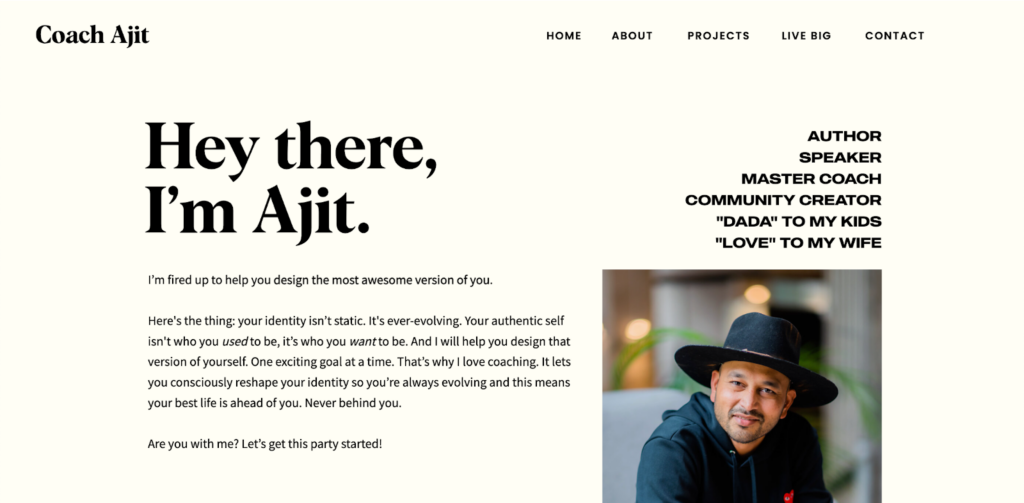 Ajit is instantly relatable as soon as you read his hero section. Besides his work titles, he introduces himself as a father and husband, hinting at his holistic coaching philosophy.
Holistic life coaches often struggle to create a strong brand statement because their services are less specialized. They help people with a wide range of issues, so it's more challenging for them to stand out. However, Ajit immediately addresses you in a very personal tone, just like he's talking to a friend. This creates trust and also reveals why he became a coach.
Ajit seamlessly integrates PR elements on his website, such as speaking on stage and working with some of the biggest names in the industry while still making it about you (not himself). On the other hand, he does get personal about his humble beginnings and journey in the story he shares on his "About page." This creates a smart combination of making you feel seen while establishing yourself both as a human being and a top coach in the industry.
Top Tips to Create Your Own Life Coach Website
Now, you've seen plenty of examples of how life coaching websites can draw you in and introduce what you do. The next step is to implement these ideas into your own marketing strategy. It's time to create a website that you're really proud of and truly works — here are a few tips on how to get started.
1. Get Some Engaging and Professional Images of Yourself
Just think about it: the first thing you saw when exploring all the best life coach websites listed above was professional photographs of the coaches. Your website visitors need to put a face to who they will be working with. Professional photographs will give you credibility and make an impactful first impression.
This is not about your looks or how fancy your set design is. It's about showing an image of yourself that conveys your core values as a coach. For some, it might be joy, while other coaches might want to create a sense of warmth and compassion. Think about how you can visualize your brand identity in a picture and hire a professional photographer who understands great lighting.
2. Create a Brand Statement or Tagline
Once your images are sorted, you need to think about your tagline. This statement will clearly reveal your specialty and what results your clients will get if they work with you. It's the second thing your visitors will notice within seconds of landing on your website, so it still counts as a first impression.
If it isn't instantly clear what you do, your potential clients will bounce back and close the page. To create a great tagline for your life coach business, follow this 5-step process.
3. Have a Call to Action
Your website needs to guide visitors to the actions you want them to take. Decide what that journey is and make that path easy to follow.
It is recommended to have a Call to Action below your statement or tagline that appears with your hero image. This way, people ready to take action can contact you immediately without scrolling through all your sections. Of course, you can (and should) still share more detailed information about your offers for your other visitors who need a little warm-up.
4. Offer Free Resources
Free resources – be it a blog, podcast, YouTube channel, or guides – are key to helping you forge relationships and create trust. Creating this relationship before prospective clients reach out to you will make your life easier because they already know, like, and trust you. There is also the added benefit of expanding the possibilities of how prospective clients find you.
If you need content ideas or inspiration, this blog post roundup of the best life coach blogs is a great place to start.
5. Have a Great Structure
Your website needs a great structure for visitors to take desired actions and build trust. Your aesthetics also matter because judgments on website credibility are 75% based on a website's overall aesthetics.

As a broad overview, you will need the following pages on your site:
Homepage
About
Services
Resources or Blog
Contact page
Think about how you can get visitors to know, like, and trust you with each of these sections. Include testimonials, professional photographs, and credentials to create social proof and increase your credibility.
6. Make Your Services Clear
You need to be really clear on your services so people can identify what service is the right fit for them. Do not leave them to guess or question; they will quickly leave your website for one of the many other options in their Google search.
Instead, define what outcomes they will receive after working with you. Explain your process and what is included in your packages besides your sessions. Some coaches prefer to share their prices or starting rates upfront, while others explain their pricing structure in their discovery sessions. Both have their benefits, so it's best to try out what works best for your audience.
The Best Life Coach Website Templates
There are several ways to build a website, and you can choose from many website builder platforms. Three of the most popular platforms for life coaches are:
WordPress
Squarespace
Showit5
Here are some of the best themes to build a life coaching website.
The Best WordPress Life Coach Website Theme
Divi is a powerful WordPress theme that completely transforms WordPress so that you rarely (if ever) have to touch the code. With very affordable yearly and lifetime pricing, you get access to over 100 templates that are really easy to customize as well as mix and match.
Explore Divi's layout library for WordPress websites here.
The Best Squarespace Life Coach Website Templates
GoLiveHQ is the place to go for Squarespace life coach templates with beautiful designs that easily adapt to your individual needs. Squarespace as a website platform is very user-friendly, with the ability to tweak without any code, making these templates a sure win.
Note that some of these themes aren't fully accessible. This means that people with certain disabilities won't be able to access your site fully. You'll need to integrate with a third-party tool to ensure Squarespace accessibility.
The Best Showit Life Coach Website Templates
Elizabeth Mccravy has so many great templates that include every type of page you'd need to structure a fantastic life coach website. She also includes free training with the purchase of your Showit template. We're also big fans of LovelyImpact, which has a business coaching website template and an executive coaching website template.
Create Your Own Life Coach Website
Once you've chosen the theme, it's time to start creating your own life coach website. Here's your checklist to get started:
Choose some engaging and professional images of yourself
Plan the structure of your website
Write a statement or tagline
Have a call to action
Consider creating some free resources
Create a list of services
If you offer in-person coaching, register your address on Google Maps to show up in "life coaches near me" searches
Don't forget to integrate Paperbell into your coaching site! Paperbell is a coaching software platform that handles scheduling, billing, contracts, client admin, and more.
Take Your Coaching Business to the Next Level
Your life coaching website will often be the first experience your potential clients have with you. A great first impression is so important, but that good impression can be lost as quickly as it was gained. Think hard about the journey and experience you want your potential clients to have, and then put the tools and processes in place to make that happen.
And don't forget to integrate Paperbell into your coaching site! Paperbell is a coaching software platform that handles scheduling, billing, contracts, client admin, and more. And you can embed it right into your coaching site, here's an example.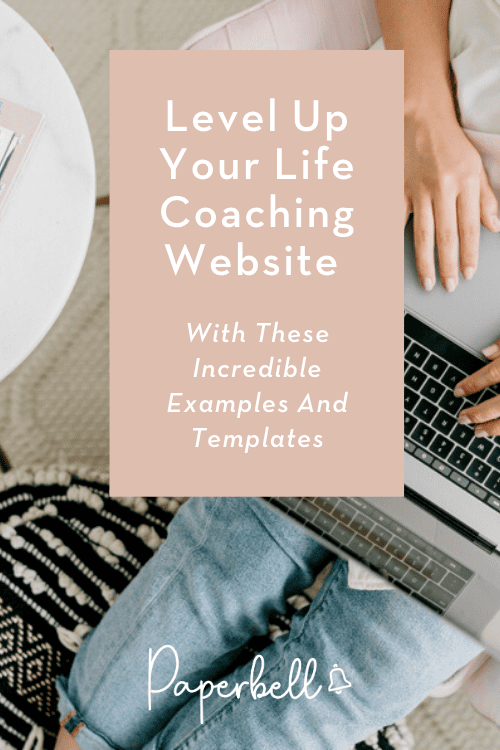 Editor's Note: This post was originally published in January 2023 and has since been updated for accuracy.