If you're working as an independent contractor or consultant, that means you have the freedom to set the terms for your day-to-day work with your clients. And there's no better place to make those terms official than in your consulting agreement.
So, you've had your proposal approved by your dream client; the next step is to sign on the dotted line.
If legal texts sound like all mumbo jumbo to you and make you cringe, don't worry: we've got you covered! In this article, we'll go through everything you need to know about a consulting agreement, how to write your own, and how to get it signed.
You can also download our free PDF consulting agreement template and use it as an example to craft your own.
Please note: The information in this article should not be considered legal advice. We're sharing what worked for us, but we're not lawyers, so if you need professional legal advice, please seek out the help of a lawyer.
What is a Consulting Agreement?
A consulting agreement is a contractual agreement between you and your client about the terms of your consulting services and collaboration. It's legally binding, whether it's a spoken or a written agreement, but since oral agreements are pretty hard to prove, most contracts include written documentation. It's both the signatures of you and your client that make your contract official, and it can be used as a reference point for any disputes.
[ Read: 7 Consulting Frameworks That Win Big Clients ]
At the minimum, a consulting agreement describes the services you offer to your client and the payment you receive in return. Additionally, it covers important deadlines and the duration of the partnership, as well as other terms you'd like to enforce in relation to the work you deliver to your client. It's commonly the service provider (in this case, you as a consultant) who crafts their own terms in a contract that the client can either accept, negotiate, or refuse.
How to Write a Consulting Agreement?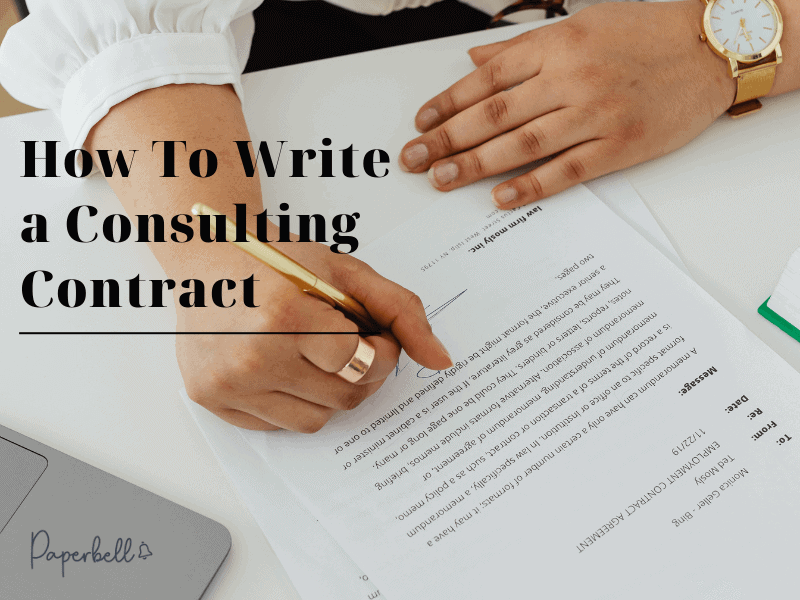 Besides the usual elements of a legally binding contract, there are some important details you should cover if you're writing a consulting agreement. Here are the sections a thorough agreement constitutes:
Parties
Date
Signatures
Description of services rendered
The duration of the collaboration
Payments and fees
Termination policy
Confidentiality
Intellectual property
Cancellation policy
Miscellaneous
Now, let's go through each part of the entire agreement, what each section means, and why they're important.

Parties, Date, and Signatures
The most basic information every contract should contain is the personal details of the people signing it, address, full name, business registration number, and such information. It should also include the date when the agreement becomes official and the signatures of the two parties.
Typically, your and your client's full names and registered addresses go on the very top of your contract for clear identification. Optionally, you can include the phone number or email address that you'd like to use for communication purposes.
The date of signing the contract matters because you can't be held accountable for anything that happens before that date, but a few days of difference between issuing the contract and getting the signatures done shouldn't be a problem.
The Description of Your Services
Your contract should state that you are performing consulting services, that your client wishes to accept and pay for the services rendered, and what exactly these consulting services are.
What you need to be specific about here is the exact deliverables that you offer. This may be a certain number of consultation sessions, including their duration, frequency, and objective. If you agree to submit written reports, research papers, or presentations for your clients, include them here too. Outlining the deliverables in reasonable detail will cover you and your client should anything unexpected arise during the collaboration.
[ Read: Land More Clients with This Step-By-Step Coaching Proposal Template ]
Some of the work you do will have more wiggle room and can't be specified in advance. For example, the number or length of consultation sessions may vary case by case or may be subject to your availability. That's okay! Just do your best to describe the tangibles and think about what you want or don't want to commit to. If there's something you don't want to be held accountable for, highlight that too.
The Duration Of The Collaboration
Specify whether your consulting work commences at the time of being signed, on a specific date, or upon receiving certain materials or the advance payment from your client.
What is the estimated time spent on the project? Is there a specified period you won't be working on the collaboration because you have other commitments?
In the same way, you should make it clear when your job is done and the fact that you're not liable for what happens to their business after that.
Payments & Fees
Naturally, consulting agreements should state your rates as an independent contractor, whether it's a fixed rate or an hourly rate. If you're charging for any other extra services, overtime, or late payments, you should specify that too.
For example, you can define the due date for the payment as ten days after the completion of the project and charge a flat fee or a percentage multiplied by the number of days past the due date. Of course, this shouldn't be an outrageous amount, more of an incentive for your client to pay on time.
You can also include your payment details, how you define exchange rates for international payments, and who covers transfer fees.
Be clear about whether any extra expenses incurred in relation to the project are the responsibility of the client or not. For example, there may be some administrative expenses, meal expenses, or travel expenses that aren't included in the bill for the hours spent on the project.
Termination Policy
This is the section that clarifies when your work with your client (in this particular contract) is done. If you've defined an end date for your entire agreement, it may automatically expire on that date. This will urge your client to schedule all consultation sessions before that date, and it should prevent the partnership from dragging on too long with postponed appointments.
Another option is to define the contract expiration date as the time when all deliverables agreed upon are completed and handed over.
In special cases, you or your client may want to terminate the agreement early. Make sure you clearly define how many days prior written notice is required to do that and what percentage of the total payment you get to keep.
Confidentiality Agreement & Intellectual Property
As an independent contractor or consultant, you'll have access to internal company information shared by your clients. This may be sensitive information that includes trade secrets they don't want you to share. The client will want to make sure you keep this information confidential, and it won't be accessed by a third party unless previously agreed by written consent.
It's pretty normal for a consultant or independent contractor to sign non-disclosure agreements for the company they're working for. You are not an employee, so they may need you to submit written documentation that you won't share their secrets.
You may also prepare reports, presentations, or research papers for the professionals and companies you work with. In this case, define whether the materials you hand over are their intellectual property or yours from that point onwards, and who has the right to share, distribute, or monetize them in the future.
Miscellaneous
Other aspects you may want to define in your consulting agreement are the preferred mode of communication between you and your client, your terms for the type of communication permitted. Who is the appropriate company personnel you should deal with and who is responsible for the consulting relationship? There's nothing more frustrating than not having one point of contact from the other party.
In this section, you can also include your policy for cancellations. The most common practice is to define a 12 or 24-hour cancellation policy for your consultation sessions. This means that your client needs to give you notice prior to that in order to cancel or reschedule the session. Otherwise, they will be charged for it.
As you gain more practice with clients, you'll learn about how you prefer working with them and what terms are important for you to stick to. You can update your standard consulting agreement as you go and even create customized versions for specific types of contracts.
Sample Consulting Agreement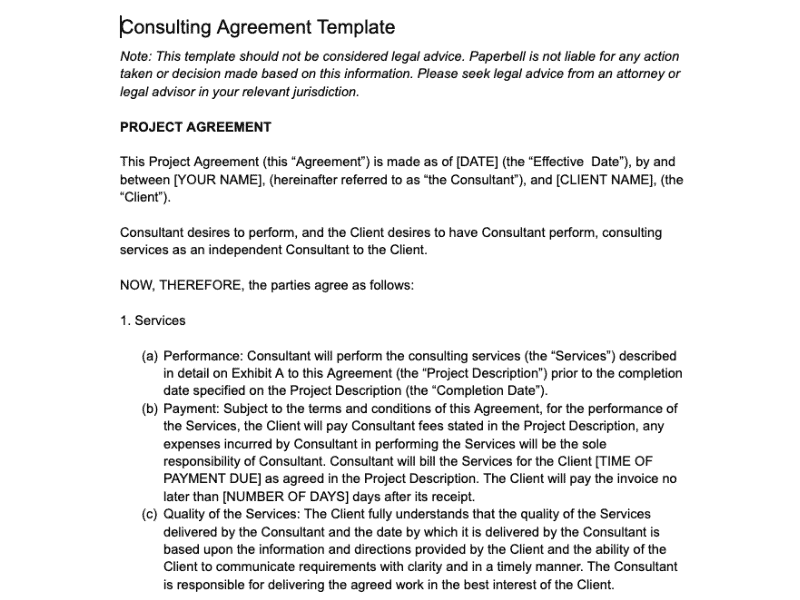 To give you an idea of how a consulting agreement looks, we've put together a PDF consulting agreement template that you can download and use for free here.
The idea of this sample consulting contract is so you don't need to create an entire agreement from scratch. We encourage you to modify it as you see fit for your business and have it vetted by a legal professional.
[Google Doc of Consulting Agreement Template]
[PDF Download of Consulting Agreement Template]
Consulting Agreement Templates for Your Industry
For certain industries, you'll need to add additional clauses to your basic consulting agreement. Here are some ideas for marketing, sales, IT, and finance consultant services.
Marketing & Sales Simple Consulting Contract Template
If you specialize in marketing or sales and are performing consulting services in these areas, you'll be working with your clients on strategies to grow their traffic, conversion, and revenue. You'll likely be sharing a projection for growth in your proposal and using proven frameworks to help your clients get there.
However, this doesn't mean that you'll be responsible for how these tactics are utilized and whether the market responds well to them. In your marketing consulting agreement, it's worth adding a clause to clarify that your consulting services don't guarantee those numbers projected, and you're not responsible for whether or not your clients reach their targets.
IT Consultant Contract Templates
As an IT, software, or cyber security consultant, you'll be working with the leadership of technology departments to improve their performance and security. As you dig into the fine details of processes and optimize IT procedures, you'll often get more involved in the day-to-day work of your clients than other types of consultants.
To set clear expectations and avoid misunderstandings, define what deliverables your services include or don't include. You can also add a statement to your agreement about the fact that you're working with your client as a consultant and not a contractor.
It's always better to commit to less and overdeliver than to realize you have extra responsibilities you didn't account for. This will avoid any potential disputes during the project.
Financial Consultant Contract Templates
If you're performing consulting services in the financial sector, you'll be giving out advice that directly impacts the bottom line of businesses. You'll be acting in the best interest of your clients, but occasionally, your consulting service may propose investment strategies to them that carry risks.
It's crucial for your financial consulting agreement to claim that you're exempt from the liability for potential financial losses. Both the consultant and the client need to agree to these terms.
It's best to also sign up for a great consulting insurance package that helps you deal with disagreements in the future.
Get Your Consulting Agreement Signed with Paperbell's Online Signature Tool
Paperbell is a top-rated online business management tool for solo consultants and coaches. It lets you upload your consulting contracts and get them signed digitally. Here's how it works:
Upload your PDF contract to Paperbell
Paperbell creates a custom landing page where your client can complete your entire sign-up and onboarding process, including contract signing
Done! You can also collect payments and schedule your sessions in one seamless workflow. Sign up now for a free account to test out all features with your first onboarded client.