If you're a coach, chances are you spend a lot of time setting up meetings with your clients.
While meetings can be an effective way to keep everyone on track, they can also be easily forgotten.
So, how do you make sure clients remember to show up, even when their lives get hectic?
That's where meeting reminders come in!
To help you out, we'll explore what meeting reminders are, why they're important, and how to write effective ones that will help you get the most out of your coaching sessions.
Let's get started and tackle the following topics!
What is a Meeting Reminder?
The Importance of Meeting Reminders
How to Write a Great Meeting Reminder
Sample Templates You Can Use
Paperbell Makes Sending Meeting Reminders Easy
What is a Meeting Reminder?
Put simply, a meeting reminder is a message that reminds participants of an upcoming meeting.
The message serves as:
A prompt to ensure everyone is prepared and ready to attend at the scheduled time
An important part of ensuring that meetings run smoothly and efficiently
Help prevent last-minute cancellations or no-shows, which can be frustrating and disruptive for coaches
Typically, meeting reminders are sent out a day or two ahead of the meeting and can be delivered through a variety of channels, such as email or text messages.
Moreover, meeting reminders can also help to set expectations for the meeting itself.

You can help to ensure that everyone comes to the meeting ready to engage and contribute by including:
Details about the agenda
Expected outcomes
Any preparation that your coaching clients need to do beforehand
When it comes to delivering meeting reminders, there are a variety of options available.
Email: It's a popular choice that allows you to include all the necessary details in one place and ensures that everyone receives the message at the same time.
Text messages: It's an effective reminder to reach participants who are on the go or who may not be checking their email regularly.
In any case, the key to effective meeting reminders is to make sure that they are clear, concise, and informative.
Providing the participants with all the information they need to prepare for the meeting ensures that everyone is on the same page and ready to make the most of their time together.
The Importance of Meeting Reminders
Overall, meeting reminders are a crucial tool for any coach who provides 1 on 1 sessions.
They help to:
Ensure punctuality
Establish accountability and respect
Set expectations
Build engagement and participation
Foster trust and transparency
Let's elaborate on each advantage in the next section.
It helps ensure people show up on time
With so many responsibilities to juggle, it's easy for a meeting to fall off someone's radar.
A simple reminder message can make all the difference in attendance rates.
For example, you can add a meeting reminder 24 hours before the appointment and 1 hour before.
But there's more to meeting reminders than just punctuality.
It helps to establish a culture of accountability and respect
Reminding a client of upcoming meetings with you shows that you value their time and contributions.
This can go a long way in building positive coaching relationships.
It can help set expectations for the meeting
By sending out a reminder including an agenda and other pertinent information, your clients know what to expect and can come prepared with any necessary materials or questions.
This can help keep the meeting focused and productive, which can help your clients get better results from your coaching!
It can be a valuable tool for building engagement and participation
A meeting reminder can also inspire greater engagement and participation from coaching clients.
Highlighting the importance of the meeting and the role that you'll play compared to your client's role can help your client get better outcomes.
What's more, it can lead to more creative solutions, better decision-making, and a more positive coaching experience overall.
It can help build trust and transparency
Keeping clients informed about upcoming meetings and their purpose is already creating a culture of openness and honesty between yourself and your clients!
It can prevent misunderstandings and miscommunications and ultimately lead to better collaboration with every client.
How to Write a Great Meeting Reminder
It may be daunting to write an effective meeting reminder, but it's essential to have one for every coaching session you provide if you want to avoid no-shows.
Remember, the goal of a meeting reminder is not just to get people to show up but to ensure that they are prepared and engaged for the coaching session.
Take a look at these steps and tips to write a great meeting reminder.
Step 1: Be concise
The first rule of writing a meeting reminder is to keep it short and sweet.
Nobody wants to read a novel in addition to doing all the other homework that comes with coaching.
Instead, aim for a message that can be skimmed in a few seconds while still conveying the key information.
Remember, people are busy and have a lot on their plates, so the more concise your reminder, the more likely they are to read it and show up on time.
Here are some tips:
Use bullet points instead of long paragraphs. This will make the information easier to digest and help readers quickly identify the most important details.
Avoid unnecessary information or jargon that may confuse or overwhelm the reader. Keep it simple and to the point.
Step 2: Include the important details
While it's important to be brief, it's equally important to include all the necessary information. This will help clients prepare and come to the session ready to participate.
Make sure to include:
The date and time
Location of the meeting (for instance, the Zoom link)
Any materials clients need to bring (such as completed homework)
Any special instructions or requirements, if needed
If there are any specific topics that will be covered, include them in the reminder as well.
The more information you provide upfront, the less confusion there will be on the day of the meeting.
Step 3: Use an eye-catching subject line
What's the first thing that catches your eye when you receive an email or a reminder? The subject line!
It is the first thing readers will see, so it's important to make it count.
Tips:
Use a creative or attention-grabbing phrase to encourage people to open the message. So, instead of "Meeting Reminder," try something like "Don't Forget! Our Next Session is Tomorrow!" Bonus points for humor or a clever pun!
Personalize the subject line by including the recipient's name. This will make the reminder feel more personal and increase the chances of it being read.
Step 4: Make it easy to follow up
Finally, it's important to include any necessary follow-up information.
This could include:
A link to a shared document or presentation
Phone number or Voxer username to contact you if clients have questions
A quick note about what to expect after the session
If there are any action items or next steps that your clients need to take, make sure to include those as well.
Meeting Reminder Email Templates
If you still find it hard to write a compelling email about meeting reminders, here are some samples you can use, both for email and text messages.
You can make them more personal by adding your own touch to these templates. This way, you can match your communication style and create a friendly tone for the meeting reminder.
For Email
Subject: Friendly Reminder: Coaching Session Tomorrow at [Time]
Hey [Client's Name],
Just a quick reminder about our coaching session tomorrow at [Time]. I want to ensure it's on your calendar and you're ready for our session.
Agenda:
[Topic 1]
[Topic 2]
[Topic 3]
Location: [Meeting Venue or Video Call Details]
Please take some time to reflect on any updates, breakthroughs, or challenges you'd like to discuss. Let me know if there's anything specific you'd like to address.
If you can't make it, please give me a heads-up at least 24 hours in advance or reschedule the session with the link at the bottom of this email.
If you have any questions or need more information, feel free to reach out. Looking forward to our session.
Best regards,
[Your Name]
For Text Messages
Template 1
Hi [Client's Name]! Just a friendly reminder about our coaching session tomorrow at [Time]. Please make sure to be prepared with any updates or topics you'd like to discuss. If you have any questions or need any support before the session, feel free to reach out. Looking forward to our session together!
Paperbell Makes Sending Meeting Reminders Easy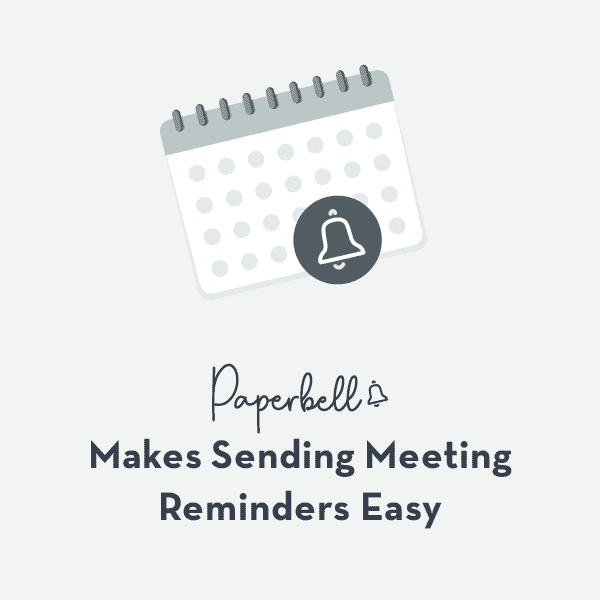 Writing effective meeting reminders can be a hassle, especially when you have a busy schedule.
You need to ensure that all your clients are prepared and on time for the meeting.
But every time you shift your focus away from your coaching business and onto administrative tasks like sending a meeting reminder email…
You lose your stride and waste precious minutes you could be spending on helping your clients!
With Paperbell, coaches can send automated reminders to their clients with just a few clicks, saving them time and effort.
Instead of sending manual reminders, all you need to do is set it up once for every coaching package!
Here are more reasons to try out Paperbell's meeting reminder feature:
First, Paperbell's reminder feature is customizable, so coaches can include all the necessary details, such as the meeting agenda, location, and time. It ensures that everyone is on the same page and there are no last-minute surprises.
The reminders can also be scheduled once and work forever, so coaches can set them up and forget about them, allowing them to focus on other important tasks.
With Paperbell, coaches can also track who has received and opened the reminders, giving them peace of mind that everyone knows the meeting details. It allows coaches to follow up with attendees who may have missed the reminder, ensuring everyone is prepared and ready for the meeting.
Wondering how it works? Here's how you can set up your meeting reminders for coaching sessions in Paperbell:
Log into Paperbell. If you don't have an account yet, you can grab your free account and try this entire process out without paying a dime.
Select the coaching package you want to add a reminder for. Then navigate to Emails.
Click 'Add automated email.' This will open the automated email editor.
Choose 'Appointment' as the trigger, then choose your timing. You can send several reminders by setting up multiple automated emails (1 week before, 24 hours before, 1 hour before, etc.)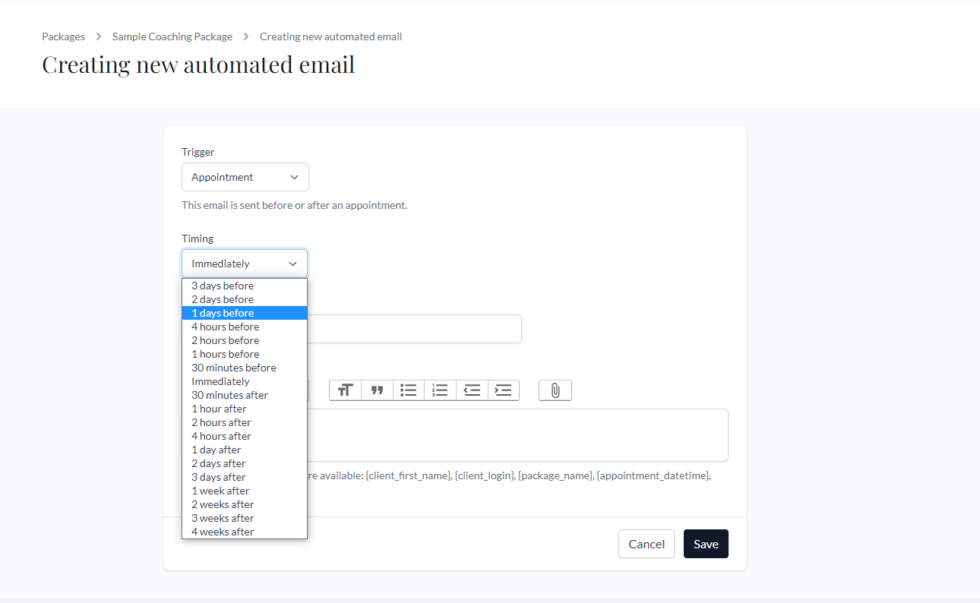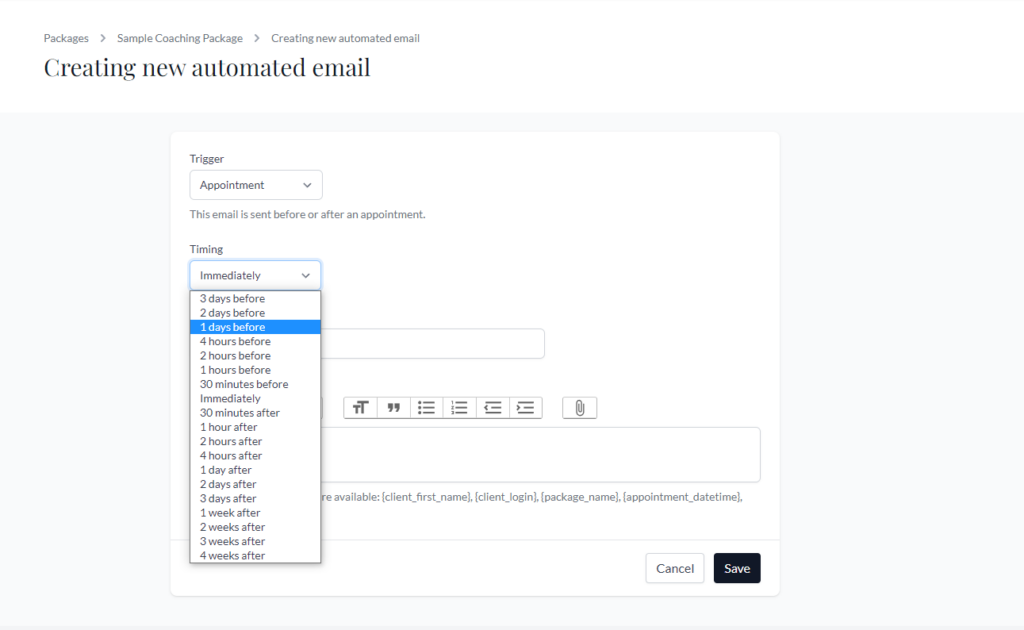 Write your subject line and body for your email. You can use smart fields to add your client's name, package name, and much more!
Hit save — and you're done!
Now, whenever someone books an appointment for this package, they'll receive your reminder at the time you specified.
Host Great Coaching Meetings Through Effective Meeting Reminders
A well-crafted meeting reminder has a big impact as it brings significant returns in meeting productivity and client satisfaction.
Incorporating automated meeting reminders into your coaching business is a powerful way to enhance the effectiveness of your sessions while reducing how much time you spend in your inbox.
Sign up for Paperbell today to automate every meeting reminder today!