If you've ever read another coach's sales page with awe, unable to peel your eyes away… you've experienced the magic of copywriting.
Any words used to sell can be considered copywriting, so unless you've never tried to sell your coaching program, you've probably written some copy before… even if you didn't realize it.
Of course, you can always improve your copy, to increase your conversion rates for your coaching programs.
But it can be intimidating to dip your toes into copywriting when you don't know where to start!
Here's everything you need to know about copywriting for coaches so that you can hook your clients with the right words and grow your coaching business.
Why Does Copywriting for Coaches Matter?
Your potential clients get bombarded with offers from people who want them to purchase something, several times a day.
If they're in the market for a coach, it's highly likely they're looking at other programs…
… and if they aren't in the market, they may not even be fully aware that they need a coach, at all!
Copywriting is the art of putting your potential clients' hopes and dreams (and how your coaching program relates to them) into words.
Of course, copywriting alone won't sell your coaching services. For instance, just the act of creating a signature coaching program can help you convert more clients, compared to offering à-la-carte services, because it solves a specific problem.

So it can be difficult to write effective copy when you don't yet have a good idea of what your offer is and how it can help your clients.
In short, copywriting works in tandem with other marketing strategies for your coaching business.
Just imagine launching Facebook ads to sell a coaching package without the clarity of what you offer to your audience – you'd struggle to get clicks!
So your marketing strategies and your copywriting need to work hand in hand for you to get the best results.
Copywriting Best Practices for Coaches
We could spend hundreds of hours discussing copywriting, but you're a coach, not an aspiring copywriter, right?
So read up on the best practices below, to get a grasp of how to write copy for your coaching business specifically, without getting bogged down on the details you don't need.
Start By Mapping Out Your Dream Client Archetype
Before you think of launching your coaching program, you should take the time to map out who your dream clients are, first.
The more specific you get, the better copy you'll be able to write for your coaching programs.
Here are some questions you should answer about your potential audience:
What demographic do they belong to? (Location, age, gender, income level, etc.)
What is their life situation like? Are they married with kids, do they go to college, are they career-oriented?
What does a typical day look like, from their perspective?
Give your client archetype a name, so that you start treating them like a real, tangible person instead of an approximate idea. That way, when you start writing copy, you'll be able to imagine this person in your head, as if you were writing to an old friend.
Get Intimate With Your Client Archetype's Goals and Pain Points
Once you understand who you'll be writing for, your next step is to start digging into the deeper stuff.
What aspirations does your dream client have? What is currently stopping them from achieving those goals? What is causing them pain in their lives?
Ideally, your coaching program should help them resolve these challenges and achieve their goals.
Make sure you write a specific example of how this can manifest in their everyday life. The best way to do this is to interview past clients to get concrete examples.
Counter Objections and Limiting Beliefs of Coaching Clients
We make up excuses not to invest in things we need all the time. When you write copy for your coaching programs, it will be your job to counter those objections and limiting beliefs that are stopping your dream clients from investing in themselves.
If you have existing clients, ask them this question:
What almost stopped you from moving forward with me as your coach?
This answer will shed some light on the biggest objections you'll have to deal with.
Maybe it's the price tag. Maybe your dream clients don't know if they're worth investing in themselves. Maybe they didn't have 100% trust in your brand yet.
For each objection and limiting belief, come up with something to counter it.
Here's an example: If price is an issue, compare this to the price of NOT moving forward. This will vary depending on the type of coaching you offer, and this price won't always be monetary in value. For instance, clients who are unhappy with their careers will continue wasting their priceless time in an unfulfilling job if they don't seek out guidance.
Develop Your Own Voice
When you're a coach, your personality is one of your key selling points. No one else can be you. No one else can bring your unique life experience to the table.
Your unique personality and style should be reflected in your copy, too!
You can take inspiration from other coaches and life coaches you admire but don't try to exactly emulate someone else's voice.
Of course, your tone of choice should be partly dictated by what your dream clients resonate with. For example, some coaches swear a lot in their copy because their audience likes this, but that won't work with every type of client.
Other coaches may take a more professional approach if they are working with clients who appreciate this tone, whereas other clients may be put off by the formal language.
Keep The Format In Mind
There's a reason why most copywriters specialize in a particular type of copy. Your web pages, emails, and content all require a different kind of specialty. Here are a few things to keep in mind for the various channels where you promote your coaching business.
Writing Copy for Your Coaching Website
Your website is like your digital identity. It needs to explain in a clear and concise way who you are and what you offer. An effective coaching website and landing page copy need to be structured and to the point, all while answering all questions your clients might have about you and your services.
Of course, this doesn't mean it can't have a personality! On the contrary, your 'About' page or section is the perfect place to share your origin story that your ideal clients can connect with. Find a way to infuse your unique brand voice and personality into all pages from your 'Home' section all the way to your 'Checkout' page.
Writing Copy for Your Email List
Building an email list for your coaching business is a great way to provide value to your potential clients who show interest in you. Keep in mind though, that we're all flooded with emails on a daily basis so don't take your readers' time for granted.
Find a way to tell a short story or educate your audience on a key idea in each email so that they always get something out of it — even if they aren't ready to sign up for your packages. Ask yourself, would I subscribe to this newsletter?
Writing Copy for Social Media
People scroll through their social media feeds to be entertained, educated, and exposed to new ideas. Before you rush into selling your packages, take a step back and see how you can warm up your followers with valuable content.
Give them a taste of what it's like to be working with you! Share your coaching philosophy, values, and methodology with them in small, bite-sized content pieces. Remember, if your content doesn't hook your audience within the first second, they will likely scroll through so keep it simple, short, and engaging.
When to Hire a Copywriter
Writing copy requires effort. For some, it's their full-time job! So if the idea of writing your own copy seems about as fun as walking around with a thumbtack in your shoe, consider hiring someone to do it for you.
Not sure whether or not you're ready for a copywriter? Here are three cases in which you're probably ready to outsource this step.
You Have a Proven Offer You Want to Scale
Let's say you have an existing coaching offer that's been proven to sell to your dream clients. That's amazing!
And now you're ready to scale, so you can get more clients without spending as much time on the 'client acquisition' step.
This will require optimizing your copy, especially if you're running ads so that you can increase your conversion rate and get more clients with the same effort.
At this point, it would be a good idea to hand over the reins to a professional copywriter who has experience scaling offers similar to yours, so that you can go back to doing what you do best – helping your growing list of clients.
You Don't Have Time
Building a coaching business takes time! If you're simultaneously coaching your clients, handling your social media strategy, sending out invoice reminders, managing your inbox, and doing all the copywriting for your coaching business on top of that, chances are you're feeling overwhelmed.
If you're naturally good at copy, you could outsource other elements of your business, but if you're running out of time and don't particularly like writing copy, it could be a wise investment.
You're Struggling to Write Copy for Your Coaching Offers (And You Have a Developed Voice)
Even if you have all the time in the world, writing your own copy will always be an uphill struggle if you absolutely hate it or just aren't good at putting things into words.
As a coach, you're likely naturally good at speaking to your clients and understanding their struggles in a way that allows you to help them reach their goals unlike anyone else.
Copywriters, on the other hand, are talented at turning ideas in their brains (and their clients' brains) into words.
Hey, you can't be the best at everything!
However, it's best to develop your own voice before you hire a copywriter. That's because talented copywriters can get into your brain and imitate your brand's voice… but without an existing voice, this will be an educated guess at best.
Without establishing your own brand voice first, you're more likely to be unhappy with what your copywriter comes up with, because 'it doesn't sound like you.' To set up your copywriter for success, you should spend at least some time writing your own copy before you outsource it.
How to Hire a Copywriter
Ready to hire a copywriter instead of handling this on your own? Here's how you can get started so you set up your copywriting project for success.
1. Understand Your Needs and Budget First
Not all coaches need the same copywriting support.
Maybe you need guidance on how to structure your sales funnel in addition to writing copy… or maybe you just need some help with your sales page, but can manage your emails on your own.
Be crystal clear on what you need before hiring anyone, because just like coaches, copywriters have their own specialties.
You also need to establish your budget, because the price of copy can vary dramatically depending on:
The copywriter's experience
Their country of residence (and the cost of living)
Past results this copywriter was able to get for their clients
Remember that copy is an investment, not just an expense, so don't expect to pay pennies and get great results.
2. Gather Your Past and Existing Copy
Most copywriters will want to see what your existing copy documents look like. So before you start looking for a copywriter, organize your existing copy to share with any prospective writers.
You can gather the following in a shareable folder:
Relevant social media posts
Email newsletters and sales emails you've sent out before
Landing pages and sales pages
Blog posts
Other elements that provide information on your coaching services and tone of voice, like case studies, videos, and internal documentation
Plus, if you've already done your target audience research, get it ready as well, because a good copywriter will ask you for that information too.
3. Ask for Referrals From Coaches or Service Providers You Trust
Know any other coaches who work with copywriters? Perhaps this copywriter would be a good fit for you, too!
Ask other coaches or service providers whom they trust with their copy before casting a wider net. You'll have a seal of approval instead of starting from scratch and taking a leap of faith.
4. Use an Online Job Board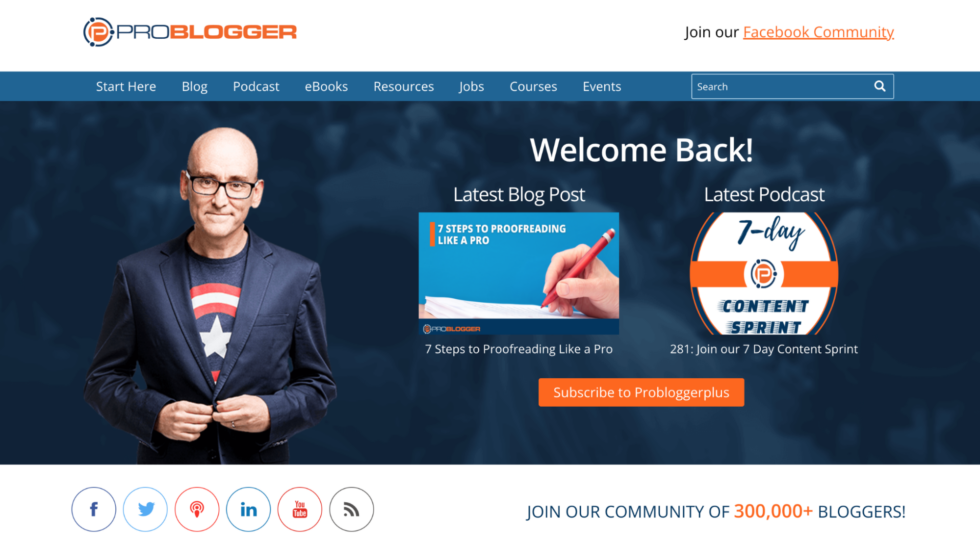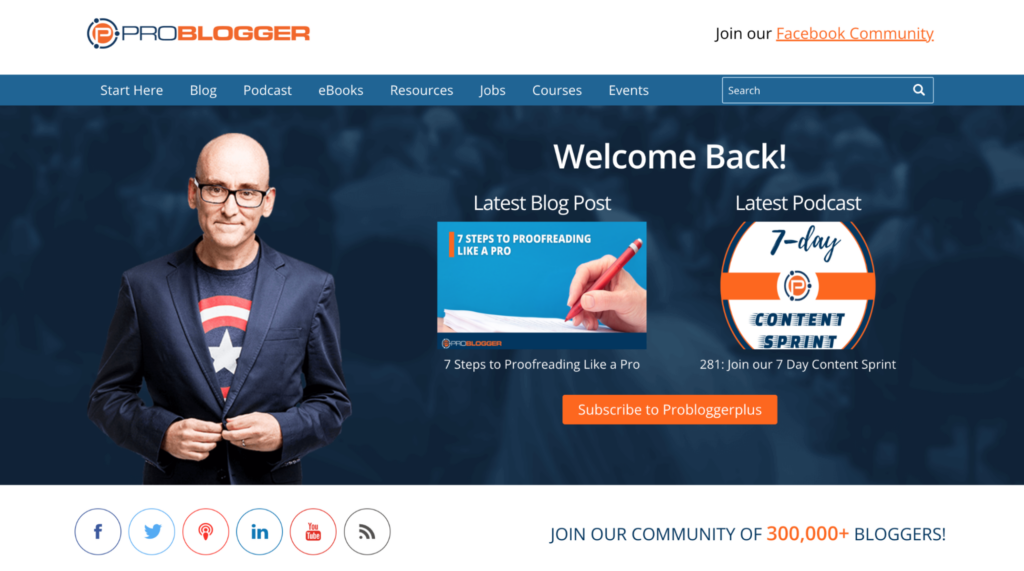 If you don't have any luck with referrals, start browsing online job boards. Some Facebook groups are designed for this purpose exactly, like the Cult of Copy Job Board, or search on freelancing boards like Upwork. Here at Paperbell, we've used the Problogger job board to find writing talent.
5. Start With a Small Project First
Avoid giving an entire launch or sales funnel project to a copywriter you just hired – even if they seem like a match made in heaven!
If it turns out not to be a good fit, you'll either need to spend hours rewriting everything yourself or spend a ton of money getting another copywriter to fix it for you.
Instead, start out with a smaller project to see if the potential copywriter has a good grasp of your style. This could be:
A promotional email
A few social media posts
A short landing page for a freebie
A single Facebook ad copy variation
Your small project should fit your requirements. For instance, if you need a long-form sales page, starting off with a short landing page would be a better idea than asking for a social media post.
Use Copywriting to Scale Your Coaching Business
That's it – now you know what copywriting for coaches looks like and you're ready to start using it to convert more leads into dream clients!
Remember that great copywriting – and even successful copywriters – won't magically turn your coaching business into a 7-figure empire. You need to do the legwork of researching your audience and creating offers that resonate with that audience.
So it's time to take action! Think about which copywriting needs you want to outsource and which ones to take care of yourself, and build a plan on how you're going to execute it.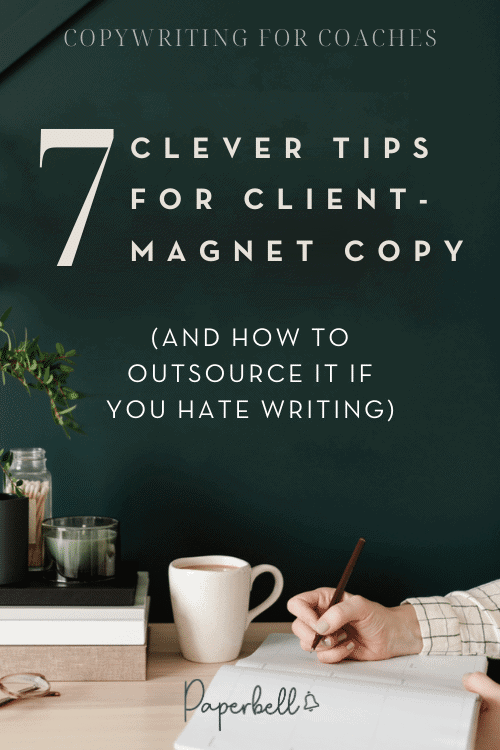 Editor's Note: This post was originally published in April 2021 and has since been updated for accuracy.