If you're a coach, you should be getting paid in full and on-time.
Revolutionary, right?
But consider that collecting payments as a coach often isn't so easy.
From endless email chains to tracking down "lost" invoices, the seemingly simple process of getting paid can spiral into chaos.
The end result? Wasted time, tons of stress and double-takes at your bank account as you wonder when the heck you're getting paid.
Listen: coaches should spend their valuable time growing their business and spending time with clients versus trying to figure out how to take payment online.
That's exactly why we put together this list of exactly how to take payment online for coaches. The top 9 tools!
"Do I Really Need Billing
Software

, Though?"

Hey, fair question!

If you're new to coaching, you're probably trying to keep your budget lean.

Totally understandable, but consider that billing software is an investment into your business that pays for itself.

Food for thought: the average small business owner wastes hours upon hours per week on tedious tasks.
That includes email follow-ups and putting together invoices by-hand. Think about how this mismanaged time translates into lost earnings, taking away opportunities to prospect or actually work with clients.
As a coach, you're basically responsible for being your own billing department. Given that two-thirds of small business owners rely on accounting tools, third-party software is more common than you might think.
And if nothing else, billing software for coaches can be a serious stress reliever.
Not only do you essentially take control of your finances, but also empower yourself to focus on what you're good at.
(You know. Coaching.)
What Billing and Invoicing Software for Coaches is Right For Me?
Now, onto the good stuff!
Below we've broken down seven billing tools for coaches looking to streamline their online payments. By the end of this list, you'll have a better idea of which tools make sense for your business.
Hey, you can't blame us for putting ourselves on top of our list of accounting software.
Seriously, though. There's no shortage of accounting and invoicing software out there.
That said, Paperbell represents billing software for coaching that's quite literally a tailor-made, all-in-one solution based on the specific needs of coaches.
How so?
Think of Paperbell as a sort of shop for your online coaching business. Rather than worry about putting together individual proposals and invoices, you're able to sell your services directly to clients so you can get paid faster.
Our platform allows you to put together your own custom coaching packages that you can price as you see fit. For example, you can create one-time coaching sessions or recurring packages for clients you meet with every month.
The biggest benefit of billing and invoicing this way? No more invoices! No more chasing or losing sleep over them, either.
Paperbell encourages clients to pay for services upfront. This is par for the course for coaches and ensures that you're paid prior to a session.
However, you can also ask clients to pay via payment plans for the sake of flexibility This ultimately makes life easier on you and your clients: they get to pay on their own terms and you always get paid on time. Nice!
The payment process via Paperbell's portal is quick and painless on the client-side, too which means better customer satisfaction.
Paperbell keeps track of all of your payments so you can see clearly what you're earning per month. By having all of your client payments integrated with scheduling, you never have to second-guess where your money's coming from or whether or not your business is fully booked based on your revenue goals.
And, Paperbell integrates billing with the rest of your coaching business. With billing and scheduling tied together in one place, your clients won't be able to schedule with you until they've paid.
No more chasing down payments and sending payment reminders after you've already provided the service, or figuring out who has paid and who hasn't. Paperbell keeps a clean list of every client with all of their relevant information including payments, appointments, and your private notes.
Freshbooks' accounting software is designed for both small businesses and solo entrepreneurs alike. The company's name recognition and 240 million users speak for themselves.
But what online coaching payment options do they have for coaches specifically? The platform offers a full suite of accounting and bookkeeping tools, many of which might be overkill for a smaller coaching business.
Freshbooks lets you create custom estimates, proposals and invoices. The platform tracks all the above so you know who's paid or who hasn't and chase outstanding invoices. These features don't eliminate the back-and-forth involved by invoicing by-hand but they're definitely time-savers.
The ability to store and reproduce invoices for repeat services is useful, as is customizable discounts for certain clients. Another notable feature is expense tracking and instant exporting of your expenses to avoid headaches during tax season.
Freshbooks' cloud-based invoicing solution is tried-and-tested but likely bloated for the average coach. Additionally, add-ons such as the ability for clients to pay upfront require an additional $20/mo (hint: upfront payments are built directly into Paperbell).
Stripe is a payment processor with roots in the software world that can be used by anyone to take online payment. We actually integrate with Stripe at Paperbell as our preferred billing partner.
The Stripe platform provides you with a clear view of any and all outstanding payments at a glance. You can also set up recurring billing and automated payments with Stripe if you're looking to bill long-term clients consistently.
An added bonus of Stripe's invoicing software is its ability to integrate with tons of third-party tools and it's awesome for developers.
What are the downsides of Stripe, then? Stripe's setup isn't as simple or straightforward as that of PayPal. If you're looking to add a quick-and-easy payment button to your website in a single click, you're probably going to be disappointed.
The platform's customization features might be perfect for tech-savvy developers, sure. But for average small and midsized business owners? Probably not. Most coaches find that Stripe is very useful as a payment PROCESSOR that they connect to another tool. But it isn't very user-friendly as a stand-alone platform for collecting from clients.
Since we're talking about Stripe, keep in mind that you can accept Stripe (and PayPal) payments in Paperbell simply by connecting your account.
PayPal is yet another household name in the billing and payment space.
With over $700 billion in transactions last year, accepting PayPal is obviously a must-do. The platform's staying power is well-documented and it's still as popular as ever with millennials and Gen Z.
But despite PayPal's popularity and ease of use, there are some major downsides.
While automated and repeat invoices are possible through PayPal, there are plenty of concerns for businesses using it as a primary place to handle billing. Beyond transactional fees, some key disadvantages of PayPal for small businesses include:
Lack of seller protection
Steep fees for chargebacks
Potentially lengthy payment disputes
Big exchange rate fees
Using PayPal as a solo business can also be daunting as you juggle endless email notifications (and safety concerns if your PayPal is tied to your personal banking information).
If you sell your services internationally and need to handle different currencies, PayPal can also be complicated. It charges large fees to exchange between currencies.
Paperbell integrates with PayPal as one of our payment processors.
Quickbooks Online is an all-in-one accounting solution.
In terms of billing, the platform can accept credit cards, debit cards and digital wallet payments. Like most other billing software for coaches, you can see what's paid, outstanding and overdue based on your invoicing settings.
With Quickbooks' invoicing software, you can schedule recurring invoices and automated follow-ups for anyone to anyone who hasn't paid up after a certain amount of time. While this doesn't eliminate the back-and-forth of chasing invoices altogether, their invoicing software does remove the legwork from the process.
The ability to customize invoices is also a nice touch for coaches who want to highlight their sense of style and professionalism.
Built-in features such as batch invoicing and tax categorization signal that the platform is tailored toward companies rather than individuals looking for coach payment methods. The upside of Quickbooks is that it's friendly to navigate for beginners.
The downside? Quickbooks was primarily built as an accounting tool, not a billing tool. So billing is an "add on" rather than a core service. And you'll still have to pay for separate tools to take care of your scheduling, client and project management. Most invoicing software includes these features as part of your plan.
Xero's is not unlike Freshbooks or Quickbooks, offering a billing and invoicing solution with a simple interface. The platform's dashboards give a pulse on what's paid out and what's not, while helpful features such as recurring payments through credit cards and digital wallets make it easy for clients to get money in your hands.
A notable feature of Xero's billing is the fact that you can see who's opened your invoices and which ones are still pending. There's also a one-click "pay now" option which allows clients to pay directly within an invoice without leaving it.
Perhaps the biggest point in Xero's favor is its modest price tag, sitting at only $9/mo for its starter plan.
But like Quickbooks, Xero is meant to be an accounting tool with a lot of extra features you may not need, like payroll management. You will be modifying it to work for your coaching business, instead of it being designed for coaches in the first place.
Sage's solution is small accounting software first and a billing tool second.
While the platform isn't really robust in terms of features, it can get the job done if you're primarily concerned about invoices and only invoices.
Sage might be a good fit if you're offering in-person coaching services or your business isn't primarily run online.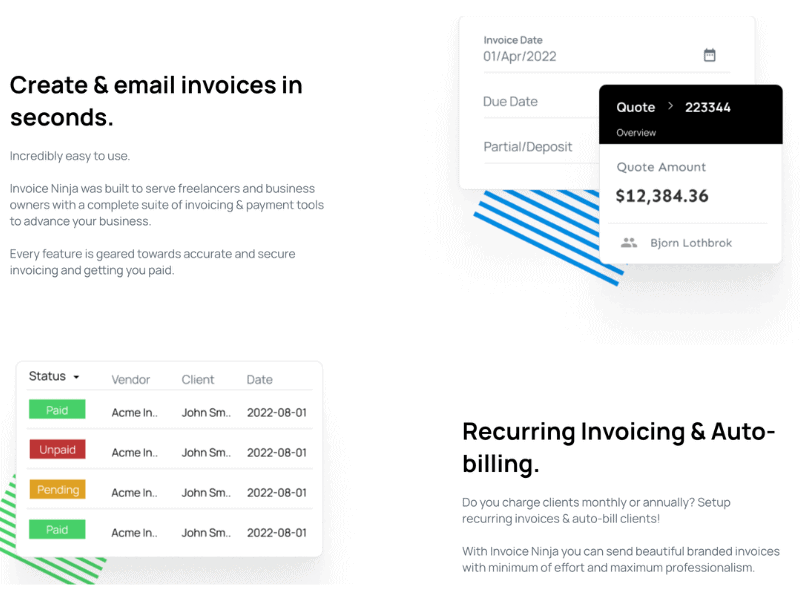 The billing and invoicing software from Invoice Ninja is easy to use if you're just starting out with an invoicing solution for your coaching business. You can use the pre-made invoice templates on the platform, set up recurring billing, and use the basic financial reporting features to track income. You can automatically email invoices to clients straight from your Ninja account.
If you run a small coaching business and don't want to overcomplicate things with your invoicing and payments, this tool could work well for you. The software also has a payment tracking tool so you can keep on top of your income and cash flow.
A free plan is available for those with minimal requirements and less than 20 clients. There is monthly fee if you want access to more features and need to invoice unlimited clients and want to create unlimited invoices.
The downsides? The interface is not the most user-friendly, and the reporting is not very straightforward.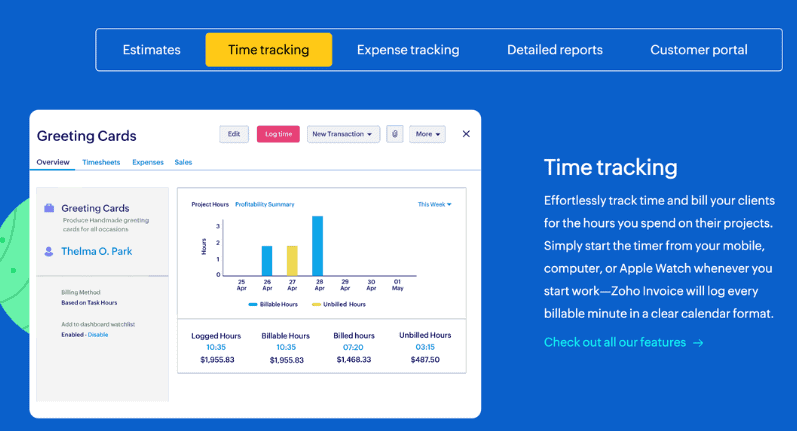 Zoho invoice has a range of tools included as part of its invoicing software. Time tracking, custom invoices, and payment tracking are all part of its basic features. You can also use Zoho to track expenses and integrate many different payment methods.
If you want to check and send invoices on the go, you can use the mobile version of the service.
The downsides of Zoho invoice? The interface is not the most user-friendly for nontechnical people, and the invoicing features for detailed customization aren't the best. For example, if you want to change the language or logo on an invoice, it can get complicated.
Compared to other services for coach payment options, Zoho is expensive.
4 Considerations for Coaches Choosing Billing Software for Online Payments
To wrap things up, let's talk about some points to consider when choosing between the various types of billing software for coaches.
1. Ease of Use of the Billing and Invoicing Software
This might sound like a no-brainer, but your payment processing should be quick, painless and easy.
But note that ease of use is a two-way street.
For starters, billing software should have a low learning curve. Rather than worry about learning a whole new platform or digging through tutorials, you should ideally be able to get started with your payment tools from the word "go."
Paperbell has you covered in that department. You can set up packages and accept client payments in a matter of minutes. The platform is simple, minimalist and guides you through the setup process step-by-step.
Another important factor is making sure the software works well across all platforms. Just having a well-optimized Mac or device won't be enough, the software has to be equally good and work smoothly on all interfaces and devices. Paperbell fulfills this requirement as well.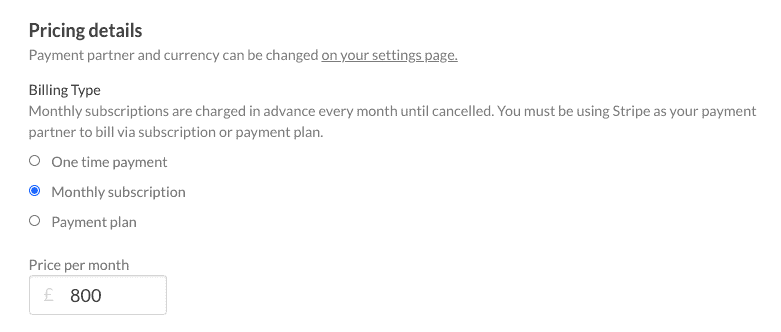 We get it: dealing with payments can be intimidating. In fact, 60% of small business owners don't feel confident about dealing with accounting or finance on their own (and it's even more intimidating when international transfers are involved). Paperbell simplifies the process of billing and invoicing.
As noted earlier, your payment tools should obviously make life easier for your clients as well.
This means you should accept payments online via card instantly without tedious invoices. Recent online payment statistics highlight how much payment preferences are changing. People want to pay by card.
The takeaway? Your clients shouldn't have to jump through hoops to pay you. Likewise, you shouldn't have to jump through hoops to master your billing platform and accept online payments.
2. Features That You'll Actually Use
Although there are plenty of billing software options for coaches per se, there are few tools that are specifically made for coaching businesses.
For example, most coaches are primarily focused on setting up consistent, recurring invoices versus in-depth reporting. If you feel that a tool does way too much based on your needs, you're probably right.
This means that coaches wind up paying for clunky tools or needless features. Those features usually come at a premium, too.
3. Upfront Payments
This is a big one.
There's a reason why upfront payments are so common among coaches.
By accepting payments prior to a session, you essentially eliminate the need to chase invoices. You likewise have a constant pulse on how much money is in your account versus worrying about payments after-the-fact.
Upfront payments are crucial for coaches, plain and simple.
4. Works For a Coaching Business
Coaches have unique needs in billing. They need to be able to offer payment plans and ongoing sessions-per-month packages. They need to be able to make sure that clients have paid before they're able to start scheduling their sessions. And as a small business, they need a solution that will fill their bank account quickly.
Which of the payment processing solutions for a life coach are you using to take payments online?
Anything you can do to get paid quickly and consistently is a plus.
Doing so not only helps you keep your business organized, but also makes it easier to scale your client base.
By investing in dedicated software, coaches can do exactly that.
Just remember that Paperbell's billing software is made specifically for coaches looking to manage client payments more efficiently. If you haven't already, be sure to sign up for a free account today.