Do your friends come to you when they need an extra dose of motivation? Do you always find a way to whip a pep talk out of thin air?
If so, have you ever considered becoming a motivational coach?
Starting a business as a motivational coach is far from easy — but it can become a fulfilling career path for the right person! Keep reading to find out:
What is motivational coaching?
The difference between motivational coaching and life coaching
How to become a motivational coach
What is Motivational Coaching?
Motivational coaching is exactly what it sounds like! As a motivational coach, your responsibility is to help your clients achieve their goals and overcome challenges while keeping them motivated along the way.
Consider yourself the official life cheerleader for every motivational coaching client.
However, motivational coaches don't just give pep talks. You can provide support to your coaching clients in a variety of ways, including:
Reframing the way they see a problem
Coming up with a plan to reach specific goals
Discovering their strengths while helping them improve on their weaknesses
Keeping them accountable
And so much more!
Your job as a motivational coach is also to help clients develop their own inner motivation. Over time, clients should be able to "graduate" from your services without relying on you anymore!
The Difference Between Motivational Coaching and Life Coaching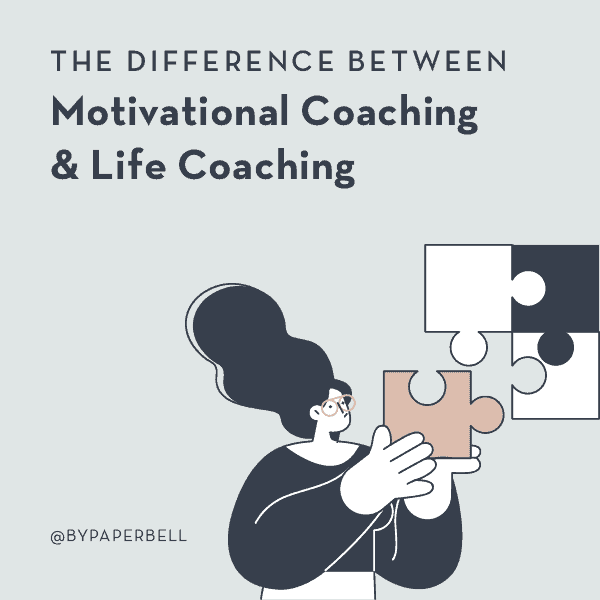 Motivational coaches and life coaches have a ton of overlap. But they're not quite the same.
In short, motivational coaches are a type of life coach. While all life coaches will include some sort of motivational coaching in their process, motivational coaches put it at the forefront of their approach.
They'll spend more time helping their clients develop their inner drive and confidence. On the other hand, other types of life coaches could focus on:

Accountability
Mindset
Spirituality
Productivity
Life purpose
Here's another way to put it – consider life coaching an umbrella term, with motivational coaching as one of the niches!
How to Become a Motivational Coach
If you feel like becoming a motivational coach is the right path for you, here are the steps you can follow to make it a reality.
1. Choose your motivational coaching niche
Motivational coaching is already a type of life coaching niche. But you can niche down even further – and you should!
Without a niche, you can act as a generalist motivational coach. On one hand, this can sound like a great idea — you could work with just about anybody!
But on the other hand, it also means you won't be the perfect coach for anybody, either.
Imagine you're looking for a motivational coach of your own to accompany you on your journey to growing your coaching business. Would you prefer working with a general motivational coach or with a motivational coach who specializes in helping other coaches build their own businesses?
Generalists can become amazing motivational coaches. But it'll be much easier to carve out a clientele for yourself if you speak to a specific sub-category in your market.
You can niche down based on several factors, such as:
Age
Gender
Current life stage
Desired end result
Socio-economic markers
For example, you could work with underprivileged college graduates who want to build a successful career. Or you could motivate parents who are uprooting their families to a new country or state.
2. Optional: get certified as a motivational life coach
Coaches of all types can get certified by reputable organizations — and motivational coaches are no exception.
A motivational coaching certification can help you gain new skills that'll empower you to support your clients on a deeper level. But it can also give you credibility — especially if you're a brand new coach with no prior experience!
However, getting certified isn't mandatory to start taking paid coaching clients. The coaching world is an unregulated industry, unlike the field of psychology.
Choosing whether to get certified is a personal choice. If you do want to take that route, consider getting certified by the International Coaching Federation (ICF).
The ICF doesn't provide training for motivational coaches, but they have a list of vetted programs to help you build valuable coaching skills. Once you get your coaching training elsewhere, you can apply for the certification you want.
Currently, you can get 3 different certifications from the ICF:
Associate Certified Coach (ACC)
Professional Certified Coach (PCC)
Master Certified Coach (MCC)
As a new motivational coach, you'll either be eligible for the ACC or PCC, depending on which coaching training program you choose. For instance, you'll need at least 125 hours of education and 500 hours of coaching logs to be eligible for the PCC.
On the other hand, the ACC only requires 60 hours of education and 100 hours of coaching experience submitted via logs.
In addition to coaching education and experience, every ICF credential also requires:
10 hours of Mentor Coaching
A performance evaluation
The ICF Credentialing Exam
Not sure how to choose a program? We've found the best life coaching training programs that get you certified in 12 months or less! While these aren't geared specifically for motivational coaching, they'll help you get the foundation you need to niche down as a motivational coach.
3. Create your offers and packages
At this point, you've either gotten your coaching certification or decided to go without it. In either case, you're ready to start your motivational coaching business!
But keep in mind that starting a successful coaching business requires a strategic approach if you want to land client after client. For example, you can stand out from other motivational coaches in your niche by positioning your coaching services as offers.
Creating motivational coaching offers can seem daunting at first, but it'll put you steps ahead of anyone who just sells hourly coaching sessions.
Why?
Your motivational coaching clients don't care about getting "coached." In reality, they want to reach their goals. And if you can position your coaching sessions in a way that makes them see how you can help them reach your goals, you're much more likely to convert high-paying clients!
To create compelling offers, you first need to figure out what transformation or outcome you can help people with. Sure, you'll motivate them and help them develop their own inner drive — but what will that mean for their goals?
For example, let's say you work with men who struggle to stay motivated on their journey to building muscle. Why are they struggling — and how can you work with them to fix it?
Let's say they're struggling because they find the gym boring. Perhaps you've found a way to work on their mindset to transform how they see working out. In that case, you could have a motivational coaching program with an offer related to making them fall in love with the gym!
From your offer, you can build your coaching packages. A coaching package describes everything that's included when a client pays for your motivational coaching.
For example, how many sessions do they get? How long will they get your support? Do you provide live sessions via Zoom, Voxer coaching, or both?
You'll be the best expert to know what should be contained in your motivational coaching packages to get the end result you're offering.
Here's an example of the difference between a motivational coaching offer and package. Coach Karla J Noland offers a coaching package called the Reveal Heal Thrive Coaching Package.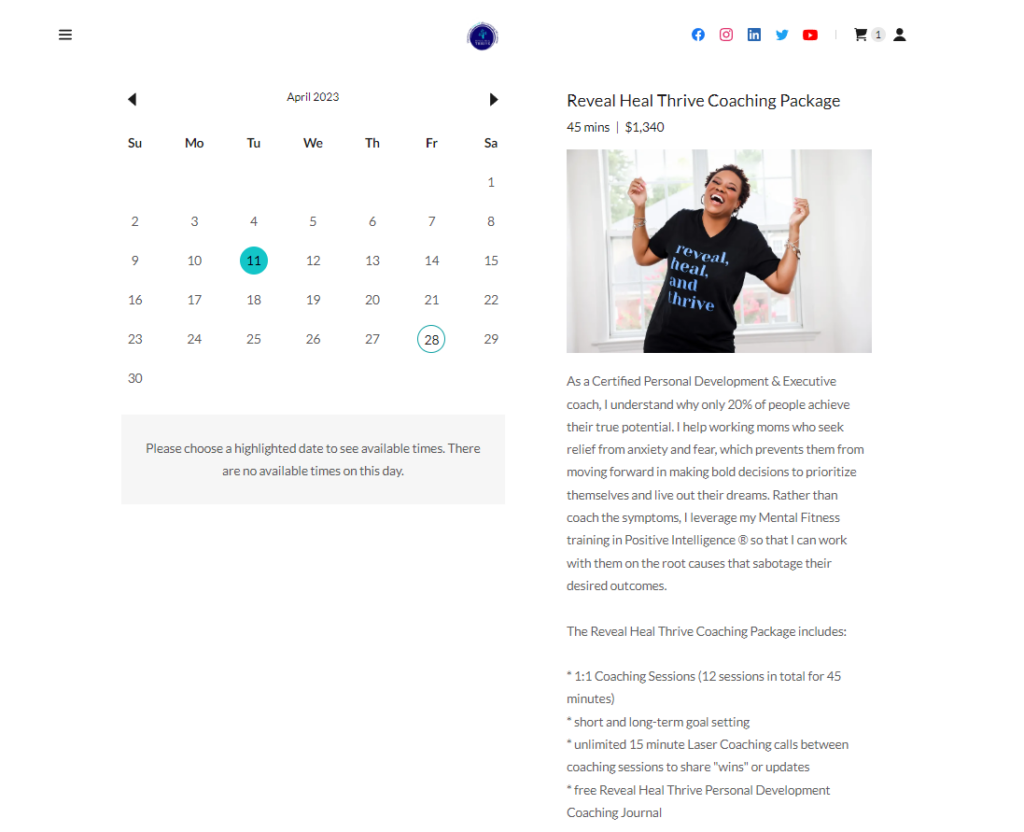 The package includes:
Unlimited 15-minute laser coaching in between sessions
12 1:1 sessions of 45 minutes each
Short and long-term goal setting
Reveal Heal Thrive Personal Development Coaching Journal
Costs $1,340
But here's the offer for this package:
" I help working moms who seek relief from anxiety and fear, which prevents them from moving forward in making bold decisions to prioritize themselves and live out their dreams. Rather than coach the symptoms, I leverage my Mental Fitness training in Positive Intelligence ® so that I can work with them on the root causes that sabotage their desired outcomes."
Notice how she starts with the offer — not the package details. What's included is at the bottom. And that's because what clients care about most is the outcome they'll get from hiring you!
4. Land your first client
Do you have at least one motivational coaching offer and package ready to go? In that case, it's time for you to find your first client!
While there are limitless ways to get coaching clients, there are a few methods you can leverage to get coaching clients fast as a newbie. And no, you don't need a website to get started!
For example, you can ask people in your personal (or professional) network to see if they can refer someone to you who may be interested in your coaching program. Word of mouth can be especially helpful when you don't have an audience yet.
If you have prior experience or expertise, you can also apply to be a guest on someone's podcast. Just make sure you provide a call to action at the end of the episode to let people know how to connect with you!
5. Choose a marketing strategy to grow your motivational coaching business
Word-of-mouth will only get you so far. But if you want to grow your motivational coaching business and get more clients, you'll have to start marketing yourself.
This is where many coaches get tripped up. And here's the secret:
The "perfect" marketing strategy for motivational coaches doesn't exist!
Your ideal marketing strategy will depend on:
What you enjoy doing
What you're good at
What you're willing to do consistently
Where your ideal clients hang out (and how they consume information)
As long as you find a strategy that works for you and that you're able to sustain over the long term, you'll be fine.
Here are just a few examples of how to market your motivational coaching business:
Start a blog: Write about topics that your ideal audience will be searching for. Your blog can become a source of trusted information – and so can you! You can use SEO optimization or Pinterest to drive traffic to your blog.
Become a LinkedIn expert: You can get coaching clients on LinkedIn by posting on this platform and engaging with your ideal clients.
Make TikTok videos: Is video your jam? You can get leads on TikTok if you enjoy sharing information via video!
Grow your Instagram following: Not a fan of LinkedIn or TikTok? Instagram is another great social media platform that motivational coaches can use to build a following of potential clients.
Run Facebook ads: This costs money, but it can help you reach a larger audience quickly. However, keep in mind that ads won't fix a broken message. It can help you test your messaging and validate whether it's broken or not, though.
Launch a coaching newsletter: Whether you're building an audience from your blog, social media, or elsewhere, you can funnel that audience into your motivational coaching newsletter. Here are 10 lead magnet ideas to help you start your motivational coaching email list!
These are just some of the proven strategies that other motivational coaches have used to land clients. Feel free to experiment with other approaches, too.
Just make sure not to spread yourself too thin. Pick one marketing strategy, go all in, and expand once you've validated your messaging!
Inspire Others While Living Your Best Life as a Motivational Coach
Are you now motivated to become a motivational life coach? We certainly hope so! Bookmark this post as a tool to come back to over and over again as you move forward in your motivational coaching career.
If you want to keep things simple as you launch and grow your motivational coaching business, you need to have systems in place to minimize time spent on admin work! That's what you can do (and more) with Paperbell.
Grab your free account to start selling your motivational coaching online the crazy-simple way!