Do you have an infectious positive attitude to life? Do you find yourself able to help others get more joy from their day-to-day lives?
If so, you could find deep fulfillment by becoming a mindset coach!
But becoming a mindset coach is far from easy. For instance, several coaches choose to get certified before they begin working with clients.
Let's explore what you need to become a mindset coach and the 5 best mindset coach certification programs available online!
Do You Need a Mindset Coach Certification?
The best way to gain credibility from potential clients as a mindset coach is to get certified by a reputable organization.
But is it necessary? Can you start a coaching business without a certification?
Yes, you can! There are no laws that state a mindset coach needs to have any special education or certifications to operate a business.
But a mindset coach certification can go a long way to nurturing trust from potential clients. And the International Coaching Federation actually surveyed clients and found out that 85% of coaching clients believe it's important that their coach is certified!
How to Choose a Mindset Coaching Program
There are more mindset coaching programs available than we could ever count. So how can you choose the one that suits you best?
Go through these 3 steps, and you'll have the information you need to make an educated decision.

1. Choose your level of credential
What type of certified mindset coach do you want to be?
Several organizations provide certification for mindset coaching. But one of the most globally recognized is the International Coaching Federation (ICF).
Should you choose to get certified by the ICF, you'll have to choose between 3 credential levels:
Associate Certified Coach (ACC) – You must complete 60 hours of coach-specific education, plus 100 hours of client coaching experience
Professional Certified Coach (PCC) – You must complete 125 hours of coach-specific education, plus 500 hours of client coaching experience
Master Certified Coach (MCC) – You must already have your PCC Credential, complete 200 hours of coach-specific education, and accumulate 2,500 hours of client coaching experience
No matter which credential you choose, you'll also need the following:
10 hours of Mentor Coaching
A performance evaluation
Passing a written exam
If you're just starting as a mindset coach, you can choose the ACC. But if you decide to enroll in a program with enough hours, you can also go for the PCC right away!
Another option is to get your PCC later — once you've gotten more client experience under your belt.
2. Decide the type of mindset coaching program you want to take
Now that you know about the different types of credentials, let's look at the 3 options for types of mindset coaching programs.
The ICF itself doesn't provide education. However, they accredit other organizations that do! The level of accreditation depends on what's included in the program's curriculum.
Below are the 3 options you can choose from:
Level 1 / Level 2 / Accredited Coach Training Programs (ACTP): These programs include all the minimum education hours, Mentor Coaching, and performance evaluation you need to get your ACC credential.
Accredited Coach Specific Training Hours (ACSTH) Programs: With these programs, you'll get your coaching education, but you'll have to find Mentor Coaching and the performance evaluation separately.
Non-Accredited or Continuing Coach Education (CCE) Programs: CCE units can be used to accumulate your required education hours. On the other hand, if you choose a non-accredited program, you'll need to submit the curriculum to prove it meets ICF standards.
If you want to take a path that's as streamlined as possible, make sure to choose an ACTP program. Otherwise, you'll need to find separate resources to get your Mentor Coaching and performance evaluation.
3. Compare the curriculum, schedule, and cost
Once you know what type of program you want to enroll in to get certified as a mindset coach, you'll need to consider your other preferences and priorities.
Several programs are available within each type, each offering a variety of curriculums at different price points. So how can you figure out the best choice for you?
First, consider that not all programs are available at all times. Some mindset coaching certifications only happen once a year or during specific months. If you want to get certified sooner rather than later, this will disqualify any program that's not starting right away.
You should also compare the curriculum of each program. Although any accredited program will teach you everything you need to know about becoming a mindset coach, some will emphasize one element over the other.
And some will provide more opportunities to niche down as a mindset coach.
Finally, the price point is a huge factor to consider. None of these programs are cheap. But some are more affordable than others. Keep this in mind while you compare the level of support each program offers its students.
5 Best Mindset Coaching Programs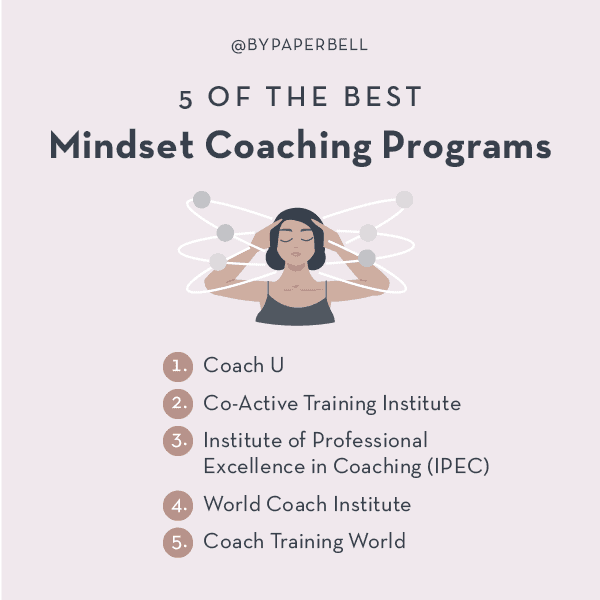 Have you decided that getting certified is the best path forward for you as a mindset coach? If so, no need to look further — we've handpicked the 5 best mindset coach certification programs available online today!
At Coach U, you'll go through a 2-step process to become certified as a professional mindset coach.
If you take the first step only, you'll have the required hours to get your ACC certification with the ICF. Step 2 allows you to get your PCC certification as well.
This program focuses on the foundations every mindset coach needs to support their clients. You'll be able to choose between the regular 8-month curriculum and the 6-day intensive.
But if you want to deepen your mindset as a coach, you can also take the additional Coaching Mindset – 4 Week Virtual Course. You can start with this course for $149 and apply this investment as a credit toward the full program, which is $10,090.
Co-Active has trained over 65,000 coaches as well as employees and executives in over one-third of all Fortune 100 companies. According to their website, they've trained at least 50% of all professional coaches.
This program will prepare you to coach people on any topic. For mindset coaches, this well-rounded program is a great asset!
For example, you'll learn how to create relationships built on trust that also inspire action-taking. You'll also learn how to help your clients see the biggest picture of what they can be.
To take the complete program, you'll need to invest $7,998.
When you choose to receive your mindset coach training through IPEC, you can't go wrong. Not only are they an internationally recognized organization in the coaching industry, but they can provide you with certifications on top of the ones you'll get from the ICF.
This means you'll get your ICF certification on top of three additional credentials, which are:
Certified Professional Coach (CPC)
Energy Leadership™ Index Master Practitioner (ELI-MP)
COR.E Dynamics™ Specialist (in the niche of your choice)
Depending on the type of mindset coach you want to become, you can choose between the 4 niches, which are:
Life Coaching
Health and Wellness Coaching
Executive and Leadership Development Coaching
Sports and Performance Coaching
Each of these specialties will be useful for a mindset coach. But the best one will vary depending on the type of people you want to work with.
If you're not yet sure, pick the Life Coaching specialization and go from there.
To take the IPEC's coaching program and certification, you'll need to invest $13,995. You'll also have the option to pay in 3 installments.
Another leader in the coaching industry, the World Coach Institute offers several options for its students to get certified.
The basic program helps you become a Certified Professional Coach (CPC) in addition to the ICF certifications. But you can also niche down with one of their Self-Study Niche programs.
The best option for a mindset coach depends on your chosen niche. They have self-study niche programs available for:
Wellness coach
Career coach
Relationship coach
Addiction coach
Youth, parent & family coach
Executive leadership
Marketing coach
Christian coach
Master coach
Group coach
Laser coach
Getting certified as a Business Coach could be the best option if you want to help business owners with their mindset. On the other hand, if you prefer to work with executives, you could choose the Executive leadership coach option. Like the IPEC specializations, choose the niche that makes the most sense for the people you want to work with.
To get the base program, you'll need to invest $997 for the self-study option. If you prefer the teleclass, it can cost up to $3,247. Finally, you can pick one of the self-study niches for an additional $622.
Coach Training World's whole-person approach to coaching is a perfect fit for people who want to specialize as mindset coaches. Their program is grounded in science and psychology and even helps you develop your own mindset coaching style and niche.
But one of the biggest advantages of getting certified through this program is how simple the organization makes it for students to prepare for the ICF exam.
Not only does it provide everything an ACTP should provide, but it'll also help you achieve your required coaching experience hours! Their training includes 125+ accredited coach training hours.
This will make it much easier for you to fill out your ICF log before you apply for certification.
Their curriculum also includes ICF exam prep and a vast library of ICF Mentor coaching videos. In total, they have an entire 3-month ICF Certification Process that you can start anytime you complete their 4th course, Ignite.
Finally, Coach Training World offers its own certifications — similar to IPEC and WCI. And if you have an MA or Ph.D., you can gain the credential of Board Certified Coach!
If you take the Professional Certification track, your investment will be $7,550. But if you want access to additional business development training, you can pay $8,850 for the Coachpreneur track.
Get Certified as a Mindset Coach and Start Your Coaching Business
Whether you choose to get certified or not, one of the most crucial parts of becoming a mindset coach is to build your business in a sustainable way. And there's no simpler way to do that than with Paperbell.
Paperbell is the crazy-simple way to sell your coaching online. You can even get started without creating an entire website. Get started for free to test it out for yourself!