Want to add existing clients that you're currently working with into Paperbell? Here's how!
Add clients to Paperbell who have paid to work with you
This is also how you grant access to clients who have paid "outside" Paperbell, by using Zelle or a check, for example.
1. Create your current packages in Paperbell
When you add clients, you'll need to know what work they are currently doing with you. Learn more about creating packages here.

You'll create the "standard" version of the package that everyone goes through, not something specific to your existing client.

For example, if you offer a six-session package but your client has already completed three sessions, make the package six sessions. (We'll modify your existing client's package very soon!)
2. Add the client to Paperbell
Go to your Clients page and click the "Add client" button in the top-right corner.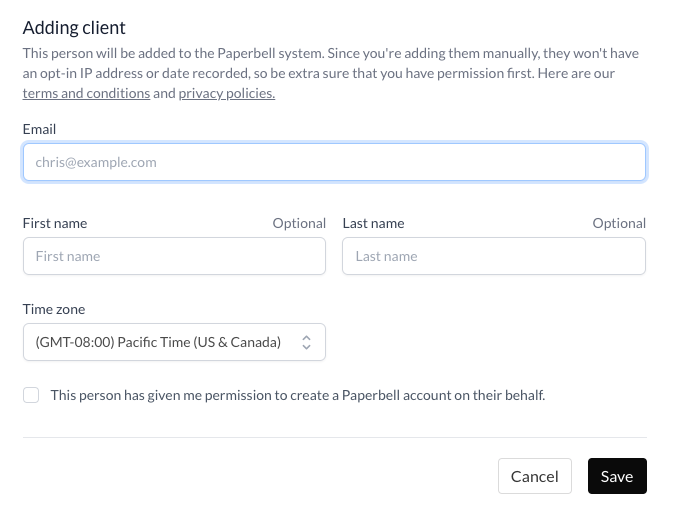 3. Gift your client the package
Click on the client's name in your client list, and then click the Gift package button.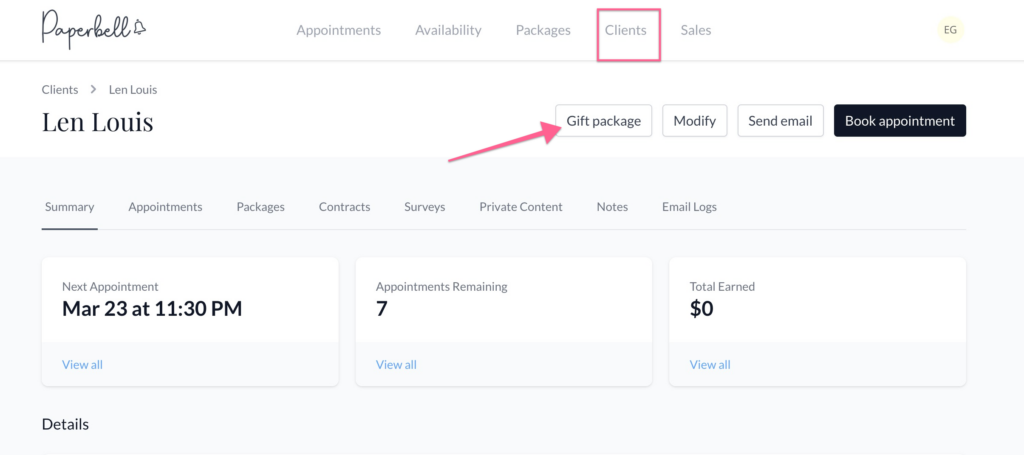 Choose the package you're gifting from the package dropdown menu, and hit Save.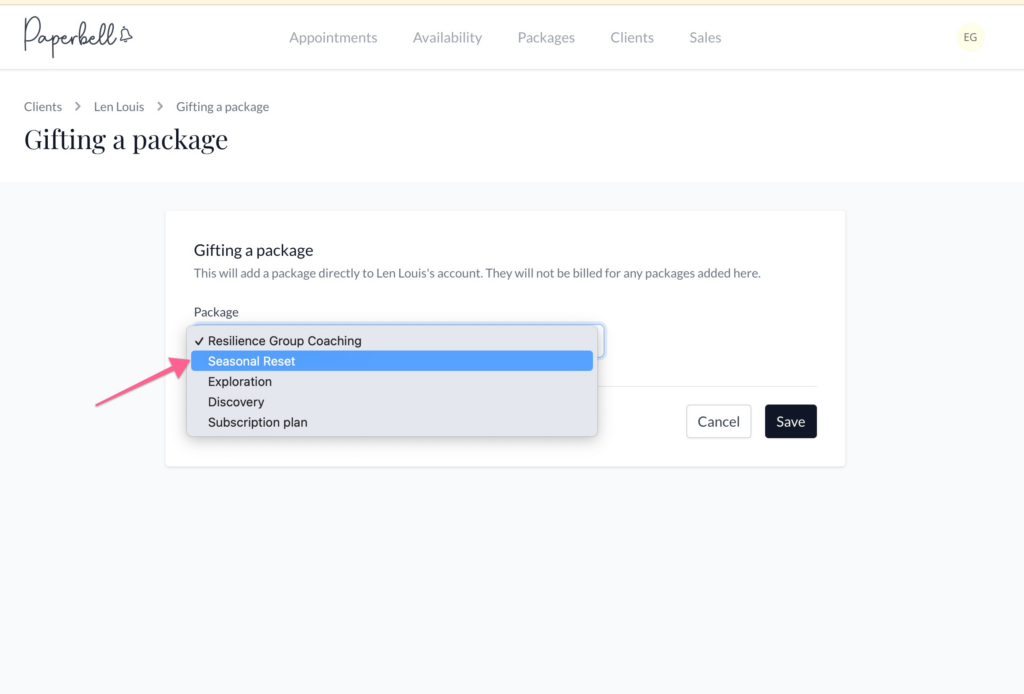 Once you gift a package, your client receives an email from Paperbell with their "receipt" and instructions to book appointments. Give your client a heads up so they know to look out for this email.

They will also receive all the automated emails you've created for that package.
Note: a gifted package will not include the contract-signing step. If you need your client to sign a contract, use the coupon code method instead.
4. Or create and share a Coupon Code
Another way to share a package with an existing client is to have them "purchase" the package using a coupon code that makes it free.
You can also do this if a client is partway through a payment plan: create a 50% off code if they still owe you 1 of 2 payments for the package.
This method can be preferable since your client proactively signs into the Paperbell system instead of being added by you. It will help them to understand how to use Paperbell right from the beginning.
5. Modify the number of appointments (if necessary)
If your client is partway through a package with you and has already used some appointments, you can reduce the number of appointments in their package.
To add or remove appointments from a client's package, click on the client's name in your client list. Then click the Packages tab. Find the package purchase you'd like to modify and click View.
On the next page, click the Modify button in the upper right corner. You'll then be able to add or subtract appointments from that client's package.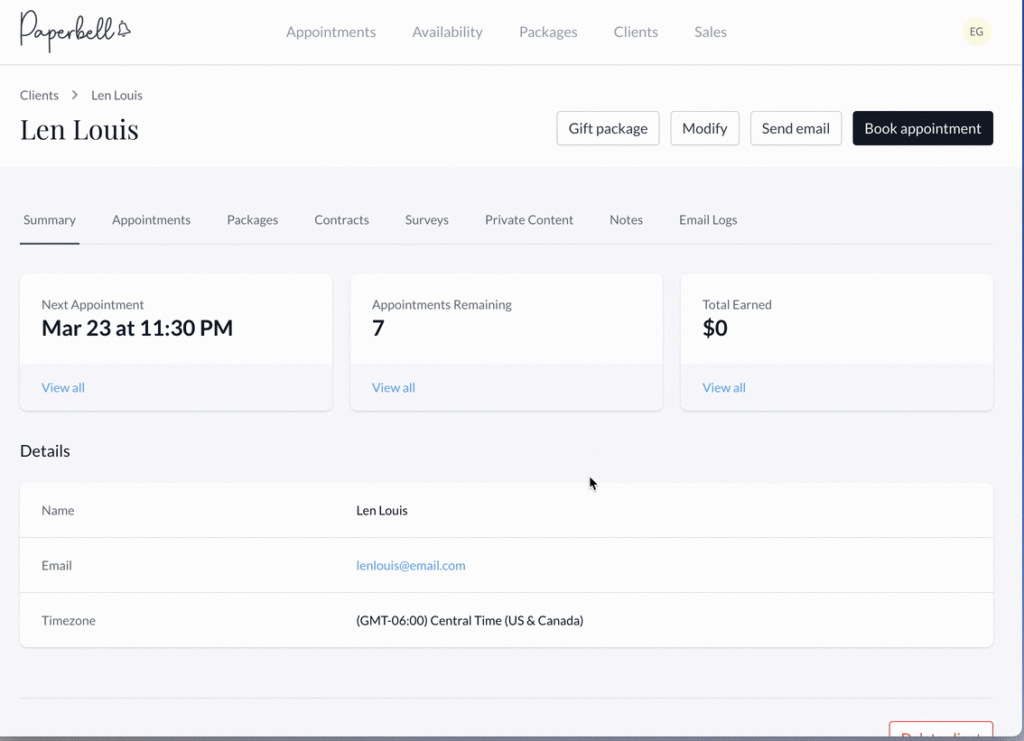 Add past clients who aren't currently working with you
To add past clients to Paperbell you have two choices:
Use the "Add client" button to add clients to your Paperbell system. They will not have any package history but you will have them in your database and be able to store notes on them.
You may not want to add your previous clients as this can cause duplication problems: if they buy a package from you in the future and use a different email address, they will be in your system twice.
Send your previous clients Paperbell booking links as they purchase packages from you.
The next time a new or previous client wants to work with you, just send them to your Paperbell landing page or booking URL found on your package overview. (Here's how to find those URLs).
Add new clients who want you to create their profiles
Typically we encourage new clients to go through your booking process themselves in order to get set up as clients in your system. If they're feeling uncertain about this, you can add them as a client from your end.
To do this, click on the Client tab, and then click the "Add client" button:

On the next screen, you'll add the client's information. Make sure you have their permission to be added, as this will create a profile for them in Paperbell. And double check that email address! If they make a purchase later with a different email address, you'll end up with two clients profiles for them.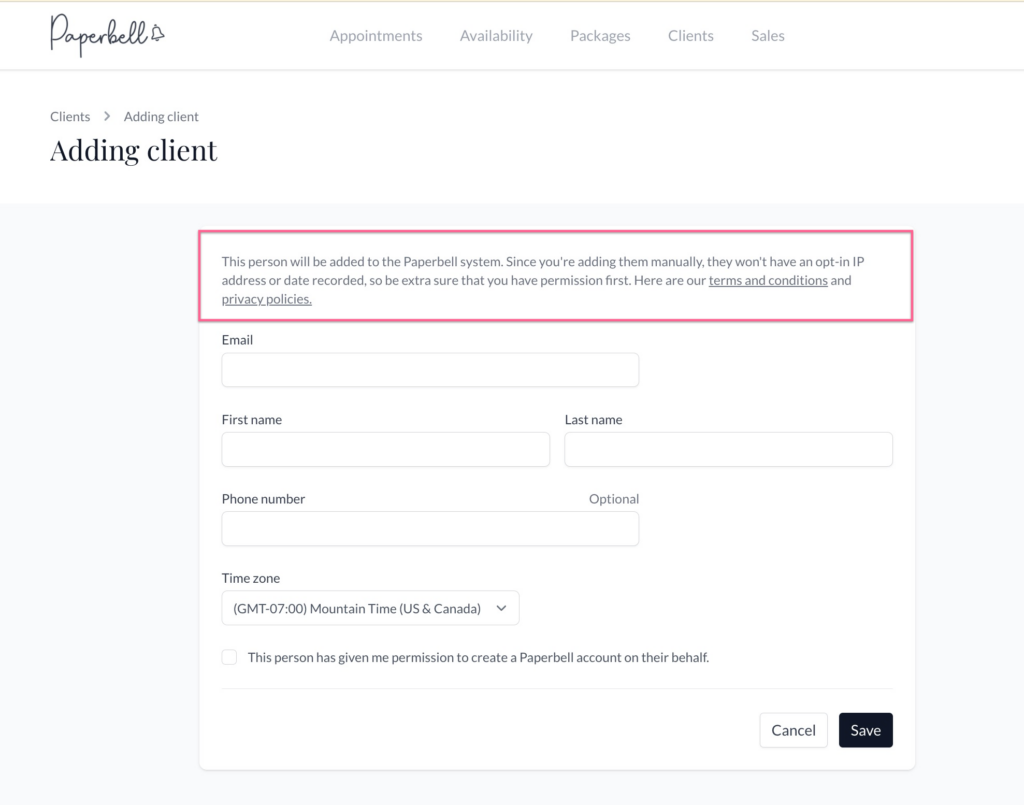 You can direct the client you've added to log in at https://PaperbellClient.com/ to schedule sessions or purchase packages. Or you can follow the steps above to gift them a package (if they're paying outside of Paperbell).
keywords: adding clients, existing clients, import, importing