As coaches, we work with people to help them go through life transitions, build awareness of themselves, and get to the place they want to be in their lives. We do our best to hold space for our clients and guide them with the knowledge and perspective we have.
There's nothing more fulfilling in our career than witnessing the personal change our clients go through and seeing them thrive in their new life. But there are situations when we can't see what's going on, on the other side.
When you're sharing content or advice online related to coaching, you don't know who's the receiver. You don't know what their story is and what they might be dealing with. Since the people who read your website, blog, freebies, or handouts are typically not your clients (yet), you're not there to facilitate their transformation after reading your materials.
That's when coaching disclaimers become key: to protect your client (as well as yourself) and let them know how your advice is meant to be used.
So Why Do You Need a Coaching Disclaimer?
Imagine you're giving general advice on healthy nutrition or exercise, to someone who's been dealing with chronic health issues their whole life. Even though the strategies you share with the best intention can be miraculous to a healthy person, they could make this person's issues worse.
This is why it's important to share a disclaimer, where you let them know that you're not a medical expert and that they should apply the tools offered by you at their own risk. This doesn't make you a bad coach or make your clients lose trust in you — quite the opposite! It just makes you a professional who looks out for the people you serve. People with special needs will simply know that they need to turn to a medical, legal, etc. expert to have their problems solved.
And since we're talking about disclaimers, here's something to note for you.
The information we gathered in this article should not be considered legal advice. We are coaches who've been in the trenches, but we're not lawyers, so if you need professional legal advice, please seek out the help of a lawyer.
See what we did there? We gave you a heads up so you'll know what to expect in this free guide, with no surprises. Placing a disclaimer on your coaching guides, or even your contract, will protect you from any legal troubles in the future.
[ Read: How To Create A Legally Binding Coaching Contract From Scratch ]

So let's look at how it's done.
What a Life Coaching Disclaimer Normally Includes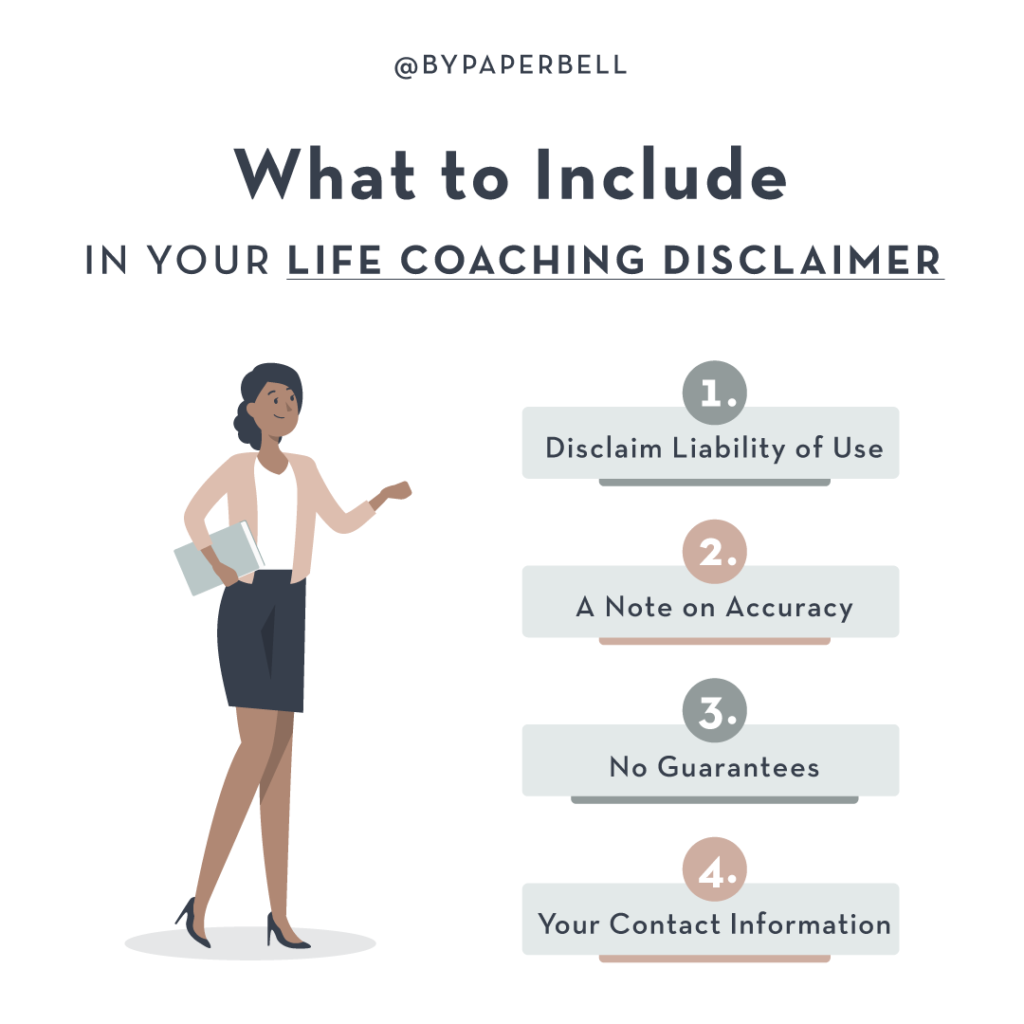 Who You Are (and Aren't)
Getting clear on what your background is gives perspective to your audience, on what you're qualified to share advice on. We're not talking about a coaching certification here, since that's completely optional. A certified coach is just as equipped to help their clients as someone who never had formal training in coaching.
[ Read: Do You Have To Be Licensed To Be A Life Coach? ]
We're primarily talking about the kind of fields that require a license to be practiced, such as therapy, medicine, and law. These fields might be closely related to the area you're coaching your clients on.
If you're a coach, let them know that you're a health coach, for example, but not a medical advisor. If you're coaching them on their business, let them know that you're not a legal professional.
If you happen to be licensed in one of these fields, you should still give a heads up that you may be a lawyer but you're not their lawyer, therefore they should not take the information in your materials as legal advice.
Disclaim Liability of Use
To disclaim liability means that you're not taking responsibility for what happens if people try the strategies you offer on your pages or materials. So, if they try your recipe, the supplement you endorse, or the workout you recommend, you won't be liable for any health concerns your audience might be facing. They should be practicing your methods at their own risk.
No Guarantees
Since we're all different, most methods related to mental health and wellbeing might bring different results for everyone. Even medically approved treatments that work for the average person might have exceptions, so how could we guarantee that the life coaching methods will change someone's life, when we don't even know them personally?
A 'no guarantees' disclaimer should be included in your coaching contract, and it's also a good practice to have it on your freebies and non-client materials.
A Note on Accuracy
Although at the time of creating your presentation, or writing your content, you are doing your very best to provide accurate information, this information might become out-of-date at some point. Once your materials are sent or handed out, you won't be able to update this information for them. In case regulations or the latest research changes on some of the facts shared by you, they will lose their accuracy. So it's best to make it clear that you're not taking responsibility for that.
If you're sharing content online, you can also forego any misunderstanding by simply adding the date when your content was last edited.
Your Contact Information
While this isn't something you're obligated to share, providing your contact information for the participants of your seminars or online courses gives them a chance to reach out in case they have any questions. This can be as simple as an email address that you, or someone from your support team, monitors.
Coaching Disclaimer Templates
Disclaimer Template For Health & Wellbeing Coaches
If you share information on health, wellbeing, nutrition, fitness, and so on, you'll need to share what's called a health disclaimer. The first part of this disclaimer outlines your qualifications.
I am not a medical professional. As a [health/fitness/wellbeing] coach, I am not providing healthcare, medical, or nutritional therapy services or attempting to diagnose, treat, prevent, or cure any physical, mental, or emotional issue.
Next, you'll clarify that what you offer isn't medical advice.
The information provided on [this website/material] is for informational purposes only and is not intended to substitute professional medical advice, diagnoses, or treatment. Always seek advice from your physician or other qualified healthcare provider before undertaking a new health regimen.
Last but not least, you'll make sure that the health tips you offer don't interfere with any current medical treatment.
Do not disregard medical advice or delay seeking medical advice because of information you read [in/on this material/website]. Do not start or stop any medications without speaking to your medical or mental health provider.
Just in case you actually are working in the medical field or as a licensed therapist, you might want to let your clients know that you're not their doctor or therapist. Therefore, you're not taking responsibility for finding a cure for their condition, as you would in the case of a patient of yours.
Although I am a [nurse/dietitian/therapist/etc.] I am not YOUR [nurse/dietitian/therapist/etc.]. All information [on/during this website/training/etc.] is for informational purposes only, does not constitute medical advice, and does not establish any kind of patient-client relationship.
Disclaimer Template for Life Coaches
Coaching is often mistaken for therapy or other types of mental health treatments. As a life coach, you're almost certainly going to touch upon areas related to emotional and mental wellbeing, so it's important to make it clear that you're not providing therapy.
I am not a licensed psychologist or specialist healthcare professional. My services do not replace the care of psychologists or other healthcare professionals.
To disclaim your liability of use, a.k.a. not take responsibility, for how your advice is used, you can use this disclaimer.
Please note that I can't take any responsibility for the results of your actions, and any harm or damage you suffer as a result of the use, or non-use of the information available [on this website/material]. Please use judgment and conduct due diligence before taking any action or implementing any plan or practice suggested or recommended [on this website/material].
We've also talked about making no guarantees previously. Here's a short disclaimer you can use to express that to your readers.
Please note that I don't make any guarantees about the results of the information applied [on this website/material]. I share educational and informational resources that are intended to help you succeed in [coaching area]. You nevertheless need to know that your ultimate success or failure will be the result of your own efforts, your particular situation, and innumerable other circumstances beyond my knowledge and control.
Disclaimer Template for Business Coaches
As a business coach, you might touch upon areas that have legal and financial regulations, such as setting up a business, managing taxation and expenses, and so on. This disclaimer makes it clear that what you offer isn't legal advice.
I am not a lawyer or certified public accountant, and this should not be considered legal or financial advice. You should seek appropriate counsel for your own situation.
Regulations around business and entrepreneurship may also differ in each country or state. Highlight the fact that you're someone with experience in a certain region and not others.
Please note, this information is directed towards readers of [the United States/United Kingdom/Australia/etc.] If you are conducting business outside of [the United States/United Kingdom/Australia/etc.], please seek information and professional advice regarding your local regulations.
Where Should I Display My Coaching Disclaimer?
To put it simply, anywhere where you share information or advice as a coach. This could be your websites and blog, your printed handouts, downloadable PDFs, your in-person or online training, and so on.
It's best to include them in your client contract and your terms & conditions on your website as well. Use Paperbell to easily manage your disclaimers for all your clients on one simple platform.
As a rule of thumb, just use your own judgment, and decide in which cases these disclaimers are important to note and when they are unnecessary. They will serve as an extra layer of protection for you in any legal case and remind your clients to look after themselves.