You've always been passionate about the life coaching industry
With the dawn of coaching trends in 2023, you're eager to step up your game and significantly impact people's lives.
You diligently keep up with the latest methodologies, read every book on personal development, and even get certified by a prestigious coaching institute.
Yet you realize building a sustainable coaching business isn't just about staying updated – it's about being ahead of the curve.
If that's you, then we're on the same page. Keep reading to discover:
What is the outlook for the coaching industry?
What is the future of coaching?
10 more coaching trends in 2023
What is the outlook for the coaching industry?
The coaching industry has been on a steep incline over the past several years. For instance, in the US alone, the Life Coaches industry is growing 3.7% per year on average between 2017 and 2022.
Why is it growing so quickly?
Personal development and wellness are becoming increasingly popular, and experts are becoming more accepted for these pursuits. Also, technology makes it easy to connect with life coaches across borders.
Here's another example of how the value of the market has increased over the past 10 years or so:

The 1.34 billion dollar estimation is for the US only. So imagine how big the market is across the world!
So, as you can see, both the supply and demand of life coaching is steadily growing.
Plus, many people realized that they had access to the possibility of working from home after the pandemic in 2020. For some people, this meant freelancing. For others, it meant using their existing expertise and turning that into a life coaching business.
There's also a low barrier to entry now more than ever. Once you have all the skills required to coach a client confidently, startup costs are quite low. You can even start your coaching business without a website and with a free Paperbell account to start accepting payments!
With all that being said, this low barrier to entry also means you'll have lots of competition. This is why it's increasingly important to differentiate yourself from other life coaches (which we'll go into detail later as we explore other industry trends).
What is the future of coaching? 3 Biggest Coaching Trends
There are some promising trends and developments on the horizon for the coaching industry. Among the game-changers ahead are three things: digital transformation, a heightened focus on mental health, and an increased demand for tailored services.
Let's explore each one.
1. Digital Transformation
No matter where you turn, technology is deeply ingrained in our lives.
And life coaching is no different.
Now that your potential coaching clients can easily schedule and communicate with coaches worldwide, staying ahead is difficult without modernizing your business and implementing virtual coaching.
However, digitizing your business doesn't have to mean going crazy with all the tech! You can keep things super simple and reduce your tech stack to a minimum, and still have a "digital" coaching business.
For example, a free PayPal or Stripe account and a free Zoom account aren't too complicated to set up. They're also easy to handle. Yet, these two tools alone are enough to run a simple yet robust coaching business that exists digitally.
Is it ideal? Not really – you'd be missing a scheduling tool and a way to keep track of all client notes. But this goes to show that even technophobes can thrive in a world of digital transformation.
By the way, Paperbell brings all of the above together in a single, easy-to-use platform – including a scheduling tool that keeps track of how many coaching sessions a client has left!
2. Mental Health Focus
In recent years, society's perception of mental health issues has changed, so more people are seeking support outside traditional therapy settings. Stress management and anxiety reduction coaches will likely find their client base expanding in response to this growing awareness and acceptance.
That said, not all coaches are qualified to help their clients with mental health. Unless you have the right qualifications, leave this focus to those with the training.
3. Tailored Services
Gone are the days when a generic one-size-fits-all approach was acceptable across industries, including ours!
Today's clients expect personalized experiences that cater to their needs, goals, and preferences.
As a result, life coaches need flexible and adaptable strategies to cater to diverse expectations while maintaining the highest standards.
Of course, that doesn't mean signature coaching programs no longer make sense. But it does mean that if you want to charge high ticket prices, you need to show up fully for your clients and take the required time to get to know them better – so that you can customize your signature approach for them.
10 More Coaching Trends in 2023
Now that we've covered what's on the horizon for coaching, let's cover 10 additional coaching trends to watch out for!
1. Shorter coaching packages
The world is moving quickly. And so are your clients' lives.
While it may seem like a good idea to offer coaching packages that last 3, 6, and even 12 months, I've been seeing a trend in which coaches are starting to offer shorter but more intensive packages to their clients.
And this goes for 1:1 coaching as well as group coaching.
I've seen these under several names. Some coaches call these "mini-minds" (a miniature version of a mastermind), while others simply call them coaching programs.
Either way, here's the appeal:
If you can get your clients a meaningful result in a few weeks rather than a few months, how valuable would it be to them?
For example, coach Madi Maple's Peaceful Girl Era program only lasts 30 days. But even during that short time, she promises a deep transformation to those who join: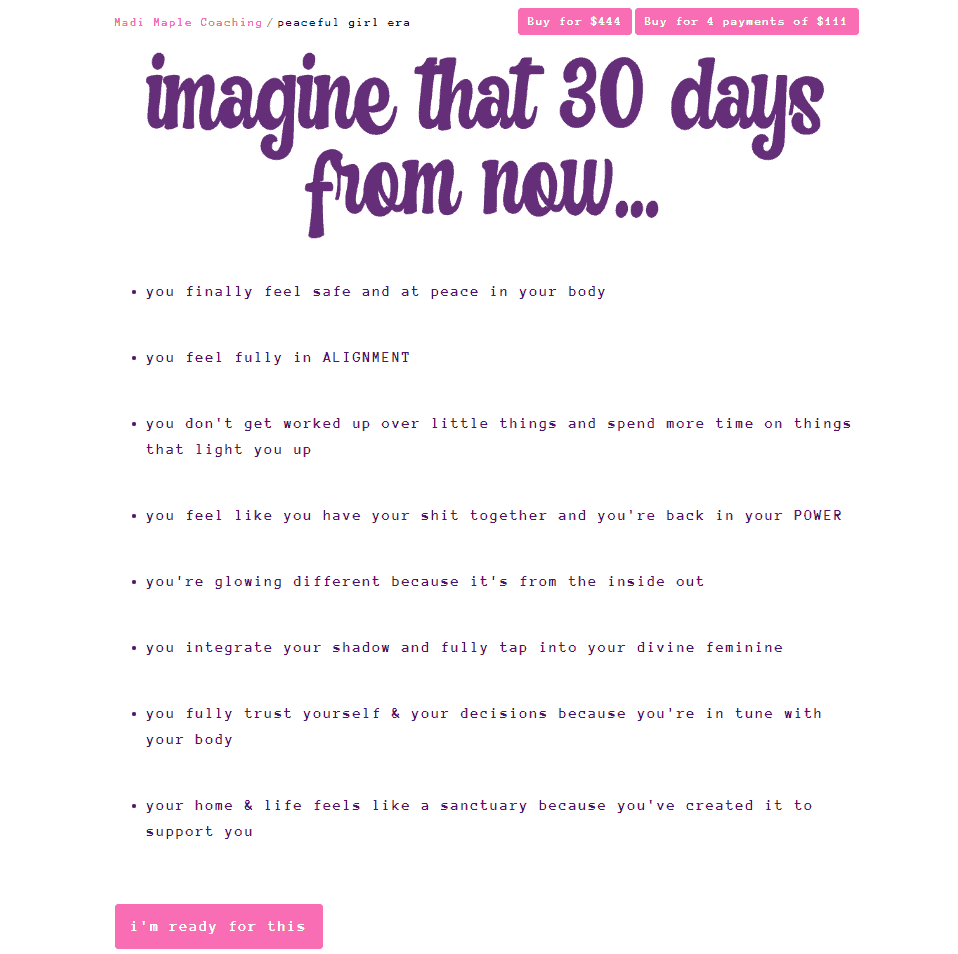 These shorter programs allow your clients to get quick wins, sure. But it also allows them to make a smaller risk before investing in longer-term programs with you.
Both you and your clients get to feel each other out and get a glimpse of what could happen if you both spend more time in each other's orbits!
2. More accountability for coaches, including continuous learning
You've seen the numbers – more coaches are coming onto the scene, and more people are looking for coaches.
And because the barrier to entry to become a coach is so low, clients will start demanding more accountability from their coaches before they hire them.
What does this look like in practice? For one, it means coaches of all niches should become experts in their topics before they start taking on paid clients.
Whether that means getting certified as a life coach or gaining experience as an apprentice under someone else will vary for everyone. But one thing is clear: going through a 5-hour course or reading a book isn't enough to give you the title of coach.
Well, legally speaking, it is. But if you want to retain clients and truly help people achieve massive transformations, you'll need to level up your skills more than that.
This is where continuous learning comes into play. Continuous learning can take several shapes, but they all have one thing in common:
You never stop leveling up your knowledge, and you never become complacent.
You can either participate in continuous learning by taking new training programs and gaining new certifications, or staying in your field. As an example of the latter, I'll take myself – although I coach people with email marketing, I also actively participate in this industry by writing emails for clients.
So I'm not just coaching – I'm also doing. This means I can continually stay on top of what's happening in the world of email marketing.
In some niches, this can be more difficult. For example, if you're a divorce coach… well, getting purposefully divorced over and over again isn't really a sane option. This is where other sources of continuous learning would come into play!
3. Digging deep into your niche
As the coaching industry gets more saturated, niching down deeper and deeper will become more of a priority for coaches who want to grab their piece of the pie.
There are tens of thousands of life coaches. But how many of them have the exact set of skills, life experiences, and personality traits as you?
Only one. You.
This is why going deep into coaching niches will only become more and more important.
For example, let's say you're a book marketing coach. A quick search on Instagram will show you that there are plenty of these coaches available.
But Shelby Leigh stands out in this niche by specifically positioning herself as an Instagram and TikTok book coach. Her strength is selling books on these two social platforms, so that's exactly what she does!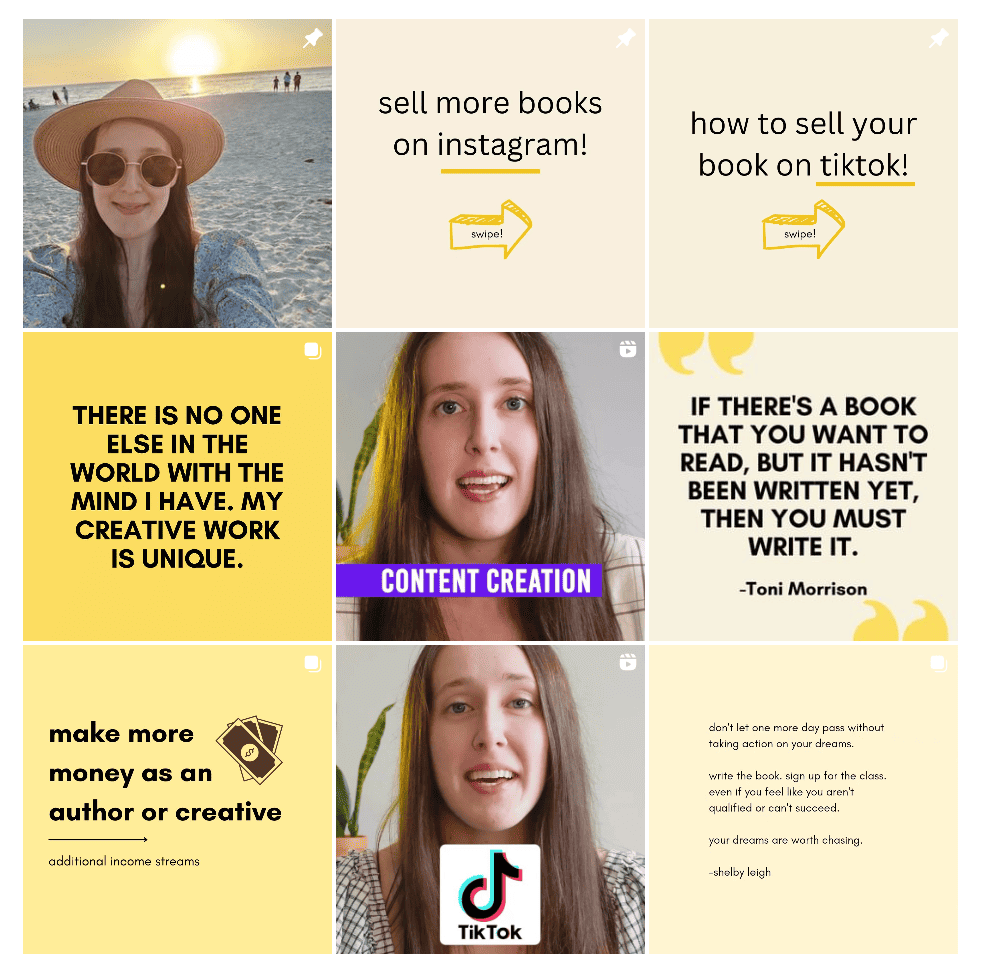 Don't feel like you need to cater to everyone at once. If you do, you risk catering to no one at all.
4. Selling through positive messaging
Direct response copywriting strategies often encourage business owners, including coaches, to sell their offers by calling out and agitating specific pain points.
And that's an effective strategy.
However, I'm seeing a trend in positive messaging and future-pacing to sell coaching. In essence, this means helping your dream clients imagine what their lives could look like if they finally could achieve their goals – instead of twisting the knife in their wounds.
What does this look like in practice? Let's take a look at how Sage Polaris positions her two coaching offers: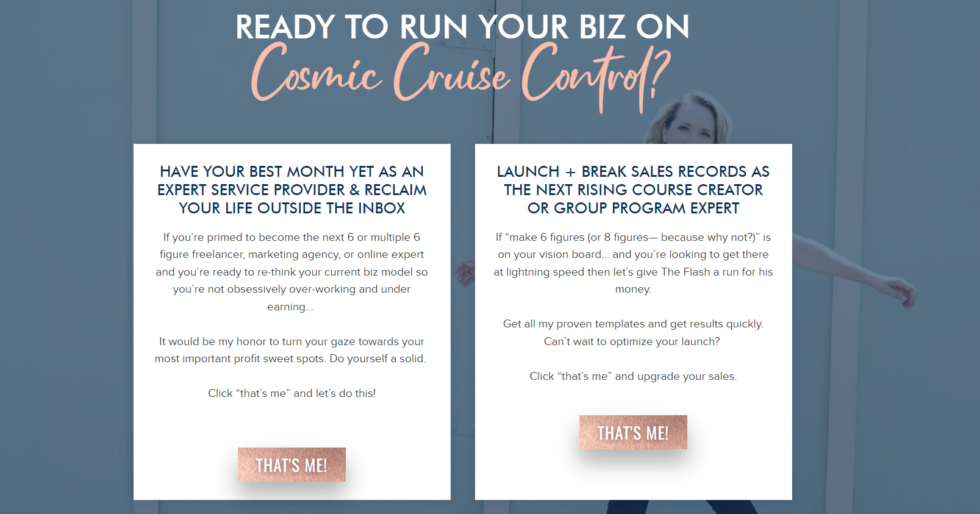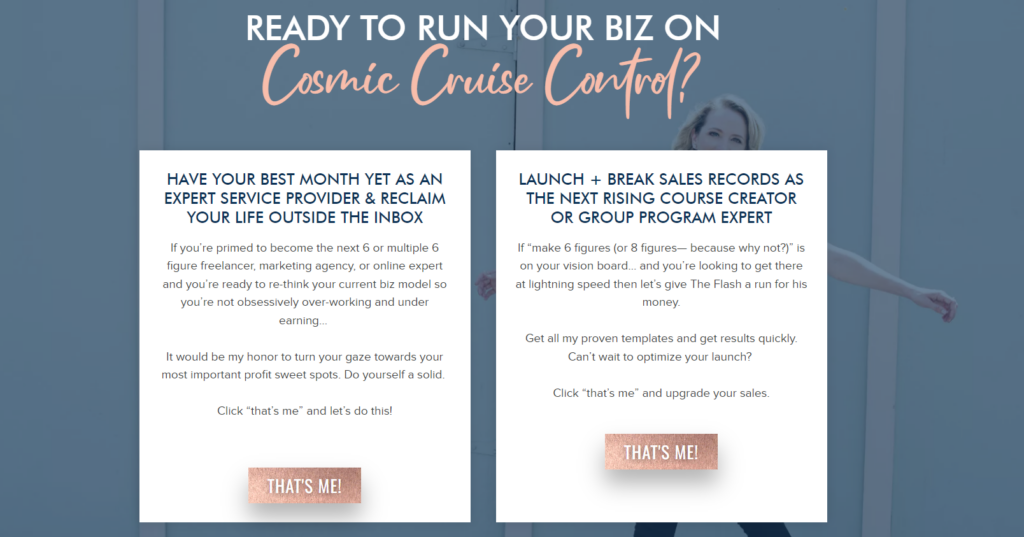 Both programs have an emphasis on the positive result itself – not on what you're avoiding by getting those results. In her case, these results are:
Have your best month yet as an expert service provider & reclaim your life outside the inbox
And:
Launch + break sales records as the next rising course creator or group program expert
Reading her copy feels like staring at a vision board. And because there's so much bad stuff going on in the world right now, it's up to coaches to sprinkle a positive message into our own personal slices of the Internet.
5. Asynchronous coaching
Nothing beats working one-on-one with a client in person or on Zoom.
Or is that really true?
While there are several advantages to traditional coaching sessions, there's an uptick in asynchronous coaching and support.
After all, not everyone has the same needs. Some people struggle to discuss with coaches on video calls, and others need consistent cheerleading to achieve their goals.
For example, you can provide feedback and custom support via Loom videos. With tools like Loom, you could theoretically offer a complete coaching program without getting on a single call with a client!
Voxer coaching is also gaining popularity. Not only can you easily send a quick voice memo to support a client from anywhere – even while taking your morning stroll – but clients can get your support in more flexible ways.
So, if they come up with roadblocks, they won't have to wait until your next call together to get some coaching from you.
Voxer coaching can also be used for intensive periods without having to spend all day with a client 1:1. For example, this coach from Encouraging Parents provides a Voicemail Day to exchange back and forth with her clients.
6. Video marketing
With the rise of YouTube, reels, and TikTok, video marketing has become increasingly important to help coaches stand out.
For instance, did you know that 82% of the Internet's traffic came from video in 2022?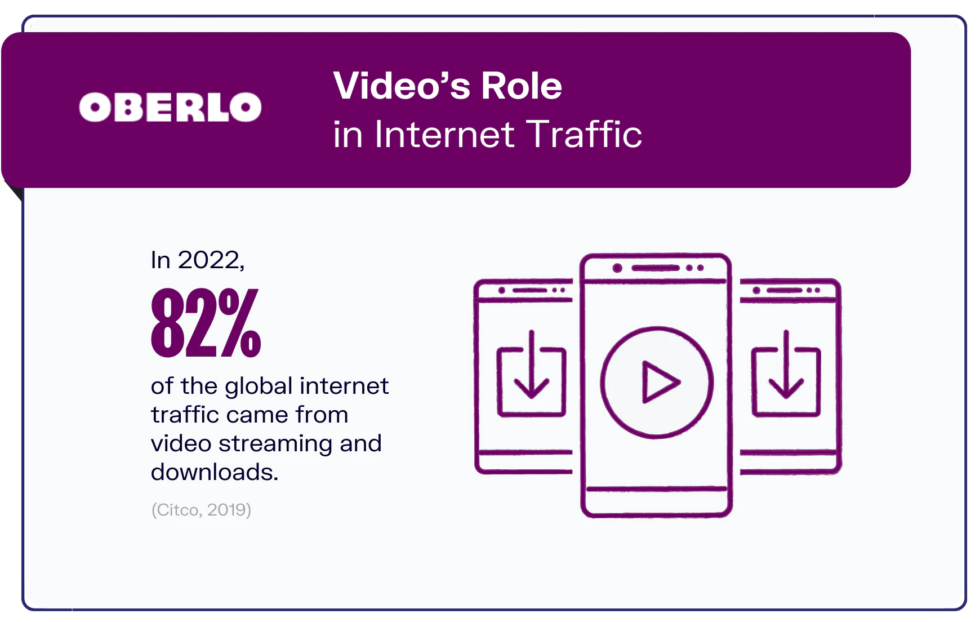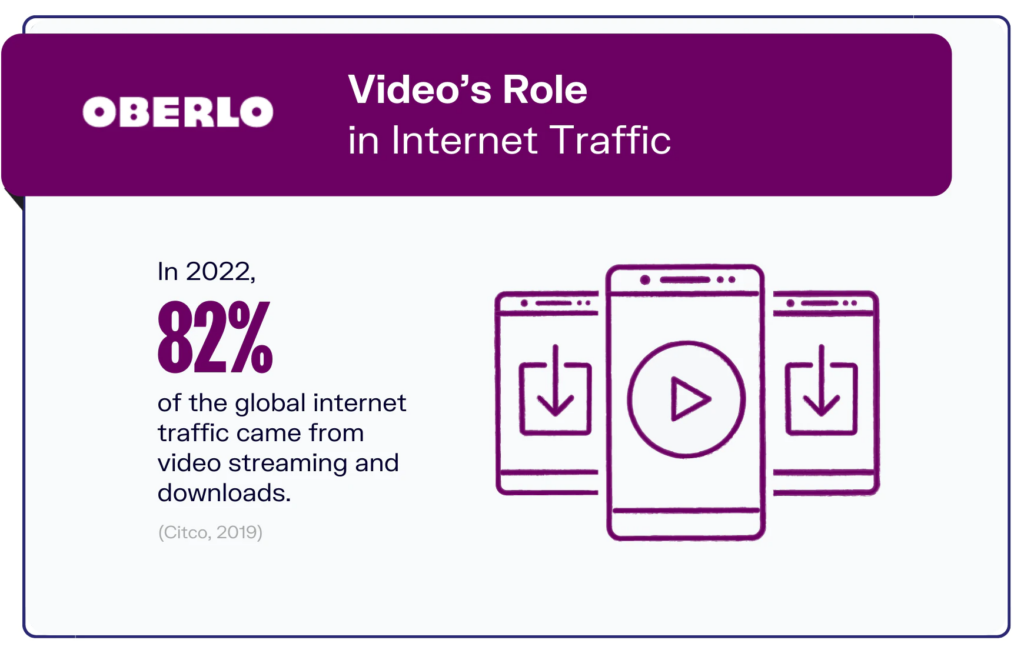 Now, 2023 isn't over yet, but you can bet this number will only increase with time.
And here's the thing about video content: it allows potential clients to see your face, hear your voice, and nearly feel like they're in a room with you.
So don't be afraid to get out there. And if you're wary of getting your face on video, make sure to read this post on how to overcome camera shyness!
7. AI in coaching and marketing
We've already written about how coaches can start leveraging AI technology. But make no mistake – whether you're already using this technology or not, it's here to stay.
AI will allow coaches to focus nearly 100% of their time and energy on what only humans can do, such as building stronger relationships with their clients and creating revolutionary new ideas.
8. Opening up the borders of coaching
You no longer need to limit yourself to serving the people near you – or even in your own country.
Now more than ever, getting coaching clients across the world is becoming increasingly simple! And when you take asynchronous coaching into account, this becomes even more true.
For you as a coach, this means keeping up with worldwide trends – not just what's happening in your backyard.
9. Lengthening sales cycles
For coaches operating in the B2B sphere – executive coaching, business coaching, and similar niches – you can expect sales cycles to get longer.
This means it will get increasingly important for you to prioritize your long-term nurturing strategy in addition to the short-term.
For example, do you consistently send newsletters to your email list? When someone is ready to invest in your coaching program 1, 2, or even 5 years from now, will you still be there with your emails and social media content?
If you want your coaching business to be sustainable, you can't only think of the next sale you'll make. You'll need to know how you intend to consistently show up to your audience of potential clients, over and over again, for years to come.
10. Systemizing your coaching business
Last but not least, the digitalization of online coaching now allows coaches to build reliable systems to run their businesses more efficiently.
This means no longer relying on outdated methods like:
Chasing down client payments via email
Going back and forth in your DMs to set a time for your appointments
Keeping track manually of who has how many coaching sessions left with you
Your clients expect more from coaches in 2023. And you cannot show up more powerfully if you're weighed down with all the busywork that comes with running a business.
While coaches used to have to rely on generic apps that weren't designed for them, this is no longer the case. More and more software companies are developing niche solutions, including for coaches!
For example, Paperbell is like Dubsado or Honeybook, but optimized and simplified for coaches. There's no need to change your process or try to fit in a mold that wasn't designed for coaches when there's a solution specifically for you!
Stay Ahead Of The Curve With Coaching Trends
Coaching trends in 2023 are going to reshape how coaches operate and work with clients.
As technology advances, coaching is going to become more accessible and efficient. And, as the world gets more complex, people are seeking personal development and professional development.
But now you're ahead of the curve – and you know where you need to invest your time to stay in the game as a coach.
One place you can start is by streamlining the way your coaching business operates. And that's where Paperbell comes in!
Paperbell automates your calendar bookings, payment processing, email reminders, and so much more. It's the simplest way to run a coaching business in 2023 for technophone and tech-savvy coaches alike.
Try it for yourself by claiming your free account!