In the digital era, using e-signature software is just as essential as having a website or scheduling your meetings online. The good old paper and pen method seems almost archaic in today's business environment when you can get all your documents signed simply with a few clicks.
Adding yet another tool to your ever-growing list of business and marketing software might not sound like a treat but we guarantee it will make your life easier. Getting your contracts signed with an online tool is just as secure and legally binding as paper-based agreements and it will save you tons of time. What's more, our all-in-one client management system includes a document signing feature which eliminates the extra cost and time of onboarding your clients through separate tools.
But let's not get ahead of ourselves! In this guide, you'll read about how digital signature tools work, what actually matters when you evaluate them, and the very best e-signature options on the market.
How Does E-Signature Software Work?
E-signature tools help you get your contracts signed online in a quick and secure way without having to meet your client in person or scan documents. Electronic signatures are just as official and legally binding as handwritten ones; you can type them, draw them, or generate them with the help of an app.
It's key that you have an agreement signed with all your clients before you start doing any work for them. Having that document on file will make sure that you're on the same page about the scope of the partnership and that you can refer to it in the event of any legal disputes.
Since digital signatures could be easily forged on a contract, e-signature tools also use cryptography to protect your legal documents. They embed certain details on contracts that identify them such as email addresses, when and where people signed them, a serial number, and the details of the device used for the signing process. These elements create a unique fingerprint that helps prove later that the contract was indeed signed by the parties listed on it.
When you use an e-signature tool, all you need to do is upload your contract, create a digital signature for yourself, and send the documents to your clients to sign. Your signature capture software takes care of sealing the deal but you still need to make sure that the agreement you upload includes all relevant details for your partnership with your client. Compliance standards may differ depending on your country and industry so it's best to check with a legal professional about what to include in your contract. To help you get started, we created free templates for both coaching and consulting agreements that you can access here:
[ Read: Exactly How To Put Together Your Consulting Agreement — With Free PDF Template ]
[ Read: How To Create A Legally Binding Coaching Contract From Scratch ]
How To Choose Electronic Signature Software
Besides securely signing legally binding documents, there are a few criteria to keep in mind when it comes to choosing a document signing app.

It's Easy To Use Both For You And Your Client
E-signature apps are meant to simplify your workflow, not add to it. A great signature solution doesn't require you to watch lengthy tutorial videos while trying to make your way through a bunch of complicated features. It's straightforward and it helps you get the job done in a few minutes or less.
Similarly, if the app is too complex and your client struggles to figure out how to use it, they might procrastinate signing your contract. This can delay your onboarding process and in the worst case, even make you lose the deal to a competitor. A great digital signature tool shows your client how to finalize your contract with a few clicks and automatically sends a copy to both of you.
It's Suitable For The Size Of Your Business
There are a lot of advanced e-signature tools out there that are built for large organizations or specific industries. If you're a small business owner or a service provider, you probably won't need to sign hundreds of documents in a year, give access to a whole team managing the platform, or make your contracts HIPAA compliant.
What you really need is a quick way to add digital signatures to your documents and store them safely in one neat place for future reference. When testing out digital signature apps, take a look at what's included in their plans to see if the price is actually worth it for your needs. The solutions listed in this guide all have free plans or trials that you can use to test the waters before committing.
It Integrates With Your Current Workflow
Getting those signatures in place is unfortunately just one step in the lengthy onboarding process of a client. Setting up contracts, collecting payments, and scheduling that first session all take time away from your daily schedule that you could be spending working with clients.
The more your document signing app integrates with other tools you're using, the less time you need to spend jumping back and forth between them. Better yet, you can complete your whole onboarding flow on a single platform, e-signatures included, with our all-in-one client management system — coming up first on our list of top e-signature tools below.
5 Best Electronic Signature Apps To Try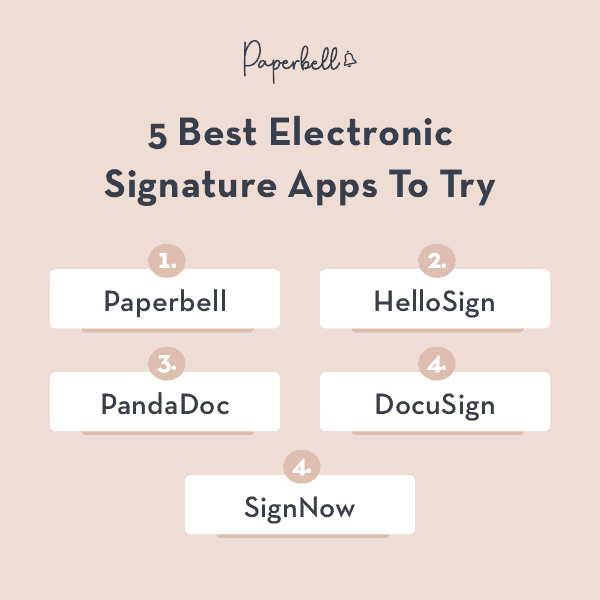 Paperbell
Paperbell is the top-rated online business management tool for coaches and consultants where you can manage all your client onboarding in one single flow. Instead of using and paying for a bunch of different apps for the administrative tasks of your coaching business, you can get it all done in Paperbell, digital signatures included.
Paperbell lets you upload your PDF agreements and creates a custom landing page for them where your client can complete your entire sign-up and onboarding process, including contract signing. Since we've partnered with HelloSign, you can trust that your contracts are official, legally binding, and stored securely.
The best part is that clients can also settle payments and make session bookings through Paperbell, all in one place. Since they can't schedule with you until their e-signatures and payment is taken care of, you'll never have to chase them again and waste time on follow-up messages.
Managing clients with Paperbell is easy and you can trust that all your contracts, schedule, payments, and client information stays safely stored in your account. Try Paperbell for free with your first client.
HelloSign
Alternatively, you can try HelloSign on its own with a 30-day trial and stay on a free plan with up to 3 contract requests per month. You can use the app on your mobile, send reminders to your clients about the contracts waiting, and get notifications when they view or sign the agreement.
Their paid plans start from $20 per month which offers a few templates and integrations with Hubspot, Dropbox, Gmail, Salesforce, as well as a few other business and marketing apps. The HelloSign Standard Plan also lets you use your own branding elements on the sign-up page and bulk send contracts to your coaching group members or the teams you're consulting.
PandaDoc
Pandadoc offers a 14-day free trial and a free plan with some basic features. It's an easy-to-use digital signature app where you can draw, type, or upload your signature and send out your client contract in three steps.
Their paid plans also include a drag-and-drop document editor that you can use to design your own contracts with visual templates. You can reuse these proposal-like agreements in the future or simply upload your ready-made agreements for signature. PandaDoc's renewal date reminders give you a heads up when a recurring contract expires so that you won't forget to prepare the next one for signatures.
Their plan for businesses also has an approval workflow feature that lets you add an extra step of review before your contract lands in your client's inbox. This may come in handy if you're outsourcing your contracting procedures to a virtual assistant but want to approve documents yourself.
DocuSign
DocuSign offers a free trial for 30 days so that you can test out all its features. Subscription options start from $10 per month for a Personal Plan which allows you to send out five contracts a month. You can use DocuSign on your mobile and it integrates with commonly used apps like Dropbox, Evernote, and Google Drive.
DocuSign makes it easy to add signatures, initials, names, dates, payment details, and other text to your contracts to easily customize them. This way, you can reuse the same agreement template for different kinds of clients and projects and simply add the missing details.
Other plans also allow you to comment and collaborate on your draft contracts with other people or bulk send them to multiple recipients. Their most advanced features include SMS authentication, customized branding, and automated reminders.
SignNow
SignNow offers a 7-day free trial, after which their plans start from $8 a month. You can add the basic signature, initial, date, and text elements to your documents or include drop-downs and checkboxes to make them more customized for your clients. SignNow works on your mobile and allows you to set up reminders and unlimited templates in your account.
Their premium plans include sending contracts in bulk and generating signing links which you can share with clients without the need to add their email ID. You can also add personalized branding to your contracts, request materials as attachments, or transform your contracts into forms with smart fields.
Another interesting feature on SignNow is creating conditional documents with a particular signing order. This allows you to get contracts for different packages or upsell services signed at once.