Whether you're an executive or business coach looking to inspire yourself or your clients, quotes are a powerful tool. They are agents of change.
Quotes help achieve change in two meaningful ways. The first is the most obvious: quotes often provide motivation and inspiration. They are like a mental shot of espresso on a rainy Monday morning – invigorating excitement and sparking new-found enthusiasm.
But quotes can also invoke a bit of soul-searching. They can force us to reflect. To think about our own abilities and past situations we've been through, as well as to explore possibilities to do better in the future.
After all, the very definition of business coaching is to help your clients find solutions to their problems and reach their goals. Borrowing some wisdom from some of the biggest coaches and entrepreneurs might help them get those goals and solutions.
There are so many great uses for business coaching and leadership quotes, like…
Doing some personal reflection on them
Using them as content for your social media posts
Or quoting great words in your group workshops and one-on-one conversations with clients
But if you want a quote that has impact, any ol' quote won't do. You need the best.
So we've done the leg work for you and rounded up our favorite quotes about business coaching and mentoring. Because, as we all know, the two go together like glue. Coaching is the secret sauce of great leadership!
In this post, you'll find 93 quotes in total: the top 33 quotes about the power of business coaching and 60 inspirational quotes about leadership.
The Best Quotes About Business Coaching
Business coaching is a tremendous asset to executives and leadership teams. Great leadership, after all, is usually a learned skill. These 21 business coaching and business mentoring quotes delve into the very definition of this highly valued profession and what it means to an organization in the 21st century.
Coaching is the universal language of change and learning.

CNN
Does coaching work? Yes. Good coaches provide a truly important service. They tell you the truth when no one else will.

Jack Welch
Listening is such a simple act. It requires us to be present, and that takes practice, but we don't have to do anything else. We don't have to advise, or coach, or sound wise. We just have to be willing to sit there and listen.

Margaret J. Wheatley
All coaching is, is taking a player where he can't take himself.

Bill McCartney
When you are in any contest, you should work as if there were – to the very last minute – a chance to lose it. This is battle, this is politics, this is anything.

Dwight D. Eisenhower
Sometimes when you innovate, you make mistakes. It is best to admit them quickly, and get on with improving your other innovations.

Steve Jobs
The goal of coaching is good management: to make the most of an organization's valuable resources.

Harvard Business Review
I think it's very important to have a feedback loop, where you're constantly thinking about what you've done and how you could be doing it better. I think that's the single best piece of advice: constantly think about how you could be doing things better and questioning yourself.

Elon Musk
I absolutely believe that people, unless coached, never reach their maximum capabilities.

Bob Nardelli
I'll bet most of the companies that are in life―or―death battles got into that kind of trouble because they didn't pay enough attention to developing their leaders.

Wayne Calloway
Who, exactly, seeks out a coach? If you ask a coach the answer is usually the same: Winners who want even more out of life.

Chicago Tribune
A coach is someone who tells you what you don't want to hear, who has to see what you don't want to see, so you can be who you've always known you could be.

Tom Landry
I'm a big believer in crafting your own philosophy in the world based on your experiences and based on how you want the world to work. I don't believe in blindly accepting ideas or philosophies from generations past.

Vishen Lakhiani
An organization's ability to learn, and translate that learning into action rapidly, is the ultimate competitive advantage.

Jack Welch
Coaching is unlocking a person's potential to maximize their own performance. It's helping them to learn rather than teaching them.

Tim Gallwey
My goal was never to just create a company. A lot of people misinterpret that, as if I don't care about revenue or profit or any of those things. But what not being just a company means to me is not being just that – building something that actually makes a really big change in the world.

Mark Zuckerberg
The best coaches really care about people. They have a sincere interest in people.

Byron & Catherine Pulsifer
Executives and HR managers know coaching is the most potent tool for inducing positive personal change, ensuring better than average odds of success and making the change stick for  the long term.

The Ivy Business Journal
I never cease to be amazed at the power of the coaching process to draw out the skills or talent that was previously hidden within an individual, and which invariably finds a way to solve a problem previously thought unsolvable.

John Russell
The goal of coaching is the goal of good management: to make the most of an organization's valuable resources.

Harvard Business Review
To create a high-performance team, we must replace typical management activities like supervising, checking, monitoring, and controlling with new behaviors like coaching and communicating.

Ray Smith
Coaches have to watch for what they don't want to see and listen to what they don't want to hear.

John Madden
Your mindset matters. It affects everything – from the business and investment decisions you make, to the way you raise your children, to your stress levels and overall well-being.

Peter Diamandis
Probably my best quality as a coach is I ask a lot of questions and let the person come up with the answers.

Phil Dixon
I believe that wherever there is mastery, coaching is occurring and whenever coaching is done, mastery will be the outcome.

Andrea J. Lee
Executive coaches often are brought in to help a star player navigate a new role or advance faster inside a company. Other businesses, however, hire a coach to fix a manager's flaws, such as poor interpersonal skills. View an Executive Coach As an Aide, Not an Enemy.

The Wall Street Journal
Coaching is a profession of love. You can't coach people unless you love them.

Eddie Robison
Even modest improvements can justify hiring a coach. An investment of $30,000 or so in an executive who has responsibility for tens of millions of dollars is a rounding error.

Jerome Abarbanel
When it comes to getting the best out of life – whether in your own life or from your team, there is no doubt that good coaching can play a pivotal role. Getting it right is about learning how to motivate yourself and others in a way that works. It means listening to yourself and others rather than just speaking at them. The good coach knows that they may not have all the answers.

Steve Gold
Everything in coaching hinges on listening because what we are listening for affects where we are speaking from and unfolds how we are being with and for each other.

Marilyn Atkinson
Coaching is about helping clients unlock the treasure-chest of their lives – worth bearing in mind then that diamonds are made from coal under pressure and it's the grit in the oyster which creates the pearls.

Sarah Durrant
The Top Leadership Quotes
It has been famously said that leadership is earned, but it must also be learned and developed (and that's where you business coaches come in). The 57 leadership quotes below, highlight that. These quotes also make clear ethical leadership is about others, listening to them, fostering trust, and giving them the space to flourish.

The art of communication is the language of leadership.

James Humes
A man who wants to lead the orchestra must turn his back on the crowd.

Max Lucado
It is better to lead from behind and to put others in front, especially when you celebrate victory when nice things occur. You take the front line when there is danger. Then people will appreciate your leadership.

Nelson Mandela
Leadership is practiced not so much in words as in attitude and in actions.

Harold S. Geneen
If your actions inspire others to dream more, learn more, do more and become more, you are a leader. 

John Quincy Adams
Leadership is not about a title or a designation. It's about impact, influence, and inspiration. Impact involves getting results, influence is about spreading the passion you have for your work, and you have to inspire team-mates and customers.

Robin S. Sharma
There are three rules for being a good leader: 1. Don't say you are one; 2. Show that you are one; and 3. Lead by example.

Georg W. F. Hegel
It is not the strongest of the species that survive, nor the most intelligent, but the ones most responsive to change

Charles Darwin
To handle yourself, use your head; to handle others, use your heart.

Eleanor Roosevelt
The best executive is the one who has sense enough to pick good men to do what he wants done, and self-restraint enough to keep from meddling with them while they do it.

Theodore Roosevelt
Outstanding leaders go out of their way to boost the self-esteem of their personnel. If people believe in themselves, it's amazing what they can accomplish. 

Sam Walton
A leader is one who knows the way, goes the way, and shows the way.

John Maxwell
People buy into the leader before they buy into the vision. 

John Maxwell
Leadership is not about titles, positions, or flowcharts. It is about one life influencing another.

John Maxwell
A good leader is a person who takes a little more than his share of the blame and a little less than his share of the credit. 

John Maxwell
A leader is a dealer in hope. 

Napoleon
If you want to build a ship, don't drum up the men to gather wood, divide the work, and give orders. Instead, teach them to yearn for the vast and endless sea.

Antoine de Saint-Exupéry
One of the tests of leadership is the ability to recognize a problem before it becomes an emergency. 

Arnold Glasow
A good leader takes a little more than his share of the blame, a little less than his share of the credit.

Arnold Glasow
A true leader has the confidence to stand alone, the courage to make tough decisions, and the compassion to listen to the needs of others. He does not set out to be a leader, but becomes one by the equality of his actions and the integrity of his intent. 

Douglas MacArthur
To lead people, walk behind them.

Lao Tzu
A leader is best when people barely know he exists, when his work is done, his aim fulfilled, they will say: we did it ourselves.

Lao Tzu
If your actions create a legacy that inspires others to dream more, learn more, do more and become more, then, you are an excellent leader.

Dolly Parton
Never tell people how to do things. Tell them what to do and they will surprise you with their ingenuity. 

General George Patton
Leadership is the art of getting someone else to do something you want done because he wants to do it. 

Dwight Eisenhower
You don't lead by hitting people over the head—that's assault, not leadership.

Dwight Eisenhower
Leadership is the capacity to translate vision into reality.

Warren Bennis
The most dangerous leadership myth is that leaders are born-that there is a genetic factor to leadership. That's nonsense; in fact, the opposite is true. Leaders are made rather than born.

Warren Bennis
Management is about arranging and telling. Leadership is about nurturing and enhancing. 

Tom Peters
If you want to go fast, go alone. If you want to go far, go together.

African proverb
Where there is no vision, the people perish.

Proverbs 29:18
Don't find fault, find a remedy; anybody can complain.

Henry Ford
What you do has far greater impact than what you say. 

Stephen Covey
There are three essentials to leadership: humility, clarity and courage. 

Fuchan Yuan
To build a strong team, you must see someone else's strength as a complement to your weakness, and not a threat to your position or authority.

Christine Caine
Growth and comfort do not coexist.

Ginny Rometty
Successful leaders see the opportunities in every difficulty rather than the difficulty in every opportunity.

Reed Markham
Everyone can rise above their circumstances and achieve success if they are dedicated to and passionate about what they do. 

Mother Teresa
Do not wait for leaders; do it alone, person to person.

Mother Teresa
Leadership and learning are indispensable to each other.

John F. Kennedy
A good leader inspires others with confidence in the leader. A great leader inspires others with confidence in themselves.

Unknown
Leadership Is cause; everything else Is effect.

Unknown
Coaching is releasing a person's potential to maximize their own performance. It is helping them to learn rather than teaching them. 

Unknown
Mountaintops inspire leaders but valleys mature them.

Winston Churchill
The key to successful leadership today is influence, not authority.

Kenneth Blanchard
Feedback is meant to address the problem, not the person.

Travis Bradberry
A leader takes people where they want to go. A great leader takes people where they don't necessarily want to go, but ought to be.

Rosalynn Carter
First rule of leadership: everything is your fault.

A Bug's Life
For the great achiever, it's all about me. For a great leader, it's all about them. 

Alan Mulally
The greatest leader is not necessarily the one who does the greatest things. He is the one that gets people to do the greatest things.

Ronald Reagan
Great leaders are not defined by the absence of weakness, but rather by the presence of clear strengths.

John Zenger
Leadership is not about a title or a designation. It's about impact, influence, and inspiration. 

Robin Sharma
Leaders are made, they are not born. They are made by hard effort, which is the price which all of us must pay to achieve any goal that is worthwhile. 

Vince Lombardi
Toxic environments are not the result of spontaneous bad fortune. They are the result of toxic leaders.

Panos Mourdoukoutas and M.A. Soupios 
Before you are a leader, success is all about growing yourself. When you become a leader, success is all about growing others.

Jack Welch
Nobody rises to low expectations.

Calvin Lloyd
The task of leadership is not to put greatness into humanity, but to elicit it, for the greatness is already there. 

John Buchan
When a leader makes a promise he builds hope when he keeps it, he builds trust, and that is the game-changer.

Tushar Vakil
Great leaders harness personal courage, capture the hearts and minds of others and empower new leaders to make the world a better place. 

Maxine Driscoll
The quality of a leader is reflected in the standards they set for themselves. 

Ray Kroc
Leadership is action, not position.

Donald H. McGannon
It's better to hang out with people better than you. Pick out associates whose behavior is better than yours and you'll drift in that direction.

Warren Buffet
Some Final Words of Wisdom
This blog post is full of words of wisdom, but we also want to leave you with some parting thoughts to dig a bit deeper.
When you read these leadership and business coaching quotes, did you think about what kind of coach you want to be and the relationships you want to foster?
Just like leaders in their organizations, good relationships are key for your business coaching to have an impact.
Removing any friction or sticking points in the services you provide is so important, especially when dealing with clients who feel overwhelmed. And to achieve client transformation, you need coaching tools and models that are easy to follow and consistently deliver results. To help you with that, check out this blog post about the best coaching tools, to find out what works best for you and your clients.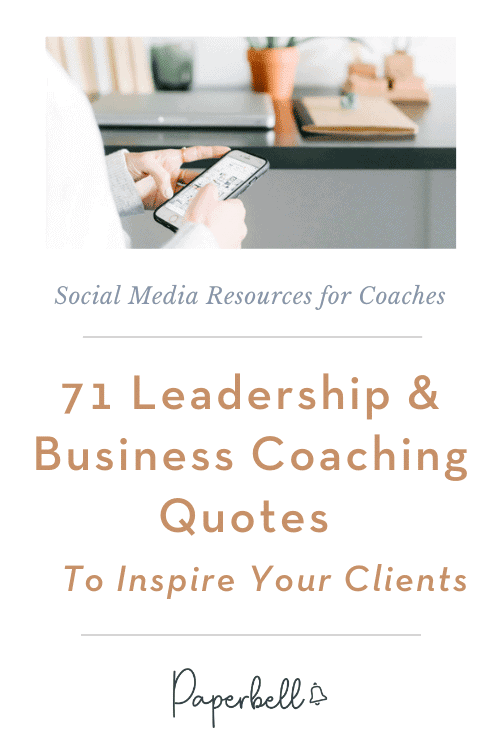 Editor's Note: This post was originally published in March 2021 and has since been updated for accuracy.