Running a coaching business has its own set of challenges, and buying a coaching franchise might take some of that load off your shoulders. Starting a franchise business equips you with a tried and tested methodology and business model, so you don't have to walk the unbeaten path alone.
According to a statistic, franchises have a success rate of 90% instead of the 15% success rate of companies started from the ground up. That means that technically you're almost as secure as if you were in a job, because of the extensive guidance you receive in setting up your business.
On the other hand, like any other business venture, a franchise has its own pitfalls. This is especially true in an industry like life coaching, that's focused on the transformation of individuals with a unique set of challenges.
In this article, we've gathered the pros and cons of buying a life coaching franchise, and we'll introduce some of the top examples and alternatives you can consider for your new venture. We'll also cover how you can franchise your own life coaching practice.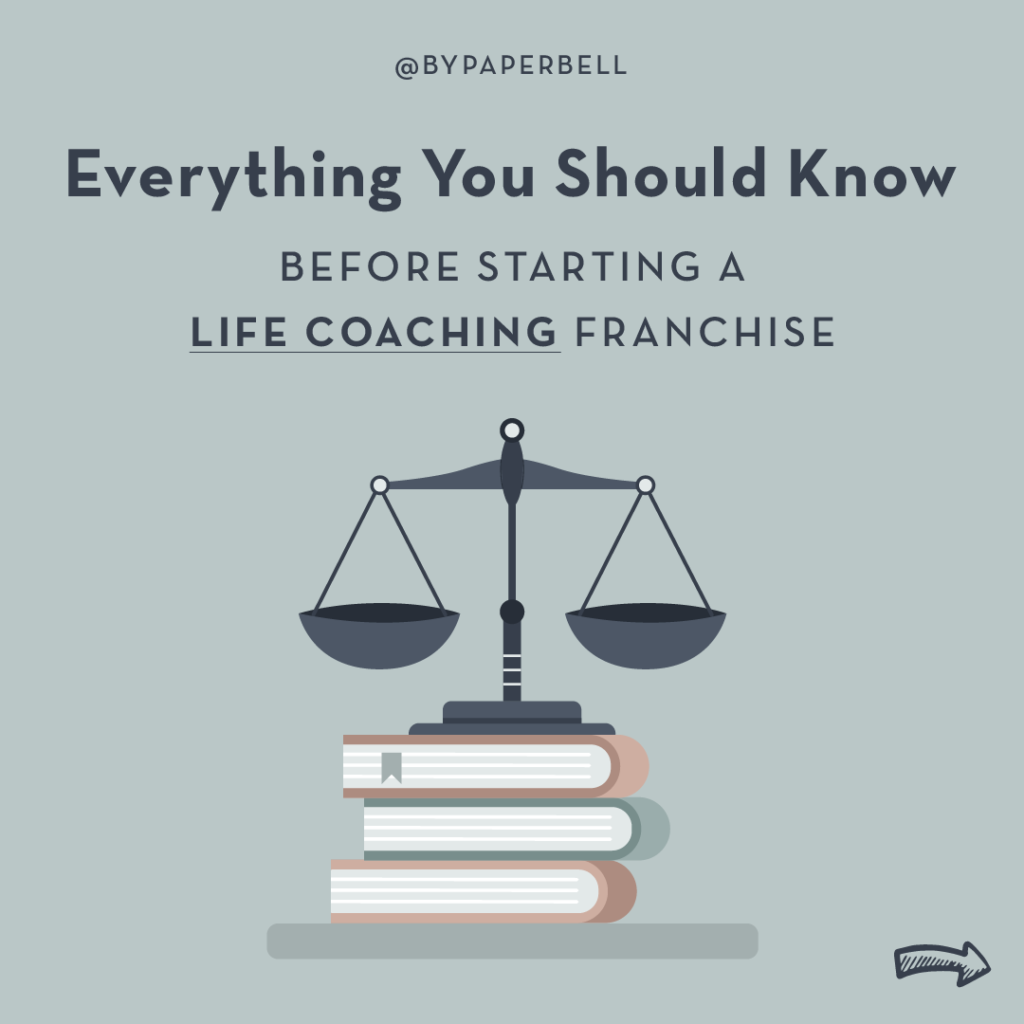 What is a Life Coaching Franchise?
A life coaching franchise is a type of license you can buy to access the business knowledge, processes, and trademarks of a coaching organization. When you do that, you can capitalize on the experience of a business with a proven track record and sell your coaching services under their name.
In exchange for buying this license, you normally need to pay your franchisor an initial start-up fee and annual licensing fees in the future, based on your revenue. These costs are an investment that buys you a framework and a lot of clarity, as well as ongoing support in your business, so that you can minimize risk and have a higher chance to succeed.
So, is it worth buying a life coaching franchise instead of doing things your own way? Let's look at the pros and cons of this investment opportunity in detail.
[ Read: How To Invest In Your Business: The Four High-Return Moves For a Coaching Practice]
Pros & Cons of Buying a Life Coaching Franchise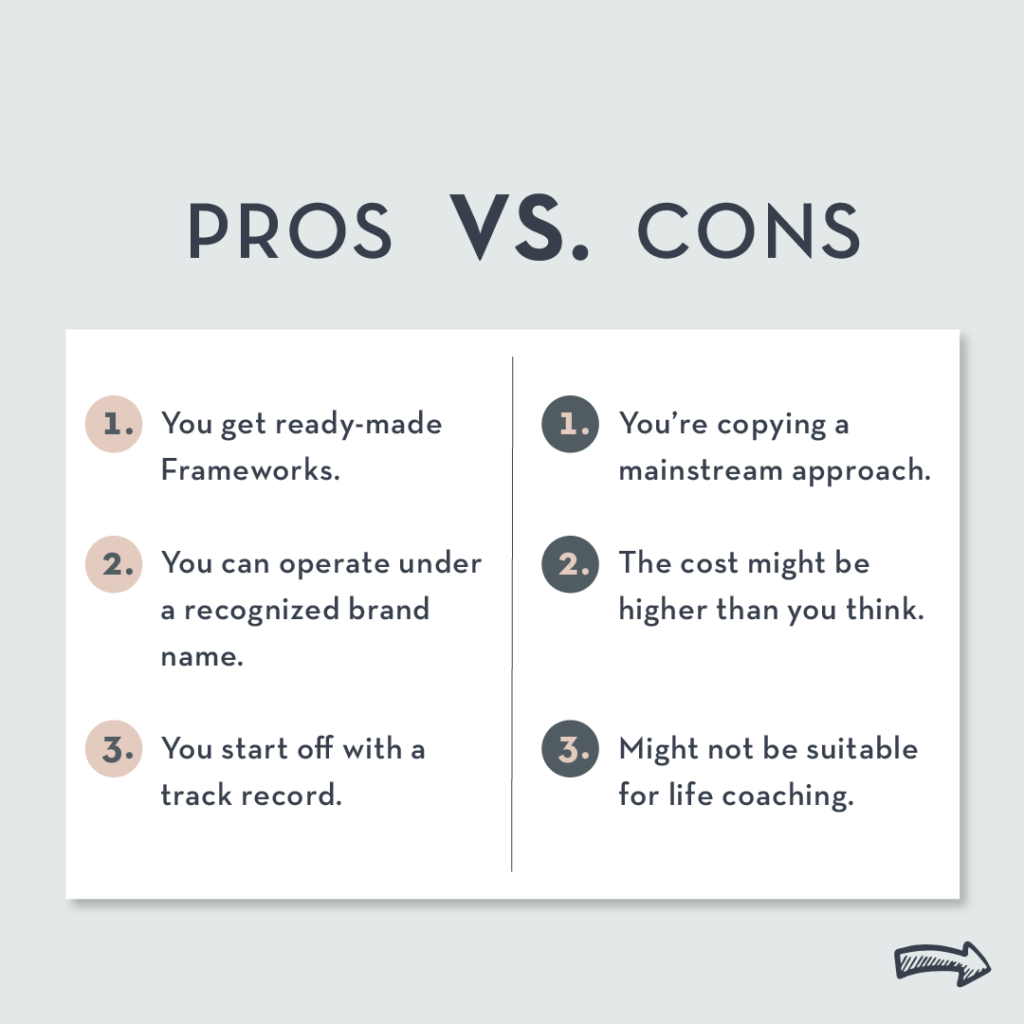 Pro: You Get Ready-Made Frameworks
Gathering an inventory of proven frameworks and tools that you can use as a life coach or business coach takes years or even decades. Instead, you can get access to this valuable knowledge by buying a life coaching franchise. These ​​exercises, models, and support materials will give you a solid ground you can stand on when serving your clients, in order to guarantee results.
Con: You're Copying a Mainstream Approach
Franchises have a set framework that is often quite rigid. This ensures their ability to consistently deliver the same results, but it leaves little room for creativity and innovation. You won't be able to tweak the methodology as you gain more insight into your practice. Instead, you'll need to follow their step-by-step guidelines on branding, pricing structures, and coaching itself. If you're someone who prefers to implement what already works without reinventing the wheel, this option might appeal to you. However, if you're a natural innovator and often prefer to establish your own way of doing things, this option might be too restrictive for you.

Pro: You Can Operate Under a Recognized Brand Name
Building a trusted and reputable brand takes a long time and requires some investment. Some of the biggest brands, including coaching brands, in the world today started decades ago. You can instead put that money towards the license of an established brand and reap its benefits right away. Your franchisor might also involve you in their referral network or connect you with new leads directly, to help you grow your clientele. This will save you time and effort on client acquisition that you can spend on what you love doing the most: coaching.
Con: The Cost Might Be Higher Than You Think
Licensing costs can be tens of thousands, or in some cases hundreds of thousands, of dollars when it comes to buying a life coaching franchise. Annual costs might also take a significant cut from your revenue, that you could otherwise spend on hiring a business coach or boosting your marketing efforts, among other things.
As an example, ActionCOACH charges $81,773 to $104,640 for a practice franchise and $125,773 to $1,111,670 for a firm franchise. These fees exclude yearly royalties.
Many licensors also require you to follow set pricing structures, which tie your hands when it comes to scaling. Make sure you have a solid financial projection in your business plan if you take the risk, so you won't be left with little to nothing after paying off your yearly licensing costs.
Pro: You Start Off With a Track Record
At the early stages of a business, there's a lot of costly trial and error you need to make by the time you develop a solid track record specific to your business. Most founders never reach that point, and they might even go into debt when their business fails. By getting a franchise deal, you get a tailor-made plan for a profitable and sustainable business that gives you a sense of security as an entrepreneur. Franchisors often provide business mentors as well, in order to support you in the long run.
Con: Might Not Be Suitable For Life Coaching
Most franchise opportunities in this industry cater to business coaching franchisees. The ones who promote themselves as life coaching franchises might have a limited methodology that doesn't suit a truly holistic approach, taking all aspects of a person's life into account. In general, business coaching frameworks are more likely to work when replicated and scaled but not the tools a complex human being requires to change their lives. Make sure you thoroughly research the approach of your franchisor and think through whether they will limit you or aid you in serving your clients.
Examples of Coaching Franchise Opportunities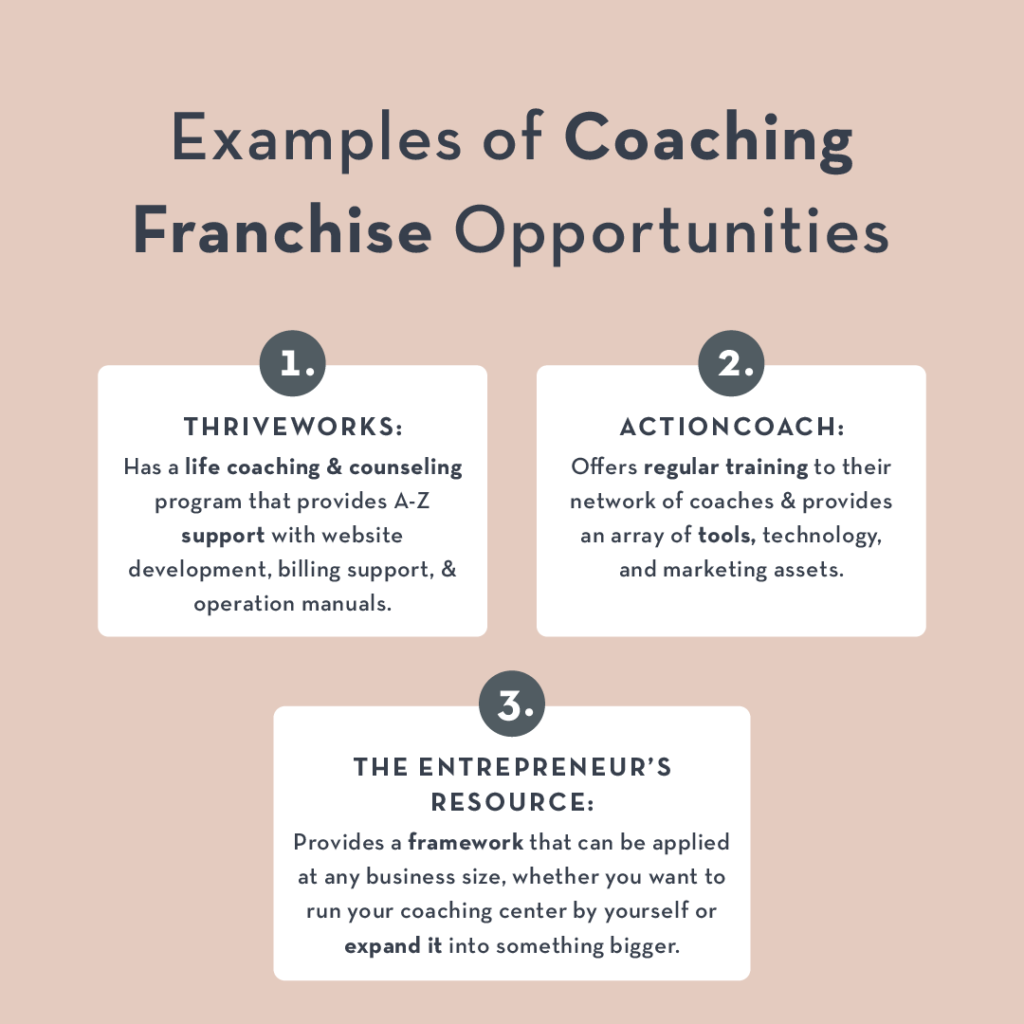 Thriveworks
Thriveworks has a life coaching and counseling franchise program that provides A-Z support with website development, billing support, and operation manuals. You'll be able to benefit from weekly mentoring sessions with them and work with their in-house HR, healthcare, and marketing professionals. This brand has been featured on CNN, Entrepreneur, and The New York Times, among others, so you'll be able to leverage their positive media presence as well.
ActionCOACH
ActionCOACH is the most known business coaching franchise with 27 years of experience. They have over a thousand franchisees in 70+ countries who work with over 18,000 clients around the world. They offer regular seminars and training to their network of coaches and provide them with a wide array of tools, technology, and marketing assets, to support them in setting up their businesses and running their practices successfully.
The Entrepreneur's Resource
The Entrepreneur's Resource is a coaching franchise focused on helping people find and transition into their dream careers. They provide a framework that can be applied at any business size, whether you want to run your coaching center by yourself or expand it into something bigger. They require an approximate $125,000 as an initial investment and it takes about 4-6 weeks to get onboarded with them.
How to Launch Your Own Coaching Franchise
If you have a profitable and reputable coaching center with a proven track record, you might want to consider franchising it, so that you can scale it with the help of other coaching professionals and entrepreneurs.
As a franchisor, you'll be granting your new franchisees the right to start their coaching businesses under your trademark. You'll be sharing your business systems with them and provide them with comprehensive training and ongoing support. They will pay you fees in return, that include an initial franchise fee and yearly royalties. Your aim is to make them as successful as you can so that your brand can expand and your royalties can rise year by year.
To do that, you'll need to get yourself familiar with franchise laws in your location. You'll need to hire a franchise lawyer and acquire a franchise disclosure document that contains information about royalties, territories, start-up costs, and so on. You'll need to update this document annually and share it with your franchisees 14 days before signing an agreement with them.
After that, you'll need to create your operations manual that contains all information about establishing and operating a franchise business under your trademark. You'll also need to register your trademarks and establish your new franchise company. After that, you'll need to develop a marketing and sales strategy for targeting your ideal franchisees and promoting your program.
Being a franchisor can scale your revenues big time and open up a passive income source in your business model that yields higher profits in the long run. However, it will only work if your coaching business already has an established brand and a stable cash flow. Your guidelines need to be watertight and easily replicable by a diverse set of people in different locations.
[ Read: Don't Settle on a Coaching Name Until You've Read This]
Lucrative Alternatives to Franchising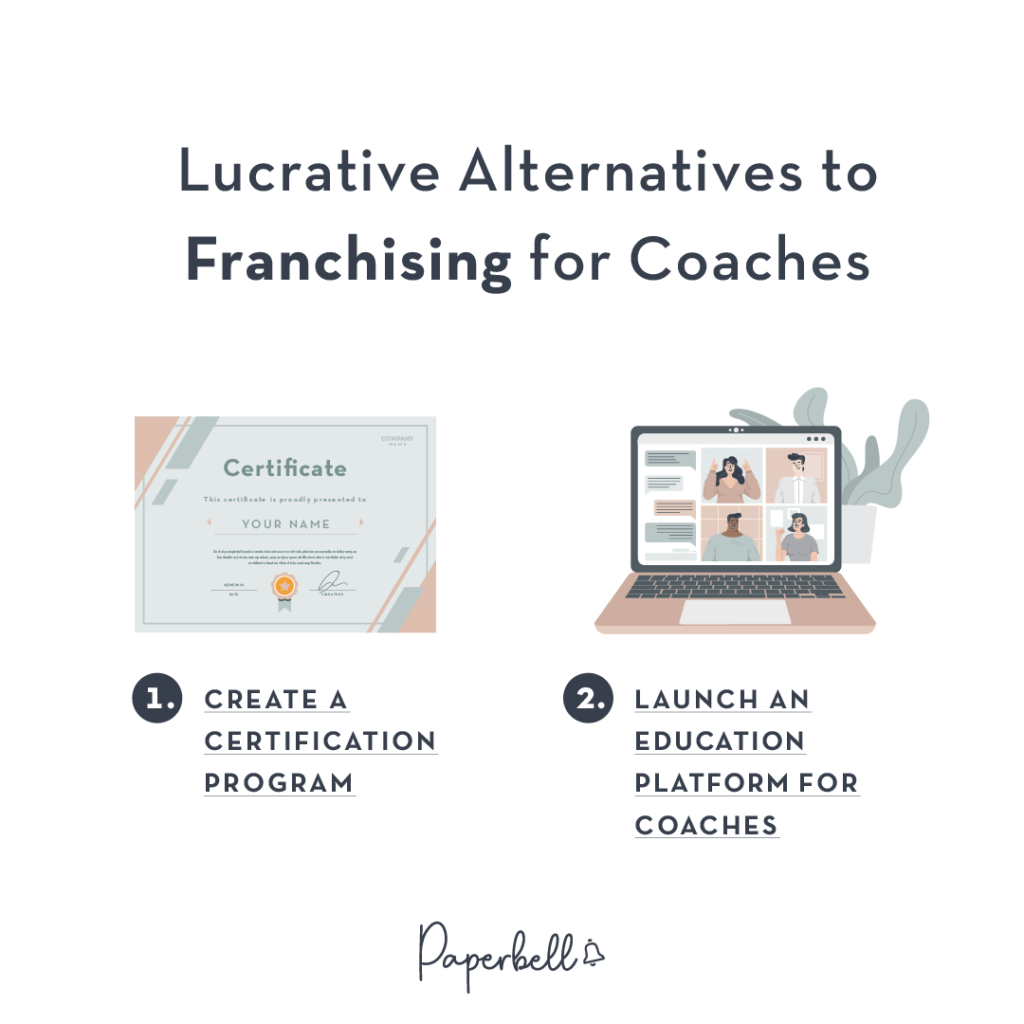 If you want to scale your coaching business but don't necessarily want to become a franchisor, you can consider creating a certification program. This means that you'll provide a comprehensive training program for your coaches on methodology and optionally on the business aspect as well, but they would need to set up their new coaching businesses independently from you.
They can add the certification they receive from you to their portfolio and showcase it in their promotional materials, but they will be operating under their own brand. If you open up a certification program, you'll be able to cash in the experience and methodology of your business, but you won't be able to generate passive income from yearly licensing fees. At the same time, you'll also be free from the extensive regulations franchisors need to deal with.
You can also consider launching an education platform for coaches, where they can learn about your framework and methodology and get more perspective on starting, running, and scaling their coaching business. This business model requires the least amount of commitment as an online education platform. Once you set up and automate your learning portal, you'll only need to focus on driving traffic to your marketing funnels and supporting your new students on their learning journey.