Creating a brand strategy template can seem daunting at first.
Where do you start?
The first place most people think about is hiring a designer to create a website and logo design.
But, if you want to create a lasting brand, your website and logo are the last steps in the brand strategy process.
Instead, if you want to build a strong brand, you'll need to start with your overall brand strategy. Use the free brand strategy template provided in this post to get your brand vision on paper!
What is a Brand Strategy?
Think of a branding strategy template as your plan, for your brand purpose and brand personality. It's the direction you want your brand to take as you begin to build your business.
With any business, you want to have a plan in place, so you define the exact steps you need to take for your business to succeed. From long-term goals to marketing efforts, your plan will help you stay on the right path.
A brand strategy outline is similar.
Your brand strategy includes all the key elements of your brand identity. Your brand strategy is all about brand perception and how you want your business to be perceived by customer. How do you want people to feel when they interact with your brand?
An effective brand strategy document includes details on your brand personality, brand purpose, brand voice, brand story, brand positioning, as well as your brand's visual identity.

Taking the time to create your brand strategy in the beginning will make your job easier as you grow. A well-thought-through brand strategy document will help you determine what copy to write, what visuals to use, where to focus your marketing efforts, and make decisions about what's "on brand" and "off-brand".
With a great brand strategy, you won't leave your success to chance or being lucky.
Why is a Brand Strategy Important?
Working on your own brand strategy template allows you to build a brand personality and brand recognition, so people immediately know who you are and what you stand for.
If you create content, post on social media and use content marketing strategies randomly, without consistency, your customers and potential customers will be confused.
If you have mismatched core brand values, people won't understand what you stand for and won't want to invest their time in getting to know more about you. This will be detrimental to your sales and growth trajectory.
Brand strategy is not only about the visual elements of your brand but the words you use, how you communicate with people, and how you make them feel with your presence. A brand strategy helps you build your brand's voice and your brand promise to your customers.
Creating a great brand strategy will affect your ability to stand out in the market and attract customers. With a winning brand strategy, people will think of your brand in a positive light, and have positive associations with you, making them more likely to engage with you.
Effective branding will also enable consistency across your business; it gives a point of reference to your employees and creative teams, can inform your marketing strategy, and guides decisions.
If, in the future, you decide to launch new products, your brand strategy can inform the process you follow and your action steps.
3 Tips For Writing an Effective Brand Strategy
Ok, so your brand story and the why behind your brand are clear, but how will you communicate this to your target customers?
Brand strategies include both tangible and intangible pieces of information. From your brand story to your visual identity, part of the struggle is knowing where to start. There are dozens of brand strategy templates out there claiming to help you build your brand, which can lead to even more confusion.
To keep your branding efforts straightforward, I have broken down 3 simple key elements to help you get started with your brand strategy.
Let's take a look at the three crucial components needed to build a brand strategy: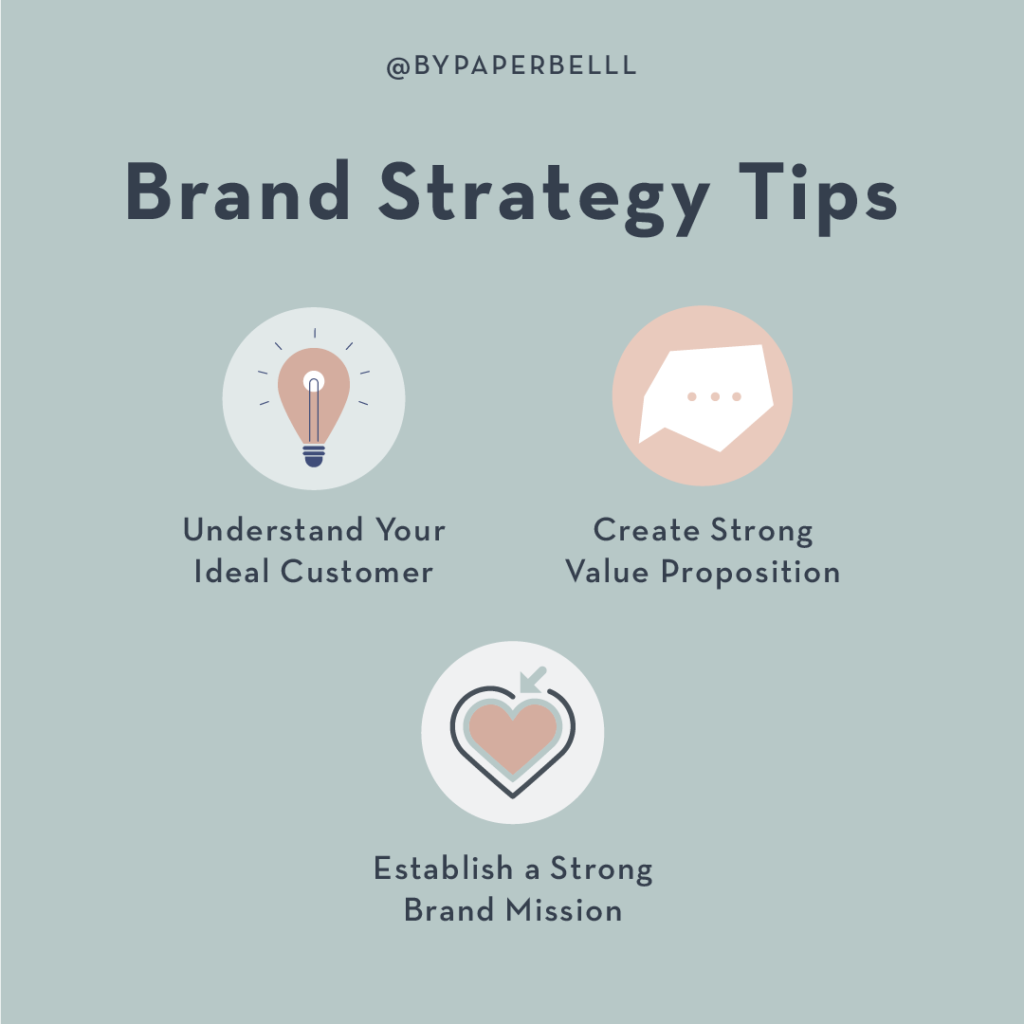 1) Understand Your Ideal Customer
Many brands build a product based on a hunch about what they think their customer wants. Don't make that mistake. For your brand to be successful, the most important step is to understand your target audience – what they want and what they need but don't know they need.
After all, they are the ones who will be buying your product or service, and your brand needs to resonate with them if you want them to buy from you.
The best way to do this is through research.
When it comes to doing research on potential customers, I recommend doing interviews with your target customers to understand their needs.
Try using the "Jobs to Be Done" framework to help you understand what drives your customers' behavior. If you can gain a deep insight into what drives their behavior, you can speak to their needs with your brand voice and communications. With a deep understanding of your customers, your brand messaging will resonate with their pain points and show that you understand them throughout their buyer journey.
Interviews are better than surveys because you can hear their words in an unfiltered way. Speaking directly with people who may engage with your brand helps you understand their social, emotional, and functional needs for a product or service like yours.
I always find little gems of insight by listening to my client's customers when I interview them during the branding process.
You are listening for the problem they are trying to solve and what they've tried in the past to solve it. Understanding what your target audience has done in the past to solve their problem will give you insight into how to position your brand in the market and how to communicate what your brand offers. Listen carefully to why they've "fired" previous solutions. How could your brand speak to their need better? How can you show you provide the emotional benefits they are looking for? Why is your product the best product out there?
When interviewing your customers, you want to ask open-ended questions. These are questions that don't direct the person to the answer you want and can't be answered with a simple yes or no.
Some questions you can ask in your interview are:
What problems have you been facing in [insert area / industry you are in]?
What solutions have you tried to solve the problem?
Why didn't those solutions work?
What made you decide to work with me / buy my product or service?
When you conduct the customer interviews, it is more important to be curious about their answers and ask to follow-up questions vs. following a set of questions you prepared ahead of time.
If you can't interview many people, try using the information you have to create customer personas, this will enable you to design messages that speak to your target audience and show the key aspects of your brand.
Once you've completed your target market research, then it's time to move on to the next step in creating a winning brand strategy.
2) Create a Strong Value Proposition
A unique value proposition is the value you provide to your customers that makes them want to choose you over your competitors or any other existing brand.
Creating a strong unique selling proposition (USP) helps to position your brand in the minds of your ideal customers.
Typically, it's an internal document you create as part of your strategic planning. This statement is then used to create the brand's core messages, which are used in your brand's marketing.
It is not a tagline or slogan, although your it can be used to guide the creation of a memorable tagline.
There are two types of propositions. One is for your overall brand, and the other is for your specific product or service. For the sake of simplicity, we are focusing on the value proposition for your overall brand.
To create a strong value proposition, you must have these 4 elements.
Relevant & Beneficial: It must be something that solves their problems or improves their situation.
Unique: It must be something that is unique and differentiates your brand from your competitors.
Consistently Deliveriable: It must be something that you can consistently deliver throughout your customer's experience with your brand.
Simple & Clear: It must be clear and easy to understand by your customers. Don't use jargon or lengthy sentences to explain what your value is.
Start by listing out all the benefits your brand provides to your target audience. You can use the insights you gained from customer interviews to help you create the list.
Then figure out what makes your brand unique compared to your competitors. For this, my team and I usually check out the competitive landscape and conduct a comprehensive competitor analysis. You'll want to understand what your competitors are doing, and what problems they are solving and not solving.
After a thorough competitor analysis, you will be able to establish your benefits and differentiating factor. This will give you the inspiration to create your proposition statement.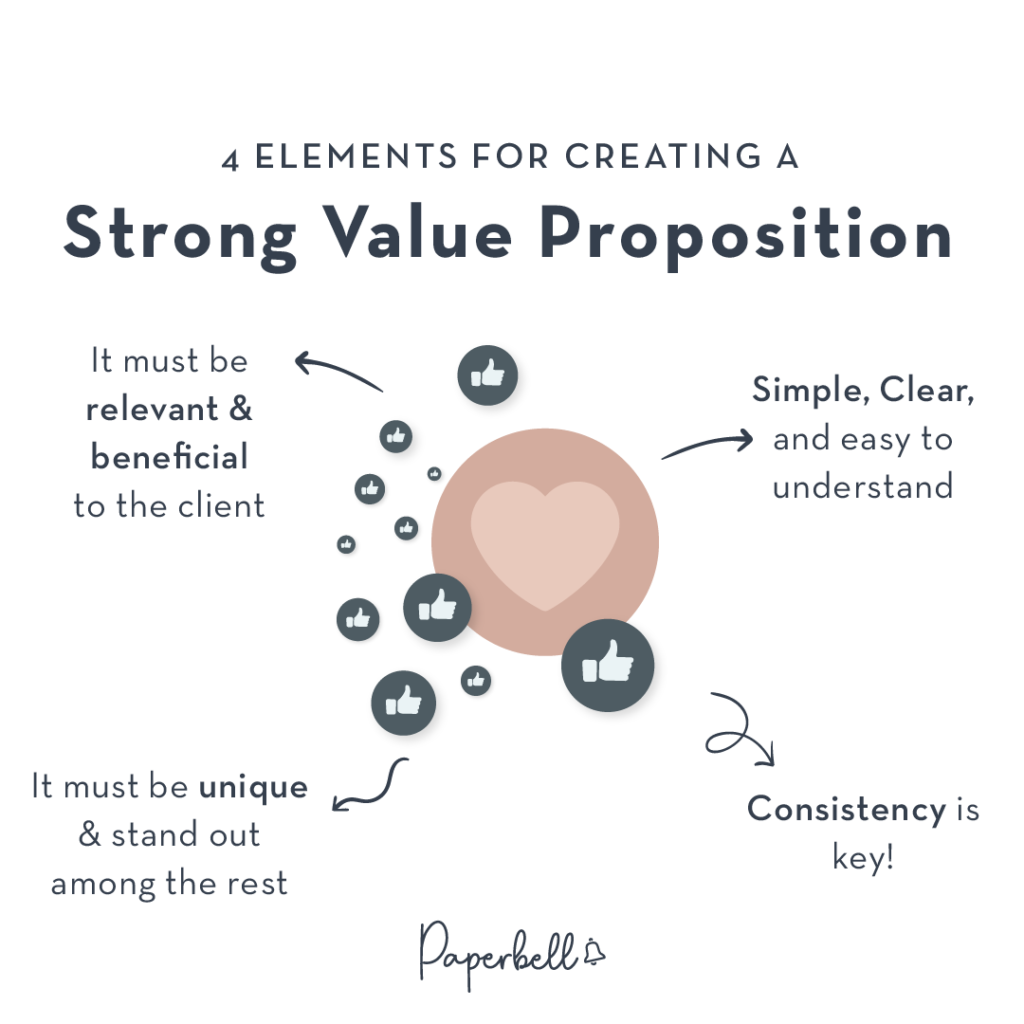 Here are a couple of examples from top brands:
Evernote
Accomplish more with better notes. Evernote helps you capture ideas and find them fast.
The brand voice shines through, and this is relevant & beneficial to their audience who want to organize.
The proposition is unique, simple, and clear because it tells people Evernote helps by making the process of organization easier.
Evernote consistently delivers on its promise by improving its platform to simplify how people organize their notes.
Airbnb
Belong Everywhere. Experience travel in an entirely new way.
This is relevant & beneficial to their audience because their audience is travelers who want to experience and immerse themselves in the local culture, not in a hotel.
The statement shows the brand personality and is unique, simple, and clear. It tells people that they can stay in a place that feels like home anywhere in the world and book adventures and experiences unique to the city they are visiting.
Airbnb delivers on this brand statement through its platform, where customers can search for homes and experiences all around the world. Their brand is an excellent example of how to deliver messages consistently to customers.
3) Brand Vision, Mission, Values, and Purpose
Some brands like to start with their vision, mission statement, and what the brand stands for when it comes to creating their brand strategy. This works if you have a clear vision of what you want to create.
However, when you don't, it's best to work on the vision, mission, and purpose after you get clear about your brand.
With my clients, I typically like to create the vision, mission, and purpose after the customer research and value proposition because the other two steps help to identify your brand purpose and what the brand really stands for.
Here are some examples
The first step is to define your brand's purpose
Your brand's purpose is the passion behind why you created the brand in the first place. It's what drives your brand to succeed.
For example, Tom's original brand purpose was to provide shoes to children in developing countries who didn't have shoes. This was the driving force behind why the brand existed and why it created its one-for-one model, where every pair of shoes purchased provided a pair of shoes for a child in need.
Ask yourself: Why did you start your brand?
The next step is to identify your brand's values
Your core brand values are more than words on a piece of paper. They are part of the heart and soul of your brand. They are your brand's personality traits. Your brand values must reflect your core beliefs. Your values are what you stand for, so making sure it's authentic to you and something you can consistently deliver to your customers is really important.
Your customers are not only buying your products and services from your brand because they like what you sell but because they have shared values with you. Buying from your brand is a reflection of their values as well.
The best brand values are unique ones. No two brands can be exactly the same. Try to stay away from generic values that have no meaning. Your values are part of your brand personality, so choose them carefully.
For example, Lush Cosmetics has 6 unique brand values: Freshest Ingredients, 100% Vegetarian, Ethically Buying, Handmade, Naked, Fighting Animal Testing.
When someone buys from Lush Cosmetics they are someone who cares about these values and wants to buy products that are sustainable, environmentally friendly, and ethical. They are looking for better quality products they can be proud of using. They know what Lush Cosmetics stands for, so are more likely to be loyal to the brand, as very few cosmetics brands have the same values.
Ask yourself: What do you believe in and stand for?
The third step is creating your brand's mission
Your brand mission is focused on the present moment, why your company exists today, and how you want to impact your customers' lives. Mission statements are actionable and tangible goals you want to accomplish.
For example, Tesla's mission statement is "To accelerate the world's transition to sustainable energy". Their goal is to increase sustainable energy use in people's everyday lives. Their brand and business is focused on achieving this one goal.
Ask yourself: What is your brand promise, and how do you want to impact your customers' lives?
The last step is to develop your brand's vision
Unlike the mission statement, the vision statement is the future-oriented part of your brand strategy. It is meant to inspire the company to grow. The brand vision also articulates where the brand wants to be once it achieves its mission. You want this to be bold and forward-thinking with your vision. Think of it as your branding goals for where you want to evolve.
For example, Warby Parker's vision statement is "To give everyone the right to see." This is a powerful vision statement because it expands beyond their customers who buy their eyewear at revolutionary prices to the people they help with their partnerships with nonprofits, providing vision services to underserved communities.
Ask yourself: How do you see the world changing as a result of your brand?
What's Next? Build Your Brand Strategy One Step at a Time
Once your brand mission statement is clear, it will be much easier to establish your core values which will drive everything you do in your business.
A clear mission will help you stay aligned when writing your brand messaging and all communications you put out for your target audience. Once you have the core values of your brand established, you'll be able to build on them and make materials such as:
Brand messaging statements
Brand voice templates
Brand assets to share with partners
Brand guidelines for employees (including guidelines on how to communicate with customers)
A brand style guide (includes things like color palette, fonts, image use)
Brand positioning statement (where you see yourself in the market)
These documents will help inform your marketing strategies and future marketing campaigns. If you decide to hire a freelance marketer, brand strategist, creative agency or marketing expert in the future, you can share your brand guidelines with them, so they know exactly how to communicate your brand narrative.
Copy & Past Brand Strategy Template
To make it simple to develop your brand strategy ideas, here's a template you can copy and paste and fill in for yourself:
1) Who is your customer?
(Record notes from your customer interviews.)
2) Value proposition
(Think about your brand positioning statements, unique value and what makes you stand out from others.)
3) Brand mission, vision, values, and purpose
What is your core purpose?
Identify your core values.
What is your brand mission?
What is your long-term vision?
Use the 3-Step Brand Strategy Template and Start Creating
There are many more elements to a winning brand strategy, like creating your brand identity, brand voice, and positioning statements.
However, the above points are 3 key elements that make the foundations of a brand strategy. Once you are clear about why your brand exists, you can then move on to other brand elements.
Use your customer research, value proposition, and brand's vision, mission, values, and purpose to guide you as you build your brand. This will help you maintain consistency across your entire brand, help you build a consistent visual identity and communication style, and develop your brand's reputation.
The more consistent your brand experience throughout the purchase process, the more trust, and loyalty you will build with your customers.
If you can show your true brand essence through your communication with customers, you'll gain lifelong followers who want to always purchase from you over your competitors.
Starting a new brand is hard, and you will always encounter bumps in the road. Remember, brand strategy isn't a one-time piece of work you complete and then forget about; it's a work in progress. As your brand evolves, so will your visual identity and voice. Keep updating your internal brand document as you make changes to your brand over time.
So start using this brand strategy template to help you on the journey to building your brand!