If I were to ask you what your life coaching mission statement is, what would happen? Would you get sweaty palms or say what you think sounds good in the moment? Would you start talking and realize you're rambling, or would you walk away feeling like you sound like every other coach?  Here's the good news: If you said "yes" to any of this, you're not alone, and it is absolutely fixable. Here's the better news: Once you are clear on your mission statement, you'll connect much more deeply with potential clients, convert them more easily, and even attract more clients who are a good fit for your business.  All this from a mission statement? YES!  Read on to see how you can craft one that will set you apart effortlessly and position your services as a gotta-have-it-now purchase.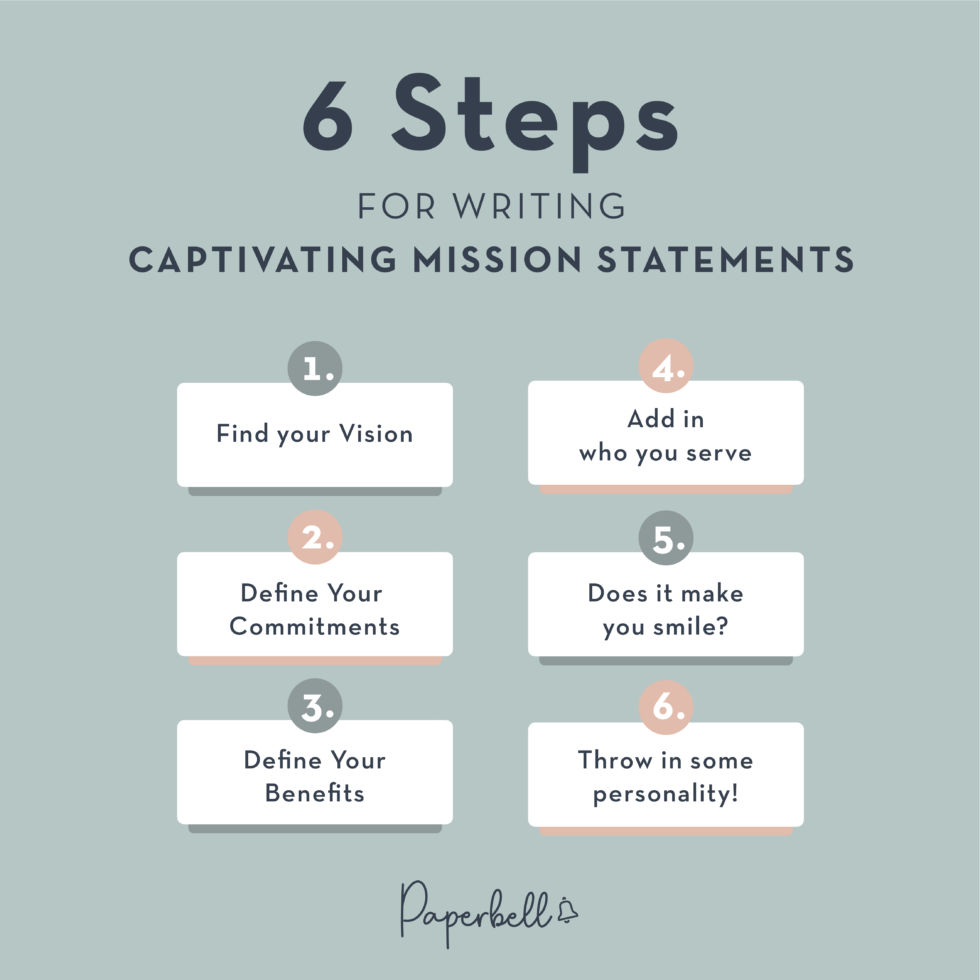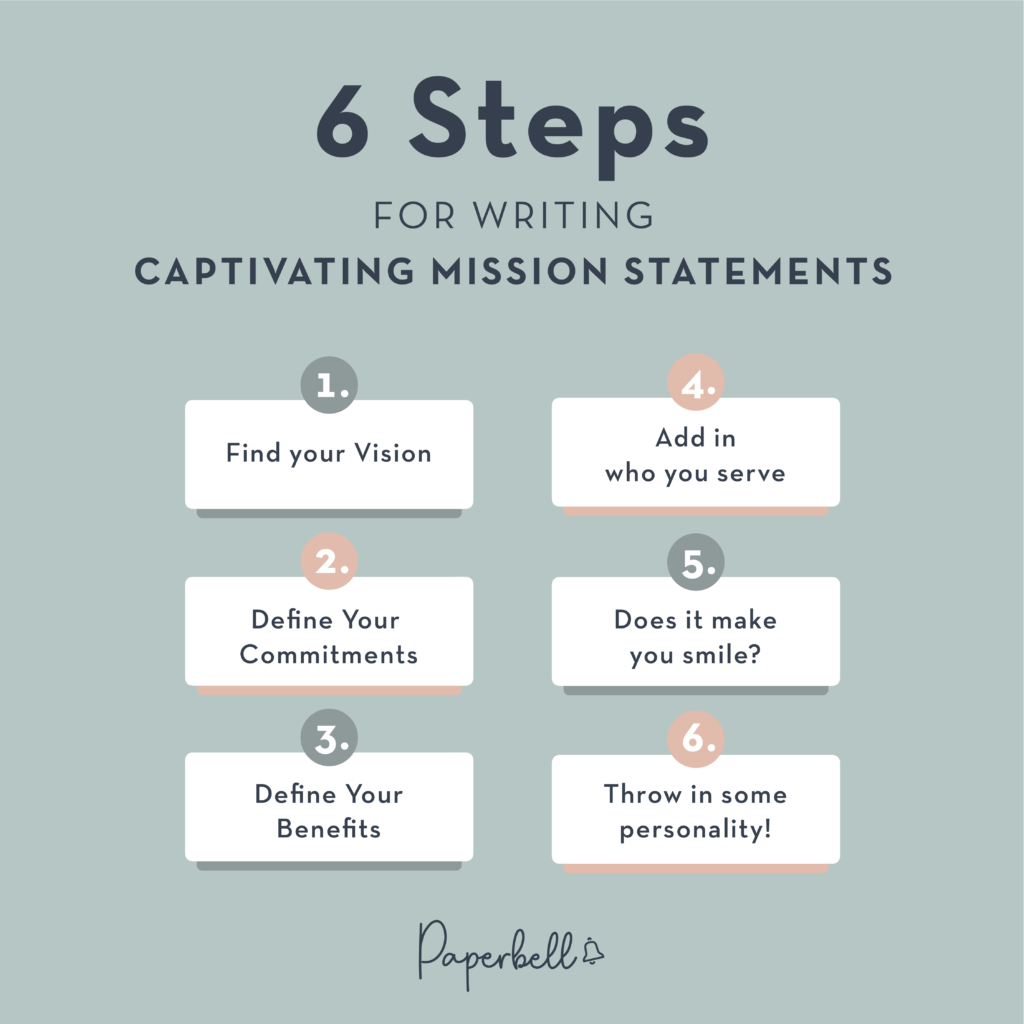 But First, What Is a Mission Statement?
Some of you might have heard of the term "vision" or "vision statement" before. I need to warn you: mission statements and vision statements are not the same thing. Your mission statement is all about what you do now in order to make your future visions come true. It's what you are committing to do right now. The vision statement is focused on the future you hope to create.
It's important to have both, because they will inspire you, your team, and clients in different ways: the mission statement inspires you to jump into action now, while the vision statement inspires what you are becoming or creating, later.
How to Write Your Life Coaching Mission Statement
Mission Statement = V+ C + B + W + S + P
V= Vision
C= Commitments
B= Benefit
W= Who
S= Smile
P= Personality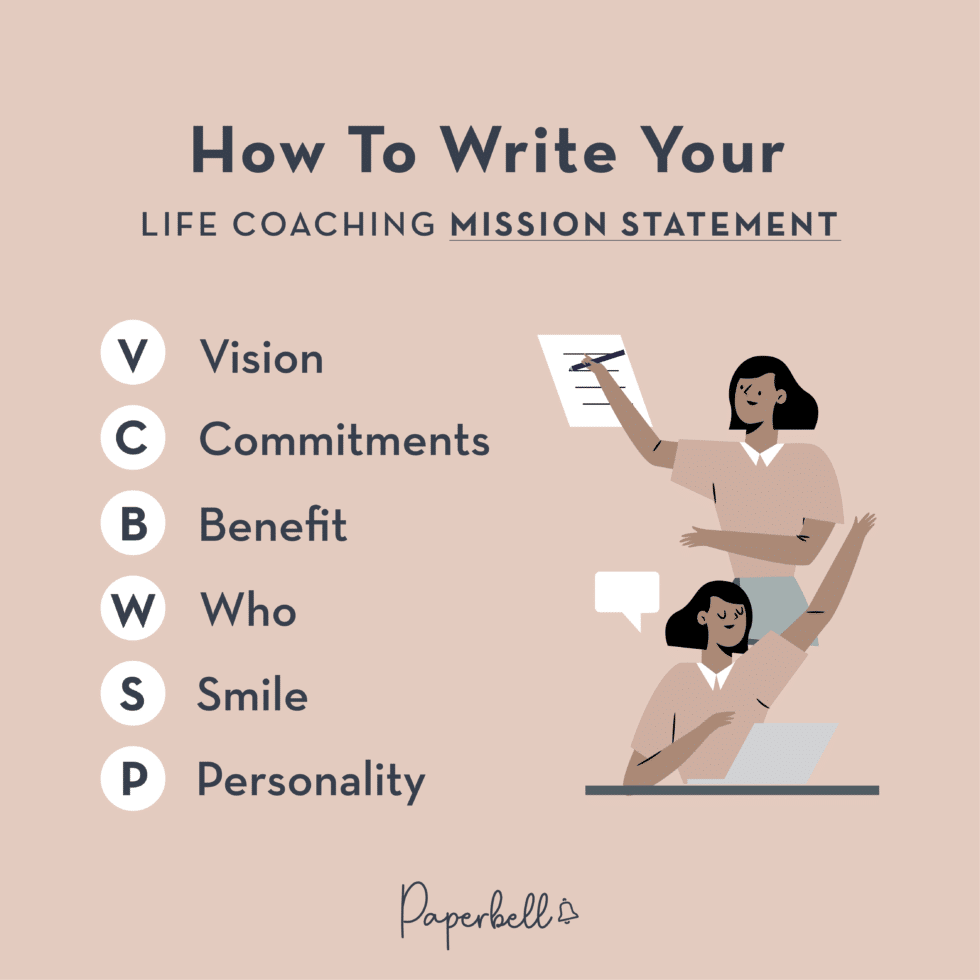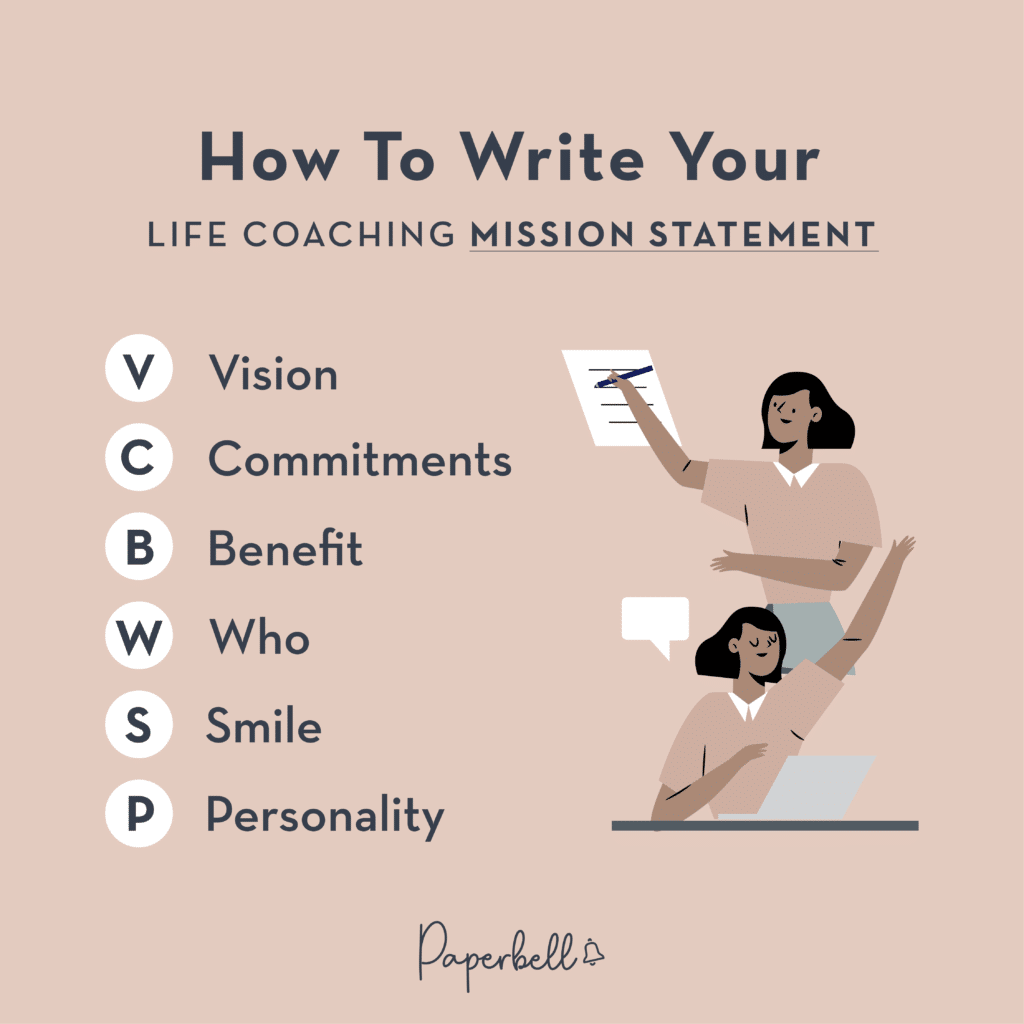 Let's Break down How to Write Your Mission Statement, Step-by-step.
Step 1: Find your vision (V)
Ask yourself what the ultimate vision is for your business, the people it serves, your industry, and the world. What achievements do you hope to have accomplished in the future? What type of world do you want to live in as it relates to what you do? I like asking my clients, "What would absolutely excite you to have achieved in the future? What do you hope you can help end (or begin)?" I also like asking clients: "If I gave you a microphone right now that magically let you talk to everyone in the world who was your perfect-fit client, what would you want to share with them? What would you want them to stop doing or start doing? What would you want for them? Why does your business exist? What is the big thing you are fighting against? Ignorance? Stereotypes? Unhappiness?" As you think of these answers, this will help form your vision for the future.
Step 2: Define your commitments (C)
From that vision, work backward and think of the major things you need to commit to doing now in order to have that type of future for yourself, your clients, your industry and the world. These are the things you are committed to doing daily for your clients.  
Step 3: Define  your benefits (B)
Add in the amazing great things people get from their work with you. What's the benefit of your work to your clients? Who will they be or what will they have as a result of their work with you? An easy way to show the benefit is to use the phrase, "so that." 
Step 4:  Add in who you serve (W)
Think of something(s) your clients have in common. It might be a certain type of experience (such as they are all moms, or have gone through divorce or have lost a job), belief (such as they believe all body shapes are beautiful), or concern (such as they all want to end poverty). It could be they all live in the same area (if you are a local business) or they have the same value (such as being family-oriented or mission-driven).
Step 5:  Does it make you smile? (S)
Review your list of what you wrote down and cross off anything you wrote that sounds similar to another sentence you've written or just doesn't seem doable. Cross out anything that doesn't light you up or bring you energy as well.  When you read it, it should make you smile.
Step 6: Throw in some personality (P)
For example, you could say you help clients.  But for a little more personality you could say you save them from experiencing something or you rescue them from something. You could say you help clients gain confidence or for more personality you could say you passionately help them gain confidence.  

Don't feel pressured to put everything into just one statement for your mission statement. As you'll see below, many are 2-3 sentences.
Make sure your mission statement has the following features:
It uses the present tense. And is easy to remember.
It is clear enough so that anyone could understand it. No fancy jargon!
It should be achievable for your company.
It should feel inspirational to you.
It should feel authentic to you and all you stand for internally. Craft it so that it is true for you and is not written based on what you think you should say or what others might say.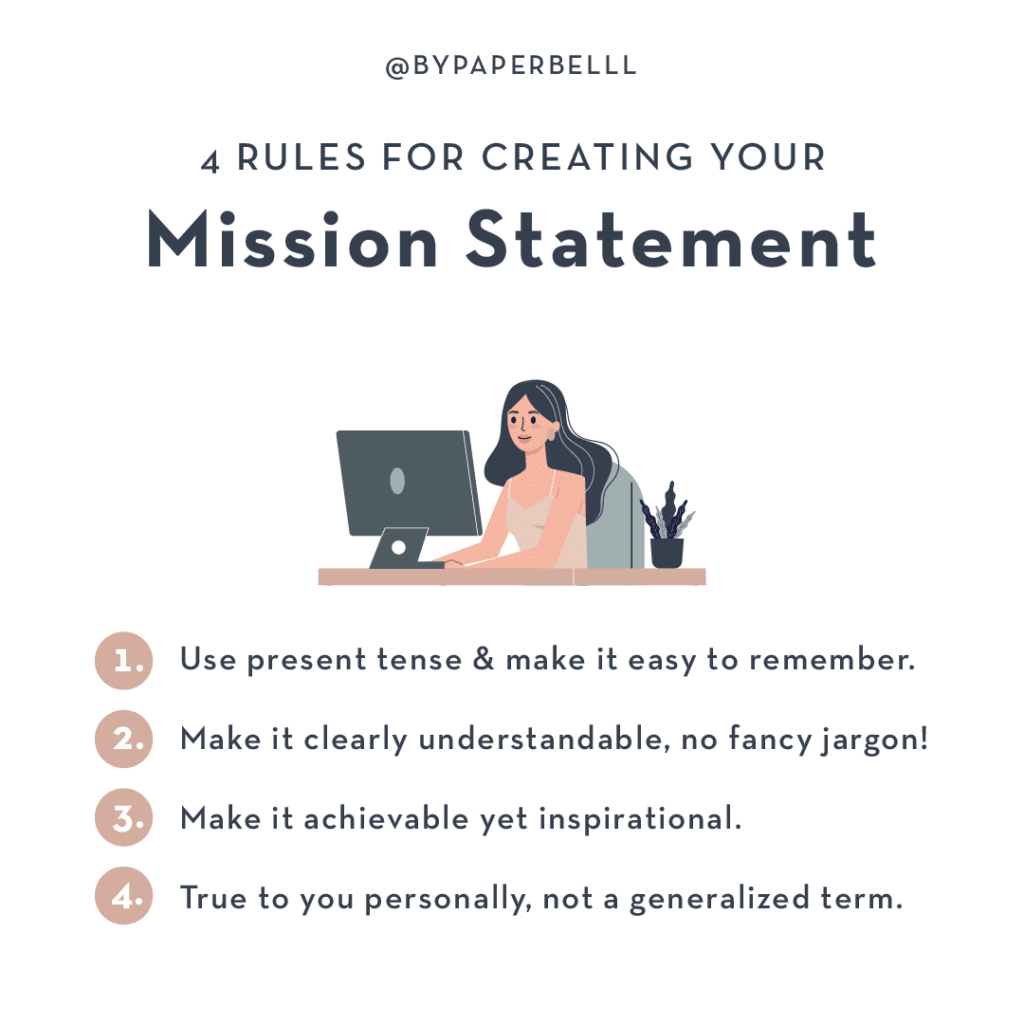 Life Coach Mission Statement Examples
Here are a few examples to help you along. Notice how they all follow the mission statement rules above?
Let's say you are a life coach who works with women after divorce. You might say:
We are committed to…
Providing women with

coaching

services that rebuild their confidence after divorce.
Delivering our services with sincere integrity.
Ensuring that our

clients

feel welcome and valued, regardless of their gender, ethnic, social or religious background.
If you're a life coach for millennials having a quarter-life crisis, you might say:
We are committed to…
Guiding

millennials

through a quarter-life crisis, so they find balance and success in career, family, and personal fulfillment.
Showing compassion to every

client

and providing resources and tools that give them the clarity they need.
Rescuing

clients

from the frustration of quarter-life crisis and showing them how to turn it into a life-changing opportunity.
If you are a confidence coach, you might say:
Helping women in midlife remember their worth at work and at home.
Showing our

clients

tools they can use, to use their voice to feel heard and respected.
As you see, in all of the above examples, we had two or three sentences that helped make the full statement. For all of the above, the first bullet point would be fine but the additional points help create a fuller picture.
Where to Share Your Mission Statement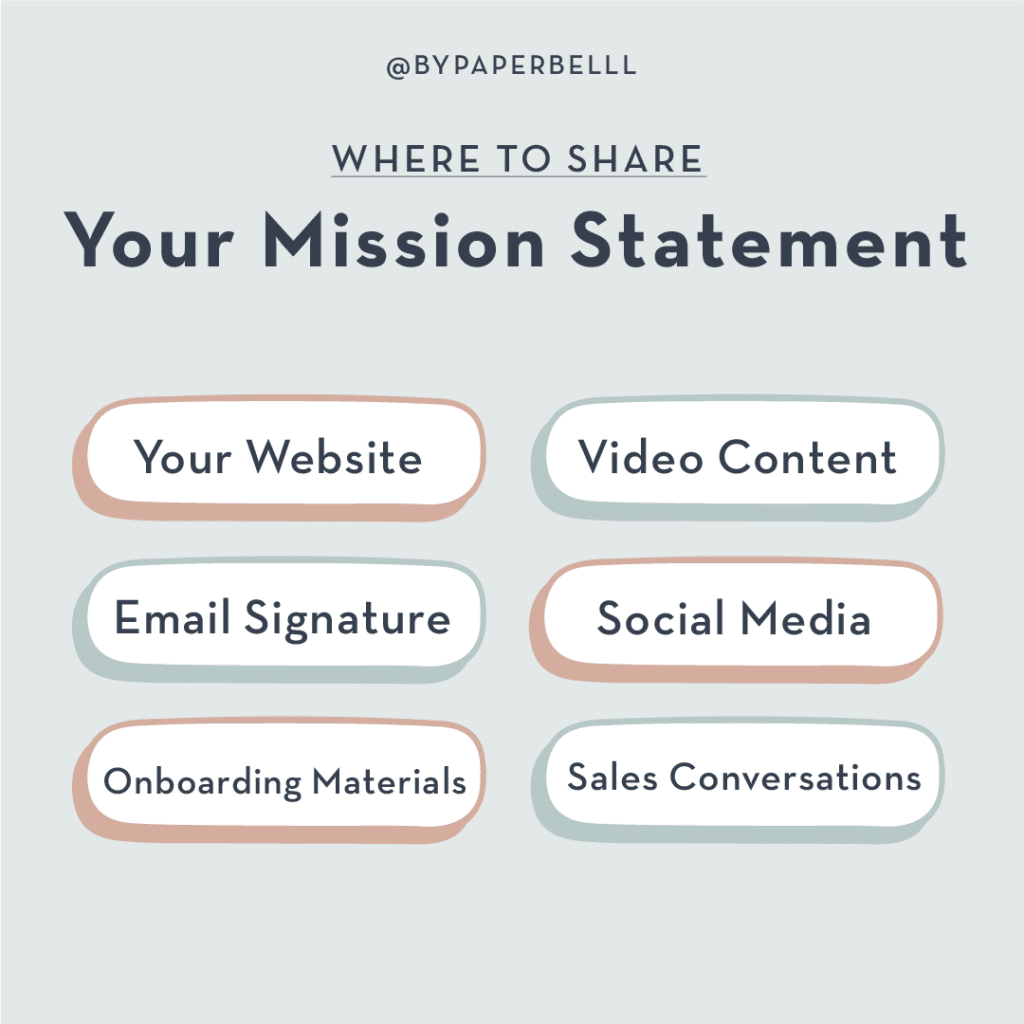 So you have a mission statement. Now what? Here are a few places that are perfect spots to begin sharing it:
Your coaching website
Your email signature
Video (as part of your video intro or as a stand alone video)
On the onboarding materials you send

clients

(your automated emails in Paperbell coaching software)
As part of your sales conversations
Having a strong mission statement for your business can help set you apart and win clients in sales conversations, by showing them how your coaching will benefit them and how you do it your way.
Don't rush it: take your time and make sure it feels authentic to you. You'll be on your way to helping more clients and changing more lives!
And when you're ready to upgrade your entire business, check out Paperbell online life coach software. It's an elegant all-in-one solution that handles your billing, scheduling, contract signing, client admin and more. You can sign up for a free trial right here.