If you're a coach, your schedule is everything.
From managing your client sessions to figuring out when you're going to squeeze in lunch, a clear-cut calendar makes for a streamlined business.
But let's be honest: it doesn't take much for that ever-so-perfect schedule to fall apart.
Last-minute cancellations. Scheduling conflicts. That appointment you totally forgot about it.
The takeaway? Taking command of your schedule should be your top priority as an up-and-coming coach.
Because doing so not only keeps you from losing your mind but also ensures that it's quick and painless for clients to book with you.
And that means more money in your pocket.
Don't panic if your current scheduling process is a hot mess. We put together this list of the best scheduling software for coaches that can help.
"Okay, But Do I Really Need Scheduling Software?"
The short answer?

Yes. A thousand times "yes."
With scheduling software, you make life easier for both yourself and your clients. It's well-documented that clients prefer digital scheduling for the sake of convenience. Offering a scheduling solution and a client calendar is an expectation, not an exception to the rule.
Perhaps the most overlooked benefit of scheduling software for coaches is the potential to increase your earning potential.
How so? Well, consider the phenomenon of overlapping schedules, no-shows, and last-minute cancellations.
A scheduling tool can help prevent all of the above which means more paying clients and appointments on your calendar. Having a bird's-eye view of your calendar keeps a pulse on your revenue goals week-to-week, too.
Also, consider that allowing clients to schedule their own appointments means you don't have to settle on a time that works for them. They've already made the decision for you. Avoiding that back-and-forth results in more time actually working with clients (and making money).
If nothing else, scheduling software is a huge stress-reducer.
Jumping between endless email chains and playing phone tag is a recipe for burnout. Not only that but scheduling your clients manually is a poor use of your time. Treat yourself like a coach, not a receptionist!
Which types of scheduling software for coaches are out there?
Although there are tons of scheduling solutions out there, not all of them necessarily make sense for coaches.
Below are eight tools to consider in your quest to wrangle your schedule once and for all.
Paperbell is designed specifically to help coaches win back their schedules, plain and simple.
Paperbell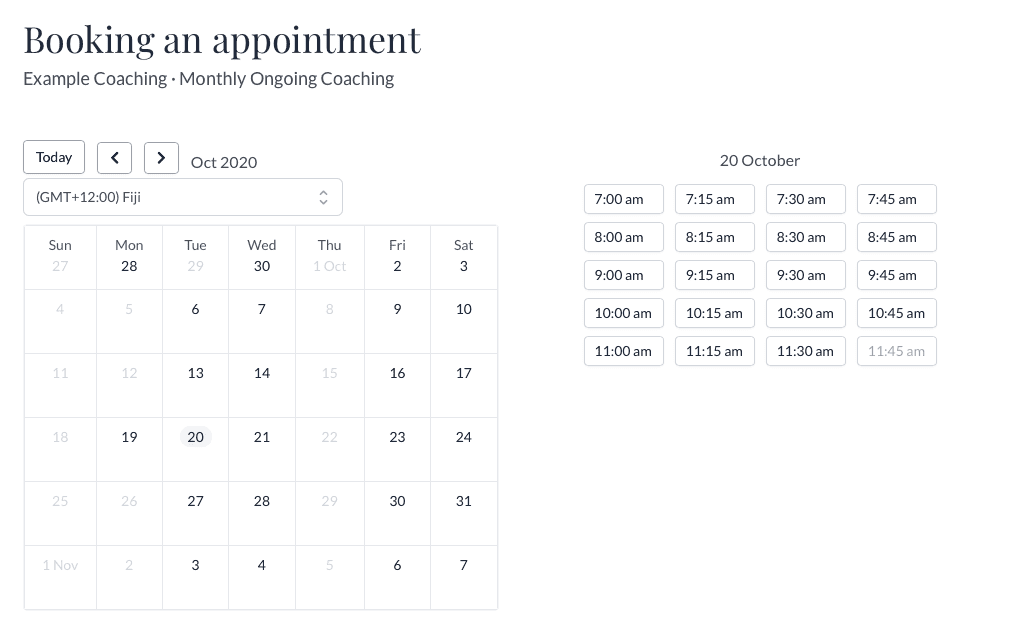 First thing's first: our scheduling software lets you customize your calendar based on your availability. Rather than present your schedule as a free-for-all for perspectives, you make the rules.
Want to take Fridays off? Need to free up some personal time-mid-week?
No problem.
If you don't work a traditional nine-to-five and want to offer extended (or reduced!) hours, Paperbell has you covered.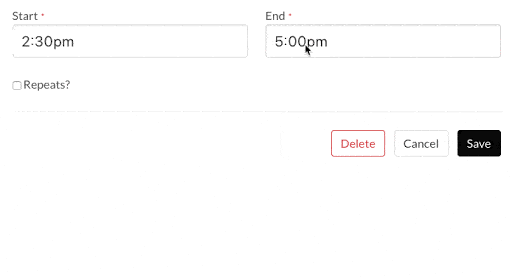 This approach to scheduling is a win-win as you set your own hours while also empowering clients to book online during times that make sense for them. The ability to see a variety of appointment options gives your clients a sense of freedom and flexibility.
Another added bonus of Paperbell is that your clients can schedule multiple sessions at once. Rather than force clients to manually schedule or email you for a follow-up appointment, they can pick and choose their respective dates over the course of weeks or months. This also means that clients can schedule their own ongoing weekly or monthly appointments.
Whether you're on a super-consistent schedule or your hours vary month-to-month, our custom of time-blocking that you can repeat week-to-week or edit as-needed.
For example, you might have an "A" schedule for weeks dedicated to one-on-ones with clients and a "B" schedule that allows for some "me" time to work on your own business and marketing. Paperbell lets you save and repeat those schedules without having to re-enter them every week. That alone saves you huge time on data entry.
Beyond time-saving, Paperbell's solution encourages a sense of organization in your personal and professional life.
How so? Consider that bookings in Paperbell automatically sync with both you and your clients' Google Calendars.

With Google Calendar as your command center, your professional tasks and day-to-day errands are all in the same place. This lets you stop worrying about whether your business' time is competing with your personal time.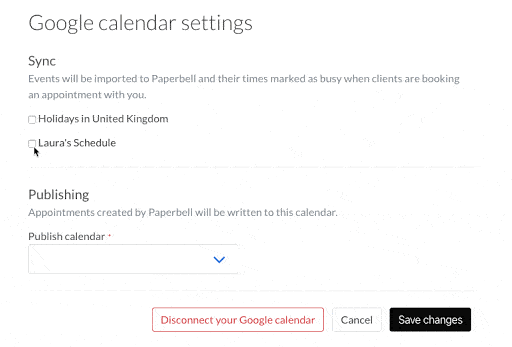 Paperbell gives you a much-needed sense of control of your business.
For example, our tool automatically blocks out any existing items in your calendar to prevent double-bookings and overlapping events in your personal schedule. To prevent back-to-back bookings, time-blocks are also available to spread out appointments by five or ten minutes.
You can also adjust your calendar to prevent clients from booking too far in advance. Automatic syncing of time zones makes scheduling international clients a breeze.
A key feature of scheduling software for coaches is the ability to send automated reminders to clients. Meanwhile, automated message reminders and links (such as your Zoom or meeting link) give clients everything they need to start a session on time.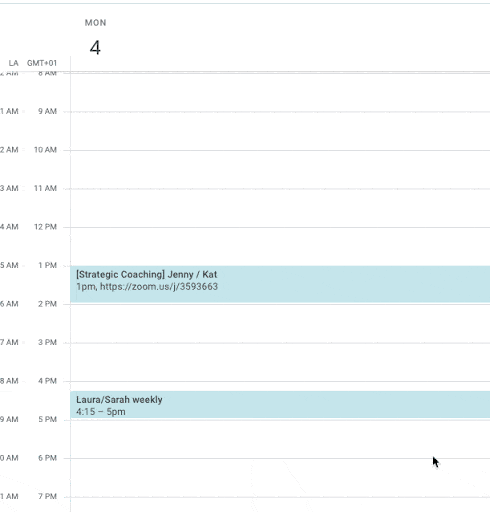 Perhaps the biggest upside of Paperbell is that its features go beyond scheduling software for coaches. Our solution also takes care of billing upfront to keep you from having to chase invoices.
When a client schedules via Paperbell, they're committing to their appointments. That's because your billing and scheduling are integrated into a single platform, your invoices and sessions are tied together. This means that clients will always be prompted to pay for a session prior to scheduling.
Nice, right?
[ Read: Client Scheduling Software]
Calendly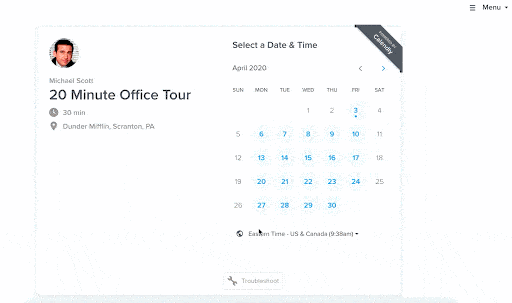 Calendly is a straightforward scheduling tool that requires minimal clicks for someone to set up an appointment. With a clean interface that clearly highlights availability, navigating Calendly's scheduler is simple enough. Easy to integrate on-site and with tools like Outlook, Office 365, and Google Calendar, the platform doesn't require you to ditch your existing personal email calendar to get started.
Also included are features built for those working as part of a team. For example, Calendly can auto-assign appointments based on availability to a colleague or coworker whose calendar isn't quite filled up yet.
That said, these features aren't really necessary for coaches that are flying solo. Customization and payment options are relatively limited unless you upgrade to the platform's Pro plan.
Acuity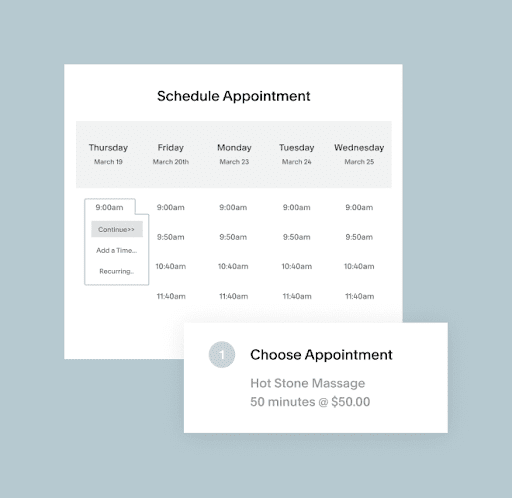 Like most scheduling software for coaches, Acuity offers a basic calendar view and scheduling page for clients to see your availability in real-time. Features such as notes and intake forms upon booking are a nice touch for gathering essential information and avoiding needless back-and-forth prior to your initial appointment.
Acuity does have somewhat of a learning curve for those looking to set up client scheduling ASAP, though.
ScheduleOnce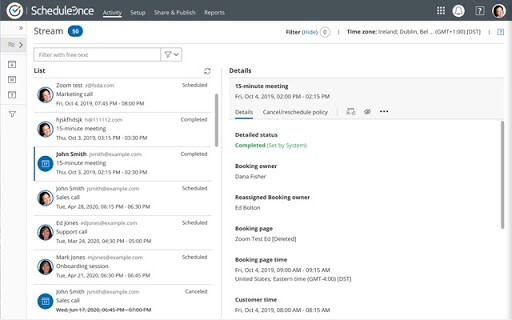 Another self-serve appointment solution, ScheduleOnce is notable for its wide range of integrations and customization features. For example, users can use unique branding on their scheduling pages so they're more personable and colorful. Advanced appointment routing is ideal for teams juggling offering a variety of appointment types.
However, ScheduleOnce might offer a bit too much for a single coach. Based on its pricing and range of upgrades, the platform isn't really intended for individuals and is best suited for larger teams.
Pick.co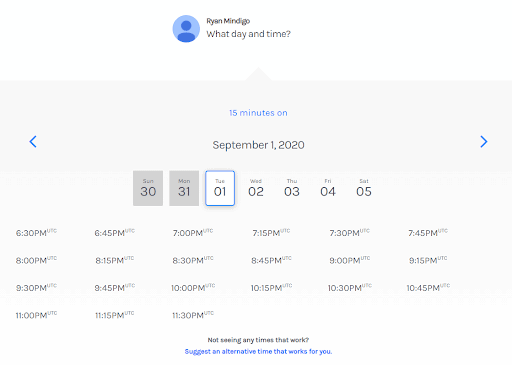 Pick.co is a minimalist scheduling solution that emphasizes ease of use.
The tool showcases availability and offers an option to suggest an alternative appointment time if there's nothing available. In addition to instant integrations with Gmail and Office 365, Pick.co offers custom branding for your scheduling link ("pick.co/yourname").
At a glance, the scheduler can be a bit clunky if you have a wide availability (see above). Although it's not exactly visually striking, it gets the job done if you're concerned with scheduling and only scheduling.
Doodle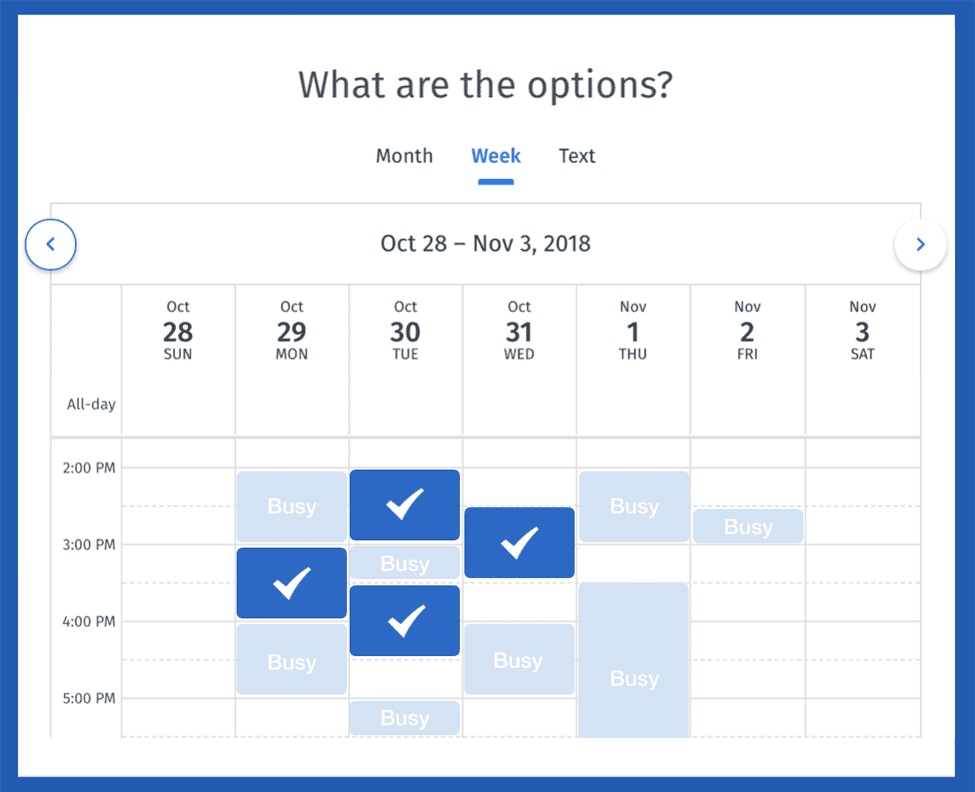 Doodle is perhaps best known as an internal meeting solution, allowing companies to organize meetings via polls rather than email back-and-forth to fight over the best time to get together.
Even so, the platform also doubles as potential scheduling software for coaches and other individual businesses.
Scheduling one-on-one meetings is straightforward as Doodle's interface clearly indicates available times and grays out anything that's no good. Like many tools noted on our list, however, Doodle is yet another tool that seems better suited for teams based on its pricing, integrations, and features.
Schedulista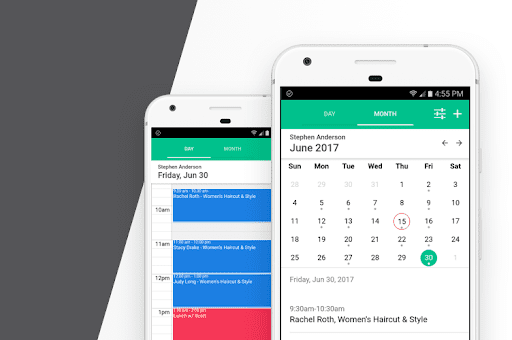 Schedulista is a sleek scheduling solution that's arguably better suited for brick-and-mortar business owners (think: salons, medical practices) versus coaches. Features such as intake forms, document uploads, and questionnaires further drive this point home.
Thats said, the platform's calendar integration is solid and it all looks fantastic via mobile.
Appointly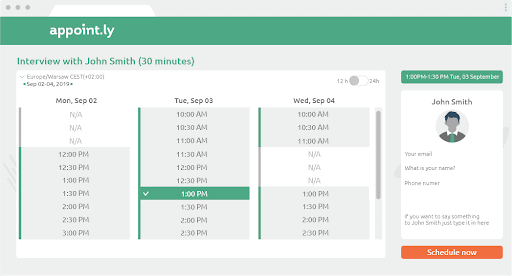 Appoint.ly is yet another scheduling tool that integrates with your email calendar and offers shared scheduling links for clients.
The gray, list-heavy interface might look a bit old-school and isn't exactly eye-popping. However, Appoint.ly is a good, basic solution for coaches on a tight budget.
What Else Should Coaches Look for in Their Scheduling Software?
We get it: shopping around for business tools can be overwhelming.
To help hone in your search, let's wrap up with some finer details to consider when choosing a scheduling software for coaches.
Ease of Use
Between juggling appointments and marketing yourself to new clients, you probably already have limited time on your hands as-is.
[ Read: The Overwhelmed Life Coach's Guide to Marketing]
That's exactly why your scheduling software should be simple. You need something you can set up and master in a matter of minutes, not weeks or months.
If you're working with a tool that's a bit too bloated for your needs, the learning curve tends to ramp up. On the flip side, Paperbell is sleek and a cinch to set up.
Integrations with Your Current Software Stack
Piggybacking on the tip above, your business' software should work seamlessly together.
Paperbell's integrations platforms with Google Calendar, PayPal, and Zoom go hand in hand with the tools that coaches already rely on. This means you can start scheduling and accepting payments from clients with your scheduling tool without having to lift a finger.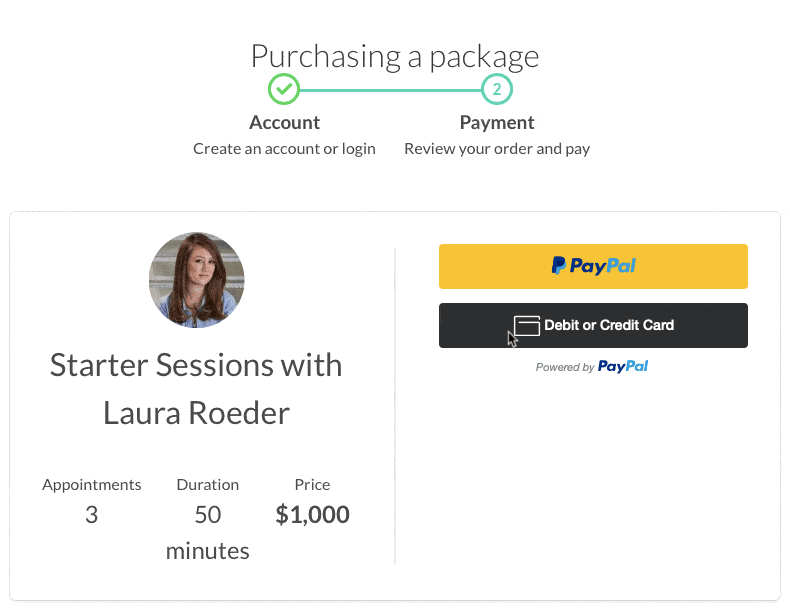 Paperbell: Features for Coaches
Many of the tools above can be used by coaches, but they aren't actually made for coaching businesses.
For example, features such as time-blocking, saved weekly calendars, and multi-session scheduling are must-have for coaches. Oh, and don't forget the ability to schedule packages rather than just one-off appointments. These features, all of which are key to generating repeat business, are all built into Paperbell. Our tool serves as an all-in-one solution for all of your billing, scheduling, and client management needs.
Between its ease of use and integrations, Paperbell can transform your coaching business without totally transforming the way you do business.
Which Scheduling Software for Coaches Have You Considered?
If you're eager to get your schedule under control, your head is in the right place.
Making it happen starts by choosing the right scheduling software. By investing in a tool that does the heavy lifting of handling your calendar, you can free up so much of your time.
And that's what Paperbell is all about! If you haven't already, make sure to check it out for yourself with a free account today.