When I'm coaching founders, many will ask me to help them find their niche. One reason coaches and founders seek a niche, is to help them market that 'Unique Selling Point', or USP, and stand out from the crowd. And yet, ironically, the way most go about it, is to try and emulate exactly the same strategies and similar branding as their competitors. Which has the opposite effect to standing out and simply makes us all look invisible, together.
I tend to suggest an alternative perspective, instead. Rather than manufacturing a niche, and trying to create a point of difference, why not use the powerful differentiators that are already there in your inherent personality? Less work, more authenticity.
I encourage my clients to make their existing uniqueness their starting point, not create a spurious niche and then furiously work backward to mold yourself into it, as many brands mistakenly do. 
Why do I advocate this approach? Because being the most YOU that you can be AND earning money from it is a wonderful thing and very compelling for clients too. Why would you go and build a fake 'branded' version of yourself, when you can work with your existing quirks and talents and differences? Well, maybe because we worry that clients might not like the real us. And perhaps creating a plasticky branded version of us that we can hide behind feels safer?
I think so many people are worried they have to be a certain way to win clients. It makes us nervous, we feel like imposters as we attempt to create our corporate self, and this ultimately holds us back. Perhaps, we try to dress the way we see other coaches dressing or take similar photos, but in reality, it's our differences and our own unique personalities that are our super-powers. Whether you're that coach who always brings their dog to every meeting or the one who's just a bit messy, all of this can be turned into a magic formula to win new business. I'll show you how…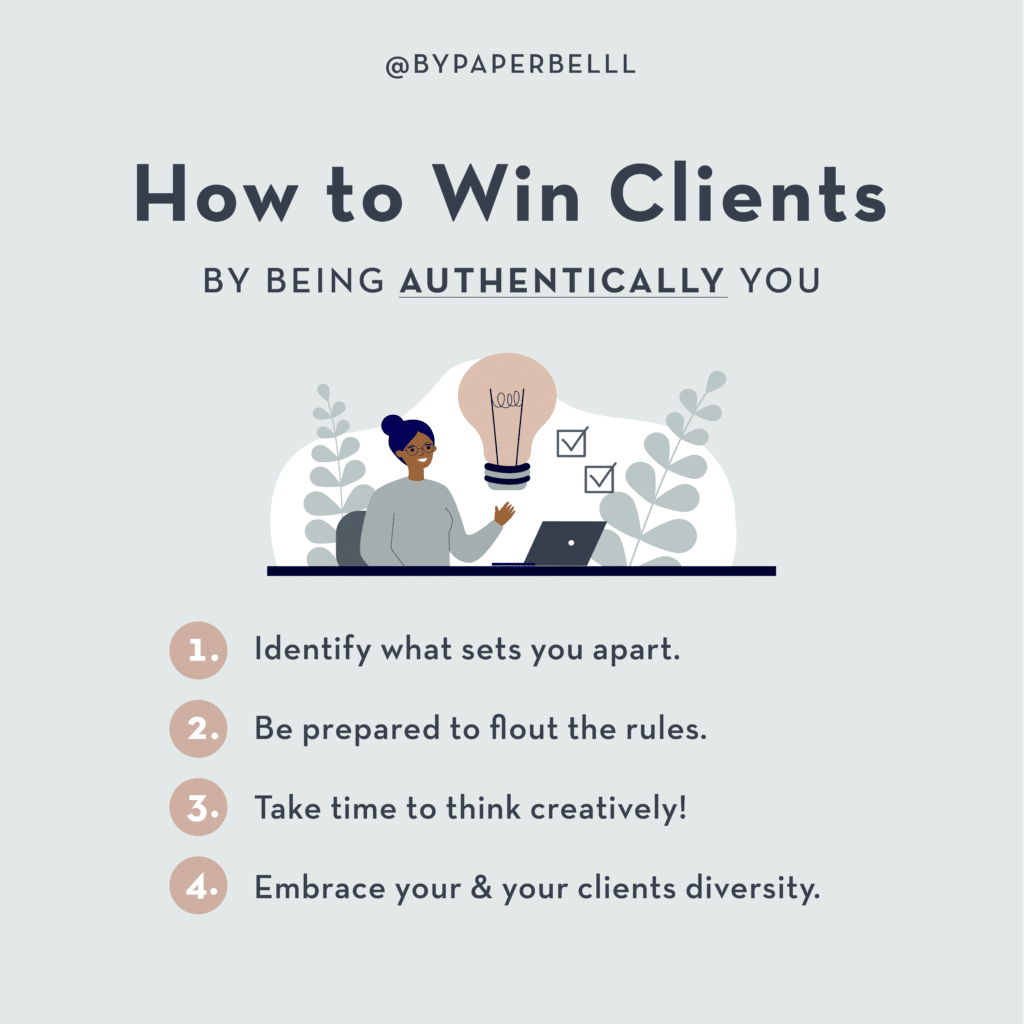 Identify what sets you apart
I'll give you an example. When I first moved from London to Wales, I went to great lengths to behave as if I still lived in London. I'd get up nausea-inducingly early to arrive in London Paddington before 730am. Constantly caffeine-fuelled and sleepy, I'd show up to meetings both wired and tired and struggle to concentrate. My nerves were on their edge, and by trying so very hard to be the same as the others in the meeting who did live in the city: I was squashing one of the really interesting aspects about me. I'm Welsh, from a land of poetry and song. I had returned back there to live in a beautiful historical town, full of bookshops and creative people. Why the hell was I not emphasizing this? Looking back I have no idea, but I'd get up early, put on my 'London' clothes and pretend to fit into my old life, rather than making the most of the new life on my doorstep. I loved living in London, yet I love living in Hay-on-Wye even more, and since I've realized that it is a selling point, I've really embraced and shared the beauty and magic on my doorstep and in my Welsh heritage.
Be prepared to flout the rules
In my new book: Founders, Freelancers & Rebels, I feature inspiring founders who have questioned convention and created their own versions of doing business. Whether it's Rich Leigh who runs his thriving PR business on a 4-day working week across the company, or successful working mum and founder Fiona Chow, who took her young son on an overseas business trip to meet her client. Flying in the face of convention is an asset, not something to brush under the rug.
Take time to think creatively
Using all of your senses – not just words on a page – think about how you might wish to use sound, touch, taste and smell in your work. Whether you choose to take your coaching outdoors; appear as a podcast guest; send your clients a thoughtful gift from time to time… I give examples in my book, of how to use your senses to wake up your business and delight your clients, too.
Embrace your diversity, and your clients' diversity too
Whether it's a simple adaptation – such as using voice notes instead of email for a client with dyslexia – or learning about how a client experiencing autism would prefer to be supported: our diversity and our clients' diversity makes our coaching richer. And of course, what works for one client may not suit another; regardless of diversity, each client is unique. On the diversity front, I've recently started talking a lot more about my identity and sexuality (in blog posts and interviews), and since then, clients have told me they feel more comfortable discussing their own identities. This is vulnerable for us and for our clients and requires us to create a really trusting and boundaried coaching container. And while that can be an intense amount of work, I am fairly sure that once you do start to open up, you won't want to go back.
Keep your squad tight
One of the biggest tips I took from the experts in my book was from Sophie Eggleton, who is a first aid for mental health instructor, podcaster and radio DJ. Sophie explained that having a small group of friends is actually more nourishing for her, than trying to keep up with all the WhatsApp groups and invitations. When you are marketing yourself and building your business, having the support of others is so important, but trying to keep up with a huge group of people can be exhausting and may leave you feeling as if you're not really keeping up with anyone. I've really noticed a positive change since taking Sophie's advice. Being authentically you might involve saying no to some offers and forging stronger connections with those closest to you.
Coaches have coaches too
As I've increased my levels of authenticity and openness, I've upped my own coaching, with my coach Gillian Maxwell Carter, to three sessions a month. Making your authenticity and vulnerability your USP requires a lot more mindset work than 'faking it' might. I practice meditation most days, and Gillian supports me to hold my course when things get tough. Worrying about what others might think or do, as a result of us being honest and building our brand around who we really are, can bring up some sensitive feelings and reflections, and having an expert on hand to unpack those with us is incredibly useful.
Start small
When you choose to make your authenticity your USP, it's not about splurging every single secret thing about yourself and unresolved trauma on the page and expecting clients to come rolling in. Nope. I see this so much, and it's not a strategy, and it doesn't keep you safe or do your brand any good either. Instead, it's about very gradually peeling away the layers when you are ready, to reveal your true self in areas which you are comfortable about and confident speaking on. Let me give you an example. Maybe you have never spoken about the fact that you really really love food and cooking, perhaps you start to talk on your social media about how important flavor and taste is to you, and talk about wellbeing, heritage and the power of good ingredients. You're keeping yourself safe, if this is a topic that feels good for you, and you're being more interesting than the next person who's simply copying and pasting corporate business jargon and 'motivational' quotes. You're letting people in, allowing them to walk around in your world a bit more… opening up the conversation and dialogue.
You are very interesting as you are. And when you talk and write about what you love, you will light people up and you, yourself, will light up too.